Bluebeam is a software that helps companies easily create and mark up PDF's. Bluebeam has two products that work together. One is called Revu and the other Vu. Revu creates the projects and Vu allows other people to see those projects without needing to buy Revu. So really our Bluebeam review is a Bluebeam Revu review. Say that 10 times fast!
What is Bluebeam used for?
Bluebeam Revu allows collaboration using its software by allowing multiple team members to work on the same PDF simultaneously and see real-time changes. The design of Bluebeam Revu is to create a project that has streamlined workflow and enhances the productivity of the team utilizing the software. Bluebeam Revu is available on Windows or Mac computers. You can also use Revu for Ipad to access and work with PDF's to be able to access them on the job site easily.
Bluebeam Features
PDF
Bluebeam can convert Microsoft Office documents, along with CAD drawings into PDF's that are two-dimensional or three-dimensional. You can also turn the PDF into a Microsoft Word or Excel Document. Also, it can change scanned images into text-searchable PDFs. Once you have loaded your PDF's, you can utilize the PDF's to communicate with your team members.
There are easy to use tools for Marking up the PDF's that are customizable to your needs. You can save the settings that you use so that they can be reused for markups every time a team member goes back to the project. These are easily shared with the entire team or company.
Bluebeam Studio
This feature can be beneficial, Bluebeam Revu tracks the annotations and can generate reports based on the annotations. Bluebeam Revu utilizes its Bluebeam Studio platform to help companies connect and communicate about their projects. The platform offers real-time communication. Using the Bluebeam Studio platform businesses can have all of their team members working with their project files. There is no need to worry if you have access to the internet or not as you can still access the files even when you are offline.
The Bluebeam Studio tracks all of the markups automatically and can generate a summary report of all the changes and collaboration activities that have happened on a project. There are notification and alert options for changes to documents and user status. Project managers can issue action item alerts regarding work for team members. These alerts can further enhance an organization's effectiveness.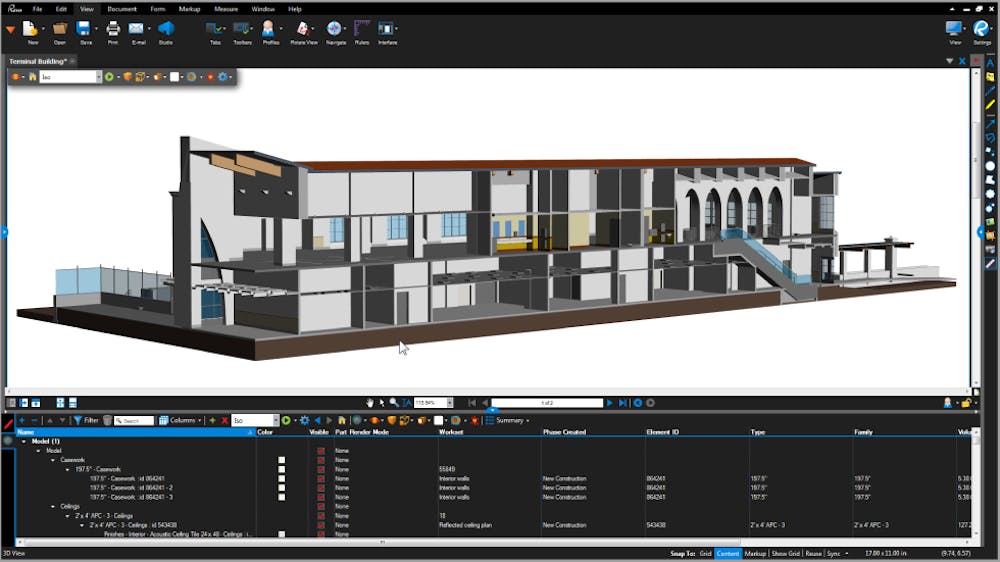 Forms
When utilizing Bluebeam, you can create fillable PDF Forms. Having fillable forms is very helpful for companies, you can create text boxes and drop-downs along with radio buttons to be used to have a form filled in. Having forms with dropdowns can speed up the process when you have many forms to fill out. PDF's can be linked to each other.
The ability to link the PDF's is a handy feature, for example, you can link up a full view of a blueprint with cut views from the full view to get more detail. You are then able to click on the main PDF and be brought to the cut view area that you had clicked on. When working with a PDF, you can have stamps and signatures added to the document. PDF's can be overlaid to help identify changes made to the original plans. Having a new scheme overlaid is an important feature to assure that all team members are aware of changes and alerted to new changes as they happen. Showing new plans can make the whole project more efficient.
Bluebeam Products
Bluebeam offers a free 30-day trial; you can choose from a Standard, Extreme or CAD. The standard version is good for General Contractors, Specialty Contractors, Estimators, Superintendents and owners. It allows 2D and 3D Markup, a Markups List, a tool chest, measurement tools, and Bluebeam Studio.
The Extreme version would be for all those who would use the standard version plus, Engineers and Architects. It includes all the features of Standard and CAD plus Automatic Form Creation, Batch Link, Batch Slip Sheet, OCR+, Batch Sign & Seal and quantity Link. The CAD version is for Architects, Engineers and CAD users. It has all the Standard features plus plugins for 2D & 3D PDFs and Batch Creation. Once you make your choice, you just fill out some basic information about yourself and your company, including your email.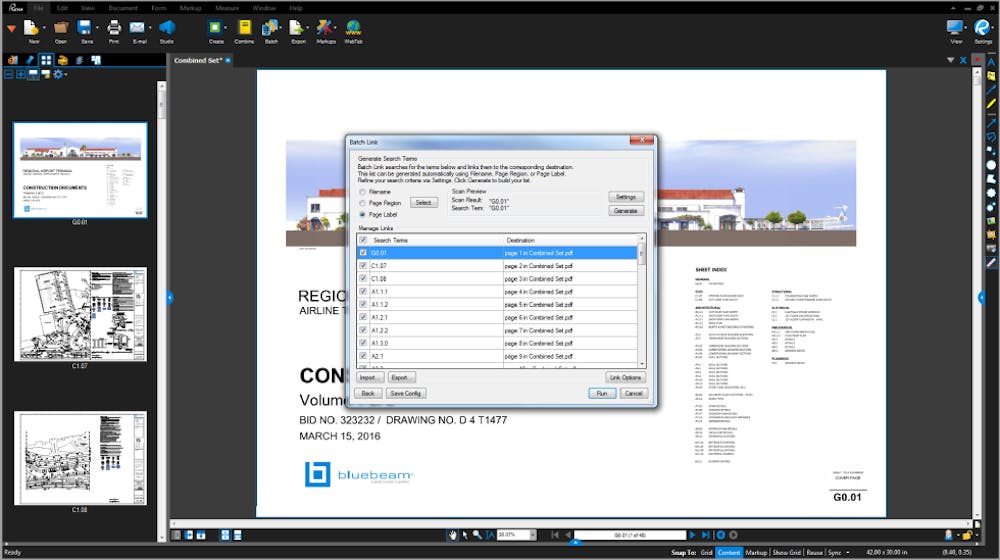 You will then go to a download page which will automatically download the file. It takes about 5 minutes or so to download, depending on your internet speed. Once the file downloads, you open up the installation wizard for Bluebeam which will install the software on your computer. Installing takes a few minutes as it is a larger piece of software and takes a little while to install and load on your computer. Once the software loads, you will get a dialogue box that welcomes you and offers you some options of how you want to view your desktop.
These are called profiles, and you can choose the one you think you would like and always change it later. You can choose for the background to be light or dark. You are then taken to create a new login and to your Bluebeam desktop. Once you have created your login, you are greeted with a review of the program and an overview of the features and how to get started. If you want more in-depth training, Bluebeam offers free video resources as well as instructor-led courses through Bluebeam University. It is online classes that can help you become more familiar with all the capabilities of the software.