Building Radar is a search engine subscription service that allows you to search for construction projects in different phases in your area.
This is a unique service, so we decided to do this Building Radar review to help you see if it might work for you. The goal of this service is to help companies find leads more easily, run analytics and to help them expand their businesses.
Companies can use Building Radar's Search Engine to find construction projects that are being started or in the planning phases. By doing so, a company that sells flooring could initiate contact with the contractor to sell their product for the project, long before any other company realizes they will be looking for flooring in 4 months.
In addition, by using their system you have the ability to find projects before they have even begun, giving many contractors, architects, and other businesses an edge so that they can make a connection to get their company involved in the projects.
Building Radar Features
Building Radar started in 2015 as a startup in Munich.
Building Radar has created an algorithm that automatically detects and adds thousands of construction projects every day. The algorithm then takes that information and lists it by area so that you can easily find projects that are being started in any area you are looking for. It not only finds projects but it can also pinpoint the exact stage it is in of construction. This allows companies to get verified sales leads so that sales teams can focus on sales instead of having to focus a lot of energy on lead research.
Interface
The search engine is set up in a very easy to use way. When you sign up for Building Radar you get a user account and as you use your account and create your searches it will become more personalized for your needs. You can create a Tender Search; in this type of search, you can choose the specifics first.
In the specifics you can select the phase; it allows you to choose open so that you can get all phases. You can select products, for example, heating systems or furniture. Then you can choose a location. This can be a general area or you can put in zip codes that you want to look at specifically.
You can put the deadline for the project a minimum year and a maximum range. You have the option to also select certain companies you might want to associate with a project. You then get a listing as you would normally see in a Google search.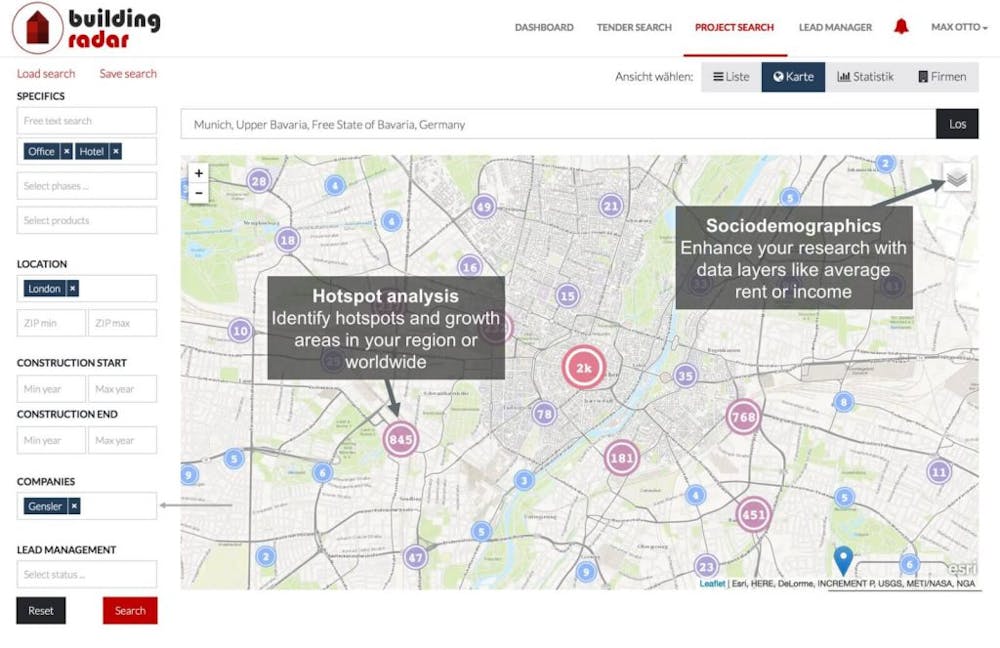 The second type of search you can do is a Project Search. This is a search that is set up similarly to the Tender Search except instead of products you can choose categories such as; Residential, Agricultural, Commercial, etc.
Once you have chosen your category you will choose the phase, some examples are; under construction, completed, on hold, planned. Once you have your search results, the search engine has a feature where you can select it "Mark as to do" or select "Don't show again". This will help you keep track of your results.
There are various views to see your results in. You can select a list, map or statistic view. The Search engine also has the ability to help you process your leads. Your "To do" list goes into its own area that you can then work with and move it to different phases when you are ready. It keeps it all nicely organized for you to help you follow up easily on your leads. You can also set up email notifications for projects in your area which is another beneficial feature.
Save Time and Money with ClockShark
Thank you! Your submission has been received!
Oops! Something went wrong while submitting the form.
Building Radar Review Summary: Do the Free Trial! See if it turns up leads in your area.
Building Radar offers a free Demo so you are able to try it out for free to see how well it will work for your company.
The demo will give you a limited version of the Building Radar software but should give you a general sense of how it works and will allow you to work with a customer representative who can help you with how to get started. Their pricing is based on the size of your company so you will need to call them to find out exactly how much it will cost to use it for your business.