The BuildingConnected Software is an online bid management program. The software is made for many branches of the construction industry, including General Contractors, Owners, and Subcontractors. The BuildingConnected Software encompasses creating efficiency in the bid process, the managing of projects and assisting in creating a network of contacts in construction projects.
BuildingConnected Features
The BuildingConnected Software has many pre-construction tools to help save time and money for businesses. Utilizing the software you can quickly import emails from potential bidders you want to send invites to and then easily send many bids invites in minutes. Through the software, you can message team members or clients about a project, and then the responses are tracked automatically. The automatic tracking helps keep everyone on the same page. The Software has a qualification manager that enables you to qualify vendors and effortlessly gather their information.
The qualification manager helps prevent extra data entry hours. The manager can create customized questionnaires to help you get reports with more precise data. There are simple workflow permission and approval procedures to allow others to enter information into BuildingConnected.
For subcontractors who are getting bid invites, the software allows them to manage all the bid invites in one central location. The central location helps keep things organized and makes it easier to follow up on tasks and prevents missed deadlines.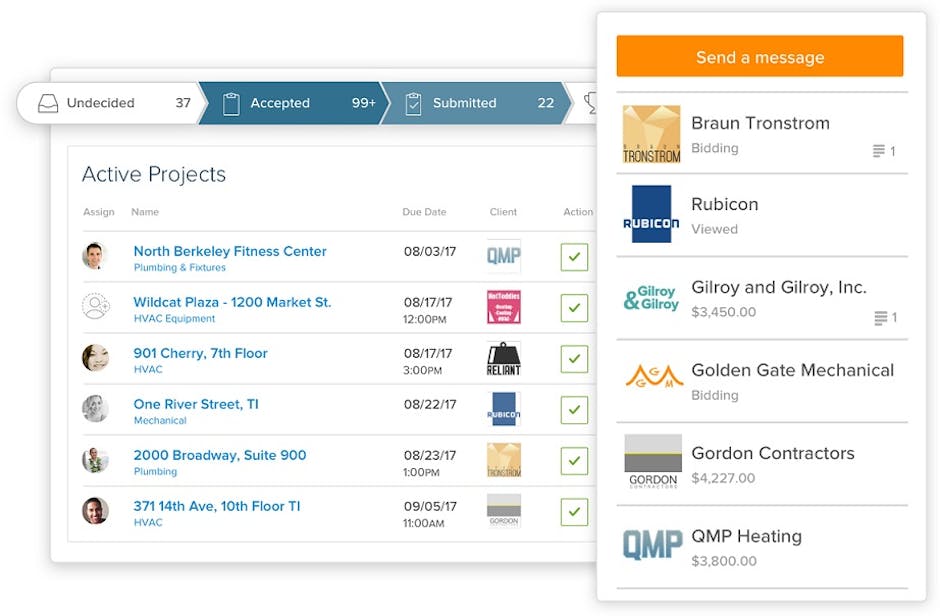 BuildingConnected for General Contractors
New projects are easily added to your account by forwarding it to a particular email address, and it is added instantly. Also, since many General Contractors use BuildingConnected, it can help subcontractors get discovered for projects by being on the platform themselves. The best way for subcontractors to get on the platform is to be initially invited.
The BuildingConnected software has a platform to help streamline the bidding process for General Contractors. General Contractors can create their projects quickly within minutes. All bids can be collected and viewed on the one dashboard on the platform. All documents are easily stored in one location that can be accessed by all team members. The platform helps prevent you from having to update your contact database.
BuildingConnected for Subcontractors
The subcontractors can manage their profiles right in BuildingConnected, so it eliminates your team from having ever to enter their data. This makes it easy to reach your subcontractors when you need them. You can save your preferred subs for future projects. Team members can be invited to projects and have access to work on documents and send messages to everyone within the projects.
Subcontractors can also be invited to the project; this makes it easy for the entire team to communicate and send documents. The data for your bid outcomes and projects is easy to access and analyze. You can easily see your win rates by partner, geography or time. This can help you make better decisions and systems for your company in the future.
Reporting
The reporting feature can help you analyze your historical cost information to help plan your future projects more efficiently. This can also assist you in bidding faster. Easily track your progress and help plan for your growth using the in-depth reporting tools the software offers. The platform allows an in-depth look at your company's relationships with vendors and subcontractors.
Tracking
You can track your experience with suppliers and see insights into subcontractors work history. The software has an integrated cloud software option that works seamlessly with box and Egnyte. This allows files to be uploaded once so that subcontractors can access them and keeps them synced. The BuildingConnected software gives General Contractors a painless way to manage their subcontractors.
Inviting subcontractors to Building Connected is easy. Your subcontractors will have one login and can access and view multiple RFPs with ease. When you work with NDAs and Sealed bids you can easily have subcontractors consent to required NDAs. The platform allows you to receive sealed bids electronically that have a specific opening time.
BuildingConnected Pricing
The basic version of the BuildingConnected software is free. The free version includes the tools to help manage the pre-construction process. There is a BuildingConnected Pro where you can also get access to relationship tracking, historical cost data, performance analytics as well as other features.