BuildTools is a web-based app for custom home builders and remodelers. BuildTools provided us with a demo account for the purposes of this review.
BuildTools purports to manage communication, project schedules, budgets and more all from a web-based interface that you can access from any computer with an internet connection.
BuildTools Features
When I first logged in to BuildTools I was greeted with an intuitive web-based dashboard. On the left-hand side of the screen were menu items for Messages, Tasks, Schedule, Budget and Service. At the top of the screen is the option to create and manage projects as well as create and track Contacts and Leads. In other words, BuildTools also offers basic CRM functionality for tracking your sales pipeline, which is nice.
To get started I added a Sample Project. The system allowed me to add detailed info about the project, define a mapping to a job in Quickbooks, including budget and project financial information, and lots more. Email addresses for the project were provided to easily upload specific types of documents for the project (to upload a document just send it to the email address).
After adding a project, then selecting it, I noticed that more options appeared on the left-hand side of the screen. I now had options for Messages, Tasks, Schedule, Documents, Budget, Selections, Change Orders, Financial and Service.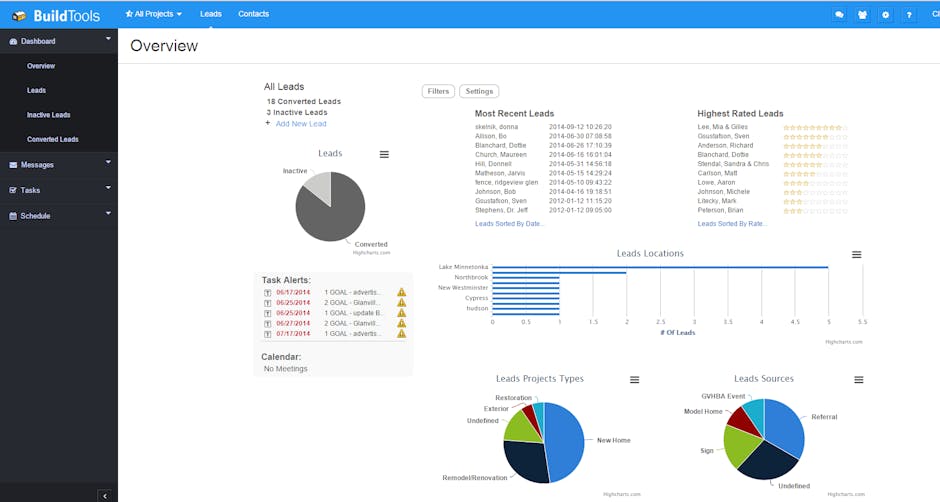 Communication
The Messages tab allowed me to create a message for internal use (to another user within the company) or to an external email address. The Tasks tab allowed me to create tasks, categorize them, as well as assign them to a user and set due dates and reminders.
Scheduling
The Schedule tab allowed me to define a project schedule in a means similar to Microsoft Project, along with a Gantt Chart display of the project timeline. I could also add meetings to a calendar view as well as define working vs. Non-Working days (i.e. Holidays, etc.).
Documents
On the Documents tab, I was able to store documents (such as plans, photos, meetings minutes, daily reports, etc.). The Budget Tab is a detailed section that allowed me to define a budget for different parts of the project ( I could define all of these parts and add details), as well as create/log purchase orders, invoices, and bids.
Selections
The Selections tab allows you to define the customer's chosen selection of options from predefined selections choices you define. You can add photos to the pre-defined selections choices just by dragging and dropping photos found online.
Change orders
Next, there is a tab for Change Orders, as well as Financials to include financial statements for the project. This section also allows you to upload financial statements from other programs (maybe Quickbooks?) and store them for the project.
Service
Finally, there is a Service tab that allows you to set up, schedule and track service calls such as follow-up punch list work or warranty service calls for your trades.
Conclusion...
To round out the system (and tie everything together) is a dashboard, which provides overview and measurements of key project goals and metrics. The dashboard shows items such as Invoice Aging, Project Health in a chart format (based on timely completion of schedule, tasks, service items, selections, etc.), basic project information and weekly reports.
Add in the ability to integrate the financial aspects of the program with Quickbooks and BuildTools is a pretty complete web-based system for managing the workflow and processes needed to run your custom building or remodeling business.
BuildTools also offers an app for iPad and iPhone that allows you to access and update many aspects of the system. I hope you enjoyed this BuildTools Review. We'd suggest you give BuildTools a close look.