At ClockShark, we work hard to stay on top of the needs of our customers. Like them, we strive to grow because we know if you never take any steps forward, you'll always be in the same place.
One of our core values is to always be better than before, and we live by it. That's why we constantly improve, upgrade, and update our platform: To make our product the best and make our customers' lives happier and better.

This post is to share our new and improved, updated mobile time clock version.
We've not just made it look better, but added functionality, and more ease of use for employees who can now quickly and easily find information about jobs. In this post, you'll learn more about this new version and how you can use it to improve your ClockShark experience.
What's New?
ClockShark was built around the concept of mobile time tracking and it's only gotten better! This 3.0 mobile time clock version is cleaner, sleeker, and provides additional options to make using it easier and more straightforward.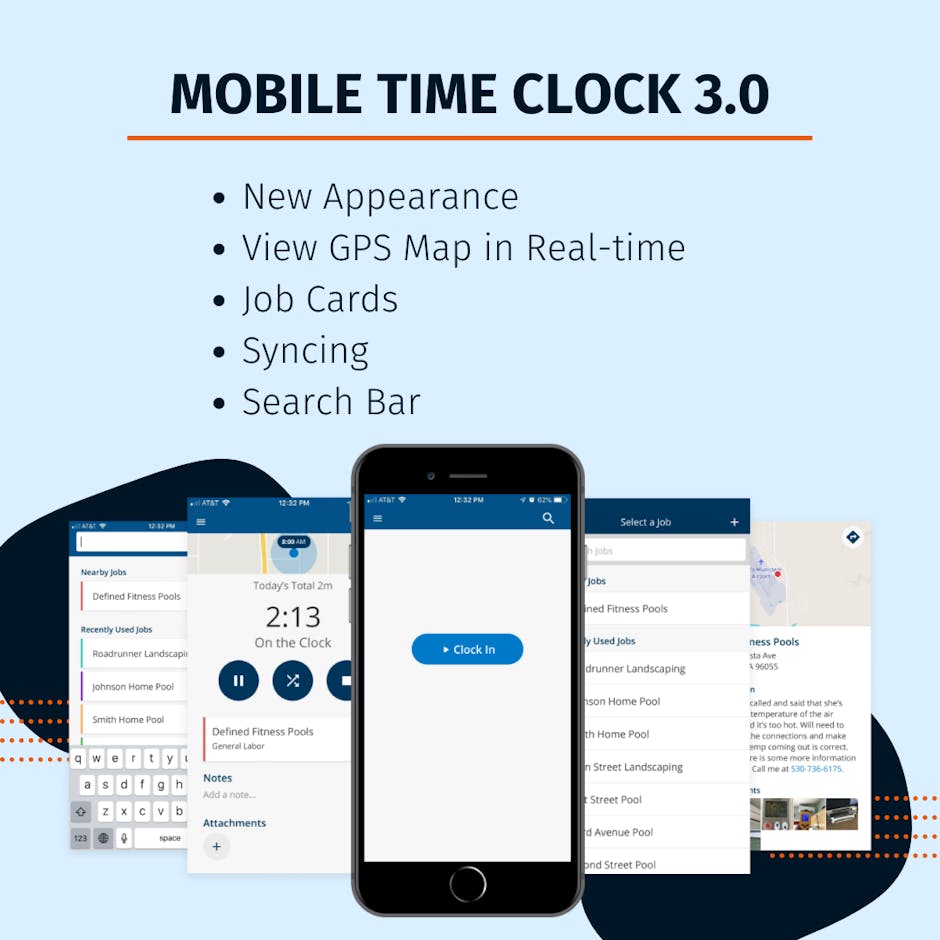 Appearance
As this latest release slowly rolls out, the first thing most noticeable is the appearance. You'll find one "Clock In" button as you open the app. When you click that, you'll see a selection of jobs to choose from. Choose your job, then the task, and you're clocked in. These windows are cleaner and brighter than the previous versions.
When you're clocked in, you'll go back to the homepage where you see three simple buttons representing pausing to take a break, switching to switch tasks, and stopping to clock out.
GPS Map
When clocked in, you can view your real-time GPS location on the top of the screen. This map updates throughout the day when you have GPS tracking enabled. If, however, you disable the GPS tracking, you'll see a "Location Off" bar displayed on the screen.
Job Cards
When you view the new job cards, you'll be able to quickly and easily pull up information about the specific job you're viewing. The job location, address, phone number, contact information, and job attachments are all right there.
Save Time and Money with ClockShark
Thank you! Your submission has been received!
Oops! Something went wrong while submitting the form.
Syncing
Mobile app users now receive more information about the locations they are sharing and can see when information is being synced.
With the new update, they'll see a graphic letting them know the app is syncing and when it is finished whether they're clocking in, clocking out, or taking a break.
Search Bar
If you want to switch jobs, you can use the new search function to find the job you want, rather than scrolling through all of your jobs and customers. This makes switching a snap!
Conclusion
Recently, ClockShark has come out with many new updates and upgrades and we're proud to continue growing and improving. We are sure this new version of our mobile time clock app is just one of many steps we will be taking to improve our customers' experiences.
If you'd like more information about this new version, you can view our help article, or feel free to contact our customer support team anytime!