On the go? Listen to the audio recording instead.
---
You may be the best at what you do, but it's not much good for you if you don't have clients. Even if you have a few clients, growing your client base can be a challenge. Especially if you're frequently on the job, working. That's why marketing for construction companies is important.
You want to have a backlog, so your work doesn't just come to a screeching halt. This means constant marketing and advertising, which can go beyond your marketing budget, but there are some simple, less expensive things you can do to build your reputation (and your client base).
Why Should Your Construction Company Consider Investing in Marketing
Marketing your construction company is imperative if you want to reach the right clients and have your company reach its full potential. A good construction marketing strategy gets your company and your brand recognized by potential clients, competitors, and even potential employees.
With the recently passed infrastructure bill, competition will be fierce. Those with the best name recognition will be more likely to reap the benefits of the many new jobs this will create. That's because good marketing is not just about getting your name recognized. It's also about making your company stand out and look professional.
Benefits of Marketing for Construction Companies
If you consider any product or service, chances are you'll think of one that you're familiar with through marketing. Perhaps you've seen their ads online or heard ads on t.v. Maybe you recognize their brand colors or a clever slogan that stayed with you. That's because marketing is aimed at getting recognized. There are more benefits to construction marketing than just getting recognized.
Boost Sales
Of course, people in the construction and trades know there's no shortage of jobs. But how are these construction companies getting those projects? Because they likely marketed their expertise. Marketing lets the right people - whether that be commercial or industrial, homeowners, or real estate managers - see who your company is, and what you can do. This leads to increased sales because your marketing is targeting the clients you want and getting you quality leads.
Brand Expansion
Your brand is the image the public - and your customers - have of you. It is a unique way that your customers see your company. With a good brand, you can expand your expertise with much more ease and less cost than building a new one. For example, if you are a well-known, successful deck builder, but you want to expand into fencing, having a successful brand with a good reputation will make those looking for fencing professionals know they can trust you. Marketing helps you build trust with your customers.
Customer Understanding
Instead of getting unqualified leads for jobs you don't do, proper marketing lets customers clearly understand your areas of expertise and what you're best at.
Discover Construction Industry Trends
Marketing changes. When you begin marketing, you'll learn all the latest marketing trends for construction companies. This helps you ensure you're using your marketing budget in the right ways and channels.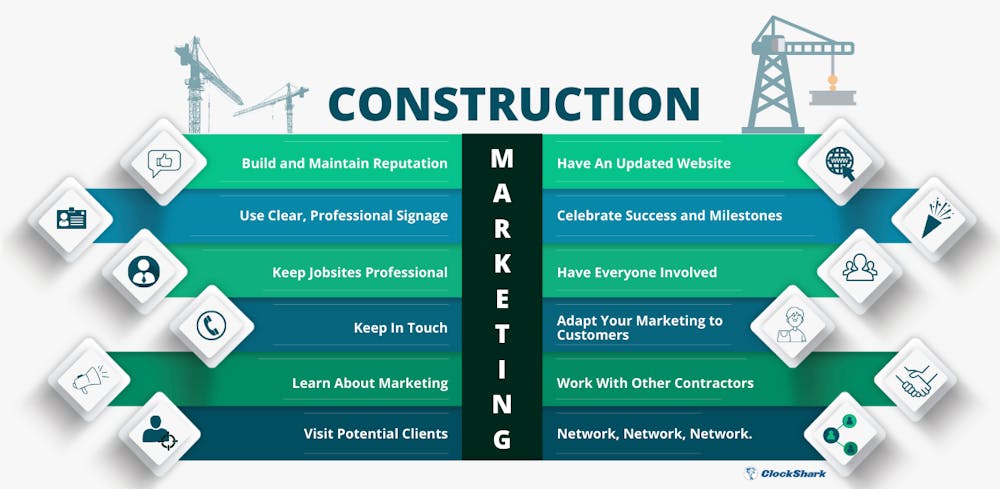 How do you Market a Construction Company?
Rebekkah Anderson is the President and co-founder of Wise Elephant Consulting, a marketing and consulting company that serves construction companies. As a business consultant, Anderson sees a lot of industry struggles when marketing for construction companies.
We asked Anderson for expert insights and tips on how to get clients in construction.
Ultimately, it's all about strategy, Anderson says.
"The most common mistake I see contractors make is not being strategic about their marketing. They'll throw something up because it seems like a good idea but they don't think about their return on investment or consider whether it's the best use for their funds."
Anderson says the four most common challenges for contractors today are utilizing technology, keeping up with the workload, maintaining great customer service, and developing a solid strategy that is implemented.
So how can today's contractors get more clients? Here are 12 tips to get you going.
1. Build - and Maintain - Your Reputation
This doesn't mean just doing a great job. Of course, you should always put your best work out there. But even if the work you do is stellar, your reputation doesn't rest solely on the projects you complete.
"You have to make sure that you're gaining good customer experiences where you can ask for reviews from them after the work is done," Anderson explains. "Everything starts with your word. If you say it or write it out, you do it. If a customer has a problem, address it right away and have a process in place for how you handle those complaints. If it gets to the point that it hits your online reviews for your business, you will lose new business."
Nurture the relationships you have with your existing customers and they will be your ambassadors for new ones.
2. Use Clear, Professional Signage
In today's marketplace, brand image - how potential or existing customers view your company - is about more than just a nice logo or tagline. It's a representation of who you are as a company and it is developed based on your company's values.
Clear, consistent signage on your vehicles and equipment should reflect the values of your company, and all of your employees - as well as subcontractors - should honor your brand.
According to Anderson, it's important to have your sign or your truck in the front yard of your projects.
"Your signage needs to have rules behind allowing people to represent the brand. Make sure anything and anyone associated with your brand is agreeing to abide by those values. You wouldn't want your logo showing up somewhere that could impact your customers' perceptions of who you are as a business."
3. Keep Jobsites Professional
As with anywhere your brand will be, you want everything associated with the work you do to be professional.
"Is everyone OSHA safe? Are you laying down tarps to collect debris? Do your employees clean up after themselves? All of these things impact people's perception of your professionalism. If your team wears matching apparel and looks professional from start to finish, it's a lot easier to bid jobs at a higher price point. People's perception of your professionalism impacts how much they are willing to pay for your services," Anderson advises.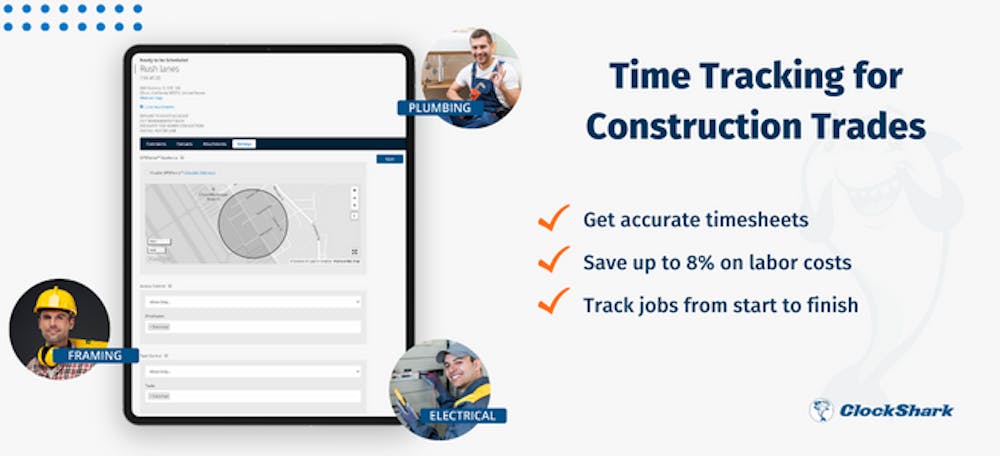 4. Keep In Touch
Your existing clients are valuable assets but if you don't stay in touch, you could end up forgotten, no matter how great your project was. Customers like to feel valued and this is an inexpensive way to nurture the clients you have.
"Maintaining relationships with clients is very important," Anderson says. "The more you do commercial projects, the even more important those relationships are. If you're working with customers, having a process flow for communication and education of the customer will make them feel comfortable with the work that you are doing and why you are doing it."
Once you establish a quality relationship, it's important to continue to maintain it. Anderson suggests following up a month after the project ends to check on how the project went.
"It's very important to maintain that connection, especially if you follow up in person. When someone has a concern, that's when you handle it, and when someone is happy, that's when you ask for a review for your business online."
5. Learn About Marketing
Marketing today is different than it used to be. Take time to familiarize yourself with inbound marketing, social media marketing, and buyer personas. Hubspot Academy offers free certifications that help you learn strategies and processes to understand marketing.
"It is so important to understand how everything works in marketing and how to track your return on investment for any marketing channel," Anderson says, adding that she is always teaching construction business owners how to understand their metrics.
"Digital is so important for contractors to understand because it is the competitive advantage to growing and remaining profitable, but it must be understood before being implemented. Strategic planning in business is what keeps construction companies alive in a recession, and part of being strategic is understanding how to spend your money wisely on every investment, especially marketing."
Sign up for Google My Business and promote your business with business cards and a well-designed website. (Pro tip: hand out two business cards to each person instead of one. That way they can pass one on to those they recommend you to).
Make sure you stay consistent with all of your marketing materials and the ways you respond to customer reviews. Anderson says your website should help you build trust with your customers and showcase your work.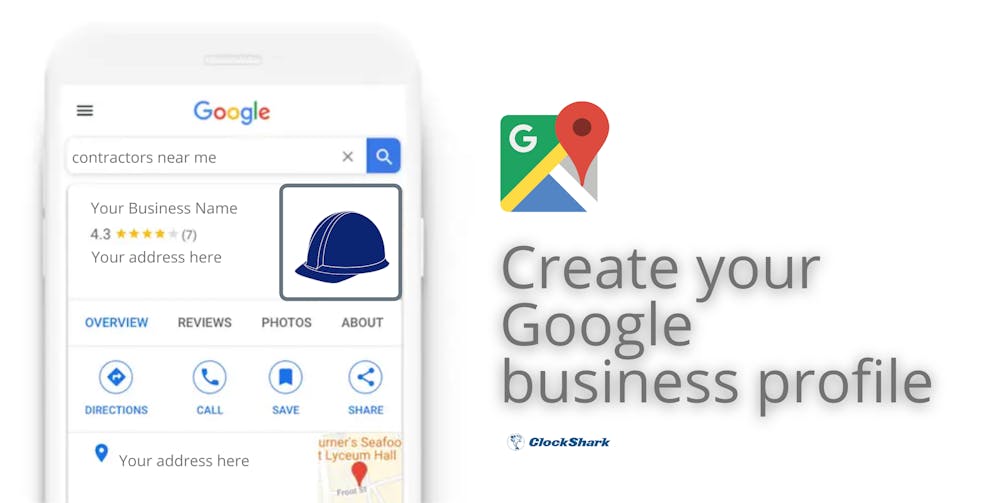 6. Visit Potential Clients
Set aside a morning once a month to visit potential clients. Research the customer/company to ensure you set up meetings with the right person – the person who will deal with new construction projects.
Take a couple of company brochures and business cards so they can be distributed to others in the company. Find out about upcoming projects, how you can be invited to bid on the projects, who you should be talking to, and what you should be doing to ensure you can work for them.
7. Have An Updated Website
"At minimum, your contact information should be readily available on your website as well as some photos of your work," she explains. "Your About Us page should build trust with your customers about who you are and include certifications and licenses, and you should list the types of services you provide to ensure you're giving your customers a full view of what you can offer. Do you have a maintenance program? That should be on its own page as well."
Make sure to share before and after photos on your social media channels, as well.
"This is the most time effective, even if you have little to no capacity for all other marketing opportunities. Our brains work faster at processing images than words."
Save Time and Money with ClockShark
Thank you! Your submission has been received!
Oops! Something went wrong while submitting the form.
8. Celebrate Successes or Milestones and Invite the Media
We all like free advertising. When a project is completed or reaches a milestone, it's often good for the construction team to have a small celebration. Invite the client and their team. Invite the designers. Invite people from the designer's and client's office.
Invite the local media – send them a short blurb on the project with a picture that they could include in a news story. Ensure that the event is properly organized and that the project site is clean and orderly – you don't want visitors tripping over construction rubbish or unfinished work. Of course, you can't hold these events every week. In fact, they probably only work well once a year, or when different teams are involved.
While it's not the most time-effective approach, Anderson says you can reach out to local media outlets about public projects they may be covering completion for ribbon-cutting, etc., or you can connect with the marketing & media communications teams that would also be doing that for the local government, chamber, EDA, Library, etc. to see if you can partner with them on the information they will be releasing.
9. Have Everyone In The Company Involved
Your crews are your ambassadors. They represent your company and reputation and can lead to new customers. Be sure they are clear on how you want to be portrayed as a company and have them report any potential leads to you.
There are a number of things each employee can do to contribute to the positive image of your company.
"If you have a crew that is going to work on a job for you, make sure there is a sign up with your logo letting people know that you're doing the job," Anderson suggests. "If possible, and practical, provide matching apparel - perhaps company t-shirts - and established professional behavior expectations.
"Processes that require everyone to put on their PPE and safety harness any time they enter the job site is a great process to have, or that call to notify if your crew won't be able to work due to foul weather is a great process to have that keeps the customer feeling cared for. A policy such as having a GPS tracking system will also allow you to know where your branded company trucks are, and how fast they're going when used by subs."
While technology is one of the greatest challenges for construction companies, solutions like mobile time tracking that improves customer satisfaction and increases employee accountability will also improve your professional appearance. Ultimately, anything that improves your professional image, will market you better.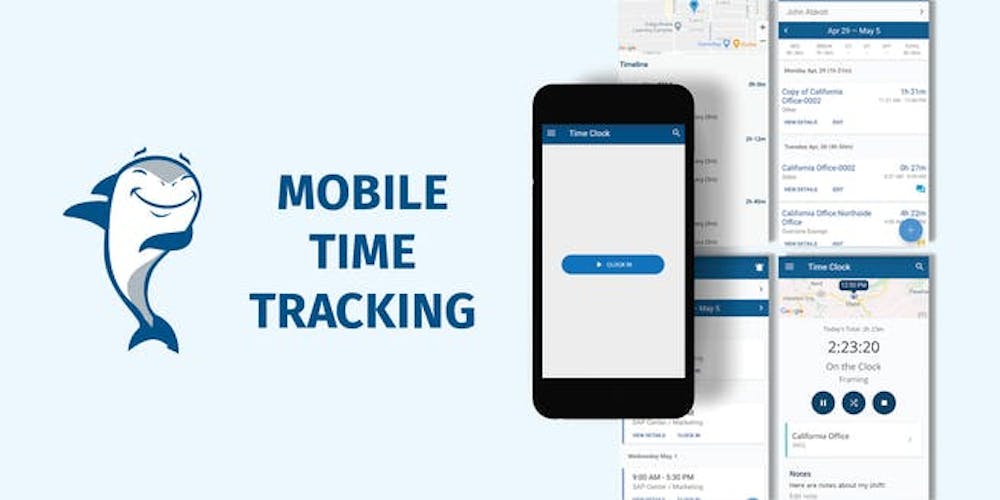 10. Adapt Your Marketing to Customers
Marketing and advertising is not a one-size-fits-all process. What might work for another contractor, may not work for your company. Take time to get to know your ideal customers and target them.
Sponsoring a local cause or event may be useful. Distributing flyers works for some customers.
Advertising in local papers may yield results. Whatever you do, ensure that your company's message is clear and professional. Always ask new clients how they found your company, then see how you can improve and develop that source so it can yield other clients.
11. Work With Other Contractors
Good working relationships with other contractors, suppliers, and subcontractors is essential, and advertising each other's services can benefit everyone. Consider forming alliances – of course, always ensure that they are reputable companies because you don't want your company's reputation sullied by poor workmanship or negative experiences.
12. Network, Network, Network.
Anderson says there are many ways you can become more well-known in the construction industry.
"Associations are a great way to get connected with regional people within your area. Educational conferences to keep up your license is a great place to connect with other contractors," she says.
"There are a lot of events that your vendors will hold at some of the larger Expo conferences around the U.S. that would be great to build relationships during. Meeting people from a different part of the United States can be incredibly helpful when you run into a problem or are wondering about how other people are comping sales people, handling lot inventory, etc."
Get Started Marketing Your Construction Company Today
You can't expect clients to find your company. You have to work to ensure potential clients will find your company. Advertising is expensive and doesn't always work but understanding your clients and following up on leads and past clients is a cost-effective method of finding the next construction project.
Marketing for construction companies is a team effort, so ensure that everyone in the company understands what must be done. To learn more about branding, read our blog, The Best Way to Build Your Company Image.
About Wise Elephant Consulting
Wise Elephant Consulting is a business and marketing consulting company, specializing in cost-effective solutions for construction companies. She co-hosts a weekly podcast entitled "Business Talk, Sister Gawk" that provides free advice and information for entrepreneurs. You can connect with Rebekkah Anderson here.