Construction Pro Manager is document management software that specializes in assisting construction project managers and contractors with keeping documents organized, being able to control the project and follow up on details quickly.
Construction Pro Manager is a cloud-based software solution. There are mobile apps available for a variety of platforms including IOS, Blackberry OS, Android, and Windows. Construction Pro Manager offers three types of construction document storage. It also has subcategories of document storage within each category to help keep things organized. We discovered in this Construction Pro Manager review, that this organization scheme comes in handy, specifically because they have forms, breakdowns, and schedules already made that you can use right away.
Construction Pro Manager Features
There are a total of 42 document types within the Construction Pro Manager software. In addition to the document types, the Construction Pro Manager software offers 23 construction forms, along with a variety of schedules and breakdowns. The forms can be modified and are in a PDF format.
The software gives the ability to manage all of the necessary construction-related paperwork that is required to run a construction business. The system of Construction Pro Manager is designed to make project managers' and contractors' jobs easier as well as making their work more efficient. Utilizing the software allows the members of the construction team to quickly find the project document they need when they need it.
Andrew Arena founded Construction Pro Manager. He was a Construction professional who had been a project manager and worked in construction for 18 years. After working in the industry for years, he realized that the industry lacked a product that would help control all of the mountains of paperwork that project managers go over every day. He had seen the other software available in the industry and felt it was designed by people who didn't know the industry. He felt that the software took away control from the project managers that they needed and did not work well for organizing the paperwork.
The Construction Pro Manager has a proprietary CLS-Contractor Linked System that creates an accessible format for managers to use and creates an organizational system for all that paperwork.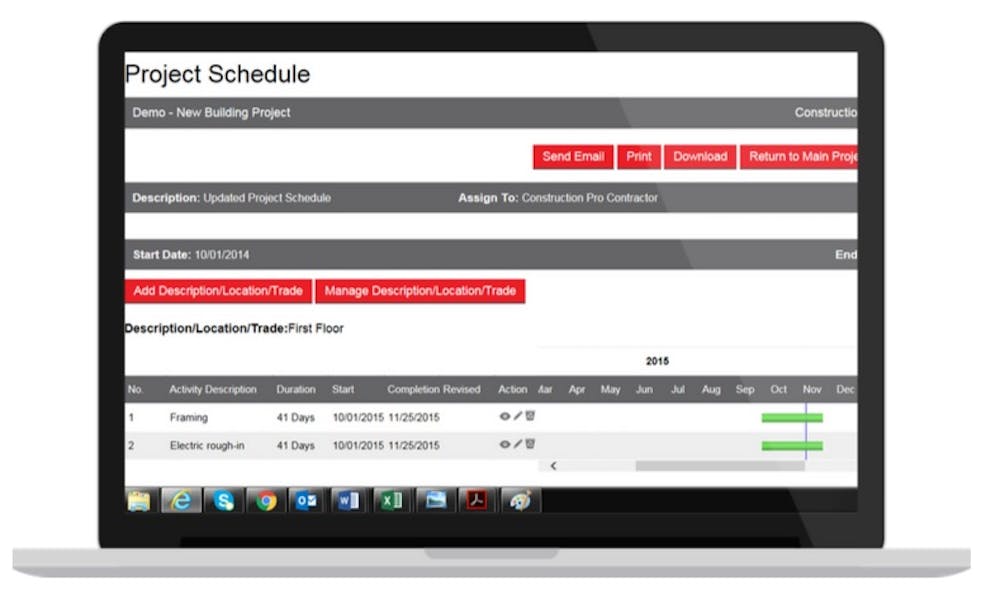 The three broad categories that the software breaks down document storage into is: Administrative Log File, Technical Log File and Field Log File. Within these categories, there are secondary groups to break it down further. The Administrative Log category includes items such as Insurance/Bond Log, Permit Log, Project Schedule Log, Time and Material Log, Requisition Log, etc. The Technical Log category includes items such as submittal/Shop Drawing Log, Operation, and Maintenance Manual Log, Request for Information Log, Punch List Log, Scope of Work Log, etc.
The Field Log File includes items such as Accident Report Log, Worker – Emergency Contact Log, Daily Time Sheet Log, Material Lead Time/Delivery Log, Weather Delay Log, Etc. The organizational method used is similar to what project managers are already familiar with in their day to day work. Since it uses a method that is already known to construction professionals, it makes the transition to using Construction Pro Manager very easy.
A helpful feature within the Construction Pro Manager software is the Log Notifications. 11 different Log Notifications can be emailed to team members and project managers to help ensure that a project is on track and stay up to date with all safety and permitting issues.
Easy to use PLUS great documents included to get you started fast
Construction Pro Manager offers a 30-day free trial, so you can try out the software and see how it works for you. To try it out go to www.constructionpromanager.com and click "Start Now" next to where it says 30-day free trial. You will then be prompted to fill in your company's name, your name and some basic information including your email. You will pick a username and password. Once you submit the information, you will then receive a verification email. Click on the email and sign in to Construction Pro Manager with your username you just created.
The whole process takes about 3 minutes; you will be on the home screen when you sign in. You can click on the dashboard to see all of the Projects and staff you have listed as well as the Log Entry Summary for all of your projects. You can add projects, employees, and emails to be utilized as you add in information to the software. Once you have added your staff and emails the next step is to add a project which is done just by clicking on the "create new project" button.
You are prompted to put in the Project Contract Data, Project contacts, and specifications. Once you have entered the information, you are brought to the project's overview page that shows all the details and has links to the entire log files associated with the project. Play with the software for the 30 days to see if it's a good fit for your business.