Cority, formerly known as Medgate, is software that provides a solution for occupational health and safety management. The goal of the Cority EHSQ software is to make the process standardized and create uniformity and simple workflows. The software helps to integrate the data in a central location and track performance. Cority software contributes to finding problem areas before an issue arises. The Cority software is cloud-based making it portable and easily accessible regardless of where you are. The dashboard for the Cority software can be customized to a user's preference. Lists, layouts, menus, and screens can be created in a way to fit the user's workflow. There are many modules you can pick from and in this Cority review we won't be able to cover them all, but we'll get you a high-level overview so you'll know if there is something for you.
Cority Features
The Cority system is a comprehensive solution that encompasses a holistic approach to occupational health and safety. The software consists of the areas of Industrial Health, Occupational Health, Safety, Environmental, Portal, and Quality. These areas can be used alone or used all together as a comprehensive, integrated package.
Tracking
The Occupational Health Software suite assists with keeping track of medical trends keeping on top of regulatory and compliance requirements. The suite helps companies make decisions on ways to improve their employee's productivity and health. Utilizing Cority and the Occupational Health Suite allows companies to standardize their health data for their employees and manage it across many locations.
The suite assists in implementing and facilitating electronic recordkeeping. The software allows the company to see trends in the utilization of clinics and employee health. There are in-depth reports available to help drill down and discover what is working and what needs improvement.
Managing
The software provides management of medical surveillance by using an advanced scheduler that can monitor activity for set groups and automatically notifies employees who need to take some action. This is helpful for large companies that need to track different cohorts of employees and ensure they have completed any health and safety requirements.
The software integrates the safety data with the medical and case management information to help prevent double data entry and to make sure that the data is accurate when a staff member is absent, sick or injured. The Occupational Health Suite has multiple Modules to assist with managing the complex information, they are, Audiometric testing, Body Fluid Exposure, Case Management, Chest X-Ray, Clinic Visit, Clinical Testing, Drug Testing, Immunization, Inventory, Medical Chart, Medical Surveillance Recalls, Occupational Health Equipment Module, Pulmonary Function Testing, Scheduling, SEG Management, Travel Clearance, and Vision Testing.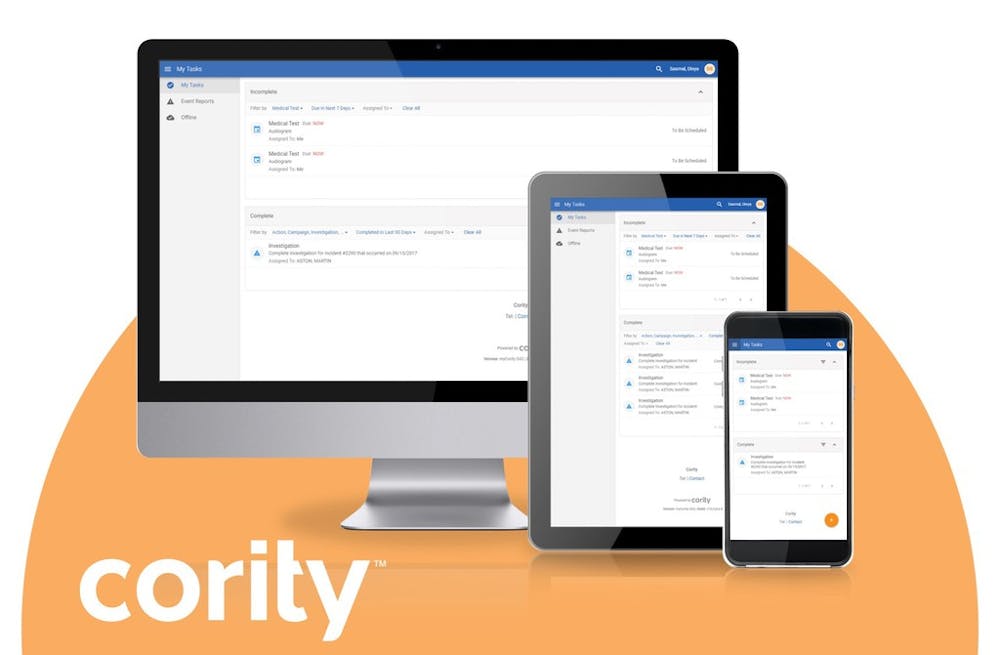 Communication
The Safety Management Software assists with managing Safety programs, Compliance and risk. This suite helps connect Cority's other software suites so that they can communicate and share data. This enables all of your team members to see relevant data.
The software charts performance and notes the key trends, risks, and areas that might need to be addressed. The Safety Management Software helps to create smooth safety workflows regarding incidents, reporting events, inspections, risk assessments and more. The Suite provides helpful reports and has a flexible report writer to help you get the correct report you need.
The Industrial hygiene Software suite provides industrial hygienists with a way to efficiently identify hazards and to mitigate risks to create a healthy work environment. This suite was designed by Cority's Certified Industrial Hygienists' input to create a program that would deliver what companies needed. The software helps break down barriers in communication between other EHS departments via data integration.
Recognize Hazards and Evaluate Risks
The Industrial Hygiene Software manages the qualitative and quantitative exposure assessment data that is in the central database. This helps to recognize hazards and evaluate risks. The suite manages Industrial Hygiene equipment utilizing automatic calibration reminders. Job hazard analysis is automatically produced based on exposure assessments. Recommendations are made by the software for controls by job positions based on the exposure estimates.
Environmental Inspections and Audit
The Environmental Management Software Suite assists with streamlining environmental health and safety data to meet Environmental management systems requirements. The Suite helps manage the various environmental conditions and show continuous compliance. The software assists with tracking incidents, chemicals, and assets. It also helps perform environmental Inspections and Audits.
The Quality Management Suite contributes to streamlining the processes within the company by having a central place for all data. Through the suite, you can track equipment usage to schedule maintenance and more. Using the Supply portal, you can track, audit and score your suppliers.