When it comes to running your field business, you need to be able to manage the people who make things happen. It is important to keep them productive and satisfied, to attract and retain great crew members, and make your job easier. It's important to know how to choose the best crew management software so you can be sure you get the best one for your needs.
Crew Management Software for Field Teams

1. ClockShark

2. Aspire

3. simPRO

4. Monday.com

5. Connecteam

What Is Crew Management Software?
Crew Management Software is a tool used by field companies to manage teams within the organization. It helps increase the productivity in the field by providing real-time visibility into your technicians.
What Is The Purpose Of A Crew Management App?
Employees look for work/life balance and want a sense of job security, and business owners want to attract and retain the best talent. A software helps achieve both of these things, and makes managing your people easier and more accurate, while also making their jobs easier and, thus, improving the employee experience.
The purpose of a crew management system is to make managing your team easier with different features that make it simpler for them to do their jobs. With good software, you can also improve communication between the office and the field and get better control over your workforce activities.
When Should Crew Management Systems Be Implemented?
The answer to this question will depend on the company, staff, and the person managing them. While some managers are capable of effectively managing several crew members, others might struggle managing just three.
If you are finding it difficult to keep track of hours, jobs, tasks, etc. a crew management system is probably an ideal choice for your business.
Benefits Of Utilizing A Crew Management Software
There are multiple benefits to utilizing any type of software that improves the workflows of your company. In the case of a crew management app, the benefits extend from the office to the jobsite.
Improves Communication
Communication is challenging if you don't have everyone in an office. For example, if you have field crews and multiple job sites, communication becomes more difficult. With crew management software, your team can communicate with one another and managers can communicate with their entire team. This will make your life easier to stay on top of project updates.
Accurate Reporting
It allows you to collect accurate data about jobs and crew members, so you can have accurate labor reports. This is particularly helpful if you work on government contracts that require specific information regarding labor costs.
Save Time and Money with ClockShark
Thank you! Your submission has been received!
Oops! Something went wrong while submitting the form.
Fewer Errors
Of course, getting accurate data means fewer errors in your HR records. Whether it be the spelling of an employee's name or inaccurate timesheet data, a staff management software helps you eliminate these risks.
Mitigate Compliance Risk
There are a lot of rules, regulations, and laws around crew members, and sometimes it gets challenging to keep up with changes. There are also pay requirements for things like overtime or holidays and a crew management software helps you monitor these things more easily.
Key Features Of An Effective Crew Management Software for Field Teams
There are plenty of crew management software solutions available, and it is a fast-growing industry. The type of system you get will depend on the size of your company, your budget, and your needs. There are small, simple programs and software that include employee management tools which are ideal for smaller or mid-sized operations.
Regardless of your needs, there are a few basic features you should look for in your crew management app.
User-Friendly
Clunky, complicated systems are not likely to be useful to your company because your team won't appreciate having to figure them out. Be sure the crew management solution you choose is one your team is able to easily learn and use.
Integrations
From employee scheduling to running payroll, your crew management app should integrate to make some of your HR administrative tasks easier to complete.
Time Tracking
Accurate time tracking means accurate paychecks and improved employee productivity. With remote time tracking, your crews can record the time they clock in on each job and what time they finish. This is particularly helpful for companies in the field service and construction spaces, to get accurate job costs.
Real-Time Reporting
Without real-time data, it's difficult to run reports or respond to issues. Real-time reporting, though, gives you visibility of what's happening in your company, as it's happening. This helps you identify areas of weakness and also helps you improve your company's customer service.

Cloud-Based
Cloud-based computing has risen significantly in popularity for business software solutions. A cloud-based field crew management system allows you to access your HR data and team information from anywhere, from a secure server. Since it is encrypted, your employees' data and information is kept secure.
Mobile Friendly
If you have mobile, remote, or multiple crews, your staff management software should provide you with a mobile app that your team can use when they're not in the office.
Easy Communications
Communication is critical in business, and it's challenging when you have different projects happening with different workers and different departments. Your crew management software should simplify communications so everyone is on the same page and has the right information.
Scheduling
A scheduling feature helps you create, change, and share schedules for each worker, and it makes it easier for them to pull up their schedule on their mobile devices so they know where they're supposed to go and what they are working on throughout the day.
Task/Job Management
Being able to assign jobs and tasks to field crews and monitor the progress of the job - as well as share details, data, documentation, etc. about the jobs - makes it much easier for you to ensure the jobs are getting done right because your workers have all the information they need about the jobs and tasks.
Time Off
Tracking time off is important to stay compliant and if your staff management software does this, it makes it easier and more accurate to do.
Location Tracking
This is particularly helpful if you have people in the field or remote workers. Being able to track where they are at any given time, helps you pinpoint their locations throughout the day.
Best Crew Management Software for Field Teams
When you begin using a crew management software, you may be tempted to go with the biggest or most expensive, but an employee management software doesn't have to be complex and confusing. Here are some top picks to consider.
1. ClockShark
ClockShark is a crew management software built for construction and field service businesses. It makes it easy to track hours, jobs, and tasks, and run payroll and reports. You can also use ClockShark for employee scheduling and to track PTO, create and send quotes and invoices, and receive payments online.
Pricing
Starts at just $8/month per user + $7/month base fee. Free 14-day trial.
2. Aspire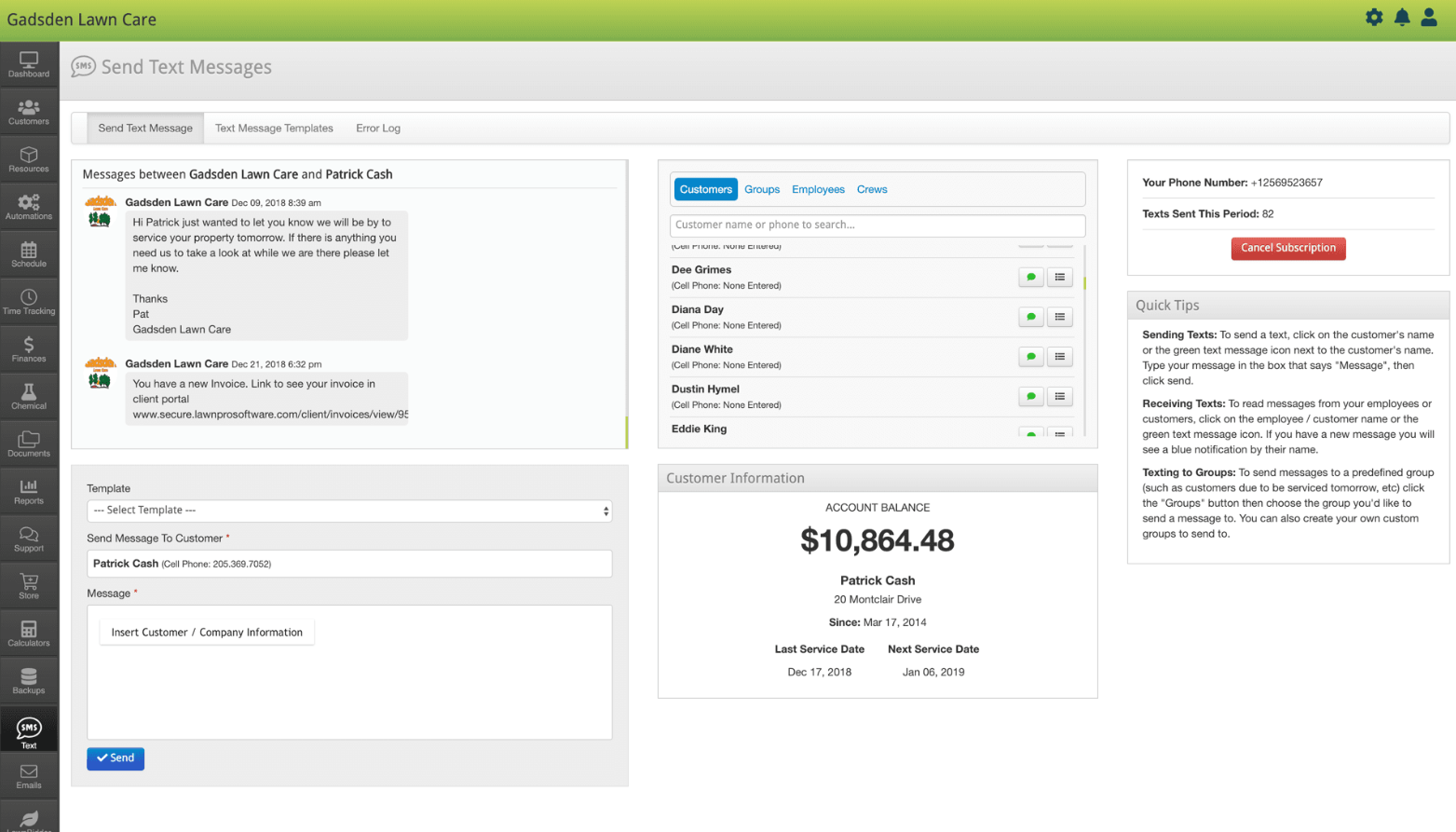 Aspire is a cloud-based digital solution that helps landscaping and janitorial companies streamline their processes. With tools unique to these industries, it's a powerful tool for such companies.
Pricing
Prices start at $1,000 per month
3. simPRO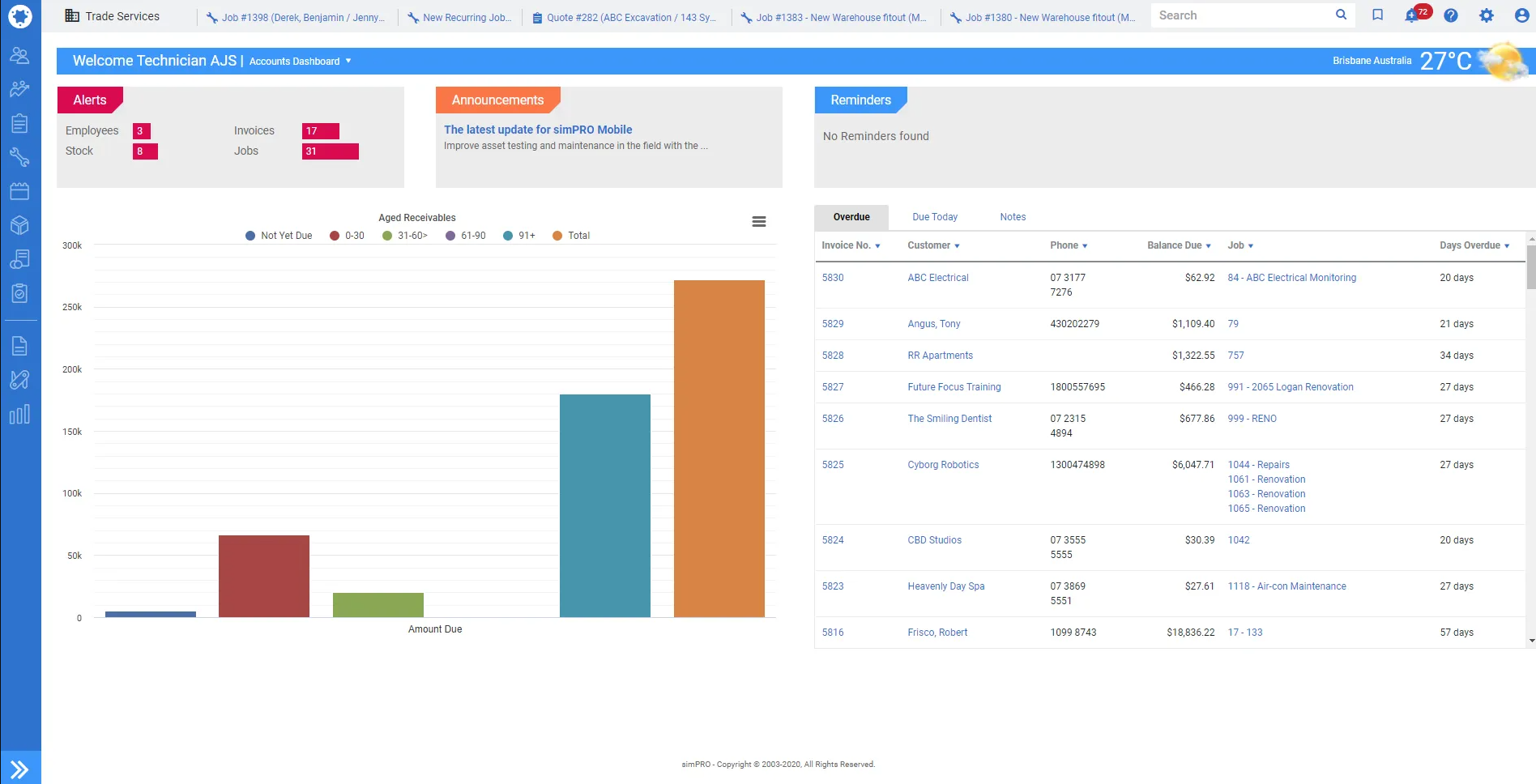 SimPRO is a software solution for field service industries, ideal for companies who have employees in the field. Dispatch capabilities come with their software, as well as asset, job, and project management.
Pricing
Contact for pricing information.
4. Monday.com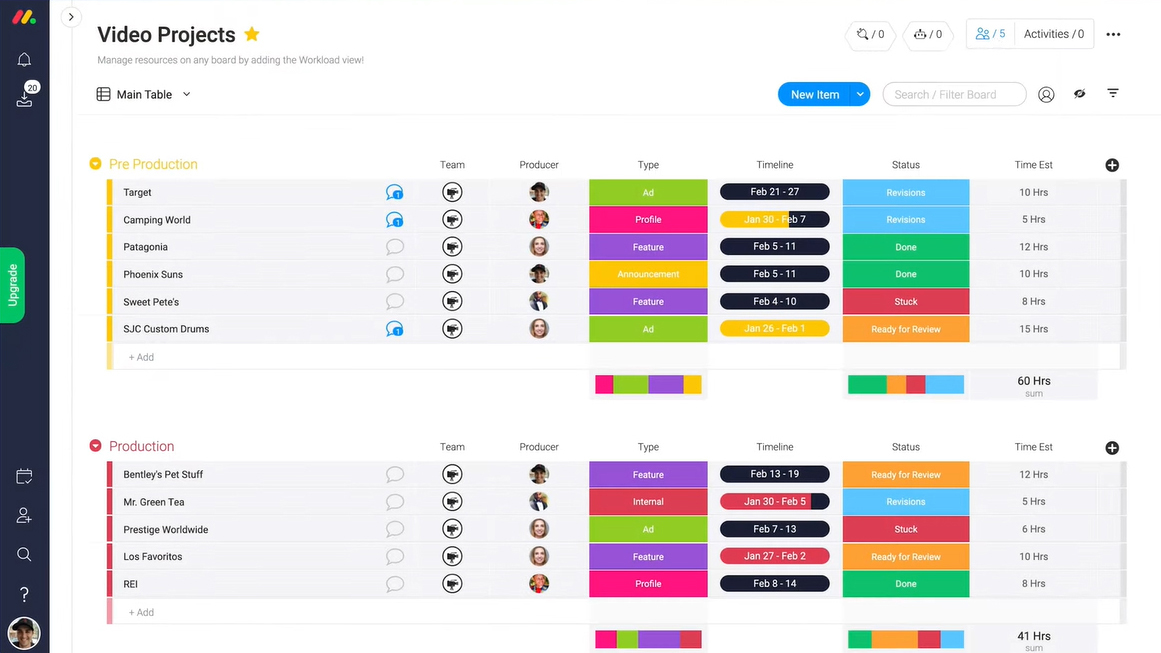 Monday.com is a popular employee management tool used to help increase collaboration among team members and streamline workflows. It includes customizable dashboards and job tracking.
Pricing
Monday.com offers a free plan with limited features for up to two people. Paid plans begin at $8 per person, per month
5. Connecteam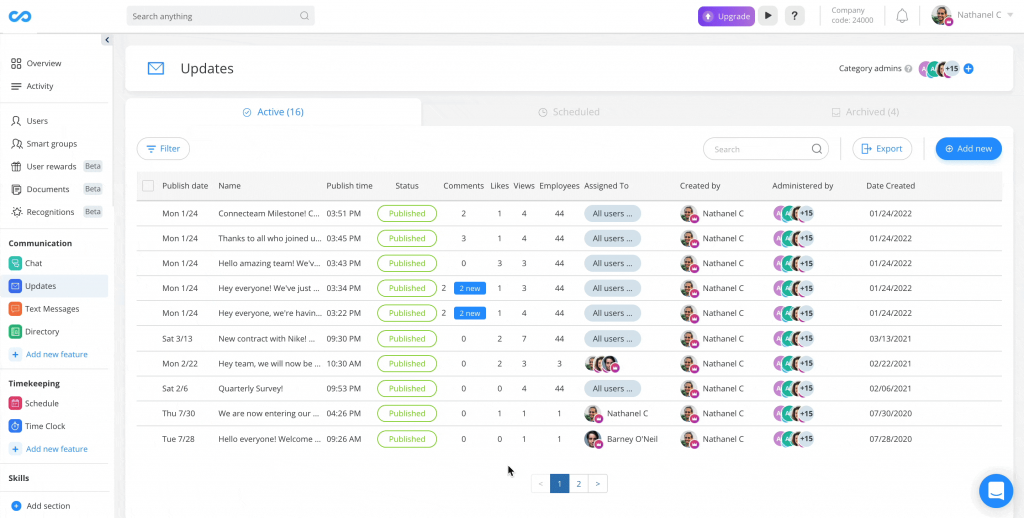 Connecteam is a business software that includes employee management tools to train and track employees.
Pricing
Connecteam offers a free version for up to 10 users, with limited functionality.
Plan prices start at $29 per month x 12 for the first 30 users and $0.5 a month for each additional user
Choose the Best Crew Management Software for Your Business
Every business is as unique as each crew member within that business. That's why it's important to research your options before choosing the best crew management app for your field company.
What might work great for one business, may not be the most ideal choice for yours. Take advantage of free trials and don't be afraid to try new features you may not have considered, to see how a great crew management software will improve the way you run your company.
---
Compare the Best Crew Management Software Apps for Field Teams
Pricing
Free Trial
Starts at just $8/month per user + $7/month base fee.
Aspire does not list pricing for the two plans they offer.

Contact for pricing information

Free version for up to two people with limited features.
Plan prices start at $8 per month per seat, total of $24 monthly, billed annually.

Free version for up to 10 users, with limited functionality.
Plan prices start at $29 per month x 12 for the first 30 users and $0.5 a month for each additional user