What is eMaint?
The eMaint Computerized Maintenance Management System (CMMS) is a software program created to assist companies with managing, tracking and planning inventory and assets. It is a cloud-based platform that makes it accessible wherever you have internet access. eMaint also offers an Offline Mobile App so technicians can access work orders and more when not connected to the web.
The goal of utilizing this software is to extend the life of assets within the company as well as reducing maintenance costs, meeting compliance standards and improving work completion rates. Also, eMaint assists with moving towards a paperless environment, making data-driven decisions, eliminating manual processes and it can reduce equipment downtime. eMaint can be personalized and has many features available.
eMaint was founded in 1986 and was a leader in the CMMS software field as one of the first to roll out a Software as a Service Model. The company has many years of experience in the field working with businesses to help improve their maintenance management systems. eMaint reports that they have had over 50,000 users who have reduced their reduction in operating expenses by $100,000 and a 30% reduction in corrective maintenance.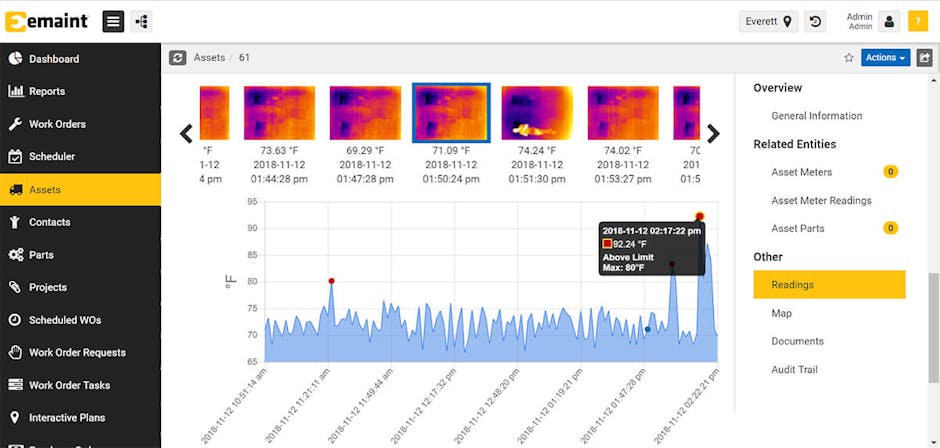 eMaint Features
eMaint has an Asset Reliability platform that offers a unique feature when it is combined with Fluke's testing and calibration equipment on a company's assets. Fluke owns eMaint, so the software works seamlessly with it allowing for a simplified workflow experience. The dashboard and interface for eMaint can be configured to work with how your company works. Companies can change the filters, layouts, themes, colors, panels and field properties for what works for their business.
eMaint offers many features within the software. The Asset Management software feature within eMaint offers Asset Hierarchies that help track assets and let you know how your assets relate to each other. Asset tracking is another feature provided within the eMaint software. Asset Tracking helps keep track of the maintenance history of your assets and to make data-driven decisions regarding maintenance and repairs.
eMaint Asset Criticality Ranking
Keeping well-maintained assets can extend their life as well as improve regulatory compliance. The Asset Criticality Ranking feature allows companies to make sure that their most important work is completed first. The Criticality Ranking Capability allows organizers within a company to prioritize their assets and the work that is a priority.
eMaint Asset Reservation
The Asset Reservation feature can save managers and businesses many headaches. It prevents the double-booking of assets. For example, a car, or room will not be able to be booked at the same time by two different team members. The system is set up so users can request assets for certain periods. Those time frames then need to be approved, and there cannot be a conflicting booking made.
eMaint Work Order Management
eMaint has a Work Order Management Software category that has many subcategories that make this a potent tool for managing work and making improvements. The work orders are created to work for your business. The forms are customizable with fields, layouts and workflow actions all being adjustable. The work order scheduling software allows you to assign work to a particular worker by just clicking a button. You can sign off on the work with a digital signature, reducing the need for more paperwork.
There are valuable reports and list views so you can see all open work orders. You can organize them by technician, type or department. Work Requests are managed through eMaint software and help organize and prioritize the requests. The system can send customers an automated email reply letting them know their jobs order is approved or rejected.
eMaint Project Management
eMaint has a Project management tool that assists with organizing a project and tracking its progress towards completion. The Mobile Work Management tool lets you take your eMaint system on the road with you. Work Order Permitting is easily done with eMaint since you can store your permits right on your work order record. You also have the ability to edit them using the online PDF document editor available within eMaint.
eMaint Predictive Maintenance
Also, eMaint has Predictive Maintenance software as a condition monitoring tool that allows companies to stay on top of their equipment maintenance needs and automatically generate work orders and emails when it is necessary. The Preventive Maintenance Scheduling Software helps to create a calendar of maintenance for equipment to keep things running smoothly and prevent unnecessary repairs. The Spare Parts Inventory Management system tracks inventory efficiently and helps with locating needed items.