What is Fieldwire
Fieldwire is a fairly new construction app for mobile construction drawings/plan management. Here's my quick Fieldwire review after spending some time test driving the system.
Fieldwire excels at making once bulky sets of paper construction plans available from mobile devices as well as sharing tasks (as they relate to the plans) among a team. I tested both the iOS version on my iPad and the Android Version on my Galaxy S5 (this was just released as an early alpha version). I signed up for my free account in about one minute via the website, then watched the two-minute tutorial video on getting started.
Fieldwire Features
Crete Projects
I created a project (this took 10 seconds), then invited several teammates by entering their email addresses. After entering their email addresses, they were now listed on my team and will have access to any plans or tasks I add.
Integrations
Next, I uploaded my first PDF plan set, which consisted of about 50 pages. Fieldwire integrates with Box, and Dropbox or you can upload files from your computer directly. These integrations would be nice for the many companies that have moved toward storing plans on these services. I chose to upload plans directly from my computer. The upload went as quickly as expected, then Fieldwire quickly processed the plans to optimize them for fast viewing on mobile devices (the necessity of this processing step was explained in the video).
One of the first things I noticed about Fieldwire is that everything about the user interface was intuitively laid out, functioned as expected, and was fast. Fast is important in web apps, and everything about working in the Fieldwire web app is fast, real fast actually.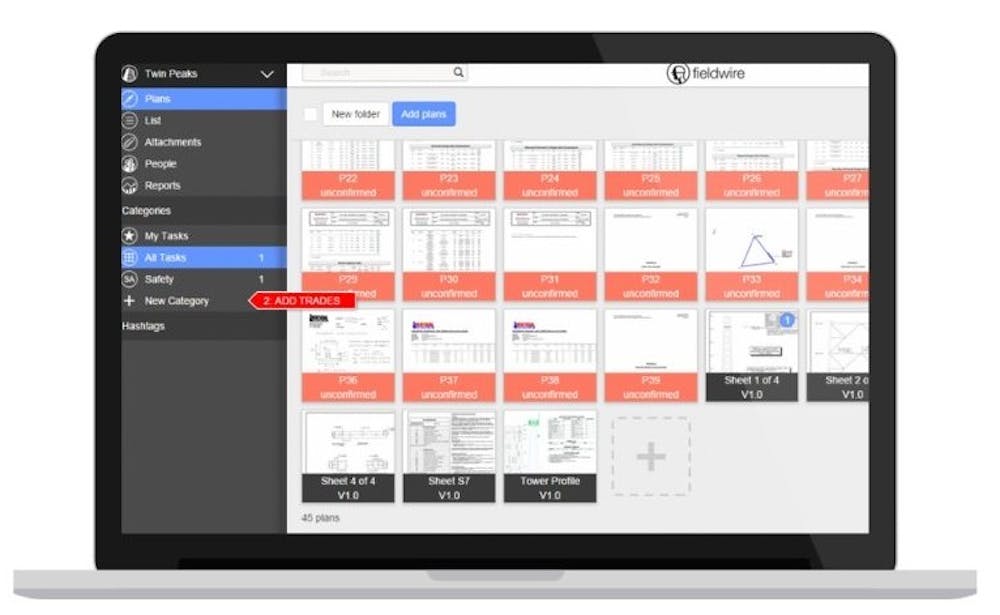 Label Sheets
After my 50-page plan set was processed (this took just a couple minutes to complete), the app prompted me to label all of the sheets. This step is a bit tedious, since each sheet in the set needed to be labeled. But Fieldwire made this process as painless as possible, by allowing me to quickly flip through each sheet and easily type in the label (i.e. Sheet S-5, etc.).
Next, I loaded up the iPad app. I logged in and voila, there were all my plan sheets in a very nice and easy interface. I could zoom in easily using gestures and flip between pages. There were also some annotation tools to add text notes and symbols to the plans to mark them up. I added a note to one of my planner pages and went back to the web app to look at the page. The note was instantly visible in the web app, nice.
Tasks Management
Okay, just being able to quickly and easily maneuver and view large plan sets from a phone or tablet is very cool. But there's a lot more to Fieldwire. In my opinion, the biggest draw of Fieldwire is its ability to manage tasks and punch lists in relation to a set of plans, with a team. For example, you can add a task in a specific spot on a sheet of your plans. After adding the task, you can assign it to a teammate, add notes, add photos from the camera on your device, and add comments.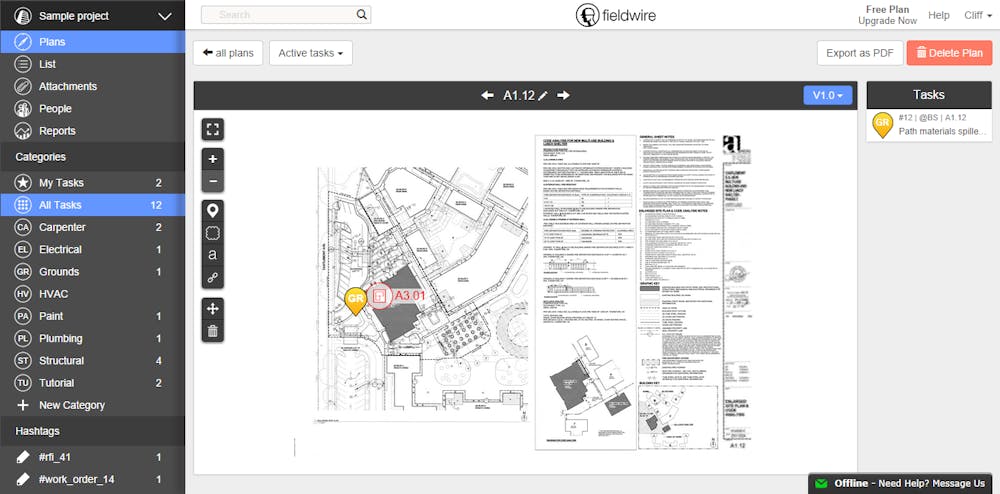 As teammates add comments to the task, you can see the comments develop in a chat-style format. When the task is completed you can mark the task complete. Pending and complete tasks show up with a different color and icon on your plan sheets, so pending action items and complete items are easy to differentiate as you browse the plan pages.
Overall, my impression of Fieldwire is that it is an awesome tool for managing plans and tasks on a construction job. My only criticism is that I'd like to see some more extensive tools for marking up aka "redlining" sheets. I'd also like to see the ability to export PDFs of the marked-up plans showing the annotations so they can be used for closeout documentation.
Fieldwire Cost
How much does it cost? It's free for up to five users and then $29/month/user if you expand beyond five users. Although to get the most out of Fieldwire you are probably a larger GC with multiple subs and employees needing access (necessitates the paid plan), for a small company just looking for basic plan management, the free option could certainly work.