If anything good has come out of the COVID-19 pandemic, it is the identification of essential workers that were underestimated before.
Field workers from various industries make up a large group of these workers. Many are needed to maintain infrastructure and keep things going as we all adjust to a new paradigm.
The Cyber and Infrastructure Security Agency (CISA) of the Department of Homeland Security identifies essential field workers as ones who:
"...conduct a range of operations and services that are typically essential to continued critical infrastructure viability, including staffing operations centers, maintaining and repairing critical infrastructure, operating call centers, working construction, and performing operational functions, among others."
Payroll departments are also essential workers. Your company needs to make sure your essential field workers get paid for their hours worked.
The Coronavirus pandemic poses some challenges for field service companies. Especially ones that still use pen-and-paper time-tracking practices.
There is no denying the COVID-19 has us in a state of uncertainty. Still, one thing we can assume is that things won't go back to the way they were before.
Many companies have had to find ways to continue to operate in a way that keeps workers safe from COVID-19.
Nobody knows for sure how long we will see the impact of this outbreak. However, research experts from McKinsey Insights predict five factors will shape the "next normal" for today's businesses:
Resolve -

"The need to determine the scale, pace, and depth of action required at the state and business levels."




Resilience -

Talk about near-term cash-management issues and identify large-scope issues for resiliency.




Return -

leaders will need to create detailed plans on getting back to work as the crisis evolves.




Reimagination -

Step out of old ways and find new ways to improve their company's performance. New technology and different practices help create a new normal.




Reform -

Adopting technology that supports things like distance learning and remote work.
Yes, this Coronavirus crisis is impacting field service and construction companies.
That's why now is a great time to become one of the increasing numbers of organizations that benefit from GPS tracking and mobile time tracking technology.
Benefits of Using GPS Time Tracking Technology During The COVID-19 Pandemic
Keeping employees safe is always a priority.
But when you have field workers during this outbreak, it can be a challenge to do if you don't have the right tools.
Some of our clients have reported they accomplish social distancing by using ClockShark technology. Instead of going to the office or meeting their teams, they can head straight to jobs or work sites.
It's also helping keep their employees accountable for the ones that are working from home.
Save Time and Money with ClockShark
Thank you! Your submission has been received!
Oops! Something went wrong while submitting the form.
Here is how GPS time tracking technology helps you continue to provide great service while also protecting your business and your workers during the Coronavirus outbreak.
Track Employee Hours
Tracking employees' hours in real-time helps ensure they are not where they shouldn't be and are working only where they should.
The economic impact of this virus is not yet known and hard to predict. Tracking employee hours helps ensure you are not losing money with things like:
Time-theft

Unauthorized overtime

Rounding timesheets

Human error
All of these things can cost you money and now is a particularly bad time for that.
Since a lot of companies are allowing employees to work from home, desktop time tracking solutions like Web Punch Clock are ideal for office staff.
Track Employee Locations
Despite social distancing and self-isolation rules, for many companies, it is impossible to completely shut down and you may need to send workers for jobs in the field.
Being able to track employees with time-tracking technology ensures they have all of the information they need to get the job done as efficiently as possible. They can also provide data to help you with accurate job costing, from the field, which is especially important in times like these.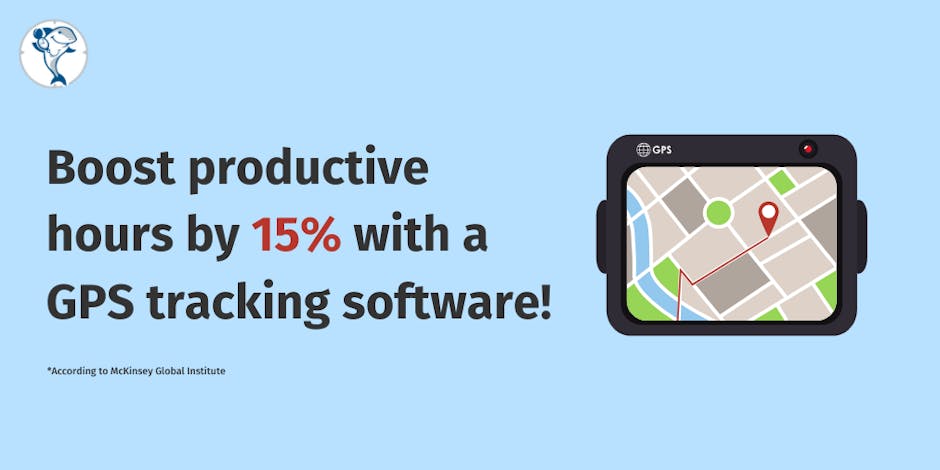 Flexible Scheduling
Keeping your work options flexible is essential so business operations can continue. With automated employee scheduling you can pull up detailed information on every worker and create schedules that everyone can see from their devices. This, too, removes the need for them to go to the office and risk being exposed.
Keep Employees Accountable
Some people can become complacent when they feel overwhelmed by the uncertainty that this crisis has created.
When you have technology that tracks their performance, locations, and hours, they will be more likely to give you their best.
Payroll Integration
Accurate billing is necessary to effectively manage expenses during the outbreak. With a cloud-based technology, your payroll and accounting departments can work from home. This removes the risk of exposure to the Coronavirus from field workers and doesn't sacrifice accuracy.
With ClockShark, for example, employees' hours are recorded and - since it integrates with programs like Quickbooks or ADP - you can import the hours with a simple click. ClockShark does all the hard work. This reduces hours of time spent on paperwork and deciphering hand-written timesheets.
Accurate Time Tracking Is Particularly Important Now
In a pandemic that most of us have not experienced in our lifetime, it's important not to panic. But it can be tough to make sure things continue to run as smoothly as possible.
If you are still rounding your field workers' timesheets, you could be losing thousands of dollars per month or more (depending on the size of your company).
Likewise, hand-written or phoned-in work hours can be costing you money that you simply can't afford to lose right now.
A time tracking app with GPS tracking technology helps keep your workers safe and working through this outbreak.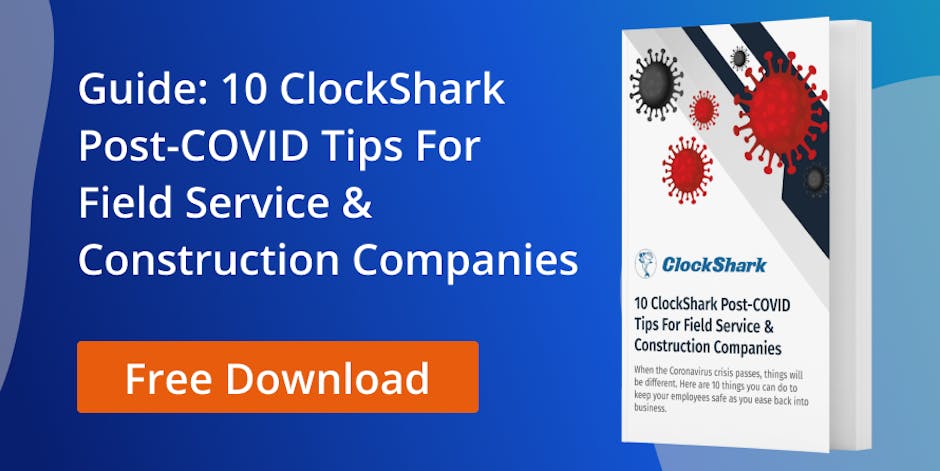 Don't lose sight of the future
COVID-19 is very contagious and can be spread by touching items or surfaces that have the virus on it. In the unfortunate event that you have a field worker who contracts the virus, you will have an accurate record of their locations.
As we learn to adjust and function through this crisis, it's important to not lose sight of the future. Adopting new technology now that shifts your company into a more modern, efficient, and productive space will not just work to save you money and keep workers safe today.
It will continue to provide you with these benefits long after COVID-19 has run its course.