When you run a small- or mid-sized construction or field service company, you're already busy making sure your people are doing their jobs right, and satisfying your customers. From inventory and fleet management to job costing, employee safety, and reports, a business owner's job is non-stop.

Add to your duties, collecting, disseminating, deciphering, adding, and inputting all of the information from hand-written notes and timesheets, and you have no extra hours in the day. That's probably why 73 percent of organizations polled by Deloitte outsource some aspect of payroll.
How Timesheet Errors Can Impact Construction and Field Service Companies
Experts report that 10 common mistakes made in bookkeeping can cost your company a lot of money. These ten mistakes include:
Trying to do it all yourself

Always going the cheapest route

Failing to negotiate vendor terms

Not tracking receipts for minor purchases

Writing off major purchases as immediate expenses

Claiming "charitable" tax deductions

Not backing up your data

Not accurately reporting sales and payroll taxes

Not reviewing your own books

Not staying updated
Payroll is an essential part of keeping your company going. Inaccurate paychecks can either cost you money, or upset your employees. Either way, you'll need to know how to accurately process payroll and properly convert those timesheets so your employees get paid the right amount on payday, every time.
This payroll time conversion chart will help ensure you are converting your time properly.
Start With The Right Tools
Before you sit down to convert your workers' times, be sure you have everything you need to get it done in one session. Examine each record and make sure it is complete and legible.
It's wise to try to do this before lunch time so you'll have time to reach out to any employee whose information is unclear. Some of our customers have experienced frustration when their employees left for the weekend and were not available to clarify their time information.
Some commonly misread numerals include:
0 and 8
3 and 9
3 and 8
4 and 9
5 and 8
5 and 3
6 and 8
7 and 1
If you are converting time and misread, for example, an 8 for a 6, you could end up underpaying your employees. Conversely, mistaking a 1 for a 7, will cost you money by paying for unworked hours.
Get Organized
When you own and/or manage a business, you'll likely have tons to do (and tons you want to get done) with little to no extra time. Payroll is a part of your job that you'll need to set aside a dedicated time to do, so you can focus on it without any interruptions.
Depending on the number of employees you have, who is salaried/not salaried, and how you process payroll, you will need to set aside a minimum of two hours to process your payroll. Make sure you have all of the records you need before you begin so you can process it uninterrupted.
Many construction and field service companies still use spreadsheets like Excel to keep track of their employees' hours but if you have missing, illegible, incomplete, or inaccurate timesheets, you will need to get all of that information before sitting down to do payroll.
One way to help ensure everyone submits their timesheets on time, is to assign a supervisor in charge of collecting them.
Converting Accurate Time
Converting hours to decimals or even just hours to minutes is confusing but this post will help you sort it out and, hopefully, help you speed up your payroll process. Hours and minutes fall under different specifications depending on their uses.
This doesn't make it any easier when you need specific conversions.
Things like payroll or scheduling can require different formats. Luckily, you don't need a math degree to get this done! Let's take a look at different time conversions you may need.
How To Convert Time Into Minutes
Converting hours to minutes is actually easier than you may think. First, you need to understand that hours and minutes use a base of 60. That means that one hour is the same as 60 minutes.
With that in mind, you can take a look at different hour amounts and multiply them by 60. This will allow you to determine the number of minutes within that hour number. For example, two hours is 120 minutes and 40 hours is 2,400 minutes. It can be hard to remember different conversions like this one. That is why we've provided a free time conversion guide for you to download.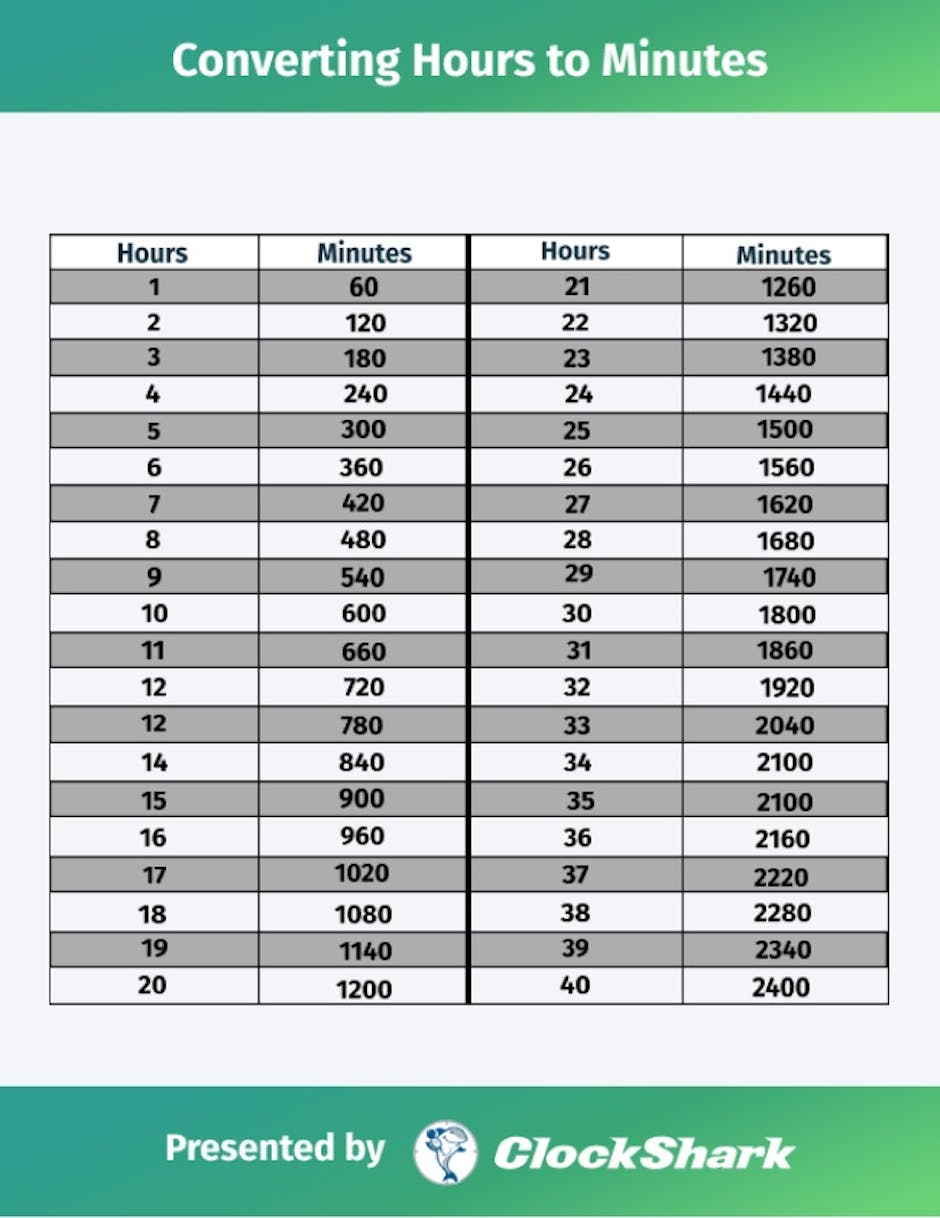 Download ClockShark's Time Conversion Chart - Hours to Minutes

How To Convert Time Into Hours
Keeping the minute conversions in mind, we can easily convert minutes into hours. While previously we were multiplying by 60, now we can simply divide by 60. We can take 480 minutes and convert it to eight or 2,130 minutes and convert that to 35.5 hours.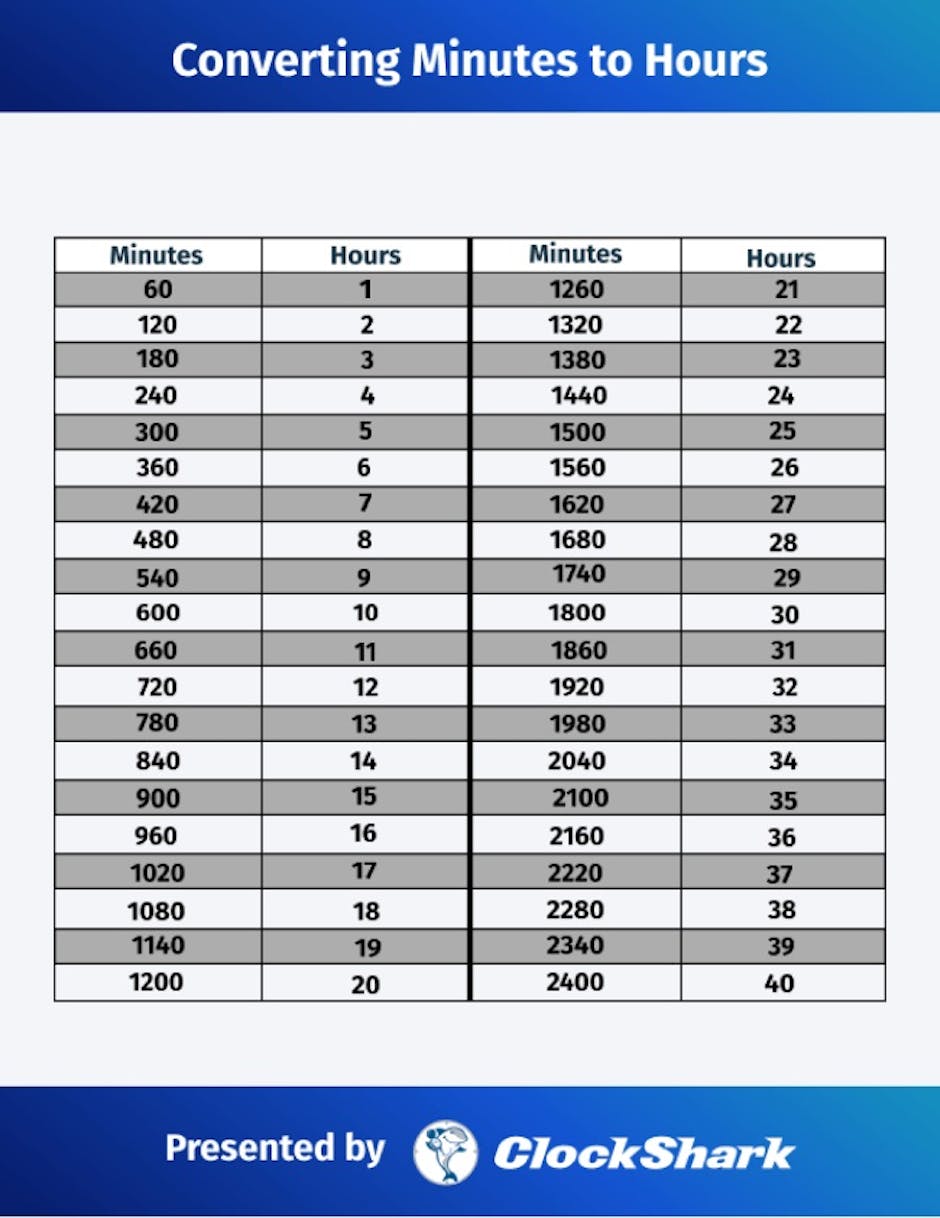 Download ClockShark's Time Conversion Chart - Minutes to Hours

How To Convert Hours and Minutes to Decimals
We've established that hours and minutes have a base of 60. But converting time to a decimal format is difficult because decimals have a base of 100.
You might be wondering why decimal time exists, which is a question we've all asked ourselves at one point.
To understand these conversions, think of the 60 minute time as a whole unit (1) that divides equally. For example, a full hour is now 1.0 in decimal time whereas 30 minutes is 0.5 in decimal time. With this in mind, what is .75 of an hour? That would be 45 minutes.
But what about when time isn't completely rounded, say 37 or 52 minutes?
This is where the easiest way to determine the time becomes using a conversion chart.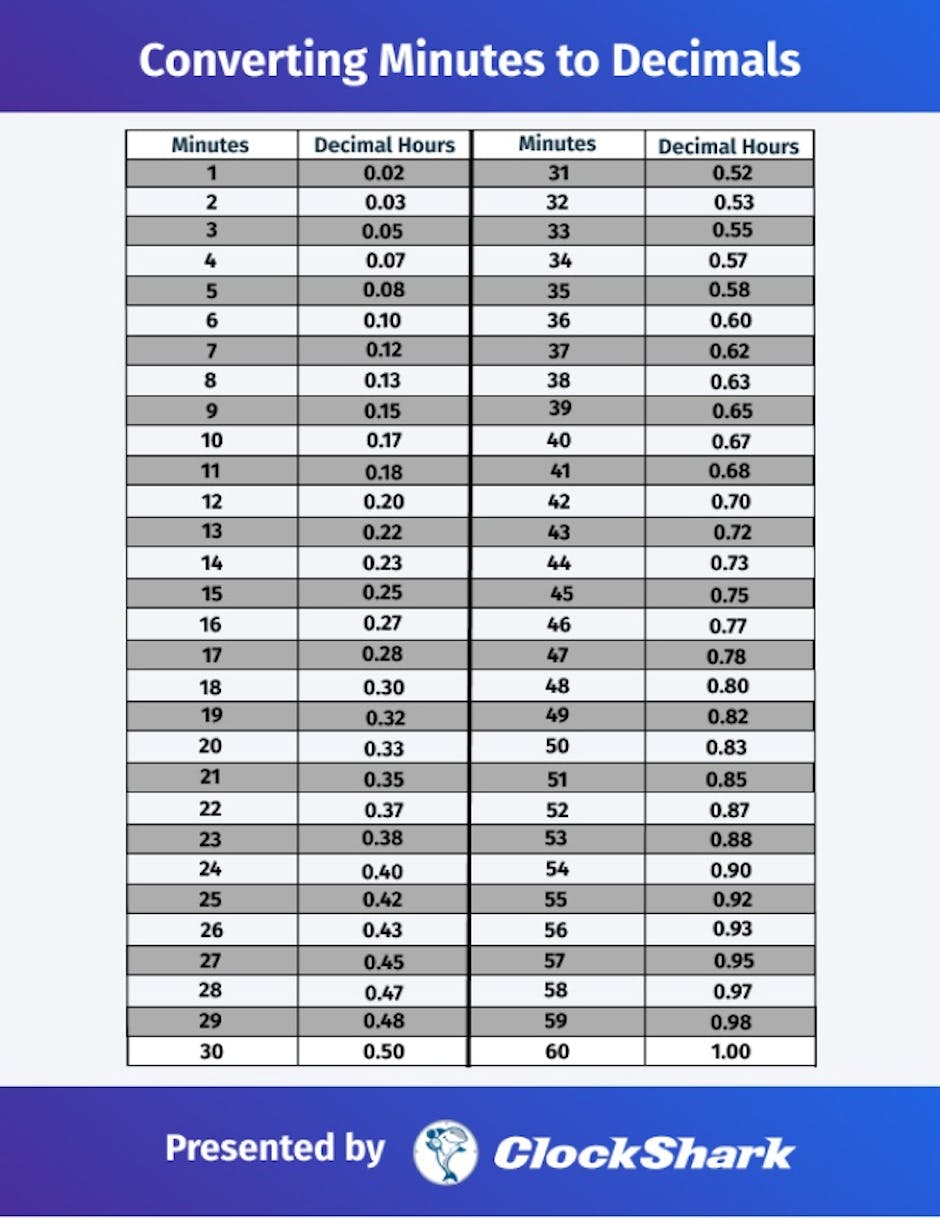 Download ClockShark's Time Conversion Chart - Minutes to Decimals

Save Time and Money with ClockShark
Thank you! Your submission has been received!
Oops! Something went wrong while submitting the form.