Tracking your employees' location when operating a construction or field service business is important in knowing that each job is getting done at the right time. Tracking each employee may seem like an invasion of privacy, however, it holds many benefits for your company. First, let's go through what GPS Time Clock is and the benefits of tracking your employees when running a field service business. Then we'll go into what to look for in a location tracker app and the best software to use.
What Is Employee Location Tracking?
Tracking your employees' location is extremely beneficial for many businesses. It is a huge part of automating time tracking. Employee location tracking is where you record the location via GPS of where your employees' exact location is when clocking in or out and taking a break. Many GPS time tracking apps also allow managers or admins to view the location continuously throughout the workday for each employee in order to make sure the employees are where they need to be.
How Does GPS Tracking Help for Tracking Employees in the Field?
GPS time tracking is the most beneficial when used for construction or field type companies. Since these employees are not located in one area their time is often not accounted for. Many of these types of companies work on a trust system that their timesheets are correct, however, even with the most honest employees time can be rounded up and become inaccurate.
By tracking your employees' GPS location when they are in the field all their time is accounted for and you know exactly where they were while on the job. That way you can be comfortable knowing your employees are at the job site and their time is getting recorded with accuracy.
The Benefits of Employee Location Tracking
Accountability
When running your construction or other field service business the trust system may work for you, but it is not always easy to know where each employee is. Many locations are unaccounted for or personal stops are added to employee's working time. However, by implementing an employee GPS tracker into your business you will reliably know all that information and more.
Streamline Payroll Process
By adding GPS tracking into each employee's workday can also benefit your payroll process. Sometimes payroll fraud goes on for a long time and a lot of money is lost before anybody notices the small over-estimations. By using an employee GPS tracker, you will have accurate time records when your employees' clock in and out and go on break. You will also benefit from lower payroll cost that comes with stopping the overestimation of hours.
Easy Employee Management
Tracking your employee's location provides the exact distance traveled by each crew member and shows any stops they might have made along the way. You can see if each employee remains at the job site for their whole workday or if they were somewhere else. It can also account for work-related errands often run when out in the field.
Accurate Data
By simply adding an employee GPS tracker to your daily business operations you are getting accurate data on each employee's location during their shift that will help save you valuable time and money for your business.
What to Look for When Choosing a Location Tracking App?
You may find yourself struggling to find the right software to start tracking your employee's location. First, you must think of what you are looking for in that software. Here's a list of things you should look for in the employee GPS tracker app.
1. Accuracy
The app you choose should be able to track an employee both on and offline. Sometimes a Jobsite may not have the best cellular service, however, you still want to be able to track the location of each employee.
2. Consistency
It is helpful to have a location tracker app that tracks not only your employee's clock in and out location but for their location throughout the workday. This is beneficial when your employees are moving from different job sites or running errands. That way you can check up on your employees' location throughout the day and make sure they are where they need to be.
3. Reminders
Not everybody remembers to clock in when reaching the job site and out when leaving. Having an app that can track your employees' location and remind them when they are close to the job site can help with the accuracy of your timesheets.
4. Safe/Private
Tracking your employee's location is an exchange of trust between you and your employees. If you are tracking your employees the software you use needs to be safe and protect the data.
5. Tampering Detection
When looking for the right app make sure there is a way to detect if your employees are tampering with the data.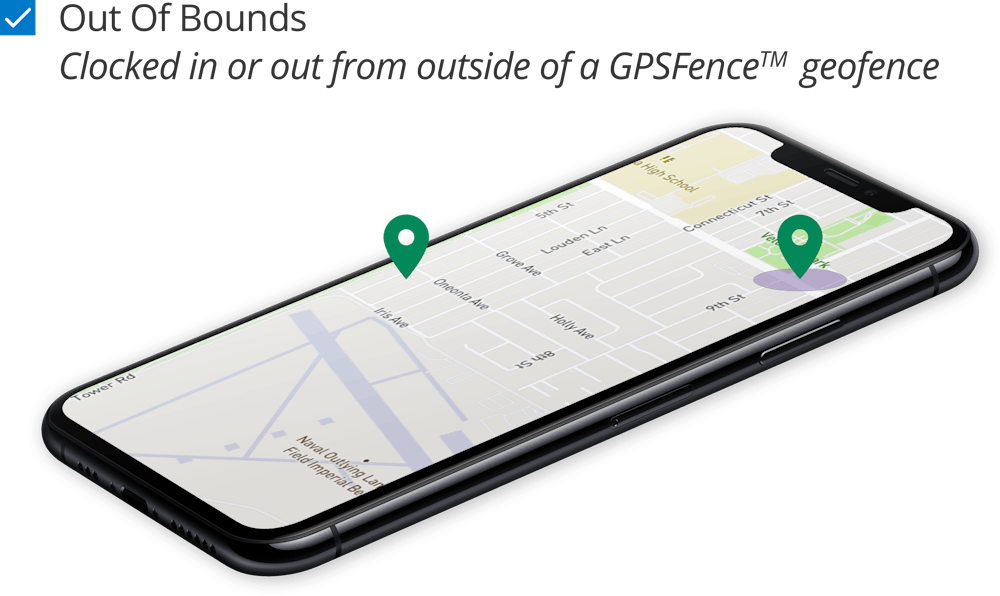 The Best Software to Track Employee Location
When you are choosing the best GPS software to implement into your company it should include all the things listed above. ClockShark is a GPS time tracking software that checks all the boxes. This software not only tracks your employees' GPS location throughout the workday but it also includes employee scheduling and many more helpful features for a construction and field service company.
ClockShark's GPS Tracking feature not only tracks each employee's location when they clock in and out. It also tracks their location constantly throughout the day. That way you can always go back and see where your employees are at any time of the workday.
ClockShark has a feature called Geofence that helps remind your team to track their time and gives you alerts to time tracked outside of these custom geofence boundaries. You provide the location of your job site and set its boundaries and the geofence technology reminds your employees' to clock in when they enter the boundary. It also notifies you when your employees exit the boundary and records the timestamp so you know if they left on time.
ClockShark works both on and offline and provides the best way to track your employees when out in the field. It is also safe to use as it has location and time tampering detection for those pesky employees who want to try and trick the system. This software was created with construction and field services in mind. It has all the features needed to give you the most accurate data for your company. No need to stress over the accuracy of your timesheets and employees' location. Sign up for a free trial of ClockShark today!
Save Time and Money with ClockShark
Thank you! Your submission has been received!
Oops! Something went wrong while submitting the form.
Conclusion
Implementing employee location tracking only leads to more accuracy in your business saving you time and money. With the benefits to payroll costs and knowing that your employees' are at the job site when they are supposed to be, your business will run smoothly. It also provides you with the comfort and security that nothing is slipping through the cracks because everything and everybody is accounted for.