Some construction and field service companies still use outdated manual methods to keep track of what their employees are doing and where they are. This costs you money in several ways.
You probably already know this, so you are looking for a way to shift from those obsolete timekeeping practices. For some, adopting new technology can feel intimidating. After all, people have been afraid of new technology for hundreds of years.
For field service and construction companies who want to adopt new technology, it may seem overwhelming to think of how to get your techs and crews onboard. This post aims to help you successfully adopt technology that helps you improve productivity and become more competitive while saving valuable time and money.
What Employers Should Understand Before Introducing A GPS Time Tracking Solution
Sometimes change is scary because we don't know what it will look like and we make the wrong assumptions. Before you start using time tracking software, you should know these six things.
1. Don't Assume Your Workers Won't Like It
You may feel compelled to think your employees will find artificial intelligence like GPS time tracking to be invasive, difficult, or unnecessary but this is largely untrue.
The fact is, 80 percent of tech experts in the field service industry believe it enhances their skills and efficiency. Harvard Business Review reports that daily timesheet entry is far more accurate than those who fill out timesheets multiple times a week, once a week, or less than once a week.
If your employees save time by logging their hours each day, it's going to make their workdays easier and their paychecks far more accurate. As a bonus, they will realize how much it's helping administrators and the back office tasks that are frequently disorganized and difficult with traditional time-tracking solutions.
2. Don't View GPS Time Tracking as Spying
If you consider GPS time tracking as spying, your employees will, too. Safety, accuracy, and security are just some of the advantages.
3. Don't Assume It Will Be Hard To Get Employees To Accept It
The average age of today's field service technicians is around 40 years old, according to the Bureau of Labor Statistics. As the labor market ages and millennials and Gen Zs become today's employees, they are intuitive with things like AI, VR, and AR and even appreciate the use of technology.
It's also worth noting that technology in service industries is making the market more competitive and customers appreciate the use of technology to help field service workers do better jobs.
4. Get Your Workers' Input
Before you dive in with GPS time tracking, invite your employees to share their thoughts and concerns. Involve your managers, supervisors, foremen, and employees.
5. Know the Most Common Concerns
If you are already aware of the most common concerns, you will be better prepared to respond to them for your employees. Some of the most common concerns of employees are:
Privacy issues

Personal phone issues (short battery life, compatibility, etc.)

Accuracy of app

Security measures (is their personal data safe?)
Get the answers to all of their expected questions so you're prepared.
6. Build Your Case
Be prepared with the answers to these concerns as well as a list of the benefits of using GPS time tracking technology. Armed with the right information, your employees will have a better understanding of why you are implementing the technology when you explain these things to them.
Steps To Get Employees On Board With GPS Tracking
When an organization adopts new technology, experts suggest they need to ask three important questions:
Will it improve the lives of those using it?

Will it positively disrupt the field?

Can it be easily and effectively used by your employees?
In the case of GPS time tracking in construction and field service industries, the answer to all of these questions is, yes. However, you will need to take certain steps to ensure your employees know this, so they will be more likely to appreciate it.
1. Explain Why You Are Implementing GPS Tracking
Initially, your employees might see GPS time tracking as an invasion of their privacy, or they may think you are just doing it because you don't trust them.
There are a lot of reasons why companies are increasingly using GPS time tracking solutions but your employees may not know them.
Take time to list all of the benefits and how your employees will benefit, too.
2. Address Employee Concerns and Debunk GPS Tracking Myths
Did you know that statistics show at least ⅓ of today's modern companies use GPS tracking and seven out of 10 employees don't have a problem with their employer knowing their location?
Today's workplaces are increasingly adopting an open-door policy that encourages honest, open communication and invites questions from workers.
Make sure all employees' concerns are addressed and be prepared with information that debunks common GPS tracking myths.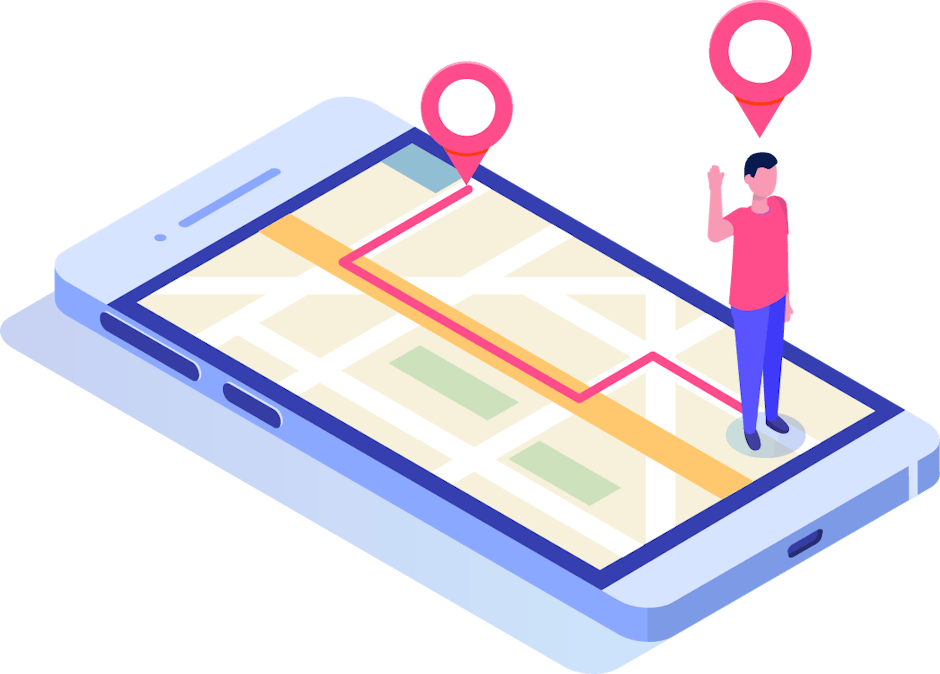 3. Discuss How They will Benefit From GPS Time Tracking
Ideally, our employees will want what's best for our companies but let's be realistic: They need to know how this technology will help them, too, including:
Accurate Paychecks

Credit For Work Done

Collaboration

Better Scheduling

And more


4. Explain The Safety Benefits
When you know where your employees are, you can help them get to where they need to go in the most efficient way. They won't have to worry about getting caught in heavy traffic because you are able to direct them to the best route based on traffic conditions.
The farther they have to drive, the more risk of accidents drivers have. But with GPS tracking, you are aware of which employee is closest to a job so you can reduce their drive time.
5. Describe How The System Works
When employees are unfamiliar with something, their mental images might be intimidating. They may think they will need to have a lot of advanced technological know-how so you should be well-versed in how it works.
That's why it's important to go with an easy-to-use system that includes high-level customer support.
6. Create and Explain The Training
Develop a training session that will include someone from customer support who is available to answer any questions.
Make sure you set aside enough time and choose a day when all employees can be present to learn about it.
7. Clarify The New Policy
Any time you implement a new policy, it has to be clear what the policy is and what the procedures are if the policy is not adhered to. Make sure you use absolute terms and don't be vague with words like "sometimes" or "generally" because they can be confusing.
Employees who clearly understand the policy will have greater success in using it.
Avoid Employee Backlash
Make sure your employees don't feel put off or offended by thrusting GPS time tracking technology on them without warning or information.
Don't keep it a secret
Make sure your workers know you're researching GPS time tracking options and will be implementing it in the future.
Don't Hide The Company's Benefits From Using It
If your employees have a clear understanding of the many ways GPS time tracking will serve your company, they will be able to see why you are adopting the technology.


Conclusion
GPS time tracking is becoming a necessity in today's construction and field service industries. It doesn't just benefit the company, but the employees and the industry overall.
But implementing it can be tricky. We have created a helpful guide with more detailed information, tips, and tricks that you can use to make the transition easily and stress-free.