The iSqFt Software is designed to help building professionals manage the complete pre-construction and bid process. The software is targeted at a range of construction professionals including construction managers, general contractors, and design firms.
The software also works with subcontractors to allow them to get pre-qualified for bidding on projects. The iSqFt software is a cloud-based system, so it is accessible by everyone involved in whatever device they use.
iSqFt Features
For General Contractors and Construction Managers utilizing the iSqFt software, it can assist them with bidding more efficiently. The software helps manage the entire bidding process helping streamline everything from vendor selection to sharing the project information to document distribution.
Customization
The software allows customization to your bid invites, so your invitations will have your company logo on it and come from your business domain. Using the iSqFt software contractors can easily let subcontractors and vendors know they would like them to bid on their project. A list can be created of frequently used subcontractors or vendors who bid on projects, and they can be sent an invite immediately from the list. Since the invite is personalized, they will know who sent the invitation.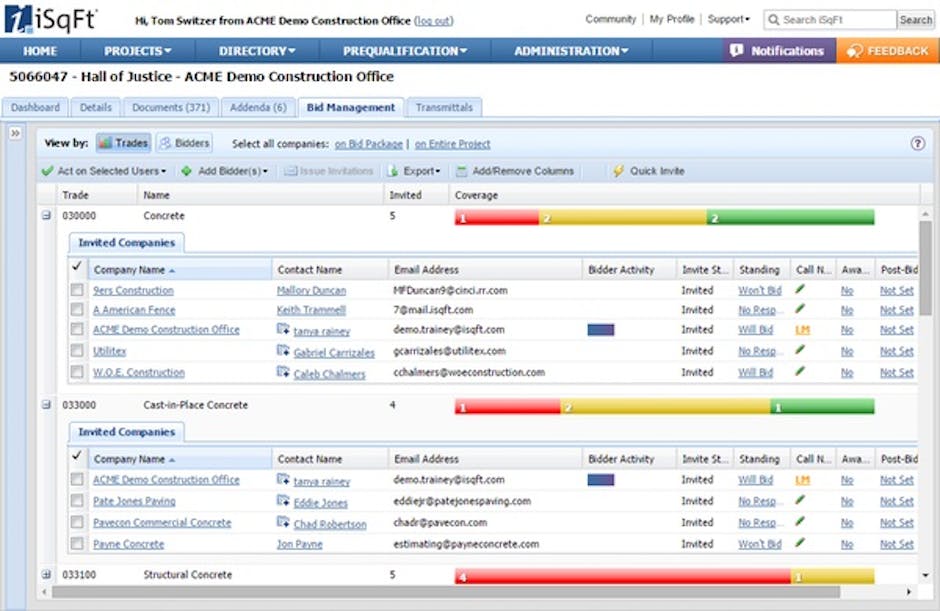 Bid management
Once the messages are sent, it is easy to track the bidding activity. It is possible to see if a bidder has opened and viewed all the plans, specs and addenda documents you have in your project. The software has a central location to make notations about calls to bidders as well as updates and notes. The entire team will be able to see all the updates and be kept in the loop. When it comes closer to bid day you will have already been able to see any issues and know if you need to find more bidders. The smooth management of the bid process will allow General Contractors to win more work ultimately.
Documents are distributed efficiently through the iSqFt software. By giving subcontractors and vendors free online access to your company's project documents, they can be up to date and informed. The software allows access to 3D models through integration with Assemble Systems.
3D models
The 3D models allow BIM to be part of the bidding process. Bidders can see 3D models in the software along with 2D drawings. The result is a more accurate bid for your project. As you have changes to your plans or addenda and other information you share it easily through the software with the click of a button. The project information can be accessed securely from anywhere thanks to web access. Project Documents are easy to find because they are indexed and formatted so your subcontractors and team can get the project documents they need when they are looking for them.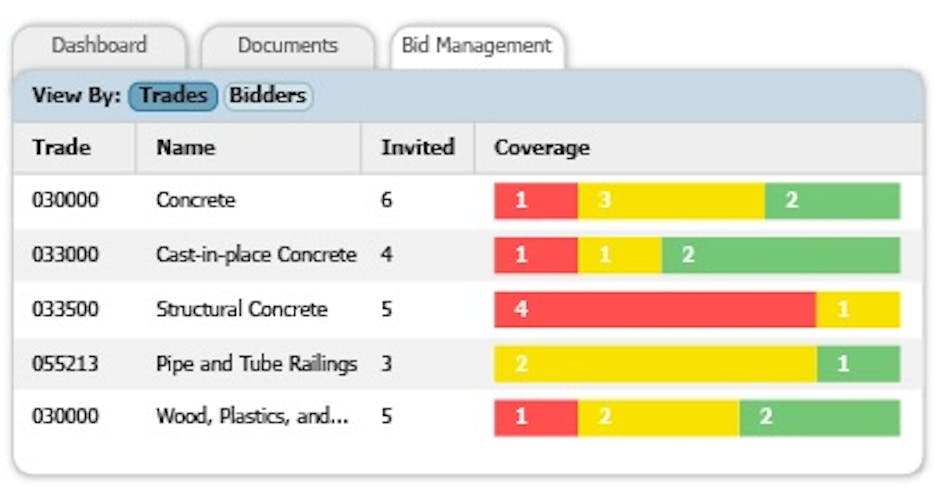 Automated Safety Assessment
Since Subcontractors can quickly sign up ahead of time for free on iSqFT, this can speed up the bid process. Subs can fill out the pre-qualification forms online and start the process to get them pre-qualified.
The iSqFt software has an Automated Safety Assessment that can help check the safety manuals and historical performance of your vendors. This safety assessment helps with improving overall safety and reducing risk.
The iSqFt software can help Contractors find and manage Subcontractors and Vendors. You can create your own private database that you can keep secure on the iSqFt platform. You also have the option of utilizing the iSqFt's extensive network of over 800,000 construction professionals that you can search within the software's database.
If you choose to keep and manage your personal subcontractor database, you can keep that private, and you can customize how you want the contact information, and what data is needed to help you keep communication efficient with your vendors. An ISqFt form can be placed on your business site to facilitate subcontractors to apply for your private directory. Their information will come directly to you through the software where it can be reviewed and added if approved. Having the information submitted to your company eliminates the step of having to enter the data.
The iSqFt software offers a large support team that is available for extensive training and support to make sure that companies succeed. If you are interested in trying iSqFt out for your firm, you can go to iSqFT website and click on Schedule a Demo or give them a call directly.