JobFlex is a Web-based construction application that was created by individuals who have worked in the HVAC, Insulation and general remodeling fields. This JobFlex review will cover their Android mobile app because, at the moment, that's all there is. They plan on releasing version for the web and IOS soon, but so far it's Android only. They created this solution to work in the construction industry and understood how to design it because they have been a part of the industry.
The goal of the JobFlex application is to give a streamlined way to provide professional quotes when you are on the job site and working with potential customers.
JobFlex Features
Personalization
It allows you to create a personalized quote that includes your logo, photos along with your notes and estimates. These can easily be printed out using a Bluetooth printer, or you can email it to the customer directly. You also have the ability to show the customer right there on the job site on a tablet so you can review it with them and have them sign the estimate on the tablet if they are ready to at that time. It is very convenient and makes your work much more efficient. I wish we had this feature when I was out giving quotes. It has a much more professional look and feels to it.
Scheduling
Within the JobFlex system, there are customer management and scheduling tools. The scheduling tool helps make your programming much smoother; you can organize your leads and then schedule the appointments for team members. The team member is notified of the assigned potential customer and can then reach out to them. This helps ensure that you are not dropping any of your potential leads and helps you keep your jobs once you secure them. There is a file manager that allows each project to have its own file and then within that file all documents related to that project are stored. It helps organize all of your pictures, orders, quotes, etc. in one place. It is also accessible to all members of your team which makes your company run much more efficiently.
Calendar
Within the application, there is a calendar that shows you all of your scheduled, completed, audits, service deadlines, proposals, and signed contracts. Within the calendar you can check off what you want to see, for example, you can check off Service scheduled to see all your service calls. You can also check off service complete to check all that has been done. Within the calendar, you can check off that you have completed an item. It is a nice way to visualize all of your work. You can quickly add Calendar notes to help keep track of future jobs or things that you need to take-care-of.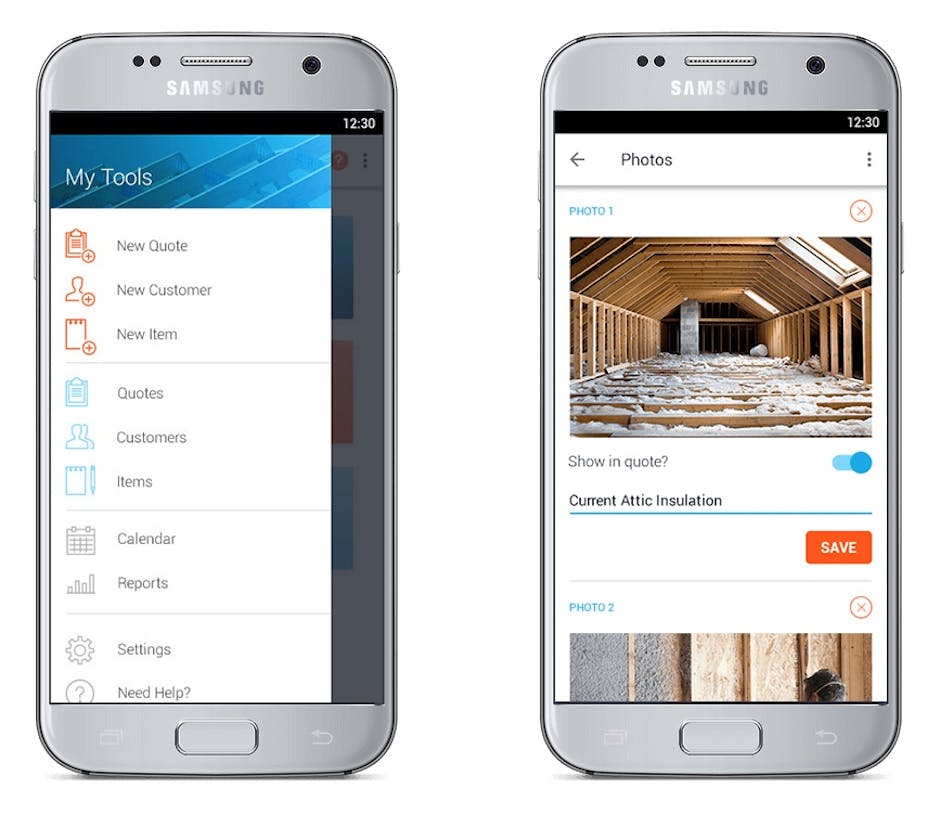 File Manager
When looking at the File Manager within the JobFlex system, you have a file directory that helps organize all your files. It is very easy to use and looks a lot like the file system you would use on any Windows computer. You can also download files and effortlessly add new folders with the click of a button. You can also simply view any of the photos you have stored in your file manager from here of your project.
The mobile app is currently only accessible if you have an Android phone and get it through Google Play. The mobile applications' main home page is nicely organized. It is evident and easily separates each customer with their band that you can click on to get more information. It gives you a quick view of their address, phone number, and the type of job it is. You can quickly add a customer from the home page by clicking the plus button at the top of the page. You are also able to download your client's information which is a nice feature to have.
JobFlex Review Summary: It's so easy to use!
If you are interested in trying JobFlex out head over to their website, click on the drop-down menu and then click "Try it Free." That will take you to their page where you can get the link for their app to try it out and create up to 20 invoices and estimates on the free JobFlex app. Then you can decide for yourself if this will be beneficial for your business.