ManagerPlus is a computerized maintenance management software. If you are a facility manager you can manage all forms of support for a property in one digital location. In this ManagerPlus review, we will cover both the desktop and online versions. Instead of a manual approach of pen and paper, you can have it all online or on your desktop, whichever you prefer. This process allows your daily, monthly, or annual maintenance programs to be streamlined.
ManagerPlus Features
Software Versions
The Utah-based company offers two different products: a ManagerPlus desktop version and a cloud version. What the desktop version entails is software that allows you to do maintenance scheduling, work order management, asset tracking, inventory control, and purchase orders/budgeting, and a report to see it all. The cloud edition offers three different packages. There is an essential, professional, and enterprise package that each offer their competitive price and features.
The fundamental difference between the desktop version and the cloud version is that with the cloud version you can access the ManagerPlus software from anywhere even if the computer does not have it installed. It is incredibly helpful as you can plan your maintenance and see what is coming up without having to be physically on-site.
Pricing
The user interface for ManagerPlus is minimalistic and intuitive to understand. The features that they provide are extensive. For the cloud version primary, it is listed at $33 per user every month allowing you to have all the benefits as mentioned above of the desktop plus gives you unlimited support and a 24/7 online self-training. Whenever you lose focus there is endless content to help you.
This package is ideal for a small facility that does not have too much maintenance to do, but enough where you need a small team to keep track of it all.
For the most current $65 per user per month package, you get everything in the basic plus inventory management, purchase order management, inspections, budgeting, depreciation, role-based security, and an audit trail.
Inventory Management
Inventory management is the key to having a streamlined operation. You want to have things ordered before you need them, but right there when you need it. Not too early, and not too late. With this inventory management system that is digital; this is possible. It is because you do not have to manually check it yourself but instead update the system as the inventory is used up and make it part of your routine.
Furthermore, you can have it right there in the open for everyone to see so everyone is aware of what the inventory looks like and can alert the correct administration to fill out a purchase order.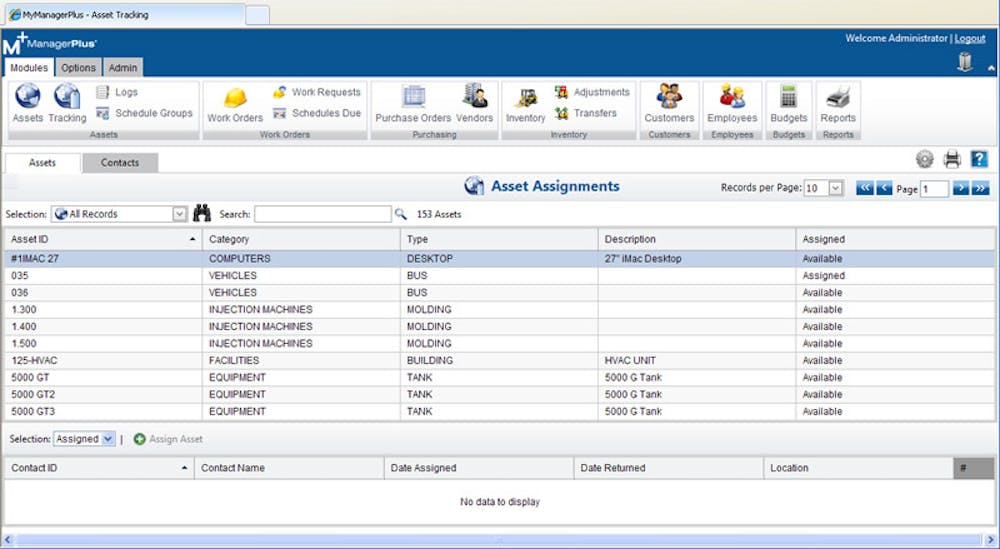 Something we found in our review of ManagerPlus is that for each logical step you need to make next, the system offers a feature to help streamline the process. After checking the inventory, you can fill in all the information for a purchase order right there in the software.
Audit Trail
Learning from mistakes is a way to becoming not only a better person but a better facility. Audit trails allow you to learn from those mistakes by keeping track of changes in the system. It holds people accountable for what maintenance or inventory has been done. Since this trail is on software instead of manually initiating a piece of paper, you can have faith that the system is accurate. This package is great where you have an inventory that is significant enough to warrant a tracking system.
ManagerPlus Review Overview: Great at taming the complex
The enterprise package is at a price of $125 per user per month and provides advanced features that allow you to have control of almost all facility management needs. What is listed in the pack is: ManagerPlus | Bi, ManagerPlus | Connectors, Developer API, Additional Reporting, Multiple Site Locations, Parts Warrant Tracking, Warehouse Parts Distribution, and Batch Editing. ManagerPlus | Bi gives you advance charts to give business intelligence in a smart and elegant dashboard. While ManagerPlus | Connectors gives you the luxury of connecting ManagerPlus with third party programs that they support.
By having a centralized location where users can monitor the status of the establishment, you create an environment that promotes responsibility and lowers the annoyance of keeping track of maintenance. I would say give ManagerPlus a try and see if it solves what you need. You will be surprised how much it could expedite your facilities management workflow.