What does Rhumbix do?
The Rhumbix software is a comprehensive system that assists companies with streamlining their construction management as well as their payment systems for their sub-contractors and contractors. The software collects data from the field through an iPhone application used by the foreman and their team. The data is sent to project managers to help ensure that everything is running on time and to make sure things keep running smoothly. The Rhumbix software was created by Zachary Scheel and Drew DeWalt both of whom graduated from Stanford Graduate School of Business.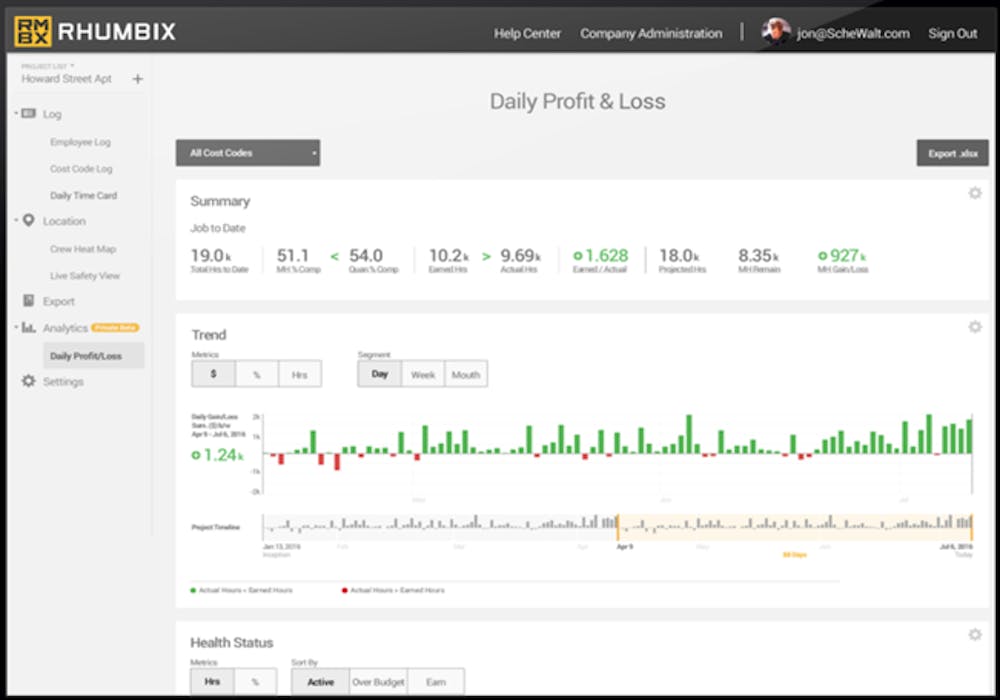 The idea for the software came from Scheel's experiences with a tool used by the United States Military that tracks friendly forces in the proximity of a user. (Techcrunch.com). His experience with the military made him consider the idea of following construction crews and helping to streamline their workflow. The goal of Rhumbix is to keep construction projects running on time and within the budget. The software utilizes the production data and timekeeping data to help create more productivity and insights into performance overall.
Rhumbix Features
Foreman
By using the mobile application, Foremen can save hours of work by entering details as they go. They do not have to sit down and figure out by hand how much each worker is getting paid; the software will do it for them. The collection of time sheets and field reporting is much simpler than using paper.
Payroll
Payroll is also a much simpler process due to the direct input of time cards and cost codes. Time cards can be approved and edited online; this makes it easier to ensure that all hours are accounted for in the payroll. The software is compliant with unions since it has digital signatures, certifies the start and end times along with the breaks. Injuries are documented through the software. Foreman also can access all the information they need about the project without delay utilizing the software.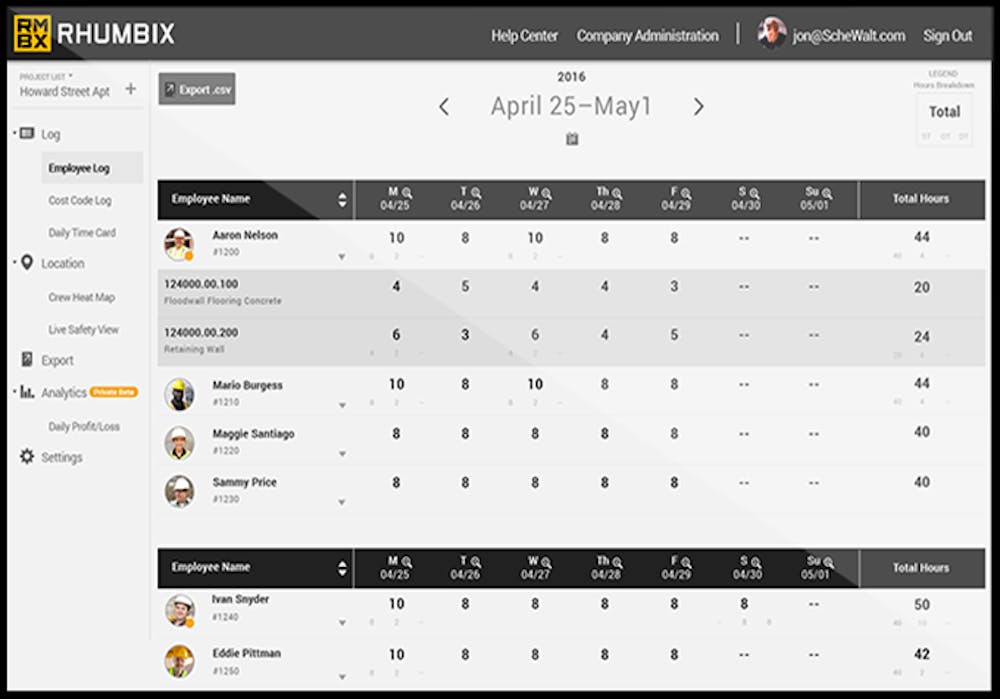 Real-time Feedback
There is real-time feedback when using the software so that productivity for the team can be improved. Foremen can quickly add notes about the project; they can add pictures to help notate what they want to document. Notes can be used to indicate delays, information about equipment, weather impacts, and crew information. These notes are also time-stamped. Quantities can be reported and linked to cost codes and to photos making documentation easy. The actual hours that were worked as well as how much an item was installed are all documented within the software and sent automatically to project managers. It allows Project Managers to keep a tab on daily productivity.
Tracking Issues
The Project Manager and executives can utilize the software to track issues as well as progress. Tracking issues are easy using the simple dashboard in the Rhumbix software. The data and information input help the software assess any risks or needs that need to be acted upon and ensures follow up. It helps reduce risk as well as decrease the overhead. By reducing the risk, you have fewer interruptions, and your projects can stay on track. You can easily see the profit margins in the daily and trending data.
Reports
Reports can be automated so that you can get weekly or monthly reports showing your actual performance versus your budgeted costs. If you have the actual versus projected costs will show you right away where you are spending too much and allow you to adjust things quickly so that your company is more profitable. It can be looked at in a variety of ways including by cost code. Safety issues are easily notated and tracked within the Rhumbix software. This makes it easier to track issues and ensure that they are resolved.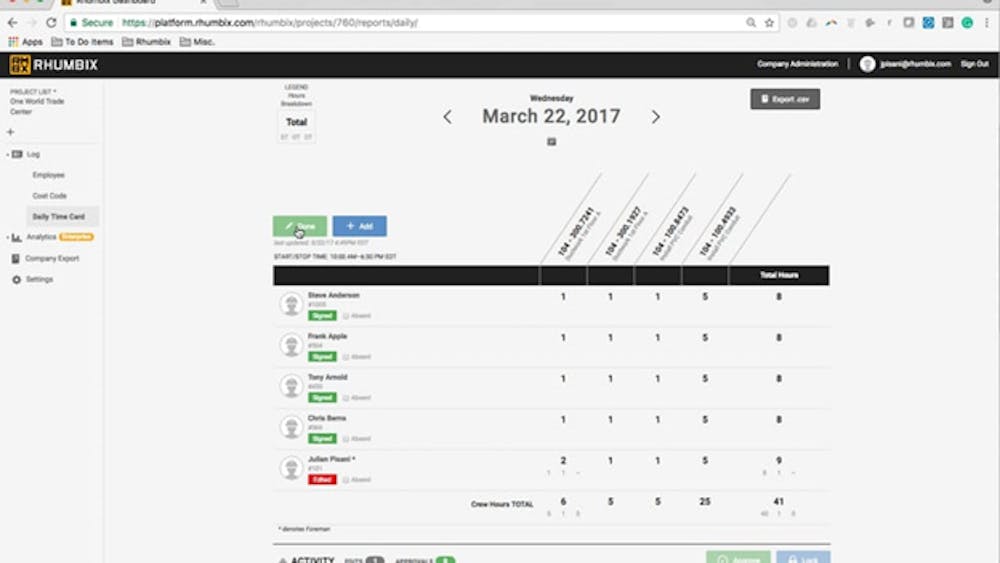 The Rhumbix data that is collected is easily turned into valuable reports that can be used for productivity, payroll, and safety. Reports can be exported to be used for payroll or other purposes easily. Workers Time Cards are all funneled into a central location so that they come into one easy to track report making payroll a much simpler process. Accounting software can be integrated into the Rhumbix platform making the whole process even easier.
Rhumbix Vs ClockShark
Rhumbix and ClockShark share some features, but Rhumbix was really designed to be a more general tool for field reporting by foreman whereas ClockShark is designed to track time and be used by all employees. Comparing the two systems are not really apples to apples, but they do have similarities. A good illustration of the difference is how the two systems deal with tracking time. In Rhumbix, the foreman enters the time each employee works on a job, and in ClockShark each employee clocks in and out of jobs and tasks throughout the day themselves.
In both system, that time data is immediately available from the administration dashboard where management can have access to it. Both systems also have reporting and accounting software integrations and allow notes and photo attachments from the smartphone apps. One key difference is that Rhumbix includes quantity tracking for materials where ClockShark does not, which accounts for the higher price Rhumbix charges compared to ClockShark.
Rhumbix Pricing
If you are interested in trying out Rhumbix, you can go to their website. They have two primary pricing plans. The core which is $6 a month per worker billed yearly. Pro which is $22 a month which is charged yearly. They also offer a Masterplan which has custom pricing which you can get by contacting the company directly.