The Safesite app is designed to help prevent on the job injuries by allowing companies to log, share, resolve and alert workers and managers of safety issues.
It features custom inspections, checklists, and forms, risk assessments, hazard management, follow-up actions and deadlines, daily automated safety summaries, SMS, email real-time notifications and most importantly – safety observations so that you and your employees can stay safe in a work environment.
In an environment that is constantly changing like ours, important issues can be hard to communicate and even harder to document, follow and resolve – that is why Safesite was made – to avoid the risk your project can create.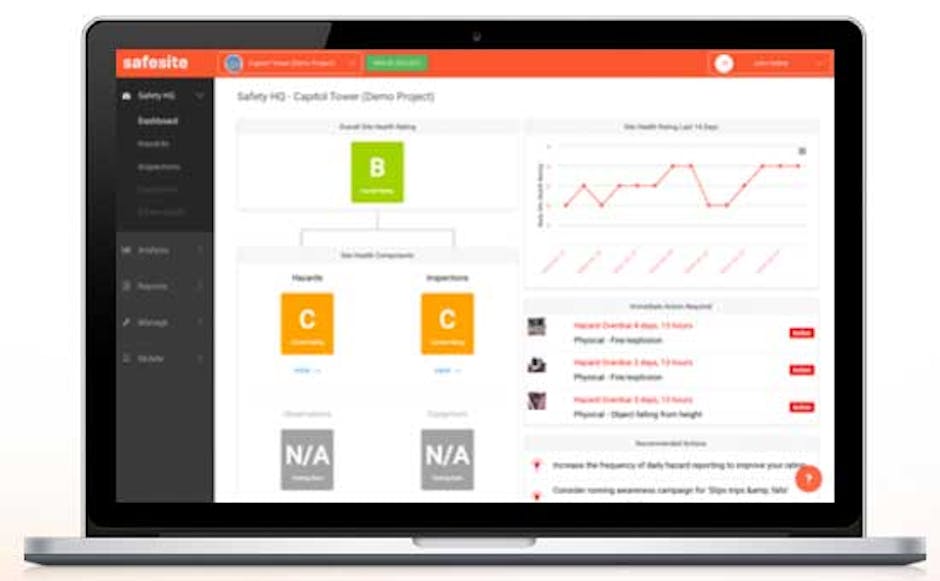 Safesite Overview
Dashboard
When you log into the app, you will be taken to the Dashboard which is used to perform robust safety analysis and report vital data to predict and prevent injuries. I personally found it very straightforward and easy to use. My favorite part of these sections is shown on the right-hand side, which gives you reminders of immediate action required and recommended actions. On the left-hand side, you will see other pages such as hazards, observations, inspections, equipment, projects, reports, and analysis.
Creating a Project
To get started you need a project. You can create one using the green "Create Project" at the top of the screen, or in the Projects section. Once your project is created you can add personnel and contractors to it to reflect who is part of this particular project. Personnel and Contractors can be managed separately and added to projects so you can reuse them from project to project. Next, you can add "Templates" to your project – which are safety inspection checklists/forms you can create. Once you have assigned the right templates to your projects, you can set quotas for how many safety inspections need to be done each week, and by whom.
With this basic setup, you're ready to go to work. Safesite will track what inspections and forms have been completed and the results of each one. The system will alert you if something is missed, or if an unsafe situation was found.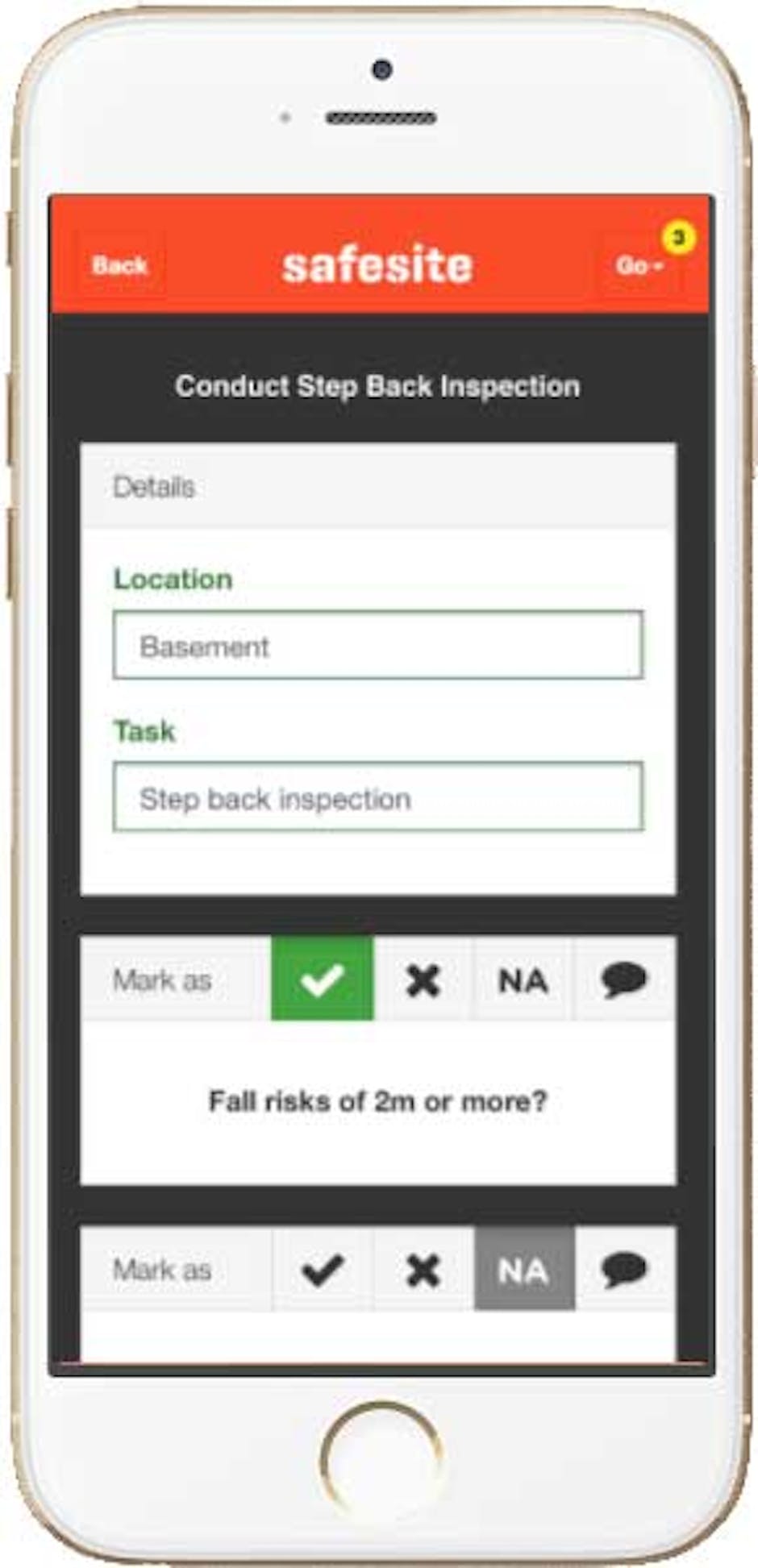 Reports
If you click on the reports section and then click hazards, you will find my favorite section which shows not only if there is a danger – it shows a map of the exact location of the hazard. You can also filter the hazards by risk type or priority, contractor, location and who it was created by.
To report a new hazard, all you have to do is locate the hazards section where you will see a blue button called ´Log New Hazard´ on the top right-hand side. If you're using the mobile app, it's one of the options available from the home screen. When reporting a hazard, you can add an image, select the contractor responsibly, select the location of the hazard on a map, provide a description and select the type, probability, and consequence of the risk. The form doesn't take long to complete but provides a good deal of information. Once reported, an alert is sent and the hazard becomes a notification viewable by anyone with the app.
The resolution of the hazard is facilitated through the app as well so you get a clear picture of everything that happened from start to finish during your entire project. All this data is used to create reports and an analysis of your projects, personnel and contractor's safety records and responses.
Conclusion
Safesite is a very thorough app, but also pretty easy to use – especially in the field using their mobile apps. There are many other features like equipment management, advanced reporting, project groups, as well. They offer a free demo that comes with complete sample data so you can see exactly how the app works and what information it provides you. Pricing starts at $40 a month for up to 10 users. For more information, visit the Safesite website.