If you're a contractor looking to grow your business and gain more online visibility, implementing a strong SEO strategy is crucial. Contractors have been known to sidestep technology when possible, but in modern construction, technology is a part of every phase. Who better to demonstrate the effectiveness of a tool than a contractor? Technology is a tool, just like a hammer or power saw, and can be used to maximum effect.
We interviewed Laura James, Senior SEO consultant at Flow SEO to find out why contractors need SEO, common mistakes, tips, and everything you need to know to start boosting your online presence and driving more prospective clients. By the end of this article, you'll have a solid understanding of how to improve your online presence and attract more customers through effective SEO tactics.
What is SEO?
Search engine optimization (SEO) is the practice of using strategies to increase the number of visitors to your website. These strategies include optimizing a website to make it more appealing and relevant to search engines, ultimately driving organic (non-paid) traffic and increasing the likelihood of attracting customers.
Without SEO strategies, a website may be difficult for a potential customer to find. The enormous amount of information available on the internet requires search engines to narrow the search results and rank them.
The Importance of SEO for Contractors
SEO has become another tool in the toolbox for the most successful contractors. By optimizing their website for search engines, contractors can attract more potential customers and build a stronger online presence. Laura James explains this not only helps to increase brand awareness but also allows companies to stay competitive in the rapidly evolving digital landscape.
"Business is becoming more competitive, and more saturated", she says. "While word-of-mouth [referrals] are still incredibly valuable, they can no longer be the sole source of work. Construction companies big and small are now competing online for similar jobs, both needing to expand their digital presence to make a dent."

"SEO is one avenue for growth that should be seriously considered and invested in. It helps contractors grow by developing the content, authority, topical relevance, and technical robustness required to be present when potential customers are searching for what contractors offer."
6 Effective SEO Strategies for Contractors You Can Start Using Today
Contractors tend to offer services that are frequently needed, so a solid reputation, great word-of-mouth referrals, and excellent customer service are among the top priorities. Today, many contractors use the power of their online presence to support and grow these priorities.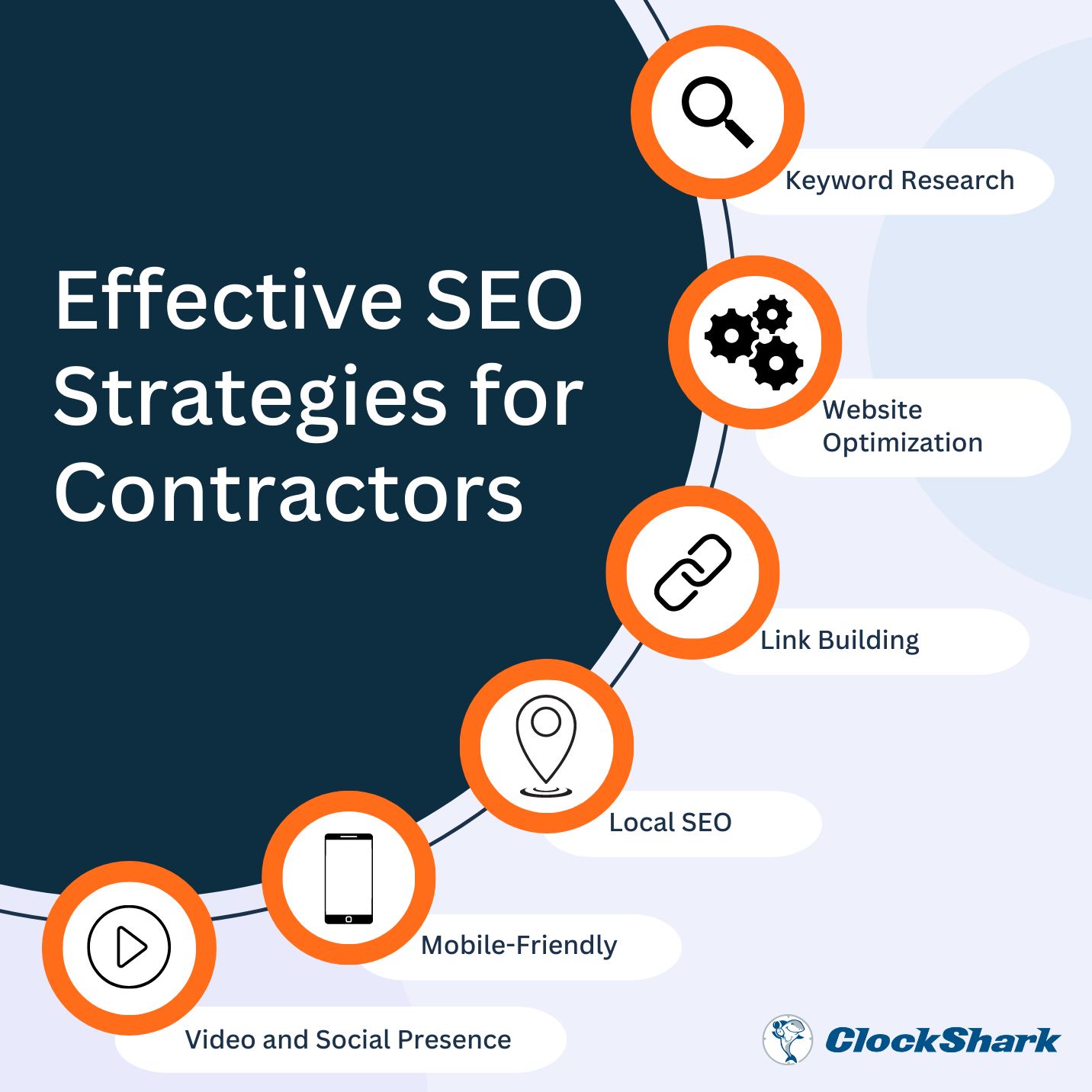 If you have a cushion in your marketing budget, it's probably a lot easier and more cost-effective to hire an SEO agency to develop and implement a strategy. Laura James explains,
" A good SEO agency will help you understand where you're at in terms of organic visibility, provide you with a strategy for growth and help you implement it. The best SEO agencies will do this while making you feel at ease, talking to you in a language you understand, and taking away the burden of marketing the website".
For businesses on tight budgets, here are five basic tips your can start implementing today and get the most out of your limited budget.
1. Focus on Keyword Research
Keyword research is the process of selecting and using certain descriptive words to describe the topic in a natural way. Search engines look for a natural occurrence of words on a page based on the topic being discussed.
For example, a roofing company located in Atlanta, GA might have a page on their website titled, "Roof Inspection Atlanta." If a local resident is worried about the condition of their roof, they might type "roof inspection Nashville" into a search engine.
Because the company included the keywords "inspection", "roof" and "Atlanta", the search engine has all it needs to find the page, which helps connect the contractor with the consumer.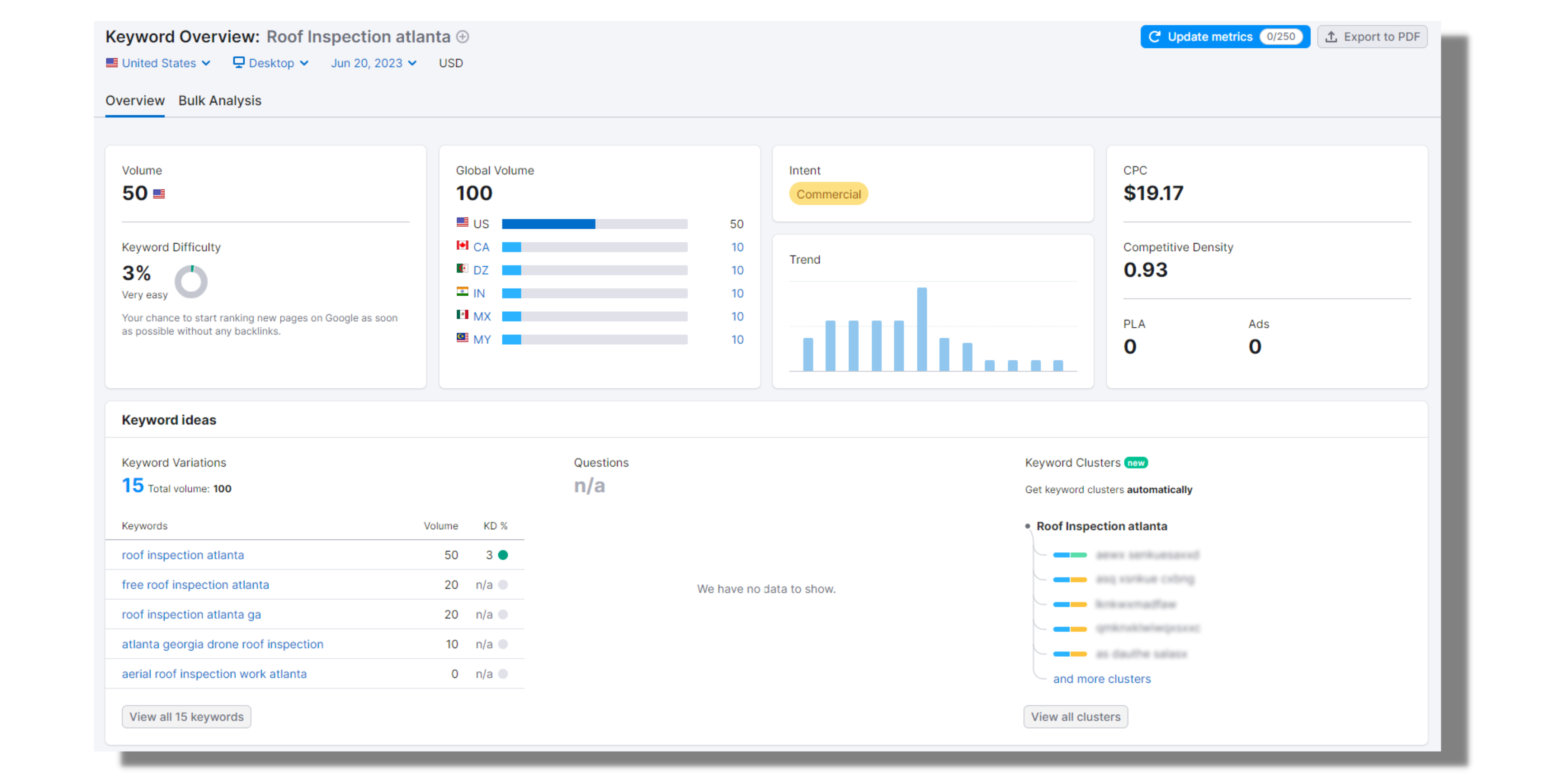 2. Optimize Your Website
Optimizing a website involves structuring content in a way the search engines will look for it. This includes using the main topic word(s) in the title, meta descriptions, image alt tags, and how the content is arranged.
Titles and Meta Descriptions
The title is one of the first places a search engine will look when the user types in their search words. For example, if the post is about building a home in the springtime, the title might be "Spring Is the Time to Build Your New Home", as all of the keywords are used in a natural way.
Image Alt Tags
Image alt tags are short descriptions of the photo they accompany. Search engines look for a short, concise description of the contents of the photo. The same rules SEO rules apply, so the image tag should be descriptive and use keywords, but in a natural-sounding way.
Content
The content quality should be high and useful to the reader, as this increases the number of times a search engine offers the result. Content should be focused on the target customer, as this keeps the content relevant and useful.
Contractors should focus on publishing content that displays their knowledge, trustworthiness, and expertise. If there's a task you're not proficient in, don't write about it. Blog posts tend to be written to answer questions, such as "How often should I get my roof inspected?". Service pages should be designed to showcase skillsets and quality. Ideally, each service you offer would have its own page.
3. Build Links
Link building is like building a group of like-minded friends whom you can recommend to others. One of the many ways search engines determine the results of a search is by how many times it has been linked from quality websites.
Contractors can benefit from link building by asking for and allowing respected businesses to link to their websites. The goal is to build a strong backlink profile that shows that other sites trust and see your company as an authority.
Link building can be difficult for local businesses, due to a lack of marketing budget and smaller target geographical area of relevance. However, building partnerships with other local businesses, submitting listings to quality directories and review sites, guest posting on other sites to showcase your expertise, sponsoring community initiatives, and more are all tactics that can help.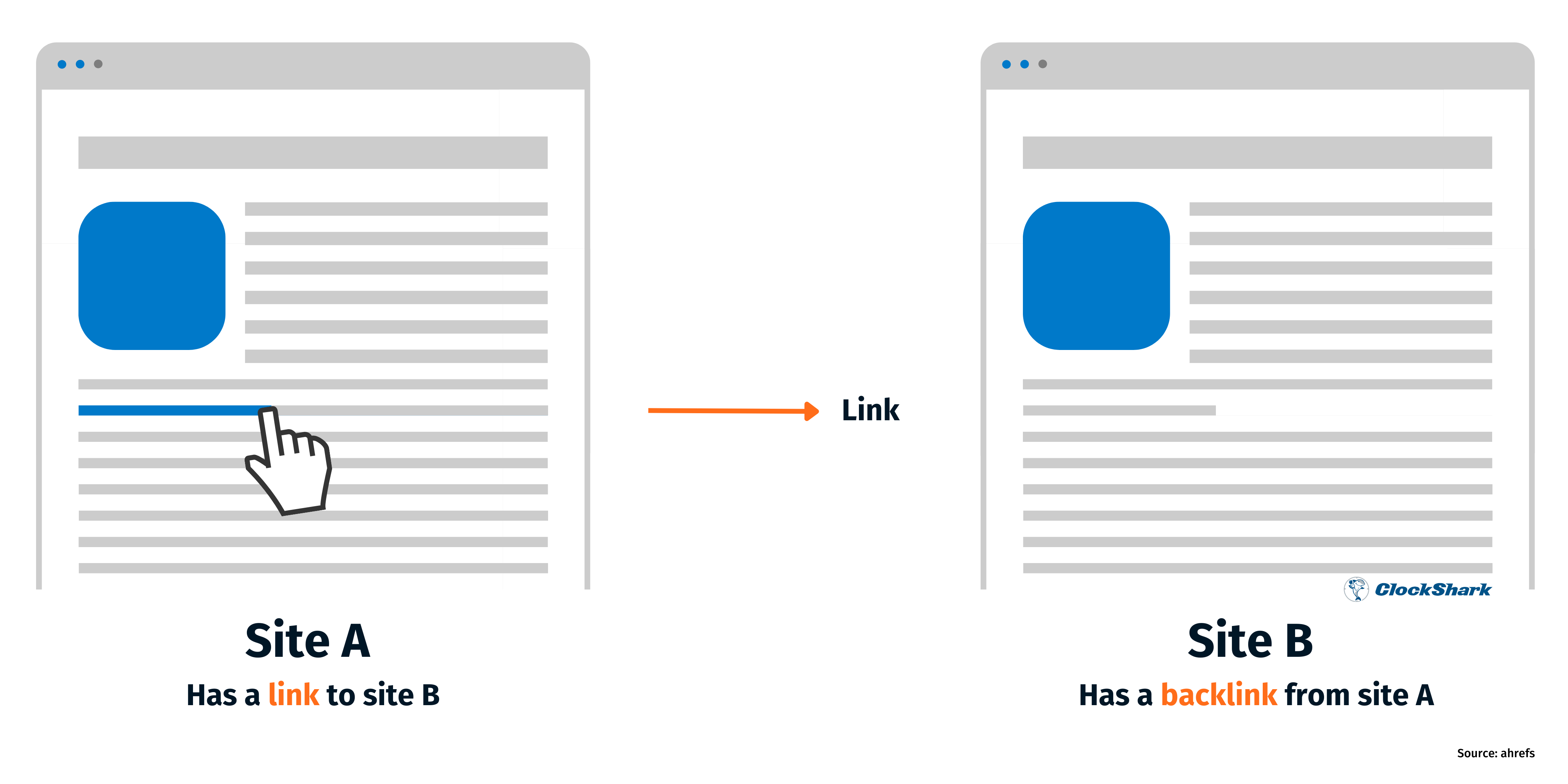 4. Improve Your Local Visibility
"Without a doubt, local SEO is vital for contractors and small construction companies," Laura says. "It's the act of growing and nurturing a local presence to ensure that even the smallest business can be found when customers are searching for services near them."

"The best thing about local SEO is most aspects are low/no cost," she explains. Google Business Profile is among the easiest ways to help search engines find your website. Laura adds, "Claim or create your Google Business Profile. This is free - any agency that tells you there is a charge is not to be trusted."
She offers a useful checklist of tips to help contractors increase their local visibility online with Google's listing:
Verify ownership.

Add your website URL.

List key products/services.

Post updates, offers, and links to useful articles on your site or elsewhere.

Ensure that your NAP (name, address, phone number) information is consistent across all directories and online platforms.

Encourage your happy customers to leave reviews on your Google profile. "This one is huge," she says. "It's basically your digital word of mouth."

Include geographically relevant keywords, such as city names or popular landmarks in the area, within your content and website.
5. Mobile-Friendly Structure
In the last quarter of 2022, over half of all web traffic was done through mobile devices. This is why SEO involves structuring the content into short sentences, bullet points, and small paragraphs. This makes the content more readable on a small screen and easier to follow.
Since so many users use mobile devices, search bots like GoogleBot actually search for the mobile version of a website first, and then the computer version. Many SEO experts recommend writing all online content in a mobile-friendly structure for this reason.
6. Video and Social Presence
Platforms like TikTok, YouTube Shorts, and Facebook have become powerful tools to reach and engage potential customers. In fact, recent statistics show that 64% of businesses reported acquiring new clients as a direct result of sharing videos on Facebook in the past year.
Create friendly, informal, down-to-earth videos to amplify the impact of your blog posts. By leveraging the power of video on social media, you can showcase your work, build brand awareness, establish trust, and ultimately attract more clients to grow your business.
Common SEO Mistakes Contractors Should Avoid
SEO mistakes are not limited to on-page errors, but implementation flaws as well. These include letting content become stale, posting irrelevant content, and not recognizing the importance of local SEO.
Here are the most common SEO mistakes made by contractors new to SEO:
Stale Content, Photos, and Testimonials
Unlike a brochure or business card, a website is dynamic and should constantly evolve. Contractors are busy people and tend to neglect their online presence when business is good. However, the best time to market a company is when business is booming, because it prepares the company for the next down cycle.
The best way to keep an online presence fresh and inviting is to regularly publish great content, focused on a target customer. This includes replacing older, less relevant content and photos with regular, quality updates. Old testimonials have less effect, so keep testimonials current and relevant to current business goals.
Posting Irrelevant Content
Posting content that does not relate well to the core business of the company should generally be avoided. To increase SEO, the terms used in the post should relate directly to the topic of the post, as well as the services the company offers.
One of the great things about having a strong online presence is that over time if the content is high quality, the business becomes a respected expert in the business. Posting irrelevant, boring copy has the opposite effect.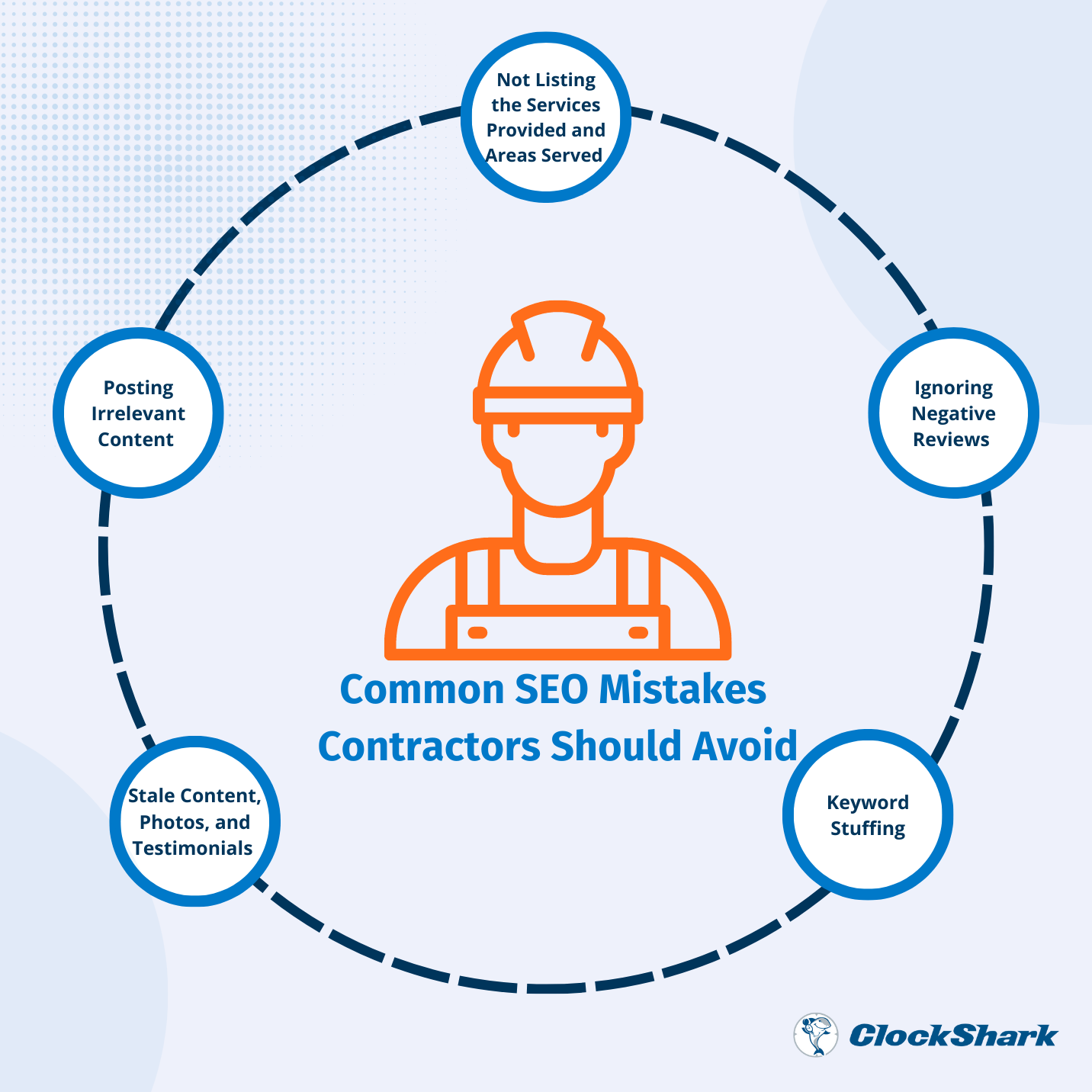 Not Listing the Services Provided and Areas Served
Search engines also look for a list of services the business provides to help determine the relevancy of the results. One way they do that is by looking for location info, which helps search engines match consumers with local providers.
Local SEO, especially for contractors, is critical to the growth and increasing website traffic. It helps the user narrow down the results to those that are most relevant to the search. Local SEO also helps qualify the potential customer, as they are more likely to be located in an area served by the contractor.
Ignoring Negative Reviews
Contractors tend to live and die by their reputation, especially if the company's goal is to become part of the community. Great reviews and testimonials should be gracefully exploited, but ignoring negative reviews can be even more damaging to the company's reputation.
Sites like Trustpilot and Angie's List, and even your Google Business Profile, exist to give disgruntled customers a place to communicate their experiences. The most successful contractors address negative reviews as soon as they are found and work diligently to resolve issues.
It's been said that one negative review has the power of ten positive ones. As with any unresolved problem, the issue often worsens over time. Resolve negative reviews in the most respectful way, and communicate that the company's first goal is to resolve the problem quickly and fairly.
Keyword Stuffing
Too many occurrences of a word are just as bad as too few, as the search engine will filter out attempts at what it considers "keyword stuffing". Keyword stuffing occurs when a word or phrase is used multiple times in an attempt to trick the algorithm into finding a page.
Laura James describes how some attempt to trick the algorithm: "Other sites would use a method called 'keyword-stuffing', which is where you cram in as many mentions of your target keyword as possible. This obviously makes content and site copy look unprofessional and almost unreadable to users."
Experienced SEO writers experiment with word densities and locations constantly in an effort to maximize appearances in search results. This allows them to provide useful information for the reader without the risk of a post being filtered out by an algorithm.
SEO for Construction Companies is Crucial for Success
SEO techniques help search engines provide the most accurate results for the reader. Those contractors that fall too far behind the technology curve can find themselves at a significant disadvantage against those that do.
To learn more about marketing your construction company, read our guide on Marketing for Construction Companies: 12 Tips to Get More Clients.
About Laura James
Laura James is an experienced SEO professional currently working as a Senior SEO Consultant at Flow SEO. Due to her extensive agency-side experience, she brings a wealth of expertise from various industries like eCommerce, travel, education, and retail. Laura is passionate about delivering organic growth and guidance for SaaS B2B and start-up clients. Her specialisms include international SEO, organic video, and site migrations, showcasing her broad knowledge and adaptability in the SEO field. Outside of work, Laura enjoys travel (especially Greece), 90s music, British sitcoms, Disney movies, and food.