Service Channel is Facilities Management Software. It is a cloud-based program that helps facility managers with a platform to assist with managing, maintaining, planning and getting services and assets across their company. The Service Channel platform helps with contractor contracts, compliance, work orders, preventive and scheduled maintenance, proposals, invoices, and asset management. The software also analyzes data and creates reports to help inform business decisions.
Service Channel – Fixxbook
Service Channel offers one dashboard that has all of the components of the program in a single place. Within the Service Channel platform is the Contractor Directory, called Fixxbook. Fixxbook is free and allows facility managers to find contractors quickly. It is an online directory that has over 50,000 suppliers, contractors, and consultants. You can search by service area and trade. You can refine your search by using the filters to look for exactly what you need. You can explore trade association affiliations and subcontracting status and more.
Fixxbook has a badging system that shows how a contractor is accredited and certified. You can even search by diversity statuses such as minority or women-owned businesses or vendors. By using Fixxbook, you can find a contractor faster with the right certifications. You get all the information you need about the contractor easily, and it saves you time and money in the end.
Service Channel Features
Contractor Risk and Compliance Manager
The Contractor Risk and Compliance Manager helps to make sure that you are keeping following all regulations at every location. The Risk Management software manages the relevant information of your contractors such as insurance and credentials to make sure everything is up to date. When you work with a contractor, you simply invite them to your private network and ask them to submit a profile with their w9, rates, and insurance information. You can communicate directly through the platform with the contractors if anything is out of compliance.
Argo-Risk Score
The system helps reduce your company's risk since you are alerted when any insurance or important certificate is going to be expiring. If a contractor or provider is non-compliant, you will know and can stop using them. There is an Argo-Risk Score tool that helps assess the risk that is related to a particular contractor. You can set up various alerts to be automatically monitored by the risk management system for insurance, certifications, and license expiration dates as well as trade credentials, cost changes, and financial status.
Work Order Manager
The Work Order Manager assists with managing maintenance and repair work across your company. Service requests are easily placed and monitored through the work order manager. Real-time status updates can be viewed, and feedback can be left for the work performed. The work order management system helps find and manage the technician who will work on the work order. It helps pay the technician through an automated payment system once the work is complete.
The Work Order Management system allows you to analyze the data from your job orders to see where improvements can be made and adjustments might be needed. The work order platform also operates with the planned maintenance manager to work on preventive maintenance in addition to repairs. Once the work orders are generated, they will be regularly scheduled for preventive maintenance to help keep the company's assets running smoothly.
Proposal Manager
The Proposal Manager assists with creating Request for Proposals and keeping them in a unified format. The project manager keeps all the submitted RFPs in one location and allows you to compare all proposals in one view making it easier and quicker to make decisions. Within the project manager, you can approve or reject proposals and communicate the results to the contractors who submitted proposals. Everything in the Proposal Manager is done online making it easy to score, respond and evaluate the proposals.
Planned Maintenance Manager
The Planned Maintenance Manager helps with preventative maintenance. This system ensures that all equipment is maintained appropriately and promptly. The goal is to prevent downtime and extend the lifetime of your assets. Each asset is scheduled for service as it is needed and work orders will automatically be generated for the technician. Preventive maintenance cuts the costs of repairs and loss of use of your equipment.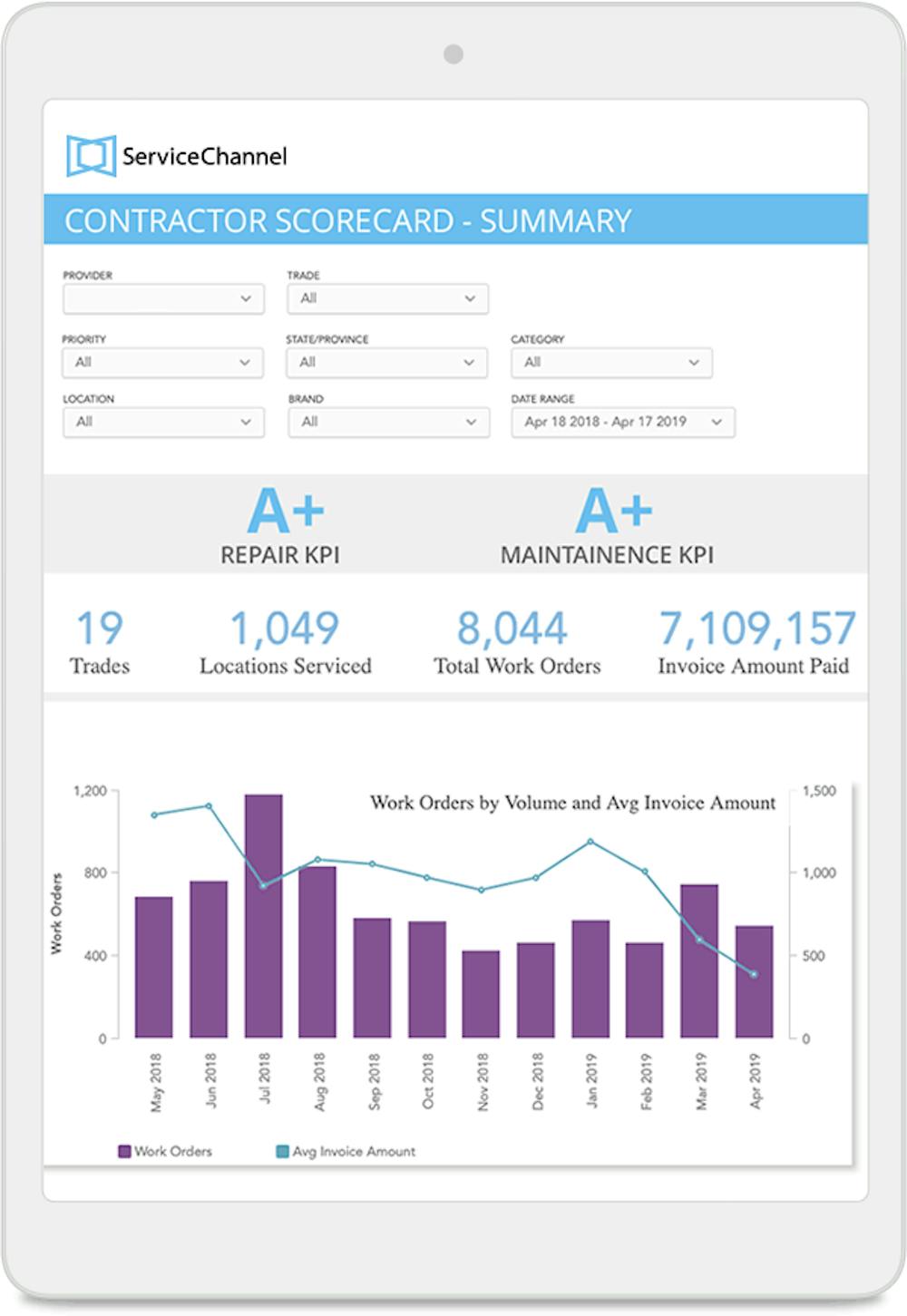 Asset Manager
The Asset Management software operates hand and hand with the work order manager and can get all the data of your assets to work history and maintenance. The Asset Manager can determine if your business should repair or replace a piece of equipment based on the Total Cost of Ownership and Depreciation analysis that is determined from the data pulled from the Service Channel platform. This powerful software can help your business make significant cost-saving decisions.
Invoice Manager
The Invoice Manager provides automated invoice software. It works with the work order system where a contractor will create an invoice for the work completed if the invoice meets the preset validation rules, and then it will be automatically approved. Invoices outside of the pre-set rules will be flagged for review and manual approval.