Many construction business owners stay busy taking care of contracts, bids, and projects, leaving the marketing efforts of their services somewhat neglected. But social media is where your customers are, and just having a social media business page is not enough.
There are important things you should be doing with your online channels, including how to use social media marketing to grow your construction company.
What Is Social Media Marketing?
Social media marketing is one aspect of a marketing strategy that uses social media platforms to attract and engage potential customers based on their individual needs and specific consumer attributes.
It is different from social media advertising because it does not need to cost money. Social media marketing also involves using the right channels to reach the right people, based on the target market you're working with.
How Does Social Media Marketing Work for Construction Companies?
Social media has many benefits for construction companies, but among the most important, is the ability to be "human" and interact with people in a way that influences their opinion of your construction or contractor services. Additional benefits include:
Increase Brand Awareness
Even with a unique, memorable business name, company vehicles with stand-out brand colors, and the catchiest company slogan, increasing brand awareness is always important. You want people to remember your business when they need the services you provide. Social media is a way to increase your brand awareness.
Connect With Audience
Most American consumers use social media, and 90% use the internet to find the right contractor for household restoration projects. Social media gives them the opportunity to explore your company differently. They can look at your interactions with other users, read reviews, see before and after photos, learn about your services, and even get a feel for the things your company represents, all without visiting your website or feeling pressure on a phone call.
Lead Generation
Lead generation is one of the most important marketing goals of any company's business strategy, and social media is a low-cost, valuable way to connect with people who are more likely to be looking for your services.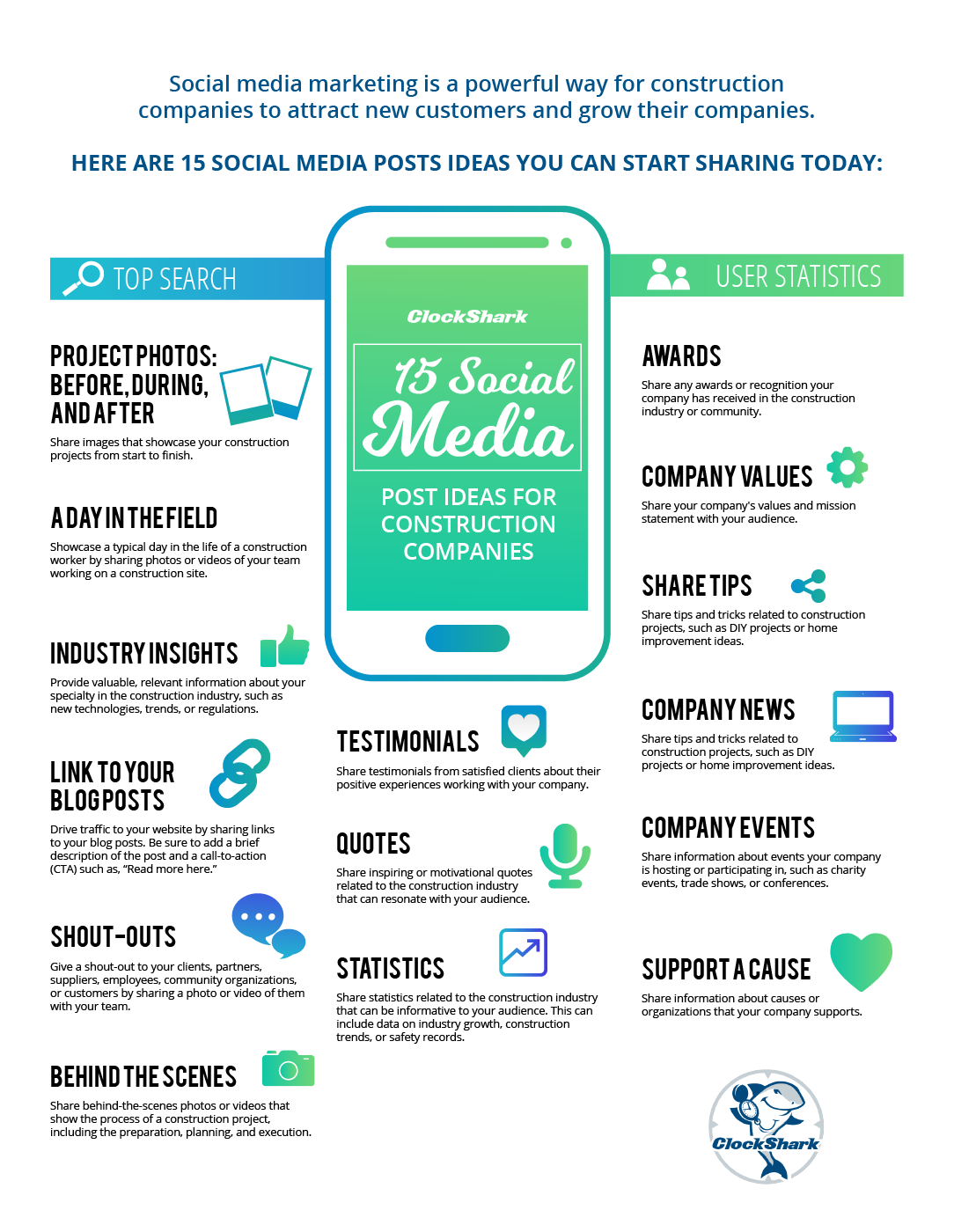 The Importance of Identifying Your Target Audience on Social Media
Before jumping into social media marketing, it is crucial to identify your target audience. This will help you avoid wasting time and resources on your social media strategy, but there are other important reasons why you should prioritize this.
Creating Buyer Personas to Understand Better Your Audience
A very important and necessary marketing tip for construction businesses is to develop buyer personas. Buyer personas are fictional people who represent the attributes, habits, demographics, and other general information of your company's ideal customer.
These can be as simple or complex as you choose, but they are very valuable in helping create a marketing strategy that appeals to them specifically. This helps you target people who are in the market for your construction specialties and who are in the ideal income bracket, area, etc.
Understanding Your Target Audience
Use your buyer persona(s) to research various facts and insights about that market segment to determine their internet use and social media preferences. From there, you'll be more informed about their pain points, real-life passions, goals, and other insights you may not have uncovered creating their personas.
How to Find Your Target Audience on Social Media
Once you understand your target audience, you'll have a more solid idea of which social channels they are more likely to use. For example, LinkedIn is used for building professional connections and would be suited for construction companies that cater to commercial or industrial construction needs.
Conversely, Facebook users are more likely to use social media for connecting with family/friends or following their favorite celebrities or topics, and over half of Pinterest users are more often female users who enjoy sharing photos of projects and ideas they find interesting.
How to Create a Social Media Marketing Strategy for Construction Companies
Your social media marketing strategy will provide an outline that helps you get started connecting with your target audience. It provides a roadmap with rails for you to stay on track.
Choose the Right Platforms
Resist the urge to join every platform available. Not only would it be counterproductive to try to use each channel effectively, but your customers aren't using them all. Choose one or two, instead.
If you are marketing to individuals such as homeowners or property managers (known as B2C, or "business to consumer" marketing), you'll probably have more success on platforms like Facebook or Instagram.
However, commercial or industrial construction companies need to reach businesses or enterprises to find the right targets. This type of marketing (known as B2B or Business to Business) will likely be more successful on LinkedIn or Youtube.
Set Marketing Goals
Social media marketing has a lot of variables and can shift unpredictably based on world events, seasons, and even sports. Marketing goals are important to keep your strategy consistent.
Your social media goals can include:
How many times you will post each week

What types of posts you'll post

How much engagement do you consider successful

How many leads do you get from your posts
Each social platform has a way to track performance so you can determine how your social media marketing is going.
Create a Content Calendar
A content calendar is a way to organize when you'll post, what you'll post, which platforms you'll post them on, and schedule any kind of marketing campaign you launch.
Measure Results
Use social media analytics tools to determine what's working and what isn't. You can use these tools to see which posts were most popular, which did not fare well, which ones generated more shares, etc. This, in turn, will help you further hone your strategy, so you can post more effective posts and fewer of the others, and set appropriate goals in the future.
How to Build Your Social Media Presence as a Construction Company
Having a social media business account isn't enough to have a meaningful presence. Your social media presence is another way to grow your construction company if done right.

How to Measure and Analyze Your Marketing Efforts
To reach your goals, you'll have to know how to measure your performance. There are three ways you can begin doing this.
Identifying Key Performance Indicators (KPIs)
Define the KPIs that are relevant to your construction company's social media marketing strategy, such as website traffic, engagement rate, leads generated, or conversions. This will help you track and measure your progress toward your goals.
Understanding Social Media Analytics
Learn how to use the analytics tools provided by social media platforms to monitor the performance of your posts, understand your audience demographics, and identify areas for improvement.
These tools will provide you with insights such as how much engagement you got for each post, how far the post reached, and how many impressions it made, too.
Analyzing Competitor Strategies
Analyze the social media marketing strategies of your competitors to identify what's working and what's not. Reviewing their pages to see which posts received the most engagement helps you adjust your own strategy and stay ahead of the competition.
Social Media Post Ideas for Construction Companies
1. Project Photos: before, during, and after
Share images that showcase your construction projects from start to finish. Highlight your workmanship and expertise by showing the different stages of the project and the results. You can add captions that explain the location, the challenges faced, and how you overcame them.
2. A Day in the Field
Showcase a typical day in the life of a construction worker by sharing photos or videos of your team working on a construction site. Include captions that describe the tasks involved, the tools and equipment used, and any safety measures in place.
3. Industry Insights
Provide valuable, relevant information about your specialty in the construction industry, such as new technologies, trends, or regulations. This helps establish your company as a thought leader and builds trust with your audience. You can share infographics, industry reports, or news articles.
4. Link to Your Blog Posts
Drive traffic to your website by sharing links to your blog posts. This helps establish your company as an authority in the work you do and can help generate leads. Be sure to add a brief description of the post and a call-to-action (CTA) such as, "Read more here."
5. Shout-Outs
Give a shout-out to your clients, partners, suppliers, employees, community organizations, or customers by sharing a photo or video of them with your team. This helps build relationships and promotes positive brand sentiment.
6. Behind the Scenes
Share behind-the-scenes photos or videos that show the process of a construction project, including the preparation, planning, and execution. Don't be afraid to share mistakes or fun clips that show the human side of things. This gives your audience an inside look at your operations and helps build trust.
7. Testimonials
Share testimonials from satisfied clients about their positive experiences working with your company. This helps build credibility and trust with potential clients.
8. Quotes
Share inspiring or motivational quotes related to the construction industry that can resonate with your audience. You can create your own graphics or share quotes from famous figures in the industry.
9. Statistics
Share statistics related to the construction industry that can be informative to your audience. This can include data on industry growth, construction trends, or safety records. You can also share statistics related to the kind of work you do. For example, if you specialize in pool decks, let your followers know how popular they are in your area.
10. Awards
Share any awards or recognition your company has received in the construction industry or community. This helps establish your company's credibility and expertise.
11. Company Values
Share your company's values and mission statement with your audience. This helps build brand identity and can attract clients who share your values.
12. Share Tips
Share tips and tricks related to construction projects, such as DIY projects or home improvement ideas. Videos showing the proper way to use a specific tool or of you (or an employee) building something. This can attract a wider audience and position your company as an authority in the industry.
13. Company News
Share news about your company, such as new hires, project updates, or milestones. This keeps your audience informed and engaged with your brand.
14. Company Events
Share information about events your company is hosting or participating in, such as charity events, trade shows, or conferences. This helps build brand awareness and can attract new clients.
15. Support a Cause
Share information about causes or organizations that your company supports. This helps build a positive brand image and can attract clients who share your values.
Social Media Marketing for Construction Companies
Social media marketing is a powerful way for construction companies to attract new customers and grow their companies. However, you should first develop a social media marketing strategy to make sure your efforts are effective and efficient. When your social media marketing is done right, you'll be able to interact with customers, further establish your company's brand and reputation, and attract new customers that are looking for the services you offer.
Marketing is an important part of growing your company, but not everyone is a pro. If you're looking for more advice on marketing, read our blog post, Marketing for Construction Companies: 12 Tips to Get More Clients.