Did you know that US workers forfeited over 212 million vacation days in 2017? Project: Timeoff found that workers who use their Paid Time Off (PTO) are significantly happier than those who don't—no surprises there!
Knowing that taking time off is good isn't exactly groundbreaking, but getting into the nitty-gritty details of efficient PTO management can be a big, hairy chore. Balancing employee needs with business needs and accurately keeping track of time off requests and work that needs to be done can get complicated. Offering and managing a competitive benefits package can leave you spending hours scheduling time off, accurately running payroll and managing countless small details.
Managing time more effectively with a policy plan builder that simplifies and automates requests, approvals, and accruals is a win for any business.
Time off work is a good thing
Paid Time Off requirements varies from state to state. Not every state requires it, but PTO policies and a healthy relationship with your employees are key to a positive work environment. PTO comes in many varieties, and it's important to build a plan that works best for both your business and your employees.
The 2017 study from Project Time Off found that all that unused PTO added up to $62.2 BILLION in lost benefits. Those lost benefits cost the economy $255 billion in missed opportunity and 1.9 million potential jobs. Individually, employees ended up giving back more than $500 on average in work time to their employer.
Then there's the impact on body and mind. Burnout is officially a medical condition, according to the World Health Organization, and job burnout means increased negativity and decreased productivity. Energy and efficiency plummet among those folks who push themselves too hard without taking some much-needed personal time.
In a construction setting, employees who are focused and energetic from a "vacation recharge" will be more productive and careful while on the job. Alert and energetic workers benefit their employers more than those who are burned out. Managing PTO efficiently is crucial to keeping employees from feeling that burn.
While there are always those employees a little too eager to take time off, there are others that hesitate to take advantage of this benefit simply because they don't know how much time they have available, and that's something to avoid at all costs. It's also something hard to keep track of.

...but the actual process of taking time off can be a pain
The pain of managing paid time off and sick time is very real. Wondering how much time each employee has during a rollover period or at the end of a year can be a chore.
On a local scale, you won't usually find a construction company with the revenue and size that justifies hiring a dedicated human resource employee. The heroes of HR manage benefits and are a resource for company policies such as PTO. HR pros also make sure employees are accruing the right amount of vacation and sick time in compliance with regulations. But for small businesses, hiring an HR employee to manage PTO often just isn't in the cards.
Frustrations can mount quickly as the request process and approval determination spirals into email confusion. First, employees might be in the dark as to how much time off they have. Did they already use up their allotted time? Have they called in sick too many times? Do sick days count against vacation days? When do I get more sick time off? Did I lose some time after the first of the year because I didn't take enough days off? Without an easy way to access PTO policies and accruals, there's usually no quick way for an employee to find answers to these questions, and that chore inevitably falls on the employee's manager.
Managing PTO policies is a hassle
A good manager is going to make sure that the work for that day gets done and will check to see who else might have the day off. When they don't have quick access to the PTO records and policy details, it then rolls up the ladder to HR or the office manager. What should be a simple task can quickly snowball into a major work disruption.
Hiring an HR specialist or outsourcing HR needs can come with serious sticker shock. So why not do it yourself? You know your business better than anyone, so building and managing PTO policies should be a breeze, right?
Not exactly.
Local construction and field service businesses routinely use phone calls or chats with supervisors that hopefully get input manually onto spreadsheets to calculate and accrue paid time off which then need to be updated every pay period.
Some businesses ask for a paper trail, relying on emails, texts or phone calls to request time off from their manager, often without easy access to understand how much time they have to use. In many cases, local businesses use the tried-and-true spreadsheet method to manage employee time off.
In a perfect world these would work, but -- as you've probably guessed -- we don't live in a perfect world.
Employees and managers get busy, papers get lost and emails forgotten. It isn't unheard of for companies to not know an employee took a day off until after the fact.
On top of that, PTO plans can be complex and involve a lot of variables. Do hours roll over? Is there a max on time accrued? And don't forget about the state and federal laws that apply to employee time off.
Even the most well-planned spreadsheet can spiral out of control. Complex formulas, sensitive information that needs to be hidden, and payroll errors can turn the Best Spreadsheet Ever! ™ into the Spreadsheet from Hell. ™
Spreadsheets, emails, and paper requests just don't work. They're inaccurate, frustrating, and all-around unmanageable.
ClockShark takes the pain out of PTO
Managing employee PTO shouldn't leave you feeling like you need a vacation yourself.
ClockShark's Paid Time Off App was built with the specific needs of field service and construction operations in mind, with features that make it a great choice for local businesses that are fed up with PTO pain.
Ditch the dusty paper tracking and spreadsheet methods for a more modern approach. ClockShark's custom policy maker can build a flexible PTO plan in as little as 90 seconds. Whether you offer unlimited time off or need something a little more structured, ClockShark lets you build the plan best fit for your needs while complying with time off regulations.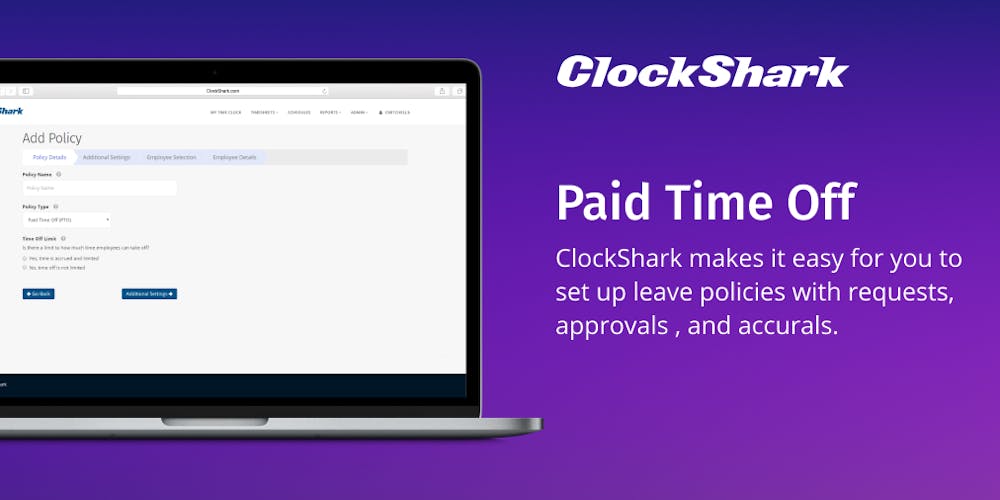 Simplify time off requests
ClockShark makes PTO requests and approvals fast, easy, and automatic.
Employees can see their available PTO in real-time in the ClockShark mobile app and quickly make time-off requests. Paid time off balances update automatically, meaning "Do I have time to take a day off?" is a question no longer asked.
Once a request is made, an alert goes to the employee's manager with a quick link to review and approve. Approved requests automatically show up on the timesheet calendar, giving an accurate overview of who will be off and who will be working on any given day. This allows for more accurate scheduling and makes sure work on the job site gets done on time.
Employees no longer have to ask what their PTO balance is, make a request, and wait for the approval. Managers no longer have to check an employee's PTO balance, approve written requests, or manually update schedules to reflect time off.
Simplify employee time - on and off the clock
Spending countless hours manually managing PTO is a drain on productivity. Management and employees alike have to divert time and energy when they send written requests and approvals for paid time off and sick leave. ClockShark eliminates that problem with automation from start to finish-- freeing up time to get more done and focus on your customers.
It's never been simpler to see if PTO software can help your business. Start your free trial of ClockShark today and see how mobile time tracking, employee scheduling, and PTO management will lighten your workload and boost employee morale.