As an employer, you have a lot on your plate; tracking employee's hours is one of them. This is a duty that is prone to miscalculations, and it can cost you, literally. Think about it, if the average worker works 2,000 hours per year and you over calculate by a couple of hours, those hours add up.
There are a few options to choose from that may make your hour tracking process go smoothly and avoid miscalculations.
What Is The Best Way To Track Employee's Time?
Depending on how many employees you have, it can be a hassle to track employee's hours efficiently while avoiding mistakes. There are a variety of techniques and services out there to help you track hours.
1. Pen and Paper
Yes, we said it: Pen and Paper. You might be thinking this is an outdated technique, but in fact, many companies still use it, especially small businesses (25% of small businesses). So why are companies still using the pen and paper technique?
Using this method to track employee hours doesn't require any software learning, it is the easiest technique. Pen and Paper also cost little to nothing to do. Some software services want you to pay for a monthly trial.
However, when using the pen and paper technique, it can be easy to lose paper and ruin timesheets. When it comes to adding up all employee hours, it can also be tedious to have to manually input each number. It's also harder to send out changes to employees. If this happens, what do you do? Print out multiple copies and send them out again? That uses more paper. Send an email informing employees of a change? This just adds more to your plate. Using this method of tracking employee's hours has its pros and cons.
2. Online Spreadsheets
Online spreadsheets such as Google Sheets and Excel are additional resources companies use to keep track of hours worked. Employers can easily share this among their employees for them to manually record their hours. Adding up employee hours takes less than three clicks.
In a previous article, we write about the use of Excel for tracking employee's hours. In that article, we provide readers with a free downloadable timesheet template.
3. Time Clocks
We probably have all used a time clock to clock in and out from work. A time clock is a device that records employees' hours using a working hours log, password, and/or handprint. Some even use facial recognition! Here are a few reliable time clocks you can order online:
When choosing which time clock to use, make sure it's one that's easy-to-use and understandable for you and your employees. Take time to research the hundreds of time clocks on the market.
Save Time and Money with ClockShark
Thank you! Your submission has been received!
Oops! Something went wrong while submitting the form.
Is There An App To Keep Track Of Employees' Hours?
There are hundreds of apps that have been created to keep track of employees' hours. We have selected 4 apps that we believe are the best to incorporate into your business.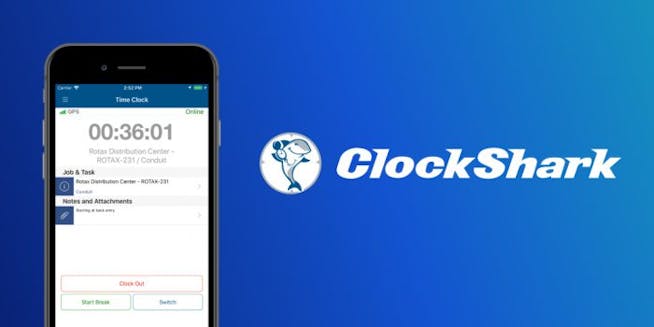 ClockShark is a leading time tracking and scheduling SaaS program for construction and field service companies. With the mobile time clock, it is easy for employees to clock in and out with their smart devices.
ClockShark also has integrations such as QuickBooks and ADP to make payroll a piece of cake. Say goodbye to long hours spent on timesheets and miscalculated hours. This program saves you both time and money!
Harvest is an application that does time tracking, reporting, and invoicing. There is a timer that employees can start and stop as they work through their tasks. These hours are added up to provide an accurate amount of hours worked daily.
For example, John, an event planner can use Harvest on his desktop or smartphone to track how much time he spends working on one event. Harvest prevents employers from 'guesstimating' how much time they spent on a project.
Everhour provides accurate time tracking for project management, invoicing and payroll. They allow employees and teams to keep track of their hours by using a timer. With each project, employees use the timer to stay on track with their day.
They also have integrations such as Asana where employees can grab a task and start the timer. When they have completed the task, they can stop the timer. If the time is inaccurate, the program allows you to edit your hours worked on a project.
With a free basic plan, Toggl is a time tracking program that helps your employers get things done. It has a one-click timer to keep track of the time employees spends on projects. It is an easy to use employee hours tracker.
Toggl will remind workers if they forgot to click the timer when they began a project. It will also alert workers when they forgot to stop the timer once they completed a task.
Why Use An App To Track Employee Hours?
The Huffington Post found that people overestimate the hours they work by 5 to 10 percent weekly. This can cost you thousands of dollars yearly.
Using an app to track employee hours will help you get accurate hours from your employees. Getting accurate hours prevents you from paying employees for hours of work that they didn't do. Using an app ultimately saves you thousands of dollars. So why not find one that works best for your company?
In Conclusion…
There are several ways to track your employees' hours. Choosing which method to use for your business requires some research. Whether it be using pen and paper, a time clock, or an app, it is important to remember that some methods will be better than others, depending on your company. Tell us in the comments, what do you do to track employee hours?