QuickBooks has been a staple of companies with mobile workforces for a long time. One of the biggest reasons QuickBooks was so widely used is because of the job costing reports. Intuit, the company that owns QuickBooks, has been moving its software away from the "installed on a computer" model to a cloud-based model like most software companies have been doing. They appropriately named their cloud service QuickBooks Online.
When QuickBooks Online was launched several years ago, Intuit didn't stop making or supporting their other versions of QuickBooks that were installed on office computers.
Why Companies That Need Job Costing Are Not Moving to Quickbooks Online?
The benefits of cloud-based software are pretty compelling – your software is available anywhere you can connect to the internet, and in most cases, it can integrate with other software also in the cloud. This has really simplified the process of getting and using the software as well as allowing a lot of efficiency gains from automating tasks by linking cloud-based software together. Even with these benefits, many construction and field service companies have not made the switch to QuickBooks Online and still use QuickBooks. Why? QuickBooks Online doesn't do job costing anywhere near as well as QuickBooks. For companies with mobile workers, this can be a deal-breaker.
To be fair, it's not that Intuit didn't realize that job costing was important when it designed QuickBooks Online. What makes QuickBooks Online different from QuickBooks is not just that it's in the cloud, but it was a strategy change from Intuit overall. QuickBooks is supposed to be accounting software. Some parts of accounting are pretty standard across all businesses, like accounts receivable, profit loss reporting and the like. At the same time, several industries have very specific needs from their accounting systems that other businesses have no use for.
Construction is a great example, as is job costing. Intuit used to serve all these different industries with different versions of the QuickBooks software. That model can work fine when your software is installed on a computer, but when you move that to the cloud it becomes a bit trickier. Intuit solved this problem in a different way with QuickBooks Online– they allowed other technology companies to write apps to serve all the various industries and provided a way to integrate with QuickBooks Online. Now Intuit can focus on making the best accounting software instead of trying to build a system that does everything for everyone while other companies can make the best time tracking, job costing and expense tracking tools for any industry imaginable.
How Technology Stacks With Quickbooks Online Are Closing the Gaps
A good example of creating a technology stack is using ClockShark with QuickBooks Online. If you have a mobile workforce you can use ClockShark to track your time, and all that data can be synced right to QuickBooks so you don't have entered the data twice. ClockShark doesn't need to create accounting software and QuickBooks doesn't have to make time tracking software.
Everyone Gets to Focus on What They Do Best
So, if you use QuickBooks Online for your accounting, and ClockShark for your time tracking but you need awesome job costing, then you might want to add Knowify to your technology stack.
Job Costing With Quickbooks Online and Clockshark
Knowify is a cloud-based job management app targeting construction and trade organizations. Knowify has lots of handy features like bid and contracts management, job costing, estimating, invoicing and payment collection and it integrates with QuickBooks Online. Knowify has also created a way to import time data from ClockShark right into your Knowify account to make job costing super easy. ClockShark also integrates with QuickBooks Online, so you could just sync your time data to QuickBooks Online and Knowify will pull it in as well, but using their direct import tool gets you better data and more detailed job costing reports.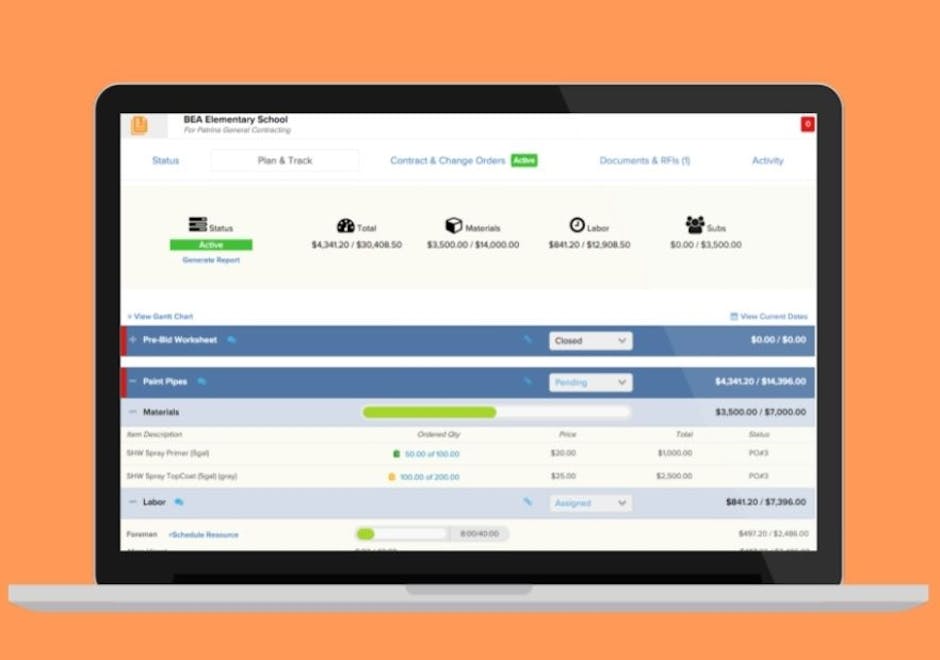 Knowify has some helpful documentation on how to get ClockShark time data into Knowify. We've checked it out and it's pretty slick, and the job costing reports are awesome. Knowify gives you up-to-the-minute accurate details on your project's costs and how you're doing compared to your estimates, project budgets, and schedule. If something is costing more or taking longer than you thought, you'll know right away so you can do something about it. During our time testing the feature, we've come up with a great workflow for using ClockShark and Knowify together.
The Ideal Workflow for Clockshark, Knowify, and Quickbooks Online
The good news is that the optimal workflow for using the three systems together makes sense because it follows the steps that a project takes from beginning to end. First, you need to connect your QuickBooks Online account to both ClockShark and Knowify.
Once everything is connected the Customers and Service Items in your QuickBooks account will be in both systems. At this point, we recommend having Knowify customer service enable the "Jobs and Sub clients" setting in your account
With that taken care of, you can start using everything.
The Best Thing to Do Is to Create New Jobs in Knowify
This makes sense because Knowify lets you create estimates and budgets for your jobs and deliver them right to your client for approval. The Job you create will sync with QuickBooks and ClockShark, so when the job starts your crew can track time against it right away without you having to do create the same job in QuickBooks Online or ClockShark. As you build up your job phases in Knowify, those phases become service items in QuickBooks Online, which become tasks in ClockShark.
The best part of this workflow is that because the jobs and tasks you track time against in ClockShark started as an estimate in Knowify, your time tracking records will perfectly map to your estimate so your job costing will be easy and accurate. Anytime you want, you can run an export from ClockShark of your time data, and then import it right into Knowify and get up to date job costing info right away.