We frequently see frustrated business owners who have many questions around mobile time tracking and GPS tracking. From legality issues to whether their mobile workforce will accept this technology, and more, these questions are understandable.
When you have multiple projects, work sites, or crews, accurate time tracking is a major challenge that costs time, money, and resources (and headaches!). Improper records, inaccurate job costing, and hours spent sorting through illegible paper timesheets are just some of the ways small- and mid-sized businesses struggle with paper timesheets or traditional timekeeping.
Since technology is being adopted more and more in today's workforce, it's no wonder that people are becoming increasingly aware of the benefits of portable time clock. It's not just about tracking employees' locations through the day. It's much, much more.
Experts report there are 10 major reasons why at least 85 percent of construction projects go over budget and mobile time tracking addresses the majority of these problems. Take some time to get to know as much as you can about GPS and mobile time tracking so you can be armed with the necessary information to make this important transition.
This post is for busy employers who are looking for solutions but still have questions. We'll go over some important topics to help you successfully implement employee location tracking technology.
What Should You Know About Employee Location Tracking
1. What is Legal?
Currently, there are no federal laws in place regarding employee privacy rights.
Additionally, there are very few laws on this subject at a state level. There was one case in May of 2015 where a woman sued her employer after she was terminated for uninstalling a GPS tracking app from her company-issued smartphone. The case was Arias v. Intermex Wire Transfer, 15-ve-01101 (E.D. CA, 2015). This case was settled out of court, so there was no ruling. However, it does bring to light the concern of privacy for an employee and the desire to have their rights protected outside of working hours.
2. Do I Need to Create a Location Tracking Policy?
As a rule, any system will function at it's best when everyone is clear on the guidelines. It's even more effective when they understand the benefit. You should create a clear policy on any GPS tracking that you have in place.
This policy should not only outline how employee tracking will be used, but why it's being used. Be transparent in the purpose of your choice to track employee location. Being open about the benefits for your organization can help employees get a full picture of why it's important to use tracking. It's also a great opportunity to outline how this technology can help them in their day-to-day job.
You should ensure that every employee receives this policy, and it should become a part of your new hire paperwork. It should also be required that employees acknowledge the receipt of this policy and that they understand it. This can help protect your organization if there are concerns down the road.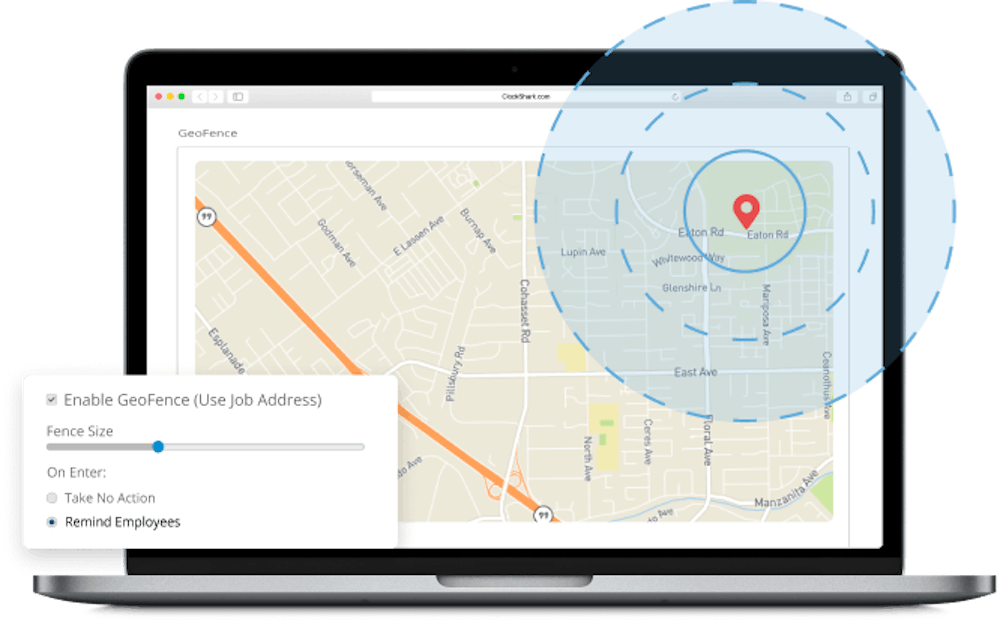 3. What Are the Best Practices?
It's important to create a policy and guidelines. In order to do this, you should first check into any laws specific to privacy and GPS tracking in your state. Your local labor board or union can be a good resource as well.
Here are some best practices you should follow as you make the transition to employee location tracking:
Be knowledgeable about the laws so you will be able to answer questions and address any concerns.


Become very familiar with the GPS tracking technology you would like to implement. Do thorough research and make sure your leadership team understands how to use the system as well. The more knowledge you have and share with your team, the easier the transition will be. This will also help instill confidence with your team in making the change.


Only collect data that is relevant to the job. Tracking should only apply to job-related tasks and travel. Consider if the information you are collecting is needed for purposes of the business. If not, you may want to re-evaluate.


Be considerate of employee privacy. Make sure that their data is protected.


Keep lines of communication open and allow your workforce to share questions and concerns. Working through these issues together will allow you to get ahead of any problems and develop a system that is fair.



Make sure that you create a clear GPS tracking policy. This should cover the reasons for utilizing employee tracking, the benefits for the business, as well as how GPS tracking will benefit your employees themselves. If there are consequences for not properly using the tracking system, make sure they are outlined and that employees know about those consequences in advance. This policy should be distributed to every employee and you should keep a record of their understanding and receipt of this information.

4. Will Employees Accept It?
While this is an important thing to consider, you should not assume that your employees will not be accepting of GPS tracking. Technology is becoming more integrated into our way of life, and as new generations come into the workforce, there is more appreciation for the convenience and efficiency of technology.
Job security is important to employees. A profitable company can take care of their employees. If they understand how implementing employee location tracking will save the company time and money, this will have value to them.
There are also benefits such as accurate paychecks, better scheduling, increased safety and response time, and other features that will improve the lives of your staff. Approaching the transition as a team and involving them in the process will go a long way in helping employees get on board.
5. What Are Employee's Most Common Concerns?
When implementing GPS tracking, there can be some concerns from employees. Recent study shows 77 percent of employees reported that they would be less concerned about their employer monitoring their digital activity as long as they are transparent and up-front about it. Make sure you initiate a conversation with your workforce before implementing employee location tracking and get dialogue flowing.
There are some common concerns when it comes to GPS tracking:
Privacy

Personal phone issues (compatibility, battery life, etc.)

Accuracy of app

Safety of their personal data

Learning new technology
Once you have gathered this information, come up with answers to their questions, and address their reservations. Be sure to build your case as to why GPS time clock is beneficial for all parties.
Having confidence and knowledge on the subject will help you in winning your workforce over.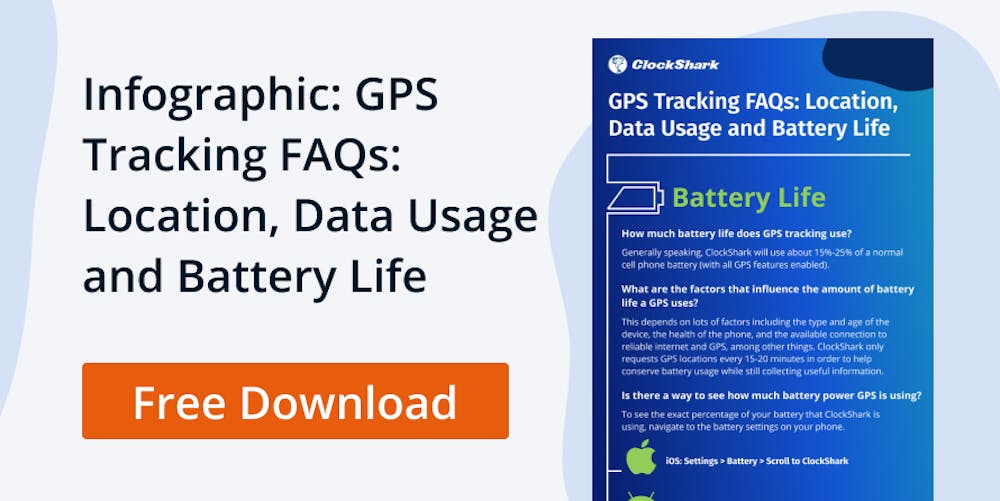 6. Can I Spy on Them?
When it comes to employee location tracking, you are not "spying" on your team.
The goal of any tracking system is never an invasion of privacy. Your business is implementing this new technology to streamline your work, ensure the accuracy of your time tracking, and to be more efficient overall. It is also not an issue of trust.
Having the ability to track employee location can allow a safer workplace in the event of an emergency. The data you are collecting is only meant to benefit everyone. If you do not treat your tracking system like spying, your employees will come to understand that is not its purpose.
7. When and Where Can I Track Them?
While the laws around employee privacy are not clearly outlined, there are some guidelines you can follow to make sure you are using any tracking correctly. Ideally, if you are capable of only using tracking systems on company-issued devices, that eliminates any grey areas.
If you do require employees to use their personal devices to utilize time tracking, be sure that the system you use has the ability to have tracking turned off after hours.
A good rule to follow is that any tracking you perform and any data that is collected is relevant to their job. Be very clear with your employees in regards to where they are being tracked, how to use the technology, and what the data will be used for.
Now What?
There is no doubt that GPS tracking can save your company money, streamline your scheduling, and improve your timekeeping ability. However, making a change can be daunting, especially when it involves concerns about privacy. Being knowledgeable and prepared to address those concerns can make the transition easier.

What are your next steps in implementing employee location tracking for your organization?

Save Time and Money with ClockShark
Thank you! Your submission has been received!
Oops! Something went wrong while submitting the form.