Job Costing in QuickBooks Without the Headaches
Let's face it, job costing isn't the funniest thing in the world, but it is important to the profitability of a company. Job Costing in QuickBooks makes the process easier but you still have to get all the time, job and work data in the system. That's where ClockShark can help. ClockShark makes it easy for your crew to track their time and work details from the field. Then, we take that information and send it straight into QuickBooks. Now you can job cost in QuickBooks fast and easily. While we may not be able to make it party-like-it's-1999 fun, we can at least make it easy!
"ClockShark has changed my way of seeing time tracking software. It is powerful and easy to use. I like that it has its mobile application to use it in phones or on tablets. It works with integrated GPS and provides us with the easiest way to do administrative tasks for our employees."
Alexander A
., 
Groupo Alcansa

The Right Job and Task Codes, Every Time
All the time punches need to have the right codes to get accurate job costing in QuickBooks. That's hard to do with paper timesheets because with multiple jobs and tasks there's a lot of codes to remember. What that job 213 or 231? Even if everyone remembers the right codes, do they all have great handwriting? Is that a 5 or a 7? ClockShark keeps all your codes nice and tidy while giving your employees an easy way to find the right jobs and tasks. There is even a search box to make it even easier to find the right option. Have your guys focus on doing good work. Let the sharks do the remembering.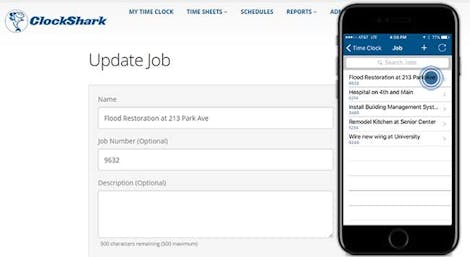 Complete Data with Each Clock Punch
Accurate job costing in QuickBooks starts with having complete data. Clocking in with ClockShark starts with selecting a Job (Customer) and Task (Service Item) before the clock in button will work. That's true on the mobile apps and the web time clock. It only takes a few taps on the smartphone so it's easy for your employees, but it gives you all the data you need to do job costing in QuickBooks.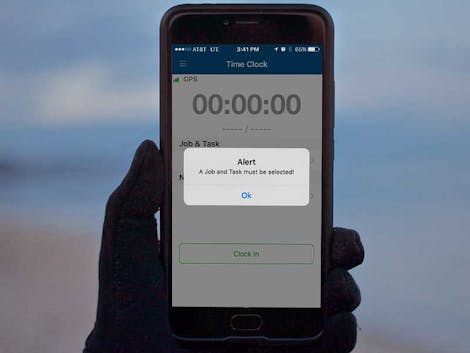 Ready to save hours of your time and 2-8% on labor costs every payroll?
Get started with easy time tracking in under a minute with no credit card
Customize Options to Keep Things Consistent
We know that job costing in QuickBooks requires your employees to use the right codes for the jobs and tasks they do. A good way to help with that is by only showing them the right options in the time card app. You can customize which tasks show up under which jobs and to which employees. With fewer options available when clocking in or switching tasks the possibility of picking the wrong option goes down. It's almost like having a watchdog around to stop problems before they ever get started. Except it's a shark. A watchshark!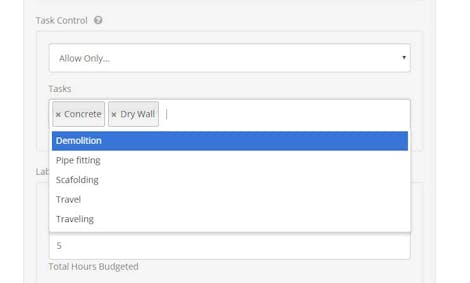 Want Fast and Easy Job Costing Reports?
Job costing in QuickBooks is easy with ClockShark, but sometimes you want to know something right now without having to get into your accounting system. No problem. ClockShark has many time reports you can view right from the web dashboard. Customer, employee, job or task reports are all ready for you anytime you want. The data is real time so you don't need to wait for the next payroll run to see how things are going. You can see what happened this morning right now! Isn't technology grand?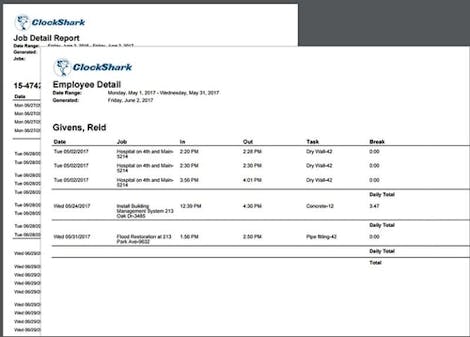 Job Costing in QuickBooks Made Easy
Imagine that with the click of a single button all your employee time punches complete with job and task information went right into QuickBooks. Sound pretty good, right? All that data right where you need it without data entry! Well, you don't have to imagine anymore. Job costing in QuickBooks is easy with ClockShark because we integrate with the online and desktop versions of QuickBooks. The mobile apps collect the data, we store it in the cloud and push it right to QuickBooks. It's job costing nirvana.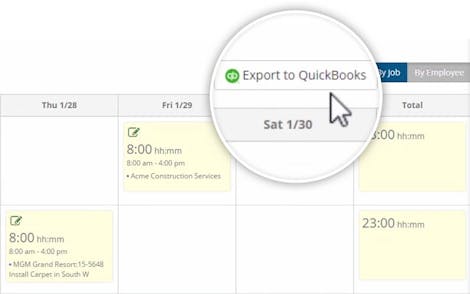 Dee‍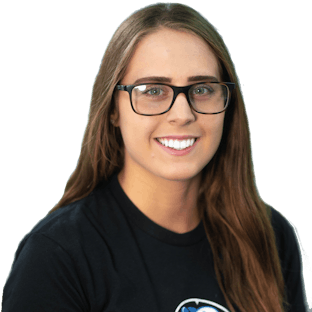 Talk to us
Start your free trial today and get personalized support as you set up ClockShark for your crew. We'll help you every step of the way.
Or Call Us at (800) 828-0689
Or Call Us at (800) 828-0689
Ready to save hours of your time and 2-8%
on labor costs every payroll?
Get started with easy time tracking in under a minute with no credit card
Thank you! Your submission has been received!
Oops! Something went wrong while submitting the form.