There are lots of time-tracking software options out there. At face value, they can seem very similar, but the slightest differences can change how useful one software is over another.
ExakTime and ClockShark solve similar problems that exist with mobile time tracking and scheduling in construction and field service work. However, they have differences that make ClockShark the best ExakTime alternative for employee time tracking.
This post will highlight the similarities and differences between the two mobile apps and show what sets ClockShark apart as the best alternative to ExakTime for your construction and field service business.
ExakTime Alternative: Similarities between ExakTime and ClockShark
Mobile time tracking app
ExakTime and ClockShark ultimately achieve the same result. Both online software put time tracking and scheduling into your hands – literally – by offering smartphone apps available for both iPhone and Android users.
Accurate time tracking
ClockShark and ExakTime time-tracking software can lower labor costs and keep your business practices compliant with labor laws. Even with teams spread across various job sites, you're able to view where employees are at what time, making sure that payroll is fair and accurate for both employees and the business.
Scheduling
Both ClockShark and ExakTime feature a user-friendly drag and drop scheduling tool and cloud connection for access anywhere at any time. On top of that, if the schedule changes, employees can be notified by both systems. This means that they are always in the know as far as where to be and when.
When having time tracking and employee scheduling together, you can improve timesheet accuracy by simply getting notified if an employee is not clocked in or out when scheduled.
Real-time employee location and settings
Management can keep track of where and when employees are working. ClockShark and ExakTime offer GPS tracking through smartphone apps. This feature helps you save money and reduce payroll fraud by knowing the exact location of your team when they punched the clock.
Both systems keep track of changes made to employee hours to maintain transparency and security.
Save Time and Money with ClockShark
Thank you! Your submission has been received!
Oops! Something went wrong while submitting the form.
Reporting
ClockShark and ExakTime offer easy, clean reports that show each employee's hours. The reporting features are both customizable and can be tweaked to run payroll and track job costs.
Need to know how many hours were worked by whom on a specific day or date range?
It's easy to run a report for a specific job site and get the data you need for payroll and job costing.
Smooth integration
Seamless integration with other software is crucial in streamlining business operations. ClockShark and ExakTime both work with the programs you already use. This means integrating your time tracking with your payroll and accounting software is easier than ever.
What are the differences between ExakTime and ClockShark?
Both apps work to fix similar problems. But no two problems are ever the same, and the bigger your business gets, the more challenges you'll inevitably face. ClockShark's flexibility and simplicity make sure you're prepared for the problems of today, tomorrow, and beyond.
While both ClockShark and ExakTime have smartphone apps, ExakTime's editing and reporting software is desktop-based and cloud-based, whereas ClockShark's is 100% cloud-based. This means you can access and edit reports from any computer anywhere in the world.
Although both ClockShark and ExakTime offer scheduling, ExakTime charges an additional fee for their drag-and-drop scheduling feature, of $1 per user.
KioskClock
ClockShark offers a time clock everyone can share. Using a tablet or smartphone, employees can clock in with a secure PIN or employers can combat buddy punching by enabling facial recognition. Kiosk Time Clock is a great tool for clocking in employees that work in a centralized location. It can also be taken from one location to another, meaning construction businesses with multiple job sites can all use the same device to clock in.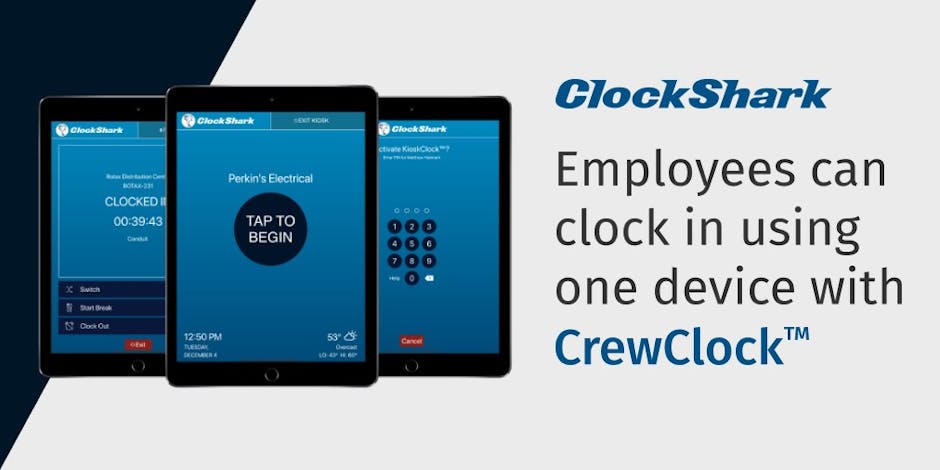 Time Off
ClockShark lets users create customized time off policies for employees in a flash. Once parameters are set, accruals are added each designated period automatically.
ClockShark's time off app also lets employees keep track of how much Time Off they have available and allows them to make time off requests from the mobile app. Approved time off shows up on the schedule, too, so you'll never have to worry about being short-handed at a job site. The company's manager can set up the policy rules for paid or unpaid time off and edit or change them depending on your company's rules or state laws.
Customer management
ClockShark helps you manage your customers in a more organized way so you don't have to sift through mountains of paperwork or search through countless folders.With Customer Management, you'll have everything you need to make sure your employees know who they're dealing with and any particulars they should know.
Keeping track of how long jobs take and how much they cost to complete means you're better prepared for future projects.
CrewClock
Both ExakTime and ClockShark's mobile apps let workers use their smartphones to clock in and out of work. But what happens when you have workers that haven't joined the smartphone community yet?
ClockShark's CrewClock feature lets supervisors clock in and out for employees who don't have access to smartphones. That means that all the tools you need to keep track of employees are still right at your fingertips.
Clock Out Questions
Getting the information you need from workers in the field can eat uptime. The Clock Out Questions feature from ClockShark lets employees answer important questions about breaks, per diem costs, and more when they clock out on the mobile app.
That means all the answers management needs are right there waiting for them. Questionnaires can be customized, too, so that they fit the needs of specific job sites. ClockShark also goes so far as giving supervisors a heads up if an answer is unexpected, like an injury being reported.
Clock Out Questions are important in any construction or field service company as they can quickly and easily provide you with important information from out in the field.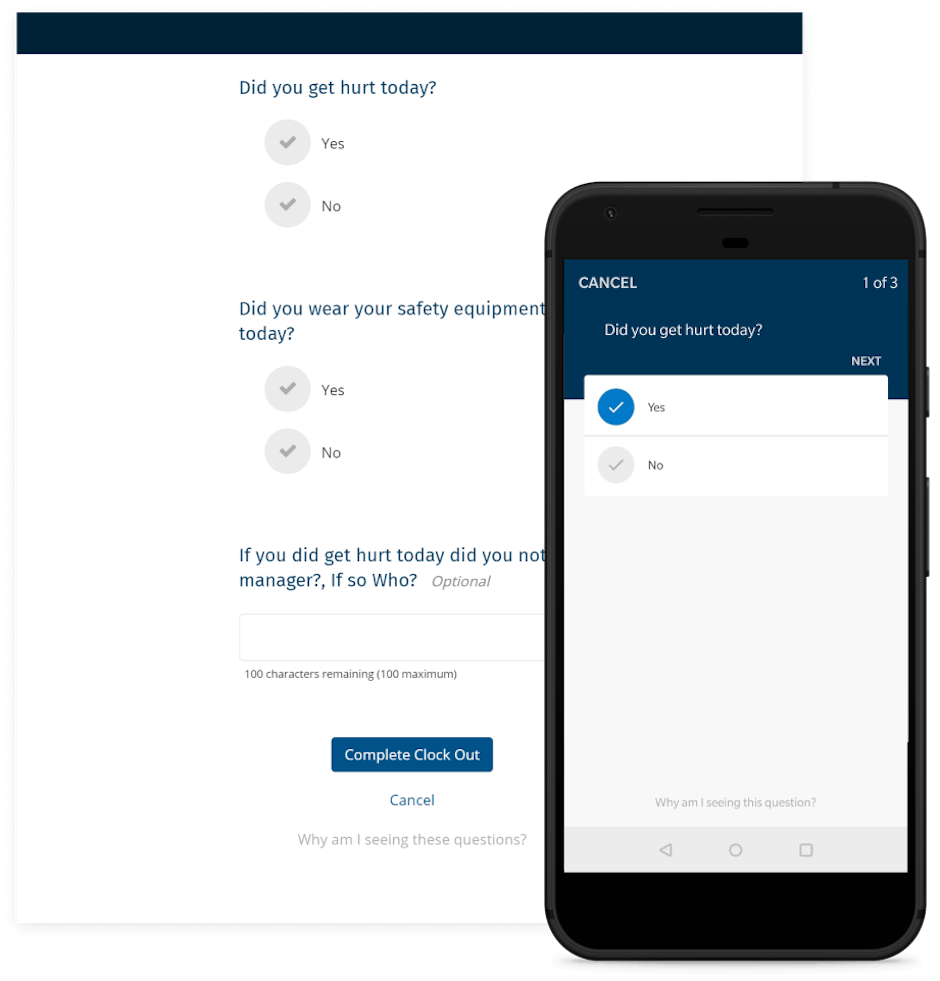 Job Management
ClockShark recently released a new feature called Job Management that gives you even more ability to be flexible, productive, and competitive. When you have multiple jobs or sites, features like Job Stages can help you track the progress of these jobs. You can also assign managers to perform certain tasks, so you have more free time.
Quotes, Invoices, and Payments
ExakTime alternative, ClockShark, does much more for your construction or field service company than track time with all the benefits of paperless time-tracking software. Within the ClockShark platform, we simplify three key processes for construction and trades: Quotes, invoicing, and collecting payments.
Imagine being able to look at previous hours tracked by ClockShark and creating quotes based on that accurate data, right within the platform. From there, you can use the quote to create an invoice and send it, with the option for your customer to pay online.
This speeds up the process of billing and getting paid, exponentially; Something ExakTime does not offer with their platform.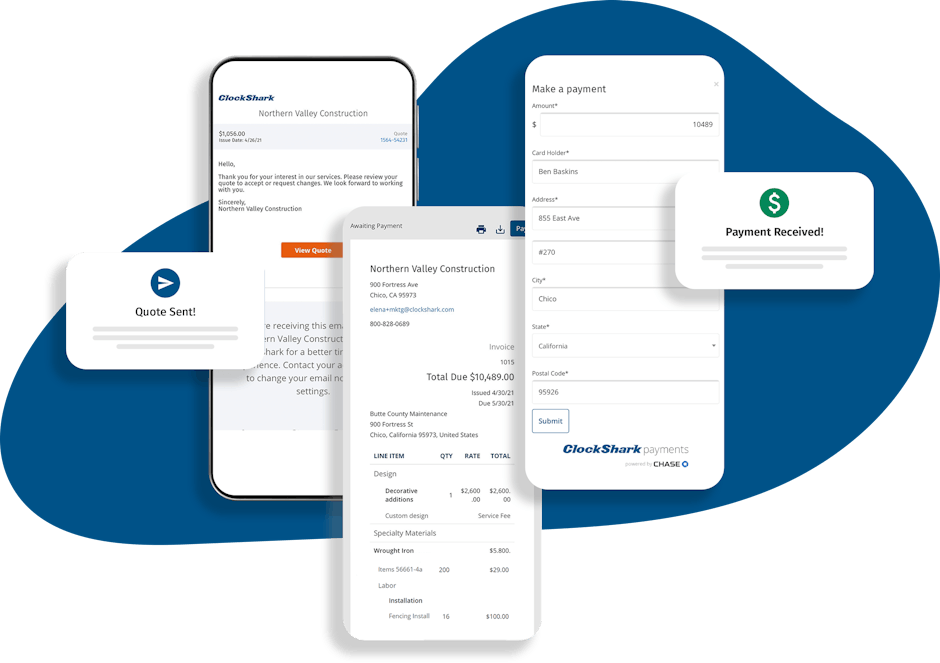 What Sets ClockShark Apart
While both ClockShark and ExakTime offer many of the same features, ClockShark is an easier-to-use ExakTime alternative. This means that while the two can do many of the same things, ClockShark's Time Tracker App streamlines the user experience and does the heavy lifting for you.
ClockShark was built for construction and field service businesses. Each feature was carefully designed with the challenges that these industries face and ClockShark is constantly evolving to bring more functionality to our customers. ExakTime offers their software for a starting price of $6 per user, per month and they charge an implementation fee as well as the extra dollar per month, per user, to include scheduling.
Simplicity is key to usability, and ClockShark was made with the user's convenience in mind. On top of that, we offer 5-star customer support to make sure everything stays running smoothly. This is just another thing that makes ClockShark the best time-tracking solution. It's as easy as that.