General contractors are increasingly adopting technology and different apps to stay competitive in the construction and trade industry. However, technology is saturated with different solutions that often make it overwhelming for small- and midsized- contracting companies to choose the best software for their needs.
This post will highlight the key things general contractors should consider before deciding which technology would serve them best.
Best Software for General Contractors

1. Best for small general contractors: ClockShark

2. Best for midsize general contractors: Simpro

3. Best for estimating: Stack

4. Best for blueprints: SmartUse

5. Best for asset sharing and project tracking: Autodesk Build

6. Best for fleet tracking: Fleetio

7. Best for floor plans: magicplan

8. Best for project bidding: SmartBid

9. Best for jobsite safety: Safety Meeting App

10. Best for site inspection: iAuditor

11. Best for accounting: Sage 100 Contractor

12. Best for document management: ConDoc

13. Best for compliance requirements: Contractor Compliance

14. Best for pre-construction: Buildr

15. Best for commercial construction companies: RedTeam Flex



Understanding the Needs of General Contractors
Technology has become required to stay in business. In fact, if today's general contractors don't begin adopting technology, they will likely not survive. That's because larger enterprises are already leveraging the power of technology, but small, locally-owned contractors often lag behind or use the least amount of technology possible. A lot of this is due to concerns about the cost of training needed to use more advanced solutions.
Challenges Faced by General Contractors
There are some aspects all businesses have in common but these are key issues faced by general contractors:
Skilled Labor Shortages
Being able to find and retain employees in construction has been a long-time challenge for all construction and trade companies.
Multiple Worksites/Projects
While many companies will have multiple projects simultaneously, general contractors have multiple projects happening at the same time in different locations, creating challenges with scheduling, organization, and logistics.
Lack of Communication
The majority of rework in construction is the result of miscommunication. Of course, communication is important in all industries, but misunderstandings and the wrong information in construction can result in exceptionally costly consequences that cannot be undone.
Documentation Management
Managers, supervisors, and employees frequently have new or updated information that needs to be recorded. Due to the constant moving around, documents tend to get lost, damaged, or ruined.
Customer Management
Each customer and project is unique but trying to keep track of their specific information is challenging without an easy, fast, and accurate way to update and store each customer's data in a way that everyone can access it.
Cash Flow/Budget
Inaccurate labor costs and unexpected change orders are just a couple of examples of how simple things can lead to cash flow disruption. Problems with cash flow can be particularly devastating for small companies, making it crucial for general contractors to avoid these issues as much as possible.
Project Management
For general contractors, project management has many moving parts and people and it's difficult to manage people and projects without the right technological solutions to make it easier and more integrated.
What to Consider When Choosing General Contractor Software
When it comes to selecting the best general contractor software, there are several key factors to consider:
Scalability and Flexibility
As a general contractor, your business needs may evolve over time. It is crucial to choose software that can scale with your growing needs and adapt to changing project requirements. Look for solutions that offer flexible features and customization options to accommodate your unique workflows and expanding operations.
Integration Capabilities with Existing Systems
Efficient software integration is essential for seamless operations. Consider the compatibility of the contractor software with your existing systems, such as accounting, for example. The ability to integrate different software applications will streamline data flow, eliminate duplicate entries, and enhance overall productivity.
User-Friendly Interface and Ease of Implementation
Adopting new software can be a significant change for your team. Opt for a solution with an intuitive and user-friendly interface to reduce the learning curve for your crew. Additionally, prioritize solutions that offer easy implementation processes, including comprehensive documentation.
Cost-Effectiveness and Return on Investment
Consider the total cost of ownership when evaluating contractor software options. Assess the upfront costs, ongoing fees, and any additional expenses associated with implementation, training, and support. While it's important to find a solution that fits within your budget, also weigh the potential return on investment (ROI) in terms of increased efficiency, reduced errors, and improved project outcomes.
Customer Support and Training Resources
Reliable customer support and accessible training resources are invaluable when it comes to utilizing software effectively. Look for providers that offer responsive customer support channels, including phone, email, and live chat. Additionally, consider the availability of comprehensive training materials, such as tutorials and user guides, to ensure that your team can make the most of the software's features.
Best Software for General Contractors
To get you started, here are some top software solutions for general contractors:
1. ClockShark
Best for: Small general contractors, all-in-one field service management
ClockShark's general contractor software is designed to empower contractors by effectively managing their jobs, team, and overall business operations, no matter where they are.
Do you struggle to get job information to and from the field? ClockShark enables general contractors to enhance efficiency through streamlined job and crew management. Say goodbye to cumbersome paper documents and endless back-and-forth calls or texts between the office and technicians to confirm job details.
Are you tired of delays in sending quotes to customers or waiting months to receive payment for completed jobs? ClockShark allows you to effortlessly create and send personalized quotes within minutes. Tracking quote acceptance and customer change requests becomes a breeze. Once the quote is approved and the job is finished, you can generate an invoice directly from the existing quote. It's as simple as that! Your customers can conveniently make online payments directly from the invoice, eliminating the headaches associated with paper quotes, payment delays, and cash flow concerns.
Save Time and Money with ClockShark
Thank you! Your submission has been received!
Oops! Something went wrong while submitting the form.
2. Simpro
Best for: Midsize general contractors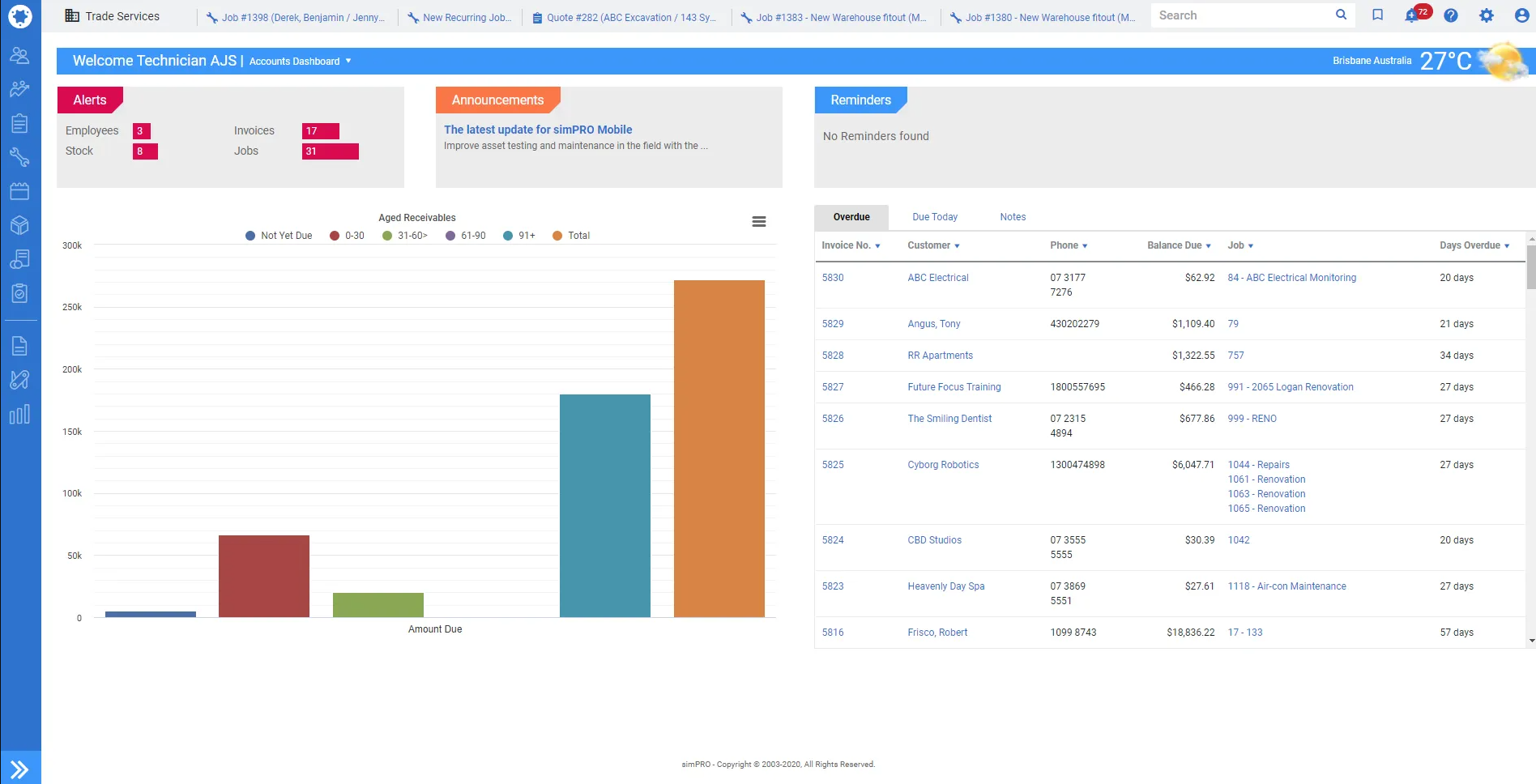 Simpro is a job management software for the trades, offering solutions to help businesses improve efficiency and maximize profitability. Simpro provides a streamlined platform to help businesses struggling with quoting multi-stage projects, managing inventory, communicating with technicians, and many other areas of a business workflow.
3. Stack
Best for: Estimating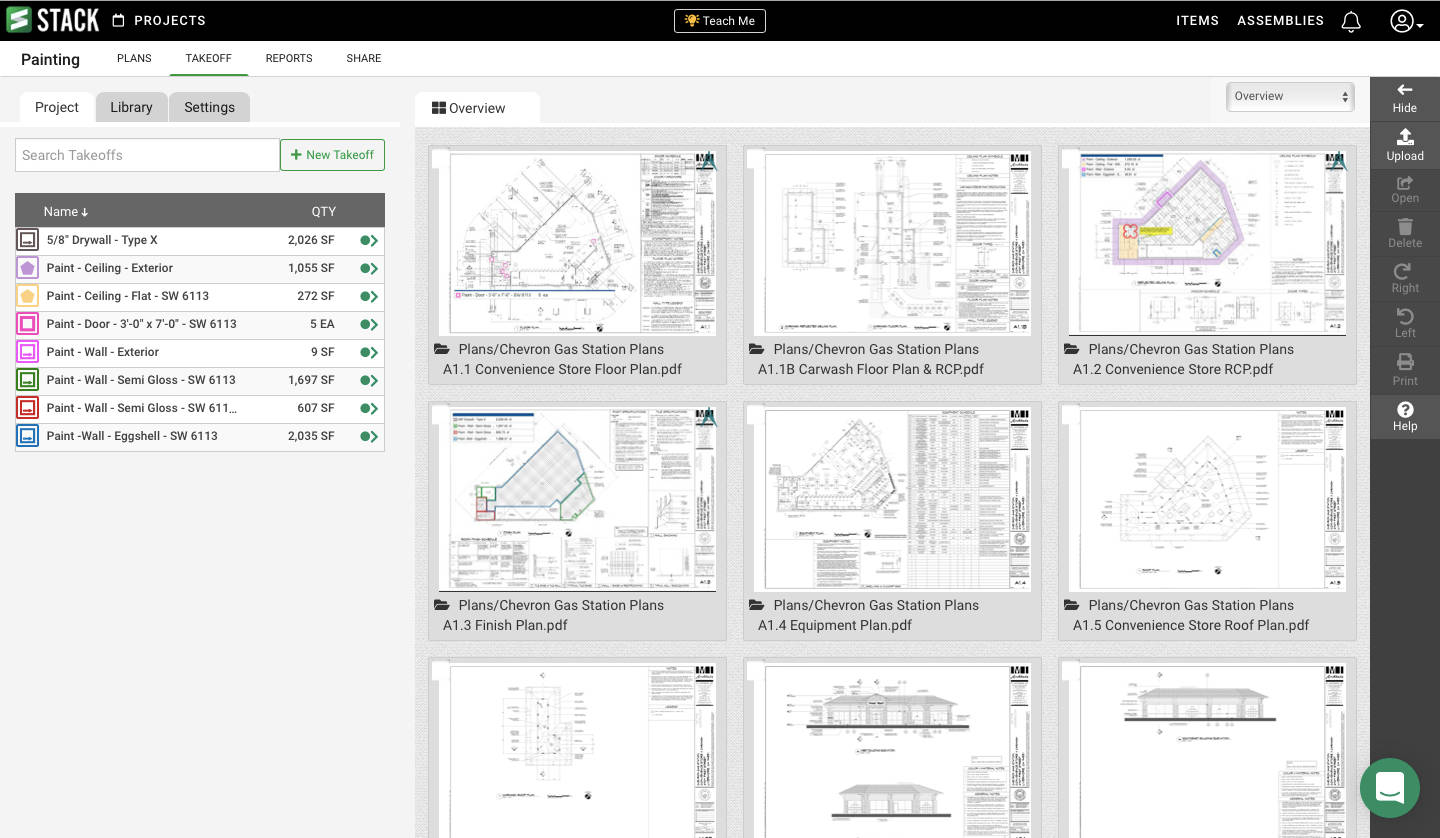 STACK's comprehensive set of tools allows general contractors to automate estimation and job costing workflows to make takeoffs and estimates faster and more accurate. It creates multiple customizable branded proposals to ensure you've covered all scenarios and increase your chances of winning new customers.
4. SmartUse
Best for: Blueprints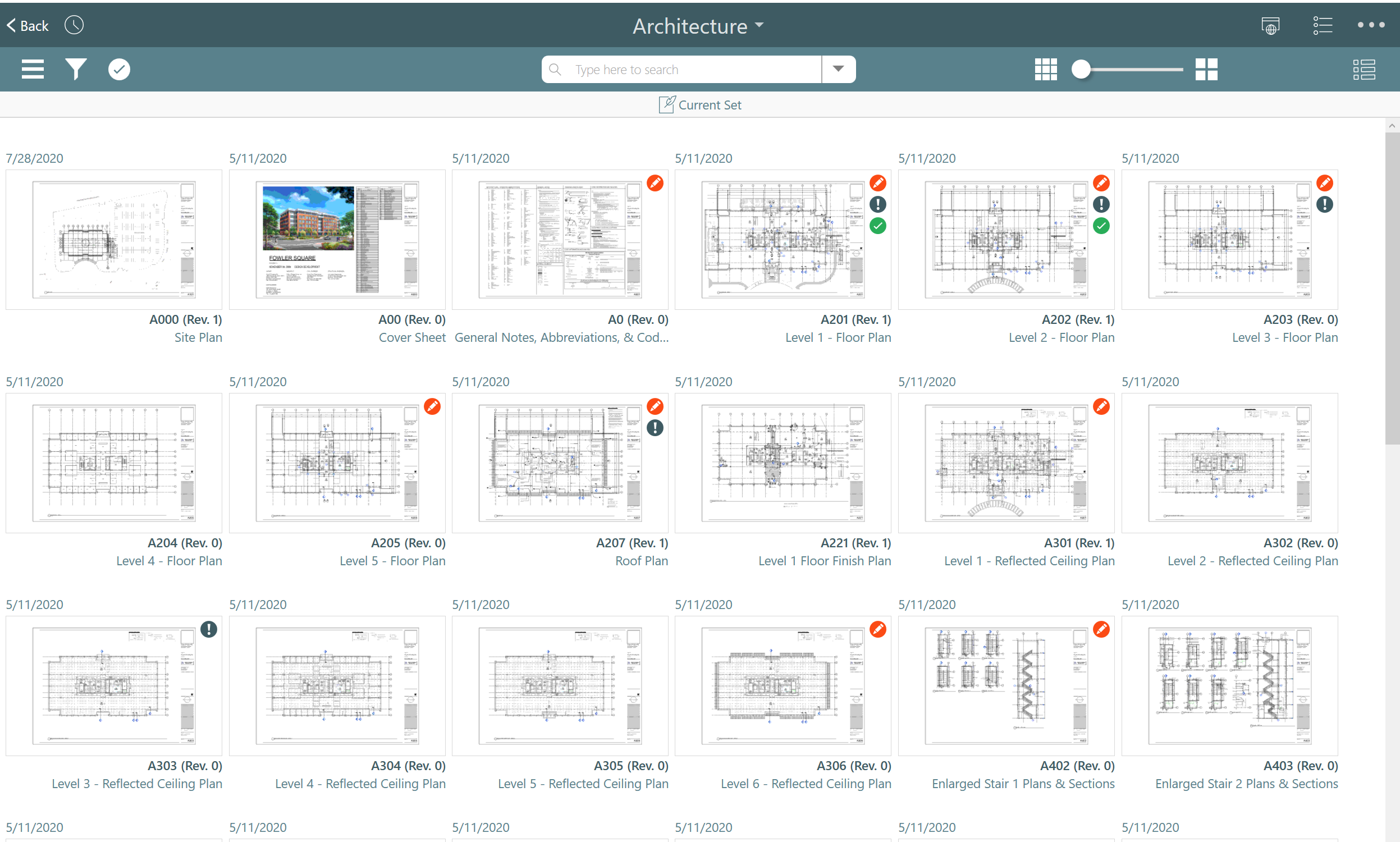 SmartUse for general contractors provides a robust set of communications tools and project oversight for marking up and sharing construction blueprints and documents in real-time.
5. Autodesk Build
Best for: Asset sharing and project tracking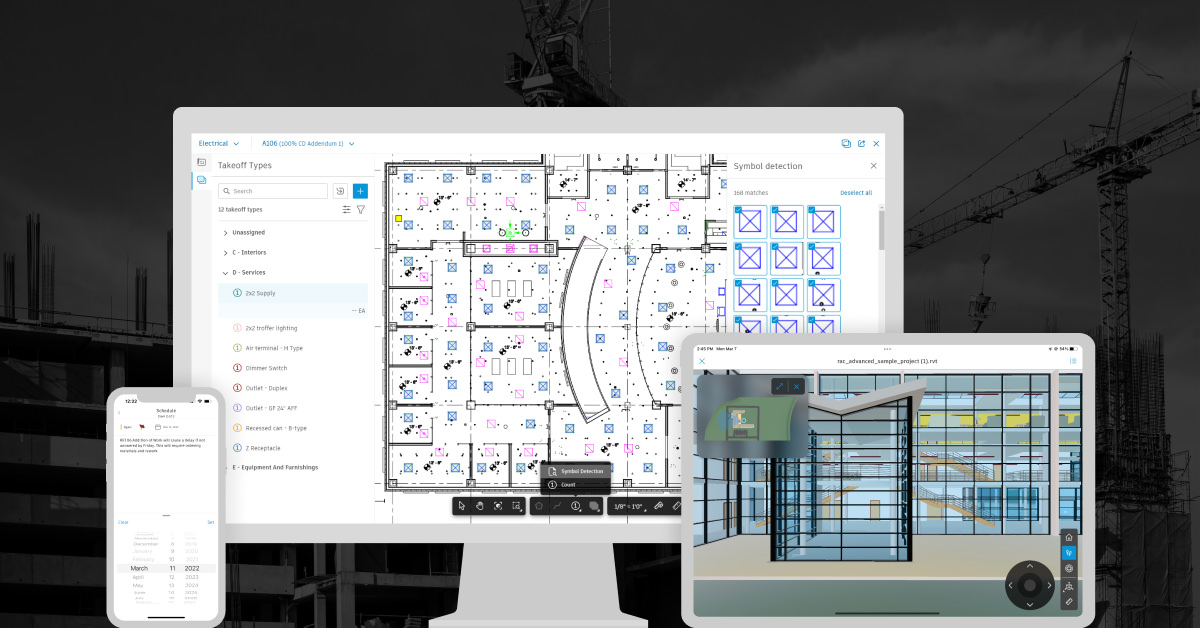 Autodesk Build is a new addition to the Autodesk Construction Cloud platform, that helps general contractors collaborate with key players on every project with a document management, sharing, and processing solution., Project tracking allows contractors to measure progress with visualizations that make understanding the progress of a job easy and accurate.
6. Fleetio
Best for: Fleet tracking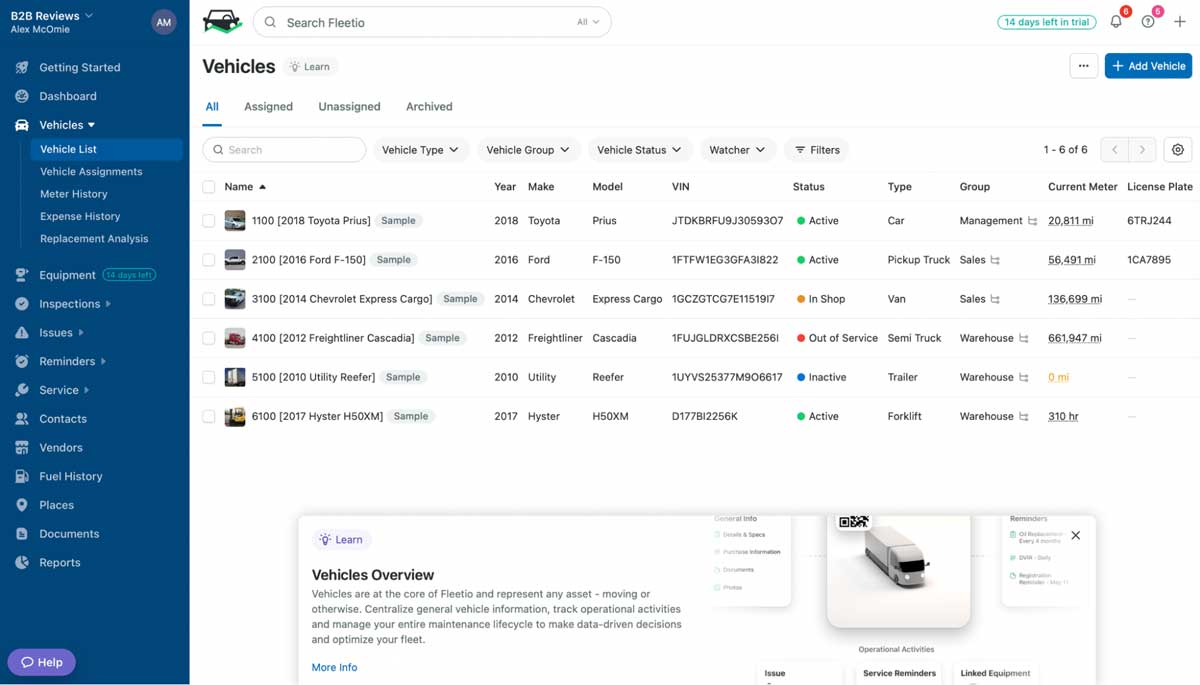 Fleetio is a fleet tracking software that allows you to track company vehicle locations, maintenance needs, history, and more, so you can protect your fleet assets and gain insights into the true costs of operating your fleets.
7. magicplan
Best for: Floor plans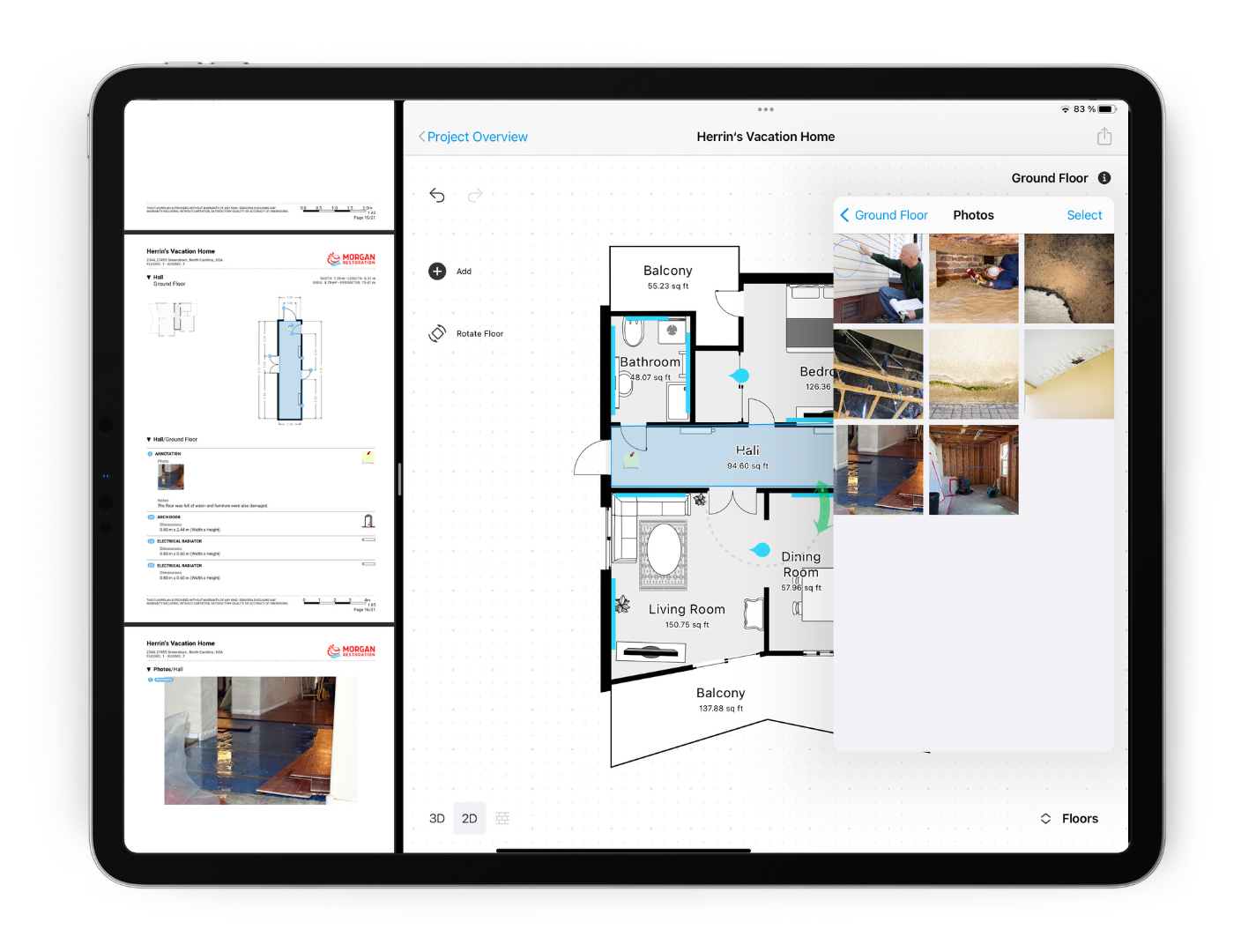 Magicplan is a mobile app that allows you to use your mobile device to scan rooms using a mobile device, and create 2D or 3D sketches for projects. Your sketches can be downloaded in a variety of file formats, and shared with those involved in the project, to streamline collaboration.
8. SmartBid
Best for: Project bidding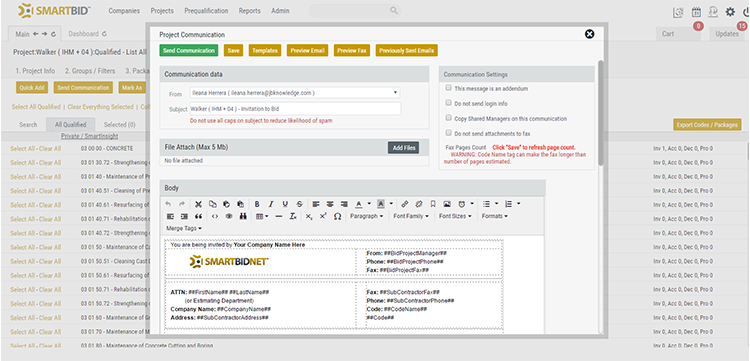 SmartBid provides tools to send your subcontractors invitations to bid and keep their information, bids, history, license validity, and more.
9. Safety Meeting App
Best for: Jobsite safety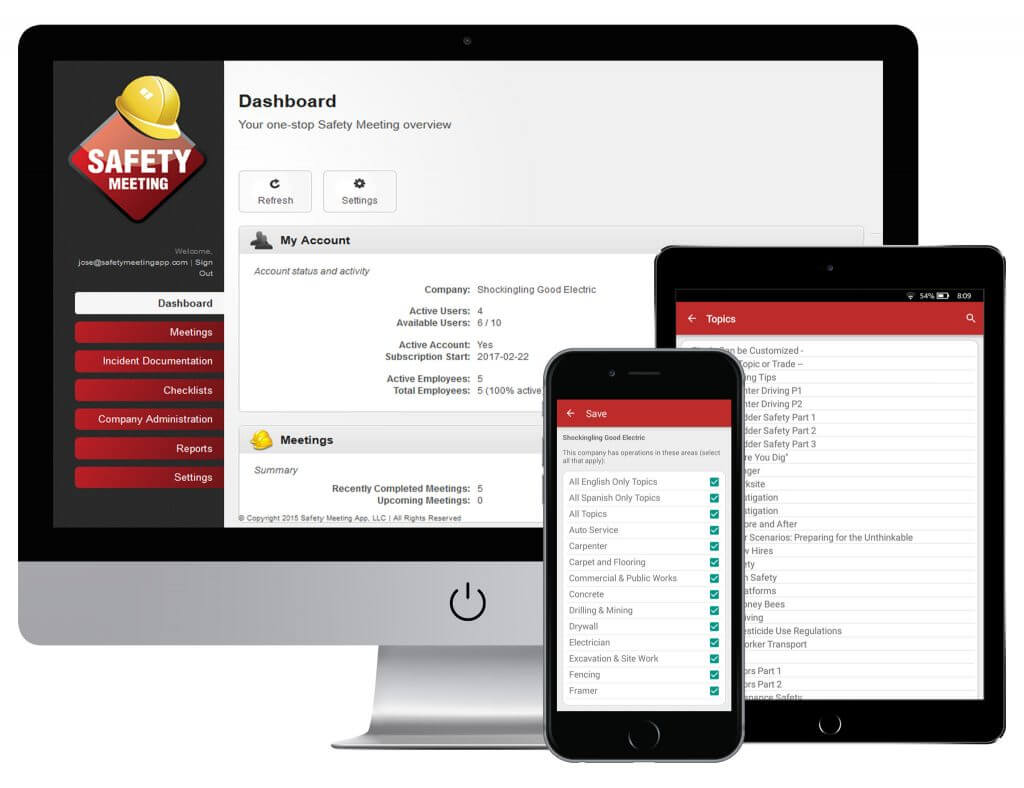 Safety Meeting was developed to help general contractors with their safety and compliance goals and to make audits, projects, and safety issues easier to access and store.
10. iAuditor
Best for: Site inspection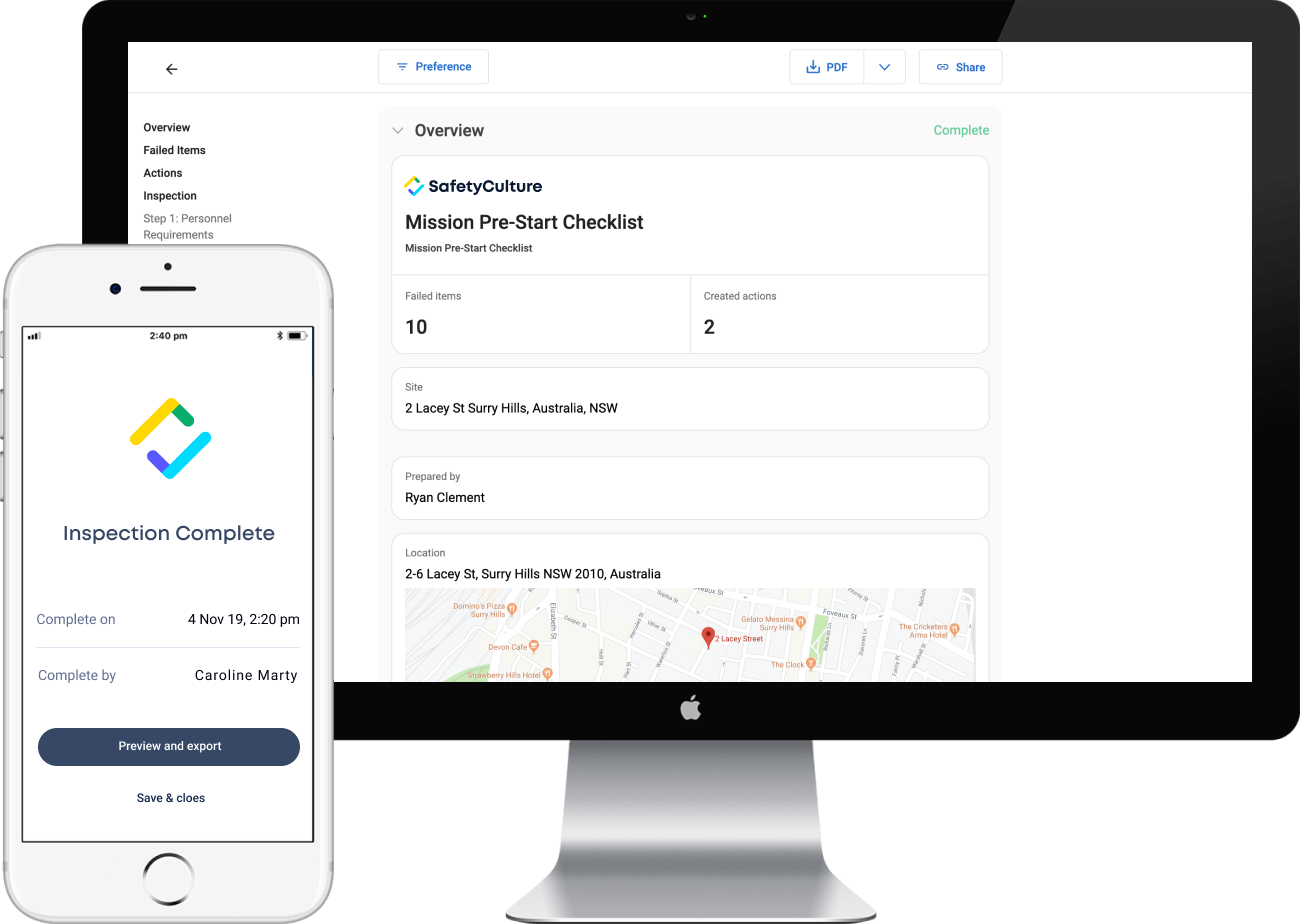 iAuditor is another safety-focused technology that helps general contractors keep records of important safety events, actions taken, safety complaints, and more.
11. Sage 100 Contractor
Best for: Accounting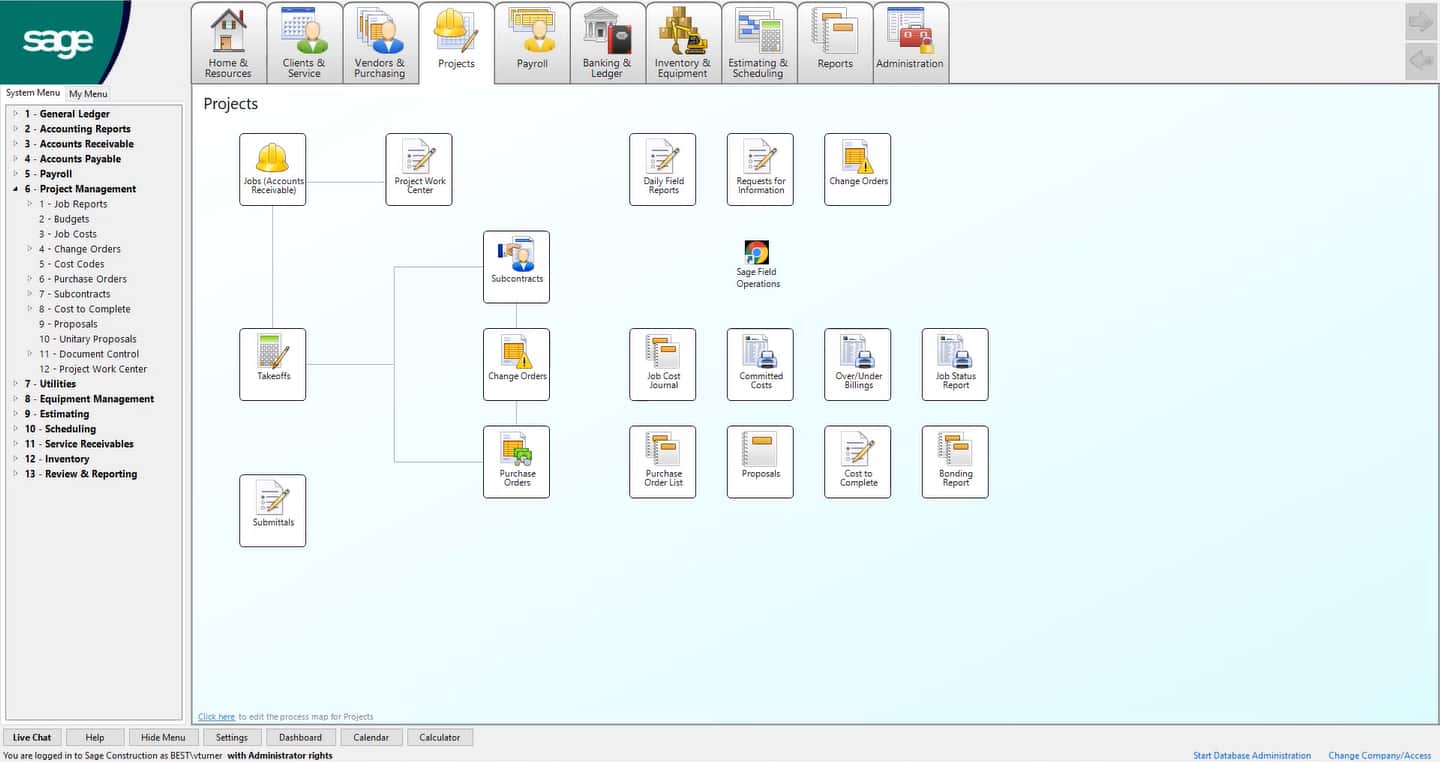 Sage 100 Contractor software for construction professionals helps create an integrated, customizable, accurate workflow around your construction company's financials and accounting processes.
12. ConDoc
Best for: Document management
ConDoc provides general contractors and construction companies with a unique and easy-to-use way to create, share, store, and edit construction-related documents like RFIs, change orders, and submittals.
13. Contractor Compliance
Best for: Contractor/Subcontractor compliance requirements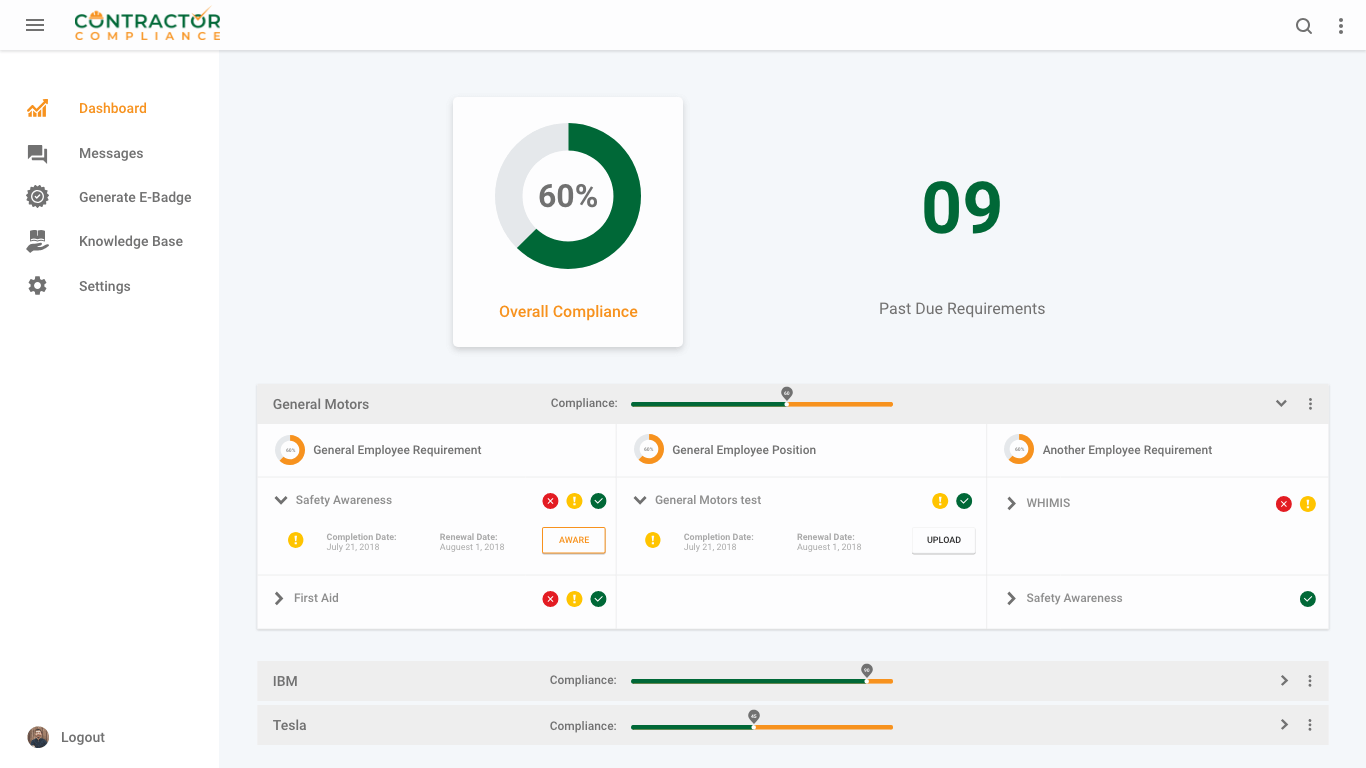 Contractor Compliance is a digital solution that allows you to reduce compliance risks by monitoring subcontractor credentials, licenses, and certifications.
14. Buildr
Best for: Pre-construction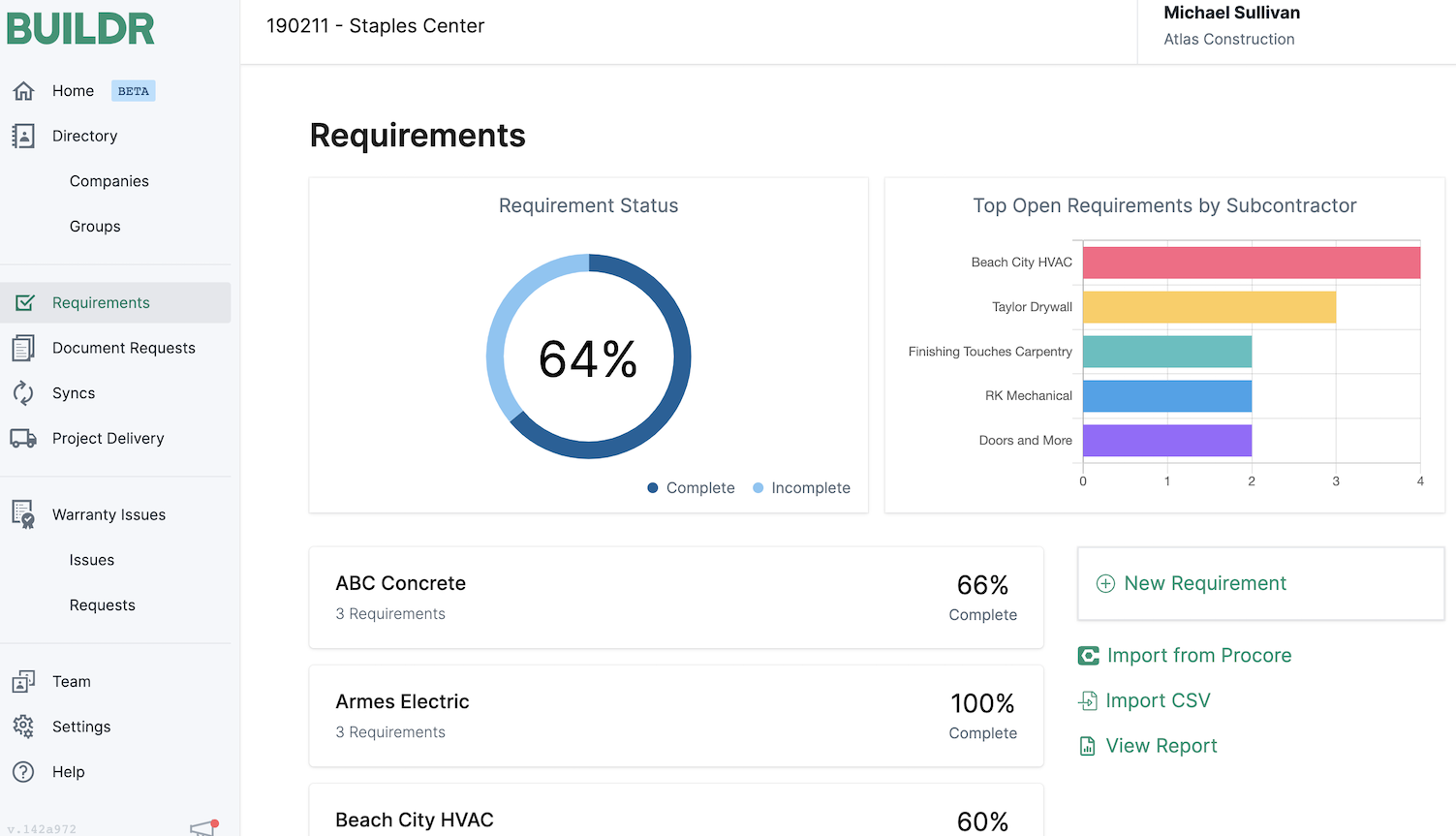 Construction contractors have much to monitor at once, making software like Buildr a considerable advantage for small- and mid-sized companies that need to streamline their pre-construction processes and keep things organized throughout the project life cycle.
15. RedTeam Flex
Best for: Commercial construction companies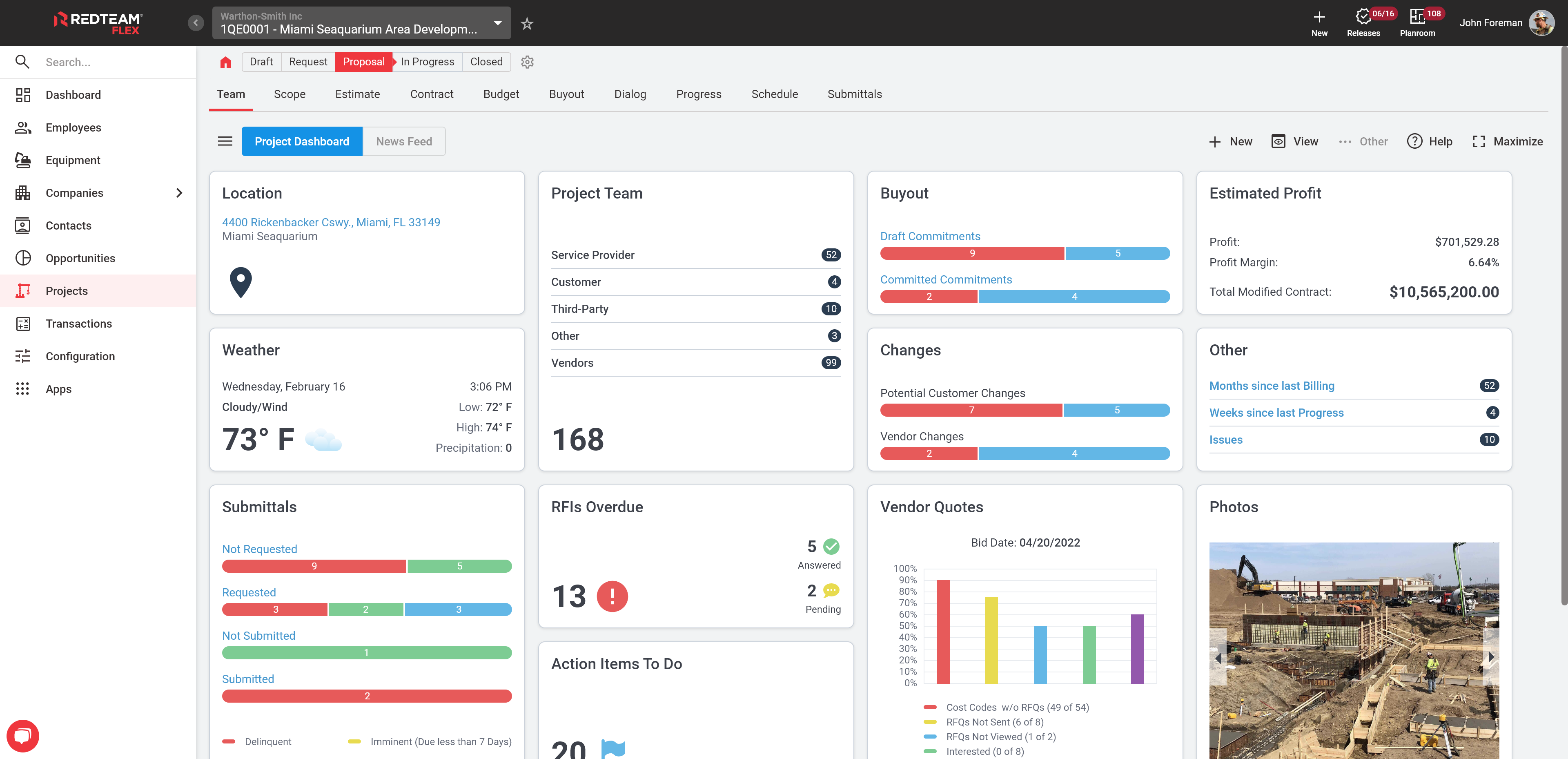 RedTeam Flex is a construction software solution developed specifically for commercial construction companies, by commercial construction professionals.
The Best Software for General Contractors
General contractors must begin shifting to automation and technology to stay competitive. When deciding on which software would be the best fit for your general contracting business, it can be overwhelming because of all the options available. It's helpful to review your existing processes to see where you feel technology can help speed things up or make things easier to complete. From there, check reviews and take advantage of free trials. You might just start with something simple like invoicing software, and we have a post to guide you. Read The Top 7 Invoicing Software Apps for Contractors.
---
Compare the Best Software for General Contractors
| | | |
| --- | --- | --- |
| | Best for | Free Trial |
| | Small general contractors, all-in-one field service management | |
| | Midsize general contractors | |
| | Estimating | |
| | Change orders | |
| | Asset sharing and project tracking | |
| | Fleet tracking | |
| | Floor plans | |
| | Project bidding and sub management | |
| | Jobsite safety | |
| | Site inspection | |
| | Accounting | |
| | Document management | |
| | Contractor/Subcontractor compliance requirements | |
| | Pre-construction | |
| | Commercial construction companies | |