While governments and corporations worldwide scramble to keep up with constantly changing statistics, small- and mid-sized businesses are taking huge hits and facing dreadful uncertainty.
The Struggle Is Real
Construction and field service companies have been impacted in various ways. While the majority of construction and contractor jobs have remained steady, their future is not so clear. Interruptions in supplies and materials and the availability of skilled labor are natural concerns coming out of COVID-19.
We learned from the Great Recession, the impact of a decrease in new-home projects and real estate industries in the construction industry. It took years to recover.
Field service companies saw a huge decline in the deployment of field techs except for essential infrastructure workers. Almost half of those surveyed were either renegotiating their SLAs or considering it.
The coronavirus pandemic has closed the doors for many locations of corporate giants like Boeing, Disney, Apple, and Ford. These will likely survive due to huge amounts of capital and seemingly endless cash reserves.
But it's not quite so easy for small- and mid-sized companies, which make up the majority of construction, contracting, and field service companies.
As these industries struggle to pay their employees to keep their existing talent, making it through this crisis could become too much for some.
But, for those who look at the COVID-19 pandemic as a challenge to rise up to, the chances of not only surviving but completely transforming, are higher.
Experts suggest there are certain things that all successful companies have in common.
How Technology Keeps You Going
Technology can help keep your workers safe so you can keep your company going strong as we come out of quarantine. While it may seem counterintuitive to invest in something new during a crisis, it's during upheavals that we find our greatest ingenuity.
The Coronavirus pandemic may have slowed - or even stopped - operations for your company but the economy won't stay shut down forever.
Here is how you can prepare to get back to work, efficiently, productively, and, most importantly, safely.
Medical Screenings
Many experts warn of a potential second wave of COVID-19. Especially if social distancing is relaxed too quickly. Imagine bringing your workers back to work, only to have them cross-contaminate one another and leave you struggling to meet demands.
The CDC recommends having your workers complete certain medical processes before and after they complete work.
When your workers complete their day, have your workers answer questions like:
Have you been exposed to an infected person or location today?

Have you taken your temperature?

Are you showing any symptoms?
These questions help you monitor the health and wellbeing of your workers without having to be there.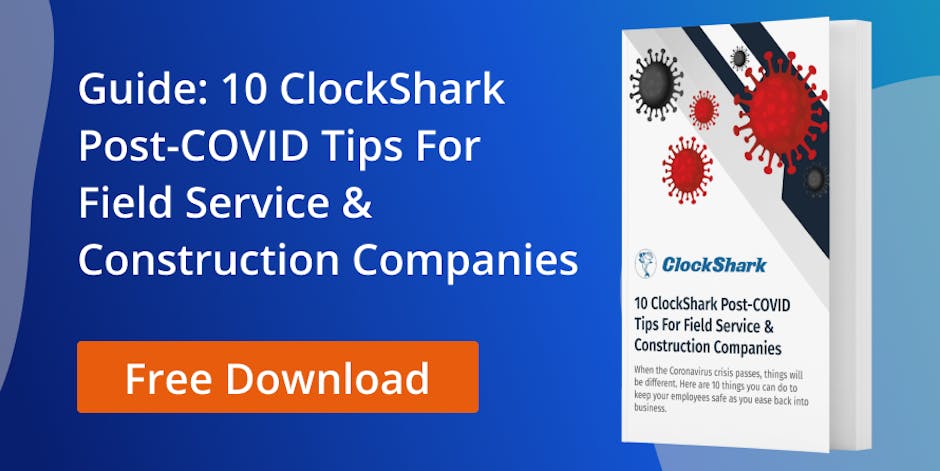 Remote Project Management
You have a lot going on right now and you can't be everywhere but you still need to get things done. Technology is the best possible way to get this accomplished.
Even with the potential risks of being exposed to the coronavirus, resilient leaders can use remote technology to help manage projects of all sizes.
Job costing
When you are able to collect accurate data through the use of technology, you can make more precise job costing estimates. Reports allow you to view payroll data, specific job information, and more. These reports give you the ability to view hours by job and task, not just a summary. It's a comprehensive solution that you can use from your computer.
Communication
Communication is important for any job and technology helps you stay in touch with your crews wherever they are.
Your workers can send you files, photos, and information from their devices anytime, that are associated with specific jobs.
This helps you stay on top of your customer service, too. You know how well the job was done and by whom.
You can also share information and notifications to your workers with a simple click. No need for morning meetings or for everyone to gather in a confined space.
Scheduling
When you can create and adjust schedules remotely, it saves time and headaches. Choose a platform that provides you with alerts when an employee is nearing overtime, so you can adjust schedules to ensure you're not paying OT.
Your workers can check the schedule any time to see when they are due to work, and where.
Manage Multiple Crews
Technology allows you to more easily assign specific jobs to specific workers. You can also assign certain permissions to different levels of workers so supervisors can assign or change things for general laborers, for example.
Promote Social Distancing
Geofencing technology lets you set virtual boundaries to prevent your crews from going to unapproved locations while on the clock. This prevents unnecessary travel because they will receive reminders to clock in when they reach their destination and clock out when they leave. All you have to do is set up the boundaries.
Mapping features can help you keep your crews organized and safe. If you can quickly pull up a map and see who is where at any time of the workday, you're in more control of where to send who.
Accurate Labor Tracking
Labor costs are an overhead expense that every company shares. For those with crews in the field, getting accurate time logs is often a nightmare.
From missing information and inaccurate recollections to buddy punching and time-rounding, now is the time to nip these unnecessary expenses in the bud with a mobile time tracking solution.
A mobile time tracking solution helps you collect accurate, to-the-minute, work hours so you can stop paying for hours not worked. But that's not all.
The government's FFCRA and PPP initiatives provided many employers and workers with some security against the coronavirus pandemic. However, these - and other state or local initiatives - will need you to provide accurate information to collect any reimbursements.
Technology that integrates with payroll platforms helps you run payroll accurately and timely, without needing to go to the office. With so many tools to make returning to work safer and more efficient, now is the time to give technology a try.
Sign up today for a free two-week trial so you can experience the power of ClockShark's technology for yourself.
ClockShark has been working hard to continue to bring you updated information and assistance through this difficult time. Be sure to visit our COVID-19 resource page each day to check for updates.
Save Time and Money with ClockShark
Thank you! Your submission has been received!
Oops! Something went wrong while submitting the form.