Exaktime has long been a great solution to time tracking in the construction and field service industry. It offers a lot of features that range from employee scheduling to a mobile app that houses clock-in abilities and GPS tracking.
Exaktime has been in the software game for a long time, so it has a lot of bells and whistles. But all those bells and whistles can make it less user-friendly and they come with a hefty price tag. Luckily there are many Exaktime alternatives out there.
Every business is unique. Just because a software works for one business doesn't mean it works for every business. Sometimes the price tag is an obstacle for businesses that are smaller and without the means to spend a large chunk of change on time tracking software. Other times businesses need features that some software doesn't have.
If you're looking for a timesheet app solution the number of options can be overwhelming. How do you know which one is right for your business needs? To help get you started we're breaking down a handful of Exaktime alternatives for time tracking. We'll give a quick run-down of features, pros, and cons, and the industry each typically serves.
Exaktime Alternatives
1. ClockShark
ClockShark caters to construction and field service businesses with employees spread across multiple job sites. Its features closely resemble those offered by Exaktime, making it an excellent Exaktime alternative. ClockShark offers mobile time tracking with GPS tracking and Geofencing that allow users to clock-in remotely from a designated job site.
Pros
ClockShark is 100% cloud-based, with user-friendly apps for iPhone and Android phones which makes it reliable and accessible. Since not everyone has a phone, ClockShark provides options for supervisors or foremen, for example, can clock people in with a cell phone or tablet. They also have a desktop option for office workers so the platform can serve all departments in the company.
Since ClockShark was specially designed for the construction and field service industries, their technology provides tools that improve things like job costing, scheduling, and reporting features that many similar apps don't have.
ClockShark helps with job costing by tracking the budget of individual jobs, making it easier to plan future projects. It has an easy-to-use drag-and-drop scheduling tool that you can view in real-time in the mobile app. It also comes with five-star customer service who are experts in helping with the many payroll integrations available such as Quickbooks, Sage, ADP, and others.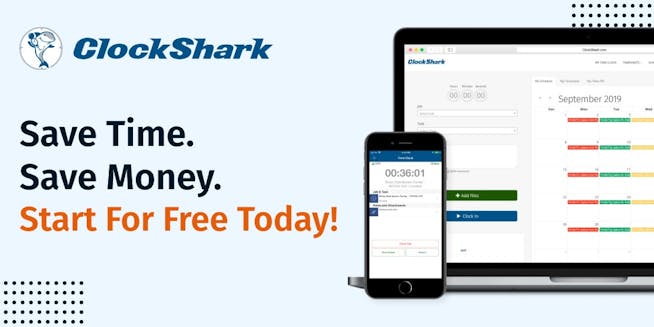 Cons
Some employees don't like to be tracked while they are working, but that's why employers love it. If an employer doesn't want to track their employees they can turn that feature off.
2. Hubstaff
If you think Hubstaff sounds familiar, you're right. It's a popular time tracker industry-wide for maintaining corporate transparency. Hubstaff keeps track of employee productivity and working hours to make sure employees get fair compensation.
Hubstaff's key features include a user-friendly interface, automated PTO management, and integration with tools like CRM and project management software. Its versatility makes it useful for all industries and a good Exaktime alternative.
Pros
Management can keep tabs on productivity by utilizing Hubstaff's screenshot monitoring feature. Screenshot monitoring keeps track of working hours by periodically capturing a screengrab of the employee's computer. This means that hours spent working are gauged for productivity based on what their screengrabs show.
Another feature that helps fight wasted time is URL and application usage monitoring. This means that even if social media surfing isn't captured on a screengrab, it's logged in the URL monitor and will show up on a report.
Cons
As popular as it is, Hubstaff isn't perfect. For starters, it can be tricky to set up and the base-level plan doesn't offer many features. If you want to access everything Hubstaff has to offer you'll need to level up to their premium or enterprise plans and front more cash.
On top of that, Hubstaff's features aren't as in-depth as other software options. The timesheets and reporting options are average, and file exporting is limited. While it tracks URL and application use, Hubstaff doesn't offer IP address monitoring or blocking and its project management tracking doesn't reach the level of comparable software options.
3. TimeCamp
TimeCamp is a cloud-based time tracking solution commonly used in the manufacturing sector. It allows you to track working hours and monitor the status of a project. It also tracks employee computer activity so you can measure productivity and keep output levels high.
TimeCamp's features include access through desktop as well as mobile devices, automated time tracking, productivity analysis and more.
Pros
User-friendly time tracking and thorough time tracking reports make TimeCamp a good Exaktime alternative. TimeCamp also sheds light on business efficiency so that you can find areas that need improvement and streamline processes. It also integrates with programs you already use, requiring minimal adjustments to existing business procedures.
Cons
Too many options isn't always a good thing, and the sheer number of reporting options TimeCamp offers make reporting overwhelming and complicated. Time tracking software should work for you, not make your job more frustrating than it needs to be. Additionally, the payroll features don't always stack up to what a business needs to keep running smoothly.
4. DeskTime
Marketing, IT and web development make up the top three industries DeskTime serves. It offers employers the ability to keep employees productive at work and reduce wasted time.
Businesses can lower labor costs with DeskTime by making sure employees are staying focused on work-related tasks and making good use of their time. Automatic screenshots, project time tracking, and project monitoring all help boost productivity and bottom lines.
DeskTime's time tracker starts working when employees work and automatically stops when they stop. It calculates employee productivity by tracking their URL and app usage and shows you how they spend their time.
Pros
The UI is easy to use and fully automated. That means less time spent doing things manually. The app and URL tracking feature categorize URL and app use based on productivity, which means you can see employee productivity data on an individual basis.
Cons
DeskTime's reporting is limited and needs more detail. It also doesn't offer automated billing or invoice generation features. It tracks URL and app usage, but it doesn't track words typed or mouse movement.
5. Clockify
Clockify proves to be a great Exaktime alternative by serving as both a time clock app and workforce management software. Clockify helps you manage timesheets and manage payroll with customizable timesheets, automatic time tracking, and lots of integration capacity. These features make it popular across all industries, used by companies like Amazon and even Google.
Pros
Clockify has a user-friendly interface and offers a mobile app so that you can track employee time on the go. This makes it useful for construction businesses and a great Exaktime alternative.
Cons
Clockify offers a free version, but accessing more features means choosing from one of their pricing options.
Save Time and Money with ClockShark
Thank you! Your submission has been received!
Oops! Something went wrong while submitting the form.
6. TimeDoctor
TimeDoctor's web-based time tracking offers work session monitoring, screenshot recording, and integration with more than 30 productivity and time management tools. It gives you flexibility when gauging how much time employees spend on tasks.
Key features include also website and application monitoring and distraction deterrents to keep employees focused on the task at hand. These features make TimeDoctor popular with companies like Apple and Verizon.
Pros
TimeDoctor's employee monitoring is advanced. On top of screenshots, it tracks keyboard and mouse movement per minute. It also comes with time management features and offers reporting on poor time usage. If an employee is on a site that is categorized as unproductive they'll receive a pop-up notification asking if they're still working.
Cons
TimeDoctor's user and mobile interfaces need to be revamped, and it lacks a good project management feature. The software has robust monitoring features, but it doesn't track activity in the mobile interface.
7. BuddyPunch
BuddyPunch is an option for tracking time. Its user-friendly interface makes time tracking less of a chore. It's designed to handle more complex time tracking. As the name suggests, it can help reduce time theft like buddy punching.
It's mobile and tablet ready and offers features like GPS and location monitoring, automatic overtime calculations, PTO tracking and accruals, and more.
Pros
BuddyPunch helps eliminate time theft with features like geofencing and facial recognition. It also helps give management the ability to track employee jobs and locations. It also comes with customizable reporting. The app is compatible with both desktops and phones, and a top-notch customer support team is available to keep things running smoothly.
Cons
BuddyPunch's time tracking features are solid, but their scheduling features are limited. They're also limited in their integration with payroll providers, so there's a chance that the software won't flow smoothly with systems you already use.
8. TSheets
TSheets is a mobile time tracking software solution and a great Exaktime alternative. Like Exaktime, TSheets works well in construction and field service industries. Also, like ExakTime, TSheets is designed to track worker time for payroll and billing. It also does a good job when it comes to job costing, which is a big deal when you're in the construction biz.
TSheets can track work hours, monitor employees and manage payroll. It also offers mobile apps for both iPhone and Android, and it integrates with programs you already use, like Quickbooks.
Pros
TSheets is 100% cloud-based, which makes it easy to access its features remotely through the mobile app. The mobile app also features GPS location tracking so you know where your employees are at any given time. It's easy to use and it's also affordable at just $20 a month, plus $5 per employee up to 100 users).
Cons
TSheets is a great option if Exaktime isn't right for your business, but it's not perfect. It's a general time tracking product. It works well for construction and field services, but at the end of the day it's features aren't geared toward the industry specifically.
9. Hours
If you run a small business, Hours is a good time management solution. It offers detailed reports, desktop and mobile capabilities that synch in real-time, and a drag and adjust timeline
Pros
Hours has a sleek interface that's user-friendly and lets users switch back and forth between tasks with just a click. It's good for small businesses because of their team management features.
Cons
Hours don't offer expense tracking, and it isn't compatible with Windows. It also lacks employee monitoring functions.
10. eBillity
eBillity is an automated time tracker with a focus on efficiency and productivity. It also caters to law firms with specialized software for lawyer time tracking.
eBillity monitors employee time and helps with payroll processing by tracking project costs, paid breaks, and overtime. Users can create pay and create customized invoices with access to multiple payment options. eBillity is web-based and also offers a mobile app, and offers mobile expense tracking.
Pros
eBillity is user-friendly, with configurations that are detailed but easy. It has multiple integration options, and it automatically calculates and reports timesheets.
Cons
eBillity doesn't offer employee monitoring, so management has to rely on the honor system when it comes to employees using their time wisely. There also aren't any features for reporting employee productivity. The customization options can make the learning curve steep for new users, and the interface overall needs updating.
11. Toggl
Toggl is a great tool for small business owners. It offers a simple time tracker with an intuitive interface and flexible tracking features.
Pros
Toggl's interface is easy to use and allows you to manually log time if you need to. It offers great customer service and has more than 100 integrations, so you can track time across multiple platforms.
Cons
Toggl is simple, which means loopholes can be found. Employees have the ability to manually edit timesheets, which means they can fudge their hours to hide being late or leaving early. It also has limited reporting capabilities in the starter plan.
It's also affordable, making it a great choice if Exaktime is out of your budget.
Conclusion
There's no denying Exaktime is a great tool for time tracking. It's well-established and offers a lot of useful features. But if Exaktime isn't the right fit there are lots of great alternatives.
Check for key features like payroll integration, user-friendliness, and accurate time tracking. A track record of good customer service helps ensure there's help along the way while you're integrating a new system.
Every business is different, so take your time and find the time tracking software that works best for the needs of your business and employees.