One of the most necessary but also difficult tasks for accounting and bookkeeping businesses is tracking their employees' time. Without the right time tracking system in place, accurately tracking your employees' time and knowing exactly what projects they're spending time on is extremely challenging.
When time tracking is done correctly, it can help your company maximizing profits.
When done incorrectly, it can promote a lack of accountability among employees, low productivity levels, and generally low morale among your workforce.
It's a nuanced problem with a relatively simple solution: mobile time tracking.
Let's take a closer look at how mobile time tracking can help greatly improve your accounting and bookkeeping company's workflow.
Benefits of Time Tracking for Accountants and Bookkeepers
1. Reduce costs with accurate timesheets
One of the shortcomings of traditional timekeeping is the potential for errors as well as inaccurate and mismanaged timesheets. With time tracking for accountants and bookkeepers, you can use an electronic timesheet to help increase profitability.
How does it assist with this exactly? The following ways:
Reduces employee time theft
With a mobile time clock, your employee gets credit for the time they were available and working - not a second more or less.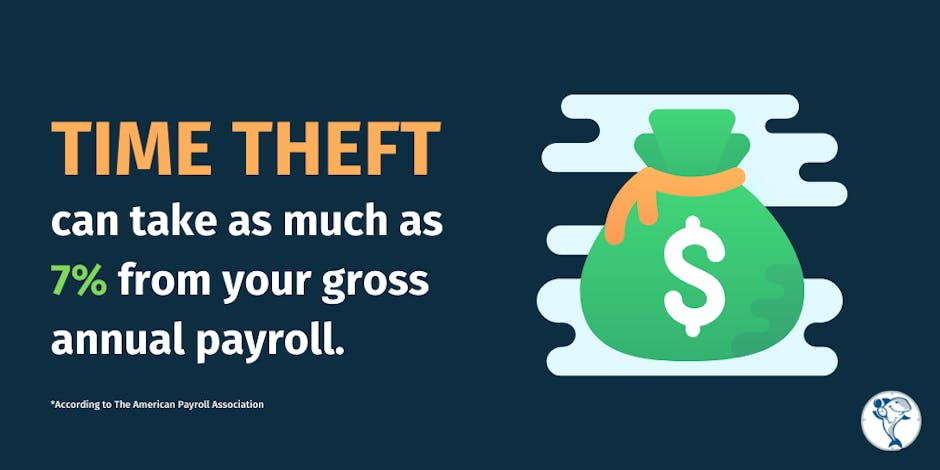 Prevents early clock-ins
You can place limitations on when your employees are able to clock in, enabling the system to restrict any early clock-ins that would lead to increased, unplanned for hours.
Improves employee accountability
Some employees forget to clock in and out. Mobile time tracking makes it easier for them to do so and makes it more likely they'll be able to do.
Eliminated any missed paper timesheets
Paper timesheets can easily get lost or misplaced. With mobile time tracking, there's no hard copy to retrieve. All the data is saved within the system.
Time clock allows for more accurate timesheets and discourages poor timekeeping by your employees. This will increase your organization's bottom line while making it easier for your team to do a better job managing their timekeeping.
2. Improve productivity
When your employees use the right mobile time tracking app, it allows them to see a visual representation of how many hours they've dedicated to their role. It also allows them to see how much time is needed to complete a shift.
This promotes a feeling of transparency between the employer and employee. When they can see their hours represented, they understand that they're receiving credit for the hours they've worked. They can also see that their hours are correct and fair. The number of hours that they've worked and that the employer is crediting them for is 100% out in the open on a platform that both the employer and employee can view.
Every employee wants to be treated fairly while receiving the proper credit for their hard work. Mobile time tracking reminds them that they're receiving that credit. In turn, they'll feel valued and will be more productive in their positions while they fulfill their role.
3. Easy reports and job costing
Another feature of mobile time tracking is that it easily produces reports with information on the hours dedicated to each specific project. This enables your team to analyze the amount of labor going into each task. This helps with reviewing your organization's spending in one area and helps you adjust your budget as needed based on the hours logged. This is much more difficult to do using traditional timesheets. A mobile time tracking app can generate information on what each specific job costs to your team, specifically, aiding your planning efforts.
So much of your planning depends on knowing the cost of each project you're involved in. Imagine having a tool that gives you that information to make your financial forecasts going forward all the more reliable.
4. Payroll software integration
Aligning time tracking with your payroll is another way to streamline your accounting business operations. Being able to sync your time tracking platform with your payroll is a near necessity - it ensures all data from one program flows seamlessly to the other.
With traditional time tracking methods, the transition from the time tracker platform to payroll software is manual. Your staff will need to input the information. This increases the chances for potential errors. You're essentially counting on your staff to enter all timekeeping information 100% accurately. That's too big an ask for anyone. Any mistakes could lead to payroll issues - incorrect amounts on checks or incorrect hours reported on a particular project.
With payroll software integration, you're taking this out of the hands of your team and into the hands of your time tracking app and payroll software. Once you have these two platforms aligned, the entire process is automated. That cuts down on human error and increases the likelihood that all payments will be made in full, on time, and 100% accurately.
Save Time and Money with ClockShark
Thank you! Your submission has been received!
Oops! Something went wrong while submitting the form.
5. Employee scheduling
Another important component for accounting and bookkeeping companies to keep track of is scheduling. When you're juggling multiple projects, it can get easy for your employees to get overwhelmed. They can also lose track of what they're working on and when. With traditional time tracking, there's the possibility that your team will account for its time incorrectly. This can throw off your expectations for how to assign your team members to projects going forward.
With the increased oversight mobile time tracking gives you into what employees are working on which projects and clients, you'll have a better idea of how to schedule time in the future. It ensures you have your team dedicating the right number of hours in the right places. This also helps your employees in that when they're scheduled correctly; they don't have to worry about adjusting those schedules during the pay period. The baseline number of hours for each project is set and will not need to be altered due to the data your time tracker app has given you.
Scheduling your employees can be a daunting task, but a mobile time tracking provides you with the data you need to do it more reliably.
Summary
The bottom line is that tracking your employees' time isn't just something you owe your staff as an employer. It also helps you get a handle on where you're dedicating your company's resources. It adds more integrity to the process, as the data you gain from it will be more reliable than traditional timekeeping data. For an accounting and bookkeeping business, mobile time tracking adds three elements to your timekeeping by making it:
More accurate

More convenient

More reportable
Those three qualities will benefit your staff, your leadership team charged with making important budgetary decisions, and, ultimately, your customers when it increases productivity.
Mobile time tracking revolutionizes your timekeeping processes.