Whether you have a small operation or a large HVAC contracting firm, you will need to be sure to choose the right HVAC business software for your business. There are a lot of things to take into consideration, however, before choosing.
Best HVAC Business Software

1. ClockShark

2. Synchroteam

3. simPRO

4. Housecall Pro

5. Jobber

6. FieldEdge


What Is HVAC Software?
HVAC software is a type of software solution that helps heating, ventilation, and air conditioning (HVAC) contractors simplify and streamline many of their normal processes. A good HVAC software will integrate with your accounting software and assist with tasks like:
Dispatching

Job management

Payroll management

Customer management

Communications

Bidding

Customer service

Scheduling

Invoicing
Since technicians are most often in the field, it's important to have scheduling software for HVAC, so you can easily schedule from anywhere and notify your technicians.
What Can HVAC Service Software Do For You?
Not all software for HVAC is the same and while some will have helpful features that provide you with many benefits, others may not. Some of the ways HVAC business software might help you run your business include:
Job Management
When you have multiple jobs going on, it gets challenging to keep track of them all. However, a job management feature built into your HVAC software makes tracking jobs and progress much easier. You can store customer and job information in one place, share documentation and customer information, communicate with technicians, and more with a job management feature.
Dispatching
It can be difficult to reach technicians in the field and send the right ones to the right jobs. However, if you're able to pull up a map and see which technician is where, you're able to send the right one to the right job.
Scheduling
Having field crews makes communications a challenge. When your workers can pull up their schedule in the field, it saves a lot of time and confusion. When you need to change a schedule, you should be able to do so easily and quickly, right from your computer, smartphone, or tablet. Having a scheduling app saves a lot of time, money, and confusion.
Invoicing
Being able to pull the job information from your HVAC business software and quickly create and send invoices for the job, your invoicing speeds up significantly and is more likely to be accurate and professional.
Customer Service
Customer service is improved when your technicians are able to get to the right customer in a good time. You will have a complete record of each job from start to finish and, in the event of an emergency call, you can pull up a map and find which technician is the closest to the call, thereby reducing your customers' wait times.
Administrative Processes
Administrative processes like payroll and billing are made simpler when you use a good HVAC software solution. For example, if you use Quickbooks for your accounting, a great HVAC solution would be one that integrates with Quickbooks. When you can import data from the field, these processes are streamlined and simplified, making them much faster and easier to get done.

HVAC Business Software Must Haves
While you'll find there are plenty of HVAC business software options available, many will have different features - some you need, some you don't, and some you didn't know you needed. These are the minimum needs for a solid HVAC business software.
User-Friendly Interface
In a field service business, you have workers scattered around the service area which means you can't easily coach them on how to use the software. That's why it's important for the HVAC software you use to be very user-friendly. Your technicians should be able to know how to use it intuitively, so they don't get confused or overwhelmed by it.
Tracking Tools
Having multiple technicians and vehicles makes tracking even more difficult but tracking tools help you keep track of everything from work hours and job progress to fleet vehicles and tools.
Customer Management
HVAC contractors know the importance of prompt, professional customer service. Your technicians should be able to pull up a customer's information in the field so they can have accurate data and be prepared for the job they're going to. In the office, when you enter the customer's information, it's immediately available for your crews to access.
Mobile App
HVAC technicians can travel hundreds of miles each day in the course of a workday so your HVAC software must have a mobile app they can use either on their smartphones or tablets.
Estimating and Job Costing
If your HVAC company offers free estimates, perhaps your technicians are out looking at a job and need to have the ability to do a quick estimate. A good HVAC software allows you to look at previous, similar jobs to make accurate estimates.
Best HVAC Business Software
Before choosing an HVAC business software, research the best ones for your business's needs. Here are a few top picks.
1. ClockShark
ClockShark is a field service management software ideal for HVAC businesses, it has many features needed to effectively manage your HVAC business while also being user-friendly. With ClockShark, you can easily schedule jobs, find technicians in the field, streamline the communication between the office and the field, and get accurate payroll and job costing.
Pricing
Starts at just $8/month per user+ $7/month base fee.
Free 14-day trial.
Save Time and Money with ClockShark
Thank you! Your submission has been received!
Oops! Something went wrong while submitting the form.
2. Synchroteam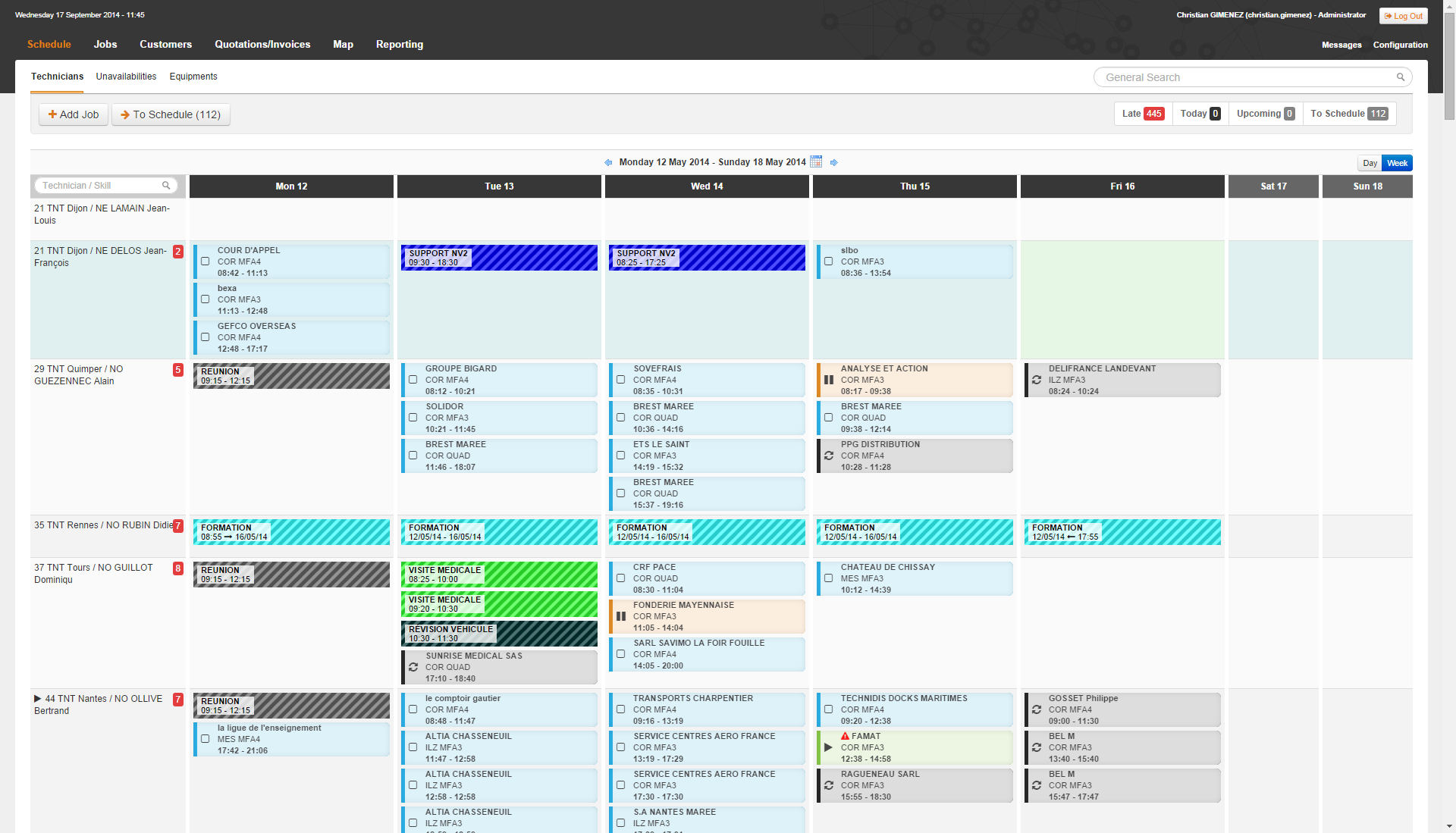 Synchroteam is a field management software solution that helps you manage your field crews and your HVAC business. The software includes features such as dispatching, job management, customer management, and integrations.
Pricing
Plans start at $24 per month, per user (one free administrative account).
3. simPRO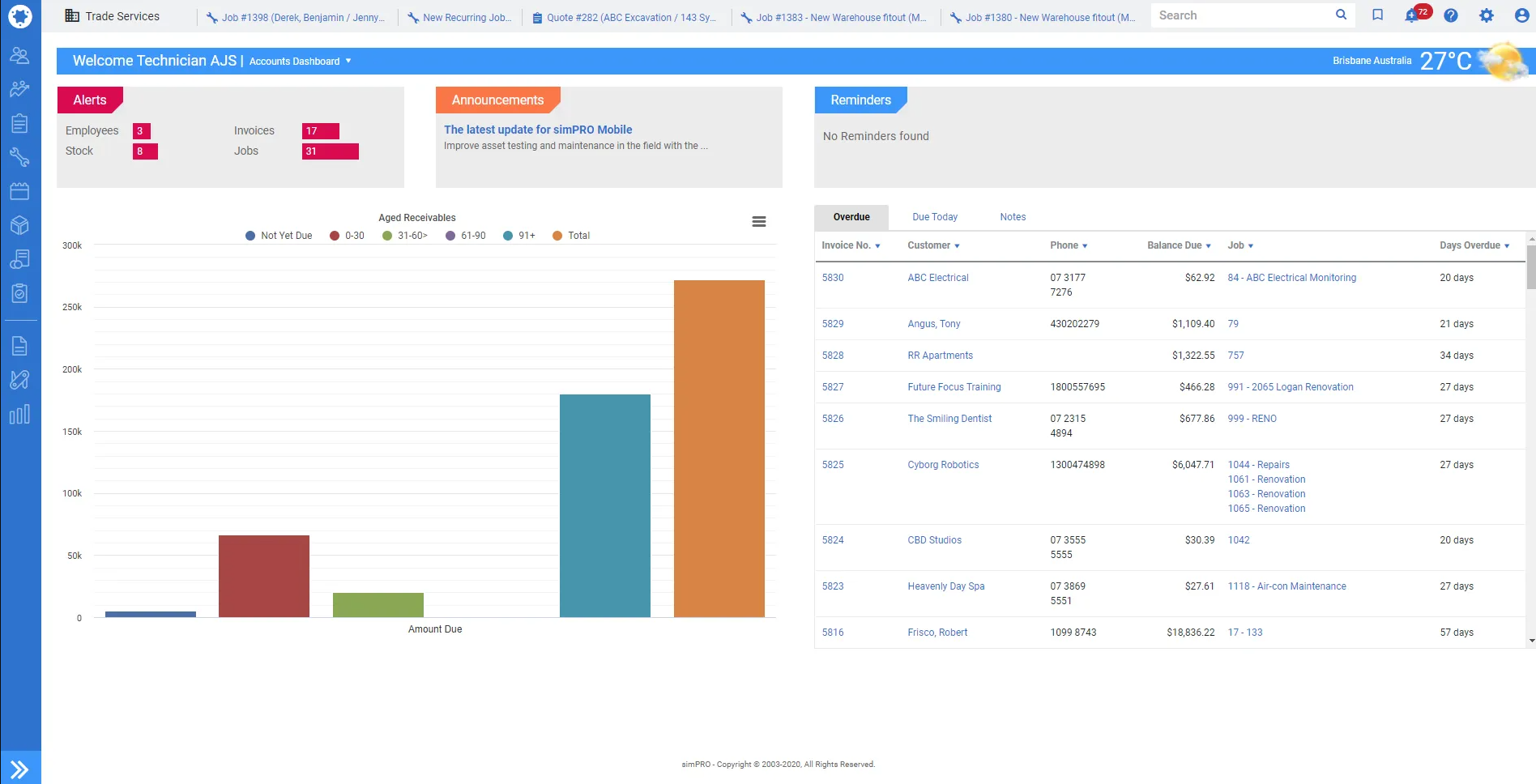 simPRO is a software solution for field service industries. It includes dispatching, asset management, job management, and project management.
Pricing
Contact for pricing information
4. Housecall Pro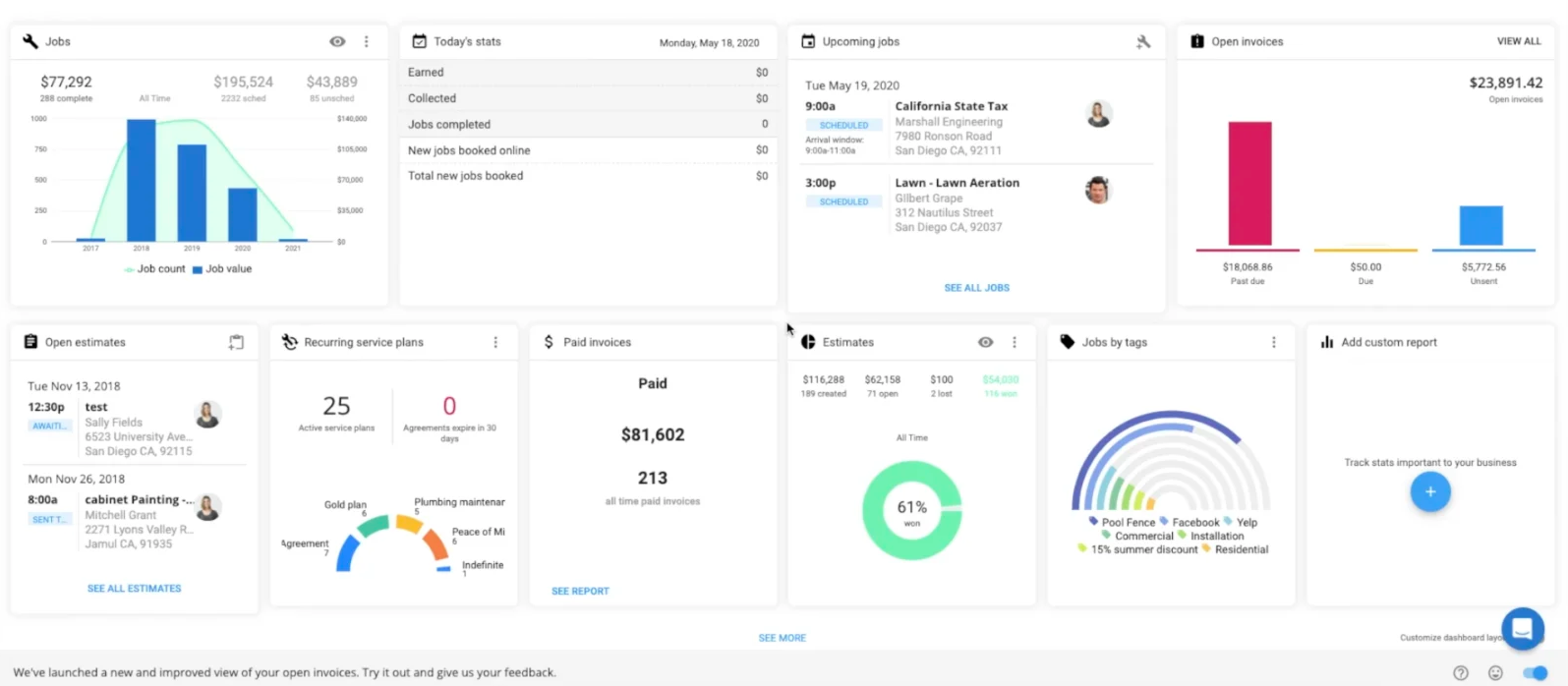 Housecall Pro is a popular field service management software, ideal for companies with field crews. It boasts helpful features like scheduling, dispatching, customer management, and invoicing.
Pricing
Plans start at $49 for one user.
5. Jobber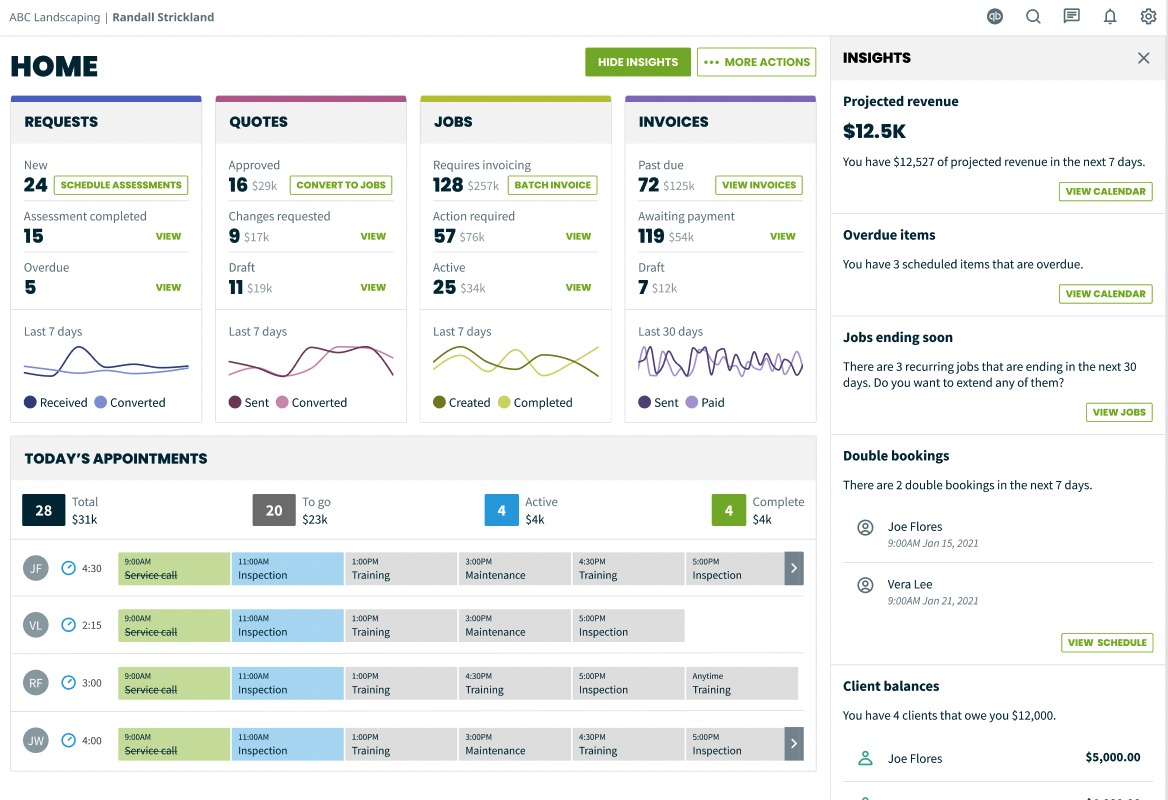 Jobber is a field management software that allows you to schedule and dispatch as well as manage customers and jobs, and create invoices and accept payments.
Pricing
Plans start at $39 for one user.
6. FieldEdge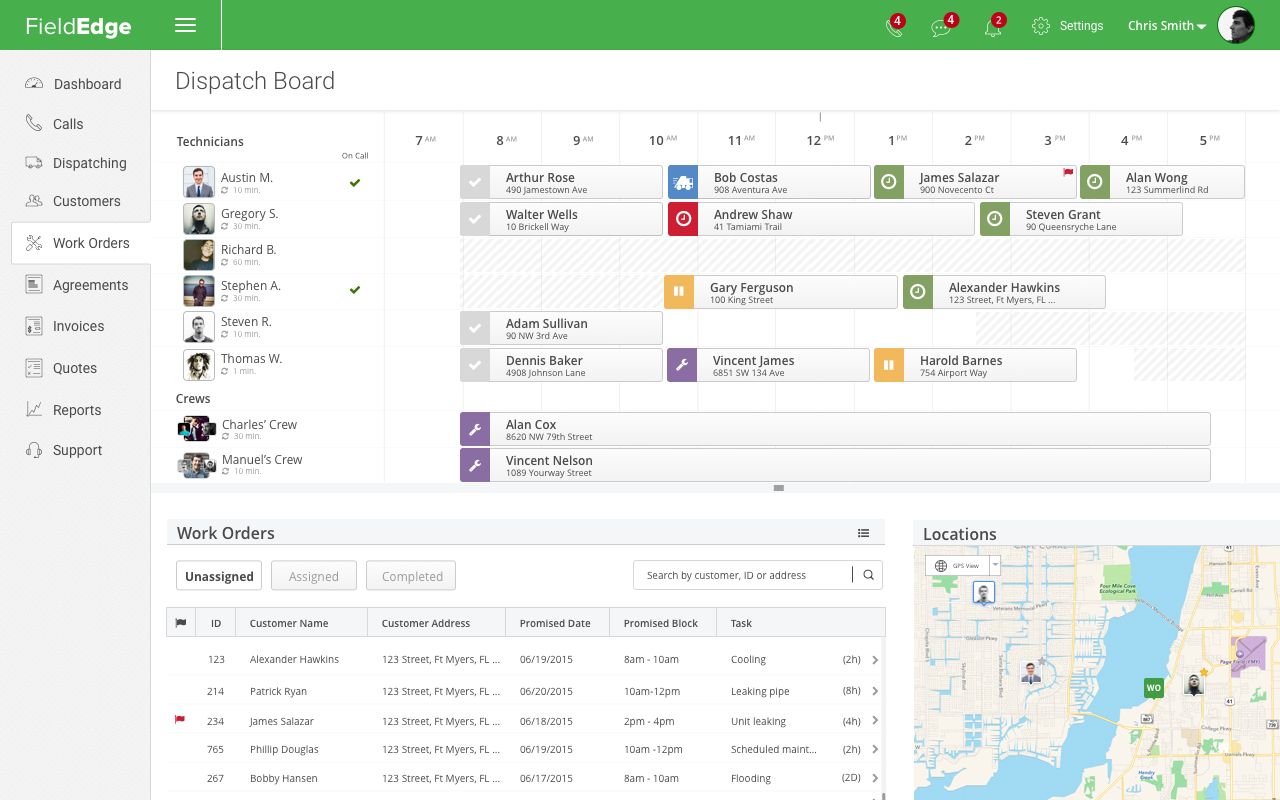 FieldEdge is an HVAC business software solution that offers tools to help you manage your field crews and customers, send invoices, and improve customer service.
Pricing
Contact for pricing information.
Choose the Best HVAC Business Software for You
When you run an HVAC business, you need the right software. When considering this step to grow your company, you should take advantage of free trials and get a feel for the options you're considering. Bear in mind what you want to get out of your business software and ensure the one you choose provides that solution.
---
Compare the Best HVAC Business Software
| | | |
| --- | --- | --- |
| | Pricing | Free Trial |
| | Starts at just $8/month per user + $7/month base fee. | |
| | Plans start at $24 per month, per user (one free administrative account) | |
| | Contact for pricing information | |
| | Plans start at $49 for one user | |
| | Plans start at $39 for one user | |
| | Contact for pricing information | |