It's no secret that the residential construction industry saw some tremendous gains during the pandemic.
The Federal Reserve lowered interest rates as many Americans started working from home, and demand for construction exploded. So, despite a global shutdown, builders enjoyed a boon of work. In fact, construction spending climbed higher in 2020 than in the previous 15 years, according to the U.S. Census Bureau (USCB). Yet, the pandemic also brought a slew of challenges for residential contractors. Supply chain issues, elevated construction costs, and worsening labor shortages were just a few. Many of these challenges will extend into the 2023 construction forecast. Pair them with rising mortgage rates, and there's no doubt that this year will be rough for some residential builders.
But it's not all bad news. While many of construction's most pressing issues will remain, some will lessen compared to 2022. And for two sectors of the residential building industry, 2023 holds a silver lining.
Here's what builders and remodelers need to know about the year ahead.
Is a Recession Coming in 2023?
Economists are divided about whether the U.S. will enter a recession this year. Two-thirds of economists surveyed by The Wall Street Journal believe a recession is unavoidable. Conversely, Moody's Analytics predicts that the U.S. will stay recession-free in 2023, despite expecting a slowdown.
Experts in the construction industry haven't reached a consensus either.
In a recent webinar, Chief Economist for the National Association of Home Builders, Robert Dietz, said the housing industry is already in recession. However, Ken Simonson, Chief Economist for the Associated General Contractors of America, disagrees.
"I definitely don't think we're in a recession yet. And while I'm an incurable optimist, I believe we won't see a recession for the broader economy this year."
Whether 2023 brings a recession remains to be seen. But one thing is certain: the economy is already slowing. And a 12-month decline in residential construction is leading it.
In December, single-family starts were down 26% year-over-year (YOY), and single-family permits dropped for the 10th month in a row, according to the USCB. Multifamily starts also fell, ending with a 16% deficit for the year. And although there were 926,000 multifamily units under construction in December – the most recorded since 1970 – permits were down 22% YOY.
Will Residential Construction Continue to Decline in 2023?
Residential construction is declining for now, but the future will look different for each segment.
"The housing market for single-family homes is in a steep decline that is likely to last for several more months – perhaps all year long," says Simonson. "Until we see interest rates stabilize and come down, housing starts will be very depressed."
But ominous news for single-family builders likely means growth for remodelers and multifamily builders.
Instead of buying new houses, many homeowners will opt to expand the homes they currently live in, which is excellent news for remodelers.
And since more would-be home buyers can't afford rising mortgage rates and inflated home prices, the demand for apartments will only increase.
"I would put multifamily construction on the 'watch list,' not on the 'sure-to-decline' side [of residential construction]," says Simonson.
Will Inflation Rates Continue to Rise in 2023?
The consumer inflation rate was 1.5 % when the pandemic started in March 2020, according to the Consumer Price Index (CPI). But by May, inflation started to rise and kept going up. By June 2022, inflation had increased to 9% – its highest in decades.
And as bad as last year's consumer inflation rates were, construction inflation rates were even worse. For every month in 2022, construction inflation rose by double digits.
"The cost of materials and related services, such as trucking and design services, has been going up 20% year-over-year for 12 straight months and rising much faster than the CPI," says Simonson.
The good news is that by December, consumer inflation began to come down. Gasoline prices dropped, house prices started to level, and rents flattened, putting downward pressure on the CPI. The Producer Price Index (PPI) for construction inputs also shrank in December. So, construction inflation is on a downward trend for 2023, though it will likely outpace consumer inflation.
"[The PPI] has come down to a 10% rate, but that's still more than the 7% for CPI," says Simonson. "And that's going to be the story in 2023: moderating [construction inflation] rates but higher increases than consumer prices."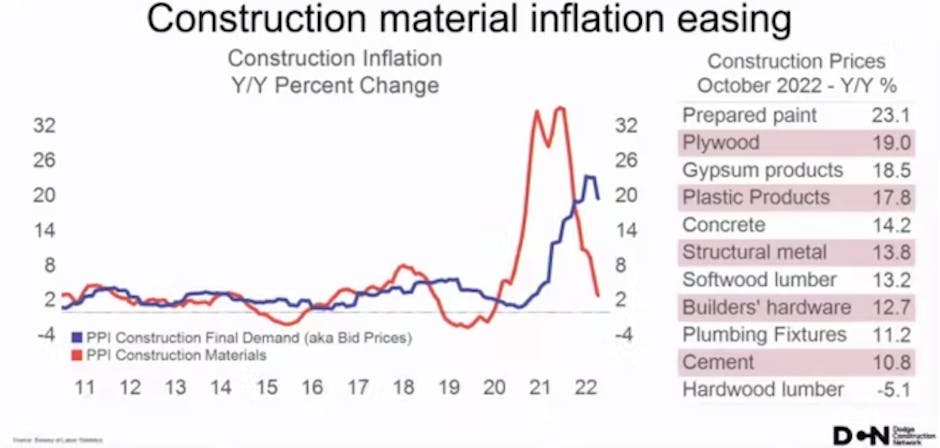 Source: Dodge Construction Network
Will Construction Costs Go Down in 2023?
Since inflation is dropping, it stands to reason that at least some construction costs will go down. But the residential construction cost forecast for 2023 is not cut-and-dry. While some construction input prices are falling with inflation rates, supply-chain issues and product shortages are causing the costs of other construction materials to rise.
For example, in December, there were significant declines in diesel fuel, lumber, steel, and trucking costs. However, the price of copper, aluminum, and concrete rose.
Financing and labor costs are also accelerating, which is more bad news for residential developers.
"When you line up [rising financing and labor costs] against rents that are flat or declining, that's a pretty toxic combination," says Simonson. "Single-family and multifamily builders have to be wary that they aren't going to be able to keep pushing through price increases."
What Supply Chain Issues Will Contractors Face in 2023?
Now that China has lifted its zero-Covid policy, supply chain disruptions are easing. But they aren't going away entirely. New supply chain issues have evolved thanks to the backlog of construction projects that have been piling up over the past three years.
Concrete is on allocation in many parts of the U.S., with contractors getting only a fraction of the ready-mix they received a year ago. New contractors could face the reality that they won't be included in the allocations at all.
Lead times on critical electrical components are also a big concern. Circuit breakers, switchgear, and distribution panels that once took four months to receive now have wait times as long as 18 months. There is also a severe shortage of electrical transformers as power companies hoard them to use in case of emergencies.
"In some areas, they're not even hooking up new construction. That's really a game-stopper for getting a house, or an apartment building, delivered," says Simonson.
Will the Construction Labor Shortage Continue in 2023?
The construction labor shortage has worsened for years and will not improve in 2023. In fact, the labor shortage will remain for the foreseeable future.
The U.S. talent pool has shrunk. Birth rates have declined since 1990, and fewer people are aging into the workforce as Baby Boomers age out. On top of that, fewer immigrants have entered the U.S. since 2019, further stunting population growth and hurting industries like construction that rely heavily on migrant workers.
The construction industry has also lost its competitive edge thanks to seismic shifts in the economy. Construction once paid a premium to attract workers. That premium disappeared at the start of the pandemic. Low-paying industries like restaurants and food delivery services suddenly began paying $18 an hour plus tips to get workers in the door. Other industries offered work-from-home or hybrid positions, and the gig economy surged as laid-off employees began to leverage their skillsets online.
Stiff competition and an ever-widening gap between job openings and available workers mean contractors must get creative to survive.
"Contractors are going to have to pay more to get workers into the industry and get them to stay in the industry," says Simonson. "They also [need] to reduce the number of workers needed on site. That implies more investment in technology, software, and off-site production."
If you're ready to use technology to stay competitive in the ever-changing construction landscape, read our article on the 12 best apps for construction.