When looking at online time tracking software for electricians, here are some of the reasons we believe SaaS (software as a service) solutions are superior to conventionally licensed desktop software.
Software as a service (SaaS) offers greater benefits than the old-school licensed software solutions that are still on the market. The only possible downside that you might want to consider with a SaaS solution is that for good-sized companies the cost may be somewhat higher using the cloud.
Most big businesses have a lot of workers and most SaaS online time tracking software for electricians, bill per user. With that said, some SaaS providers offer discounts to big firms or construction businesses. This way the cost per user is reduced substantially.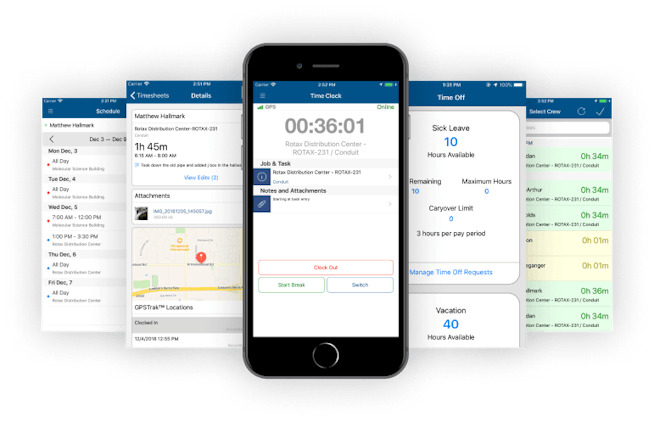 5 reasons why to invest in time tracking software for electricians
1. Superior Uptime + Availability
There is no doubt whatsoever that SaaS is easier and more convenient to use than desktop software time clock solutions. The software is kept and hosted by a software firm on their own internet servers. This means that it is very reliable. It is not likely that administration staff and employees will have a difficult time accessing the service since SaaS uptimes reach the 99.9% range.
So the frequent computer network problems that we always put up with at our offices such as the internet, or server crashes won't pull down your online time clocks for electricians. So, even when your office network is down, your staff will still be able to make punches using their own smartphones.
2. Online Time Clocks are Flexible/ Move Anywhere with No Worries
One of the best parts of SaaS online time tracking for electricians is that SaaS system solution is portable. Since workers for most electrical construction businesses are spread out across cities, or towns, or larger geographical regions, it is imperative to choose SaaS as it can offer you wider geographical flexibility. This will give your workers as well as anyone else an easy time to log into the administrative interface to see, print or edit time cards.
The online time clock interface is available on the employee smartphone and over the web. Since SaaS is widely known for its flexibility, you are always assured of no complicated VPN connections and network setups.
3. Automatic Software Updates
SaaS online time clocks for electricians feature automatic software updates. A good SaaS solution provider will frequently update its apps and software. You are always assured of running the latest software version with the recent security features because the update system is fully automatic.
The hassles and time costs are greatly reduced due to the fact that there is no manual download required. The security concerns of running outdated software are also eliminated.
Save Time and Money with ClockShark
Get started in under a minute with no credit card
Thank you! Your submission has been received!
Oops! Something went wrong while submitting the form.
4. Online Time Tracking Software for Electricians is Scalable
SaaS online time clocks for electricians always scale well in terms of cost and technical application. Although a licensed software solution also scales perfectly, they pose serious networking hardware challenges related to connectivity and servers across several networks. The majority of licensed solutions do not work well with mobile employees and may just not scale well.
Overall online time clocks are going to be more scalable compared to licensed software. However, this doesn't apply to all cases. In addition, SaaS charges per worker; hence, the costs scale well too.
5. Data Security
There is nothing more important to electricians than the security of their essential data. The safety of important business documents and data loss are the two main concerns for electricians choosing an online time clock. SaaS solutions ensure the safety of critical information by moving the data into the cloud.
To put it in simple terms, SaaS solutions have their own servers where they host the database and software. This off-site method of data storage may not sit well with employers who are used to thinking that data is safely stored on their premises. There are various reasons why this "old school" thinking is not correct – the chances of you losing data using off-site storage are very thin.
Offsite data storage services offered by SaaS are tightly secured using advanced servers that keep several copies of information in a RAID arrangement, and offline backups for more redundancy. SaaS servers are kept in data centers with fire protection, 24-hour monitoring, HVAC systems, and security precautions. The information is stored in the data center is totally safe from peeping eyes as security access is controlled.
ClockShark is an online time clock for electricians and construction companies. Signup now and try ClockShark for FREE!