The Effortless Time Tracker App
Companies with mobile workers have unique needs and not every time tracker app will meet them. ClockShark was built with the mobile workforce in mind. Our time tracker runs on the web and mobile apps so it's available anywhere. We've also designed it to be super easy to use by automating as much of the data collection as we can. By using the technology to do most of the work, tracking time requires fewer steps which makes it fast while still providing all the data you need to run an efficient and effective business.
On Time Every Time
The thing about mobile workforces is that they move. This makes the location an important factor. Being on time doesn't matter if you're in the wrong place. That's why ClockShark is more than just a basic time tracker app. Sure, you get all the time information you need like clock ins and clock outs, but you also get location data, geofencing and an always up to date schedule with one-click navigation help. We know what it's like to run a business with mobile workers, so we've worked to include all the tools you need to be successful. This isn't your average run-of-mill time tracker app!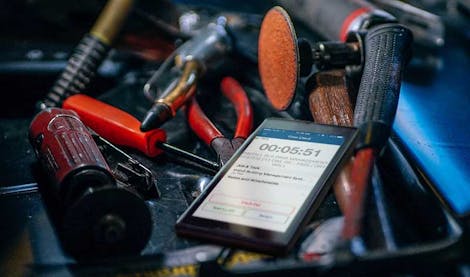 Dead Accurate Time Tracker App
Time punches are only as useful as they are accurate. Estimates, guesses and rounded times not only cost you money now, but make job costing and profitability forecasting wrong. You can't run a successful business off of faulty data. ClockShark automatically grabs timestamps from the clock built into the device for every clock in and clock out so it can't be manipulated, changed or forged. Not only does this give you down to the minute accurate time information, but it also removes a step from the time tracking process, so it's faster to use in the field.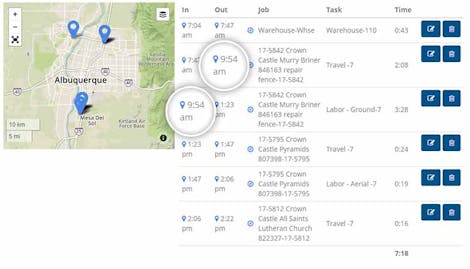 Ready to save hours of your time and 2-8% on labor costs every payroll?
Get started with easy time tracking in under a minute with no credit card
Have Time Tracker App. Will Travel.
In order to track time on the go, the time clock needs to travel with your crew. Your employees can download the ClockShark mobile app on their Android or Apple smartphones for free turning the cell phone in their pocket into their time clock and schedule. It's always with them, always up to date, and you didn't have to buy any new equipment to make it happen. All the data is stored in the cloud, so when your crew updates their phones or replaces a lost or broken one, they just download the app again and pick up right where they left off.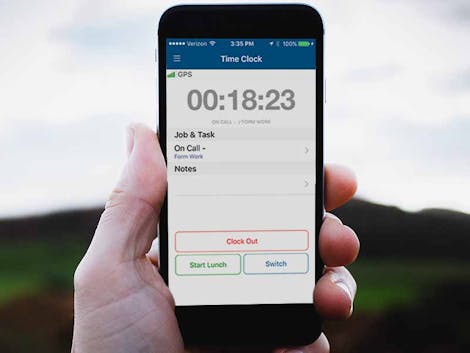 Automatic GPS Locations Included with Each Clock Punch
Want to know where all your employees were when they clocked in and out? Whenever an employee punches the clock, the ClockShark mobile app gets the location from the phone's GPS sensor. This location data is stored with a time record so you can see where each clock in and clock out happened on a map on the timesheet. All the data syncs to the cloud in real-time, so you can use the Who's Working Now feature to see a map of where all your currently clocked in employees are. You can stop hoping and know for sure that your team is where they need to be when they need to be there. That's the start of service excellence.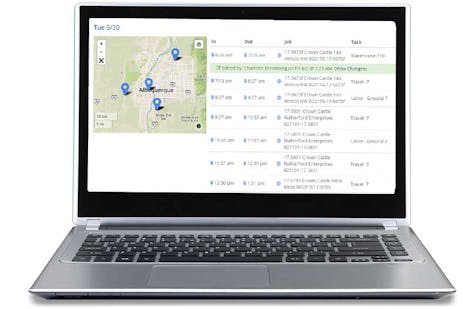 A Time Tracker App with Scheduling. The Perfect Pair.
Does your crew know where to be tomorrow? Next week? If they have their smartphone they do. The easy drag and drop scheduler in the web dashboard automatically updates every employee's schedule and pushes it to their phone. Your crew can always access their schedule from the ClockShark app so they know where to be and when. They can even get step by step directions from their phone navigation system in one click. What if the schedule changes at the last minute? No problem - the app schedules update automatically and you can even send a push notification to everyone affected by the change so they know to check it out. Now you can spend more time running your business and less time making phone calls to keep everyone updated.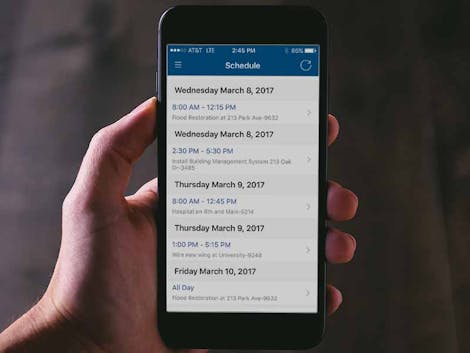 Dee‍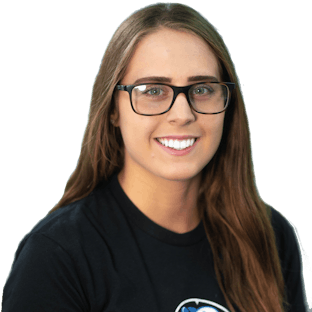 Talk to us
Start your free trial today and get personalized support as you set up ClockShark for your crew. We'll help you every step of the way.
Or Call Us at (800) 828-0689
Or Call Us at (800) 828-0689
Ready to save hours of your time and 2-8%
on labor costs every payroll?
Get started with easy time tracking in under a minute with no credit card
Thank you! Your submission has been received!
Oops! Something went wrong while submitting the form.