If you own a pool company you deal with a lot of moving pieces. On any given day you have teams spread far and wide, dealing with a lot of different variables based on what your client needs. There's a lot to keep track of, and automated time tracking for pool companies helps you stay on top of it all.
Everyone knows that it's important to track time, but manual tracking can be frustrating, time-consuming, and all-around inaccurate. Nowadays owners have turned to automated time tracking for pool companies in order to cut back on inefficiencies and boost bottom lines.
We've taken a dive into the benefits of time tracking and how time tracking for pool workers is made easy with time tracking apps.
The Benefits of Time Tracking Automation
1.
Increase Profits
When pool time tracking is accurate you can pinpoint exactly where your money is going. Keeping track of hours worked helps you monitor project budgets and avoid unnecessary overtime. Having a record of how long projects take and how much they cost means you're better prepared for future projects. You'll know what to expect going forward.
2.
Avoid Overpaying
Automated time tracking apps reduce overpaying for unworked hours. Employees that manually record their time end up rounding off their times sooner or later. Paper timesheets require employees to remember to clock in at the start of the day and out at the end.
Sometimes employees will round up, avoiding lost time from tardiness or because they simply forgot to do it. Either way, the hours guessing game eventually adds up and those rounded hours will cost more than you think.
ClockShark's GPS time Clock app timestamps employee locations, so you can see where they are at any time. This feature holds employees accountable and prevents early clock-ins or late clock-outs. That means you aren't overpaying or dealing with unexpected overtime.
3.
Set a Course
When your team tracks their time spent on projects it's easy to see when goals are being met and strategize for the future. Keeping track of progress is the best way to visualize goals and keep a team working together to achieve them.
Pool time tracking also keeps communication between employees and management open and easy. With time tracking apps employees can log hours automatically. Managers can see what they're doing and keep the team accountable.
Save Time and Money with ClockShark
Thank you! Your submission has been received!
Oops! Something went wrong while submitting the form.
4.
Increase Productivity
Using a time tracking app means employees stay on track, and ditching outdated manual time tracking saves time. No more adding up hours, fixing missed punches, or double-checking hours that payroll is right.
ClockShark's time tracking app saves time by letting employees clock in and out automatically when they enter or leave a job site.
5.
Better Project Management
Time tracking for pool companies keeps track of how long projects take, what materials are needed, and helps management prioritize and adjust for future projects. Keeping an accurate record of how much projects cost means you can provide more accurate estimates to future clients and avoid going over budget.
Apps like ClockShark have time reporting tools that let you gauge job costs on an individual basis. Every time an employee punches in you'll get a snapshot of the job, task, and location they're assigned to. You can track how much time is spent on each job or task, and keep it on file to use as reference in the future.
Take the Plunge with ClockShark
ClockShark makes it easy by putting everything you need right at your fingertips. Employees can check schedules, clock in, view timesheets, and so much more. It's cloud-based and uses the tools employees already have-- their smartphones. There's no complicated learning curve or expensive tools needed. It's also cloud-based, so if someone's phone falls casualty to a pool their data is safe and secure and easy to find.
Using ClockShark for time tracking in pool companies helps boost profits by lowering payroll costs and providing accurate job costing. It's saved users between 2-8% in payroll costs just by eliminating early clock-ins and late clock-outs.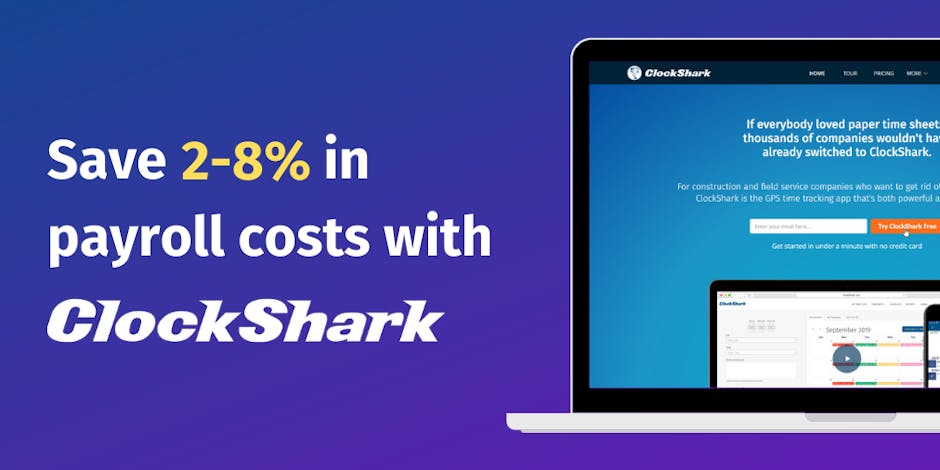 It's no secret that using an app to track time is the solution for companies that want to make accuracy a priority. ClockShark brings accuracy and ease to time tracking for pool companies.
Conclusion
If profits are seeping through the cracks of your outdated time tracking system, it might be time to dive into a time tracking app to lower costs, boost profit, and keep your business on track.