There are a variety of different types of construction software. From Augmented Reality to accounting systems, it can be challenging to find the one best suited for your company's needs.
According to research from Deloitte, "the construction industry has historically underinvested in technology — only 1.2 percent of its revenue is allocated for IT, compared to a 3.5 percent average across industries."
As different industries increasingly invest in technology, it falls to today's construction company leaders to start investing in software and technologies that help them evolve with increasing global demands.
Construction apps are just one way today's firms can start stepping into advanced digitization and automation to improve efficiencies, increase productivity, reduce risks, and increase profitability.
What Is A Construction Software?
Construction software is another tool, but it's used to simplify and automate processes in the construction project chain, from beginning to end. You can find different types of software that do different things or use software that has a suite of features.
According to research from Software Advice, the most often requested features of construction software from construction professionals are:
Project management (83%, combined)

Cost estimating (60%)

Measure takeoff (40%)

Accounting & job costing (37%)
Construction software should help your company in multiple ways that, together, make running your business easier, more streamlined, and more profitable. From takeoff to accounting, a robust construction software should help your company with each step of your projects cycles and scale with your company as it grows.
Types Of Construction Software
According to JB Knowledge's 2020 Construction Industry Report, 92% of construction firm workers use mobile devices for work purposes. The main reasons they use mobile devices were:
To view BIM models (65%)

To view installation drawings (63%)

To view project documentation (78%)

To create project documentation (71%)

Dispatch and billing (74%)

Time tracking for payroll (71%)
However, as popular as technology has become in construction, 45% of project management workflows were found to be dependent on spreadsheets.
Construction software should help eliminate this dependency and make your workflows move accurately, seamlessly, and easily. There are a few different types of construction software that can help accomplish this.
Estimating Software
Construction projects are often very complex with many moving parts. Direct and indirect costs need to be predicted to determine the best price to quote for a job, and it needs to be done in a timely way and professionally presented to your prospective clients.
Estimating software helps with all of these things by helping you more accurately forecast your project costs and provides you with an easier way to create custom, professional bids which will increase your chances of landing those jobs.
Project Management
Construction involves monumental amounts of documentation and requires clear and concise communication. Construction Project Management (PM) software helps with these things and more.
When using PM software, accountability is increased, communication is improved, collaboration is easier, and projects run more efficiently. Project Management software should be able to help with:
Scheduling employees and subcontractors

Track the progress of projects

Offer an easy way to store and access documentation

Help with job costing and estimates
There are many options to choose from for PM software and which one you choose will depend on your organization's size, needs, and budget.
Save Time and Money with ClockShark
Thank you! Your submission has been received!
Oops! Something went wrong while submitting the form.
Building Information Modeling (BIM)
BIM software is a tool that helps with collaboration and design. As Science Direct explains, it "enables multidimensional models including space constraints, time, costs, materials, design and manufacturing information, finishes, etc., to be created and even allows the support for information-based real-time collaboration."
With BIM software, you can create 3D models of projects and develop information databases that can be shared with everyone on the project team.
Accounting
Construction involves a lot of tracking - from job progress to labor and materials - and keeping track of these things is challenging if you're not using technology.
Accounting software for construction should provide you with an easier way to do things like:
Job costing

Accounts payable and receivable

Purchase orders

Payroll management

Time tracking

Financial reports
In some cases, you may find suites that offer additional features like:
Fixed asset accounting

Equipment tracking

Inventory management

Contract management
Using accounting software significantly reduces the risk of errors from manual entry or inaccuracies from lost or damaged receipts, documentation, or timesheets.
Job Reporting
Filling out daily job reports is a tedious task for any manager, but they're necessary for you to stay on top of your projects and ensure things are running the way they should. Traditionally, project managers are responsible for detailed reports that include information like:
Job details

Tasks completed

Who worked and how long they worked

Equipment and materials used

Possible delays

Weather conditions

Safety report

Notes and documentation
Job reporting software, however, will automatically log these things when employees or managers enter them. This allows you to pull up a report of any project or employee at any time, in real-time, so you can see where your company stands and where each project is.
Why Use A Construction Software?
Stakeholders and investors are looking at construction companies that are investing in technology because of how they improve efficiency, and profitability.
According to a recent study by Deloitte, "Total construction spending recovered and peaked at $1.57 trillion in July 2021, a record high for the series and 12% higher than 2019 average levels." The same study predicts construction companies will need to invest in technology to take advantage of connected construction so everyone and everything works smarter.
The Infrastructure Investment and Jobs Act will include many cutting-edge infrastructure projects and is expected to cause a boom in the construction and engineering industry. However, many of these projects will involve upgrading existing infrastructure to higher technology and climate-friendly changes.
To accomplish this, contractors will need to stay up-to-date on technology if they want a piece of that pie. Obviously, government contracts come with their own set of rules, including Certified Payroll, which is tedious at best.
Technology like construction software will help reduce your risk of non-compliance and, thus, of not getting paid on time.
Benefits Of Implementing A Construction Software
The greatest benefit of implementing construction software is increasing your profits, but there are multiple ways this happens, and other benefits to consider, too, that make implementing construction software a necessary step for your company's growth.
Accurate Quotes And Estimating
It's challenging to give accurate quotes and estimates without accurate data and information. Overestimating can cost you jobs, and underestimating - if done enough - can be detrimental to your business.
Construction software makes quotes and estimates easier and more accurate. When you're able to review the data collected by your crews, you can see exactly how much was spent on materials and labor for each step of the process. This significantly improves your job costing, which will help you with future estimates.
When it comes to quotes, construction software can give you the ability to import customer and project information into the program, so you can quickly and easily fill in the details and send your quote electronically.
When your prospective client receives the quote, ideally they can review it, request changes, accept it, and send it right back to you.
Centralized Communication
Communication is critical in all businesses, but miscommunication and missing information is particularly expensive in construction.
Research has found that construction companies spend $177.5 billion in labor costs per year in the U.S. that's attributable to miscommunication, and that "rework caused by miscommunication and inaccurate and inaccessible information will cost the U.S. construction industry more than $31 billion in 2018."
This is an important area where construction software substantially reduces your risk of miscommunication or lost or missing documentation.
Cloud-based solutions keep your documents, notes, and pictures stored in a third-party cloud storage, so you don't lose anything, even if you lose power or the internet, or your system crashes.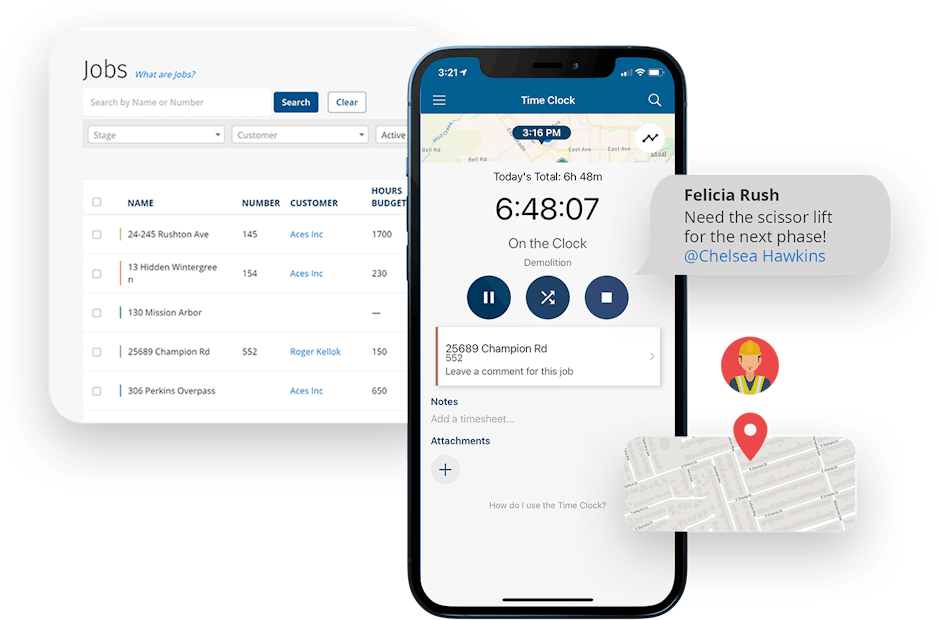 Accounting Integrations
Running a successful construction business involves much more than bidding and building. Records need to be maintained; Employees need to be paid; Insurance and licenses need to be obtained. There is, indeed, a lot of administrative work to be done.
A good construction software will integrate with your accounting program and speed up processes like taxes and payroll. When employees clock into work, their time is automatically recorded and synced to the cloud.
When it's time to do payroll, simply import their timesheet data to your accounting software and run payroll in minutes, confident that your time-tracking records are accurate.
Document Sharing And Better Control
It's easier when your workers can pull up documents or photos, to see what the job is and receive any special details or instructions. When your workers have to travel to the office to review work orders, it takes time away from when they could be working on the job. Being able to review documents on the go, makes everyone's jobs easier.
Conversely, each worker can leave notes and updates associated with each project and/or customer, and everyone who is involved in the project will have access to the information. This gives you visibility into your operation, so you can have more control over what gets done, when, how, and by whom.
Possibility Of Integrations With Other Software
McKinsey points out the construction industry will face numerous disruptions in the coming years as technology evolves. Customer demands will change as well as materials and supply chains, all due to advancements in technology.
Construction companies will need to adopt technology that can integrate and work with other software to remain scalable and profitable.
Remote Access
Being able to access data and information remotely is becoming commonplace. The COVID-19 pandemic served as a lesson on how beneficial remote access is for companies and employees.
Before remote access, there was often phone tag, missed calls and texts, or lost emails to access important information about projects. Thankfully, it's possible to access important information from your mobile device or from your laptop, no matter where you're located.
Easy To Track Expenses And Budgets
It's easy to go over budget on a project if you're not able to accurately track your costs and expenses. Construction software makes tracking expenses and budgets easier, by allowing you to save all of your accounts payable and receivable in one place.
Quick Reporting
Data is crucial to making beneficial decisions about your company.
Instead of depending on word-of-mouth or the memory of your employees, you can use a construction software solution to pull up just about any data you want, to run any kind of report you want.
If you're being audited, there's a report for that. Want to check how much time was spent on a particular project or see how many hours a particular employee worked at a particular time? Technology makes running reports far easier and much more accurate than manual data entry, and removes the risk of inaccuracies.
5 Best Construction Software
Not all construction software is ideal for all construction companies. Some are very simple and quick and easy to set up, while others are far more complex and difficult to navigate.
However, construction software is necessary if you want to stay competitive and thrive in the anticipated global growth of the industry. Here are some best options to review, when considering implementing technology in your construction company.
Clockshark
ClockShark began as a humble mobile time tracking app built specifically for construction and field services. Over the past few years, it has evolved to be an award-winning multipurpose tool to help manage your business by simplifying your workflows.
Features that ClockShark provides include:
Mobile time tracking (with biometrics)

GPS tracking

Geofencing

Scheduling

Job Costing

Integrations

Real-time map of who's working

Customer management (CRM)

Job management

Multiple ways to communicate

Reporting

Create/send Quotes

Create/send Invoices

Accept payments online
ClockShark values the feedback from its customers and frequently makes upgrades to meet their demands, while maintaining a reasonable cost for small- and mid-sized companies.
Procore
Procore is a popular choice, particularly for larger construction operations, and is used around the globe. Founded in 2002 by Tooey Courtemanche, Procore has grown to have a smorgasbord of features in its suite of construction software, including:
Accounting Integrations

Bid Management

BIM

Estimating

Field Productivity

Invoice Management

Project Financials

Procore Construction Network

Project Management

Workforce Planning
Procore's software is quite comprehensive and, thus, might be challenging to adopt without training. The cost for Procore will depend on the features you need and the size of your operation.
Quickbooks Time
Formerly known as T-Sheets, Quickbooks Time is another popular choice for time tracking, although customers do claim the switch from being T-Sheets has resulted in a difficult-to-navigate integration with Quickbooks accounting and complain about the lack of customer support.
Features offered by Quickbooks Time include:
Time tracking

Scheduling

Reporting

Geofencing

Project management

Accounting integrations
Quickbooks Time can be used on the web, mobile device, or tablet, and offers multiple plans to choose from.
CoConstruct
CoConstruct from Buildertrend is a robust construction software solution that helps you run your projects from start to finish. From pre-construction to getting paid, Coconstruct offers a plethora of customizable options, including:
Estimating

Scheduling

Task manager

Time clock management

Labor budget time tracking

Files + photo management

Bills management

Bid management

Invoices + payments
The cost of CoConstruct will vary depending on the plan and features you need or want to try. Like Procore, CoConstruct might be a challenging implementation because of the many features of their software, especially if you're just starting your digital transformation.
Redteam
Redteam is a construction management software with multiple functions and features that is accessible from wherever you are. Their solution provides the tools needed for construction projects such as:
Pre-construction

CRM

Project management

Project collaboration (communication)

Financial management

Field management

Reporting

Analytics
Founded by construction company owner Michael Wright, Redteam is a popular choice for construction firms.
Conclusion
If you haven't yet started looking into digitizing your construction company, you run the risk of becoming obsolete. While small, one- or two-person firms might be able to continue to operate without construction software, companies wanting to grow will need to invest in it to stay competitive.
It can feel intimidating to think about introducing construction software to your employees, but if they understand the value it provides the company and that makes their lives and jobs easier, they're more likely to be open to it. Start small if you're reluctant to take a big leap into contech but the shift should happen sooner than later if you want your construction company to thrive in the future.