A whopping 52% of field service companies still rely on manual processes. Yet, 89% of customers want to see on-demand, cloud-based employee scheduling app used by the technicians and workers who service them. For customers, automated field service scheduling is a beacon of hope that helps ensure that their critical technicians arrive prepared and on-time for their appointment.
But the value of automated field service scheduling isn't only for your customers. From construction companies to pool companies and field service organizations, automated scheduling helps cut costs, improve productivity, and reduce headaches.
Let's discuss some of the ways that automated field service scheduling software can help businesses navigate the hyper-profitable field service landscape of 2020.
Benefits of Automated Field Service Scheduling
1. Providing Access for Remote Employees
Over the past 12 years, remote workers have increased by 159%. For the thousands of field service companies dealing with remote workers, finding ways to incorporate them into your scheduling is complicated. Remote workers don't come with the same level of optics as in-house staff. You have to get their schedules to them, alert them of any changes, and generally hope that they show up at each location to perform mission-critical work without slacking off or skipping jobs.
It's not easy.
With automated field service scheduling, you gain immediate visibility into your entire remote workforce. With automated scheduling, they can see precisely when they're needed without relying on headache-inducing phone calls and texts. With ClockShark, you can also instantly check where all of your workers are via GPS. That means no more payroll fraud and instant optics into your remote workforce.
2. Instant Scheduling and Communication
With the majority of field service companies relying on pen and paper scheduling, it's no wonder that mistakes are common. Payroll errors, scheduling mishaps, and time inconsistencies all directly impact your bottom line. So is it really surprising that around 50% of field service organizations that adopt automation say that it's the single most significant contributor to positive ROI in their organization?
Do you really want to rely on phone calls and static paper schedules? With automated scheduling solutions like ClockShark, you can instantly change schedules via a drag-and-drop interface. Plus, you can blend time clocks with scheduling to make sure that everyone is clocking in when and where they're supposed to be.
Say goodbye to phone calls and hello to rapid, autofire scheduling that instantly alerts everyone to any changes. That's the future of scheduling.
3. Fast and Easy Time Off Approvals
Scheduling employee time-off requests is never exactly fun. But should it really be completely disruptive? In manual scheduling workflows, a single time off request forces you to back and rework the entire schedule. It's a massive pain. With automated scheduling solutions like ClockShark, that pain point becomes a virtual non-issue.
Not only does ClockShark let you build out smart time off and PTO policies within a few minutes using our best-of-breed policy builder, but your employees can immediately see and redeem PTO hours from the handy-dandy ClockShark mobile app. Better yet, all of those PTO requests are automated into your next scheduling workflow, so you can easily work around PTO days without tearing all of your hair out.
It's easier for employers, easier for workers, and better for customers. What's not to love?
4. Eliminating Understaffing
We all know the pains of understaffing. Customers get disappointed, profits erode, and your Tylenol bottle gets drained. In fact, our customers typically place understaffing as their #1 biggest overall scheduling pain point. What if we told you that ClockShark's automated scheduling solution could completely eliminate your understaffing issues?
By combining intelligent automated scheduling with best-in-class time clocks and automated PTO identification, you can immediately gain unparalleled visibility into your entire scheduling ecosystem. That means drag-and-drop scheduling that identifies and corrects understaffing issues easily.
And, when someone doesn't show up, you'll know. Our mobile app lets you immediately ping another technician to grab the call. Imagine it. Never having to deal with annoying understaffing issues again. That's the future of scheduling. And it's right in front of you.
5. Boost Staff Morale
Disengaged, unsatisfied employees cost businesses over $500 billion annually. Keeping your employee morale high and your employee stress levels low are the easiest ways to differentiate yourself from your competitors and breed a positive overall workplace culture. And nothing will disengage an employee quite like scheduling mishaps.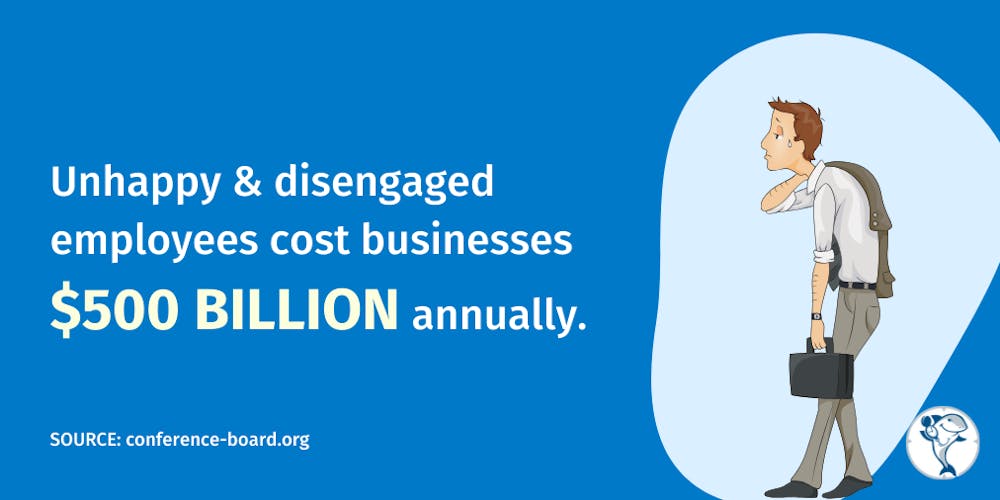 If employees get confused about when and where they're supposed to be, they immediately disconnect. Here's the thing — your employees want to work. They want to help your customers and prove their value. But, over time, scheduling inconsistencies and PTO frictions cause them to give up. Suddenly, you're dealing with employees stealing time, missing appointments, and generally avoiding work.
With scheduling automation, everyone knows exactly where they're supposed to be. That means no more frictions and no more confusion. Plus, even better, your employees can instantly access their paid time off and utilize it when they have an opportunity. Everyone wins.
6. Increase Mobility
How do your employees currently access their schedules? Are they still using paper timesheets in the field? If so, you have an issue. For starters, your employees are having to deal with a mess of paperwork at (and between) each job. Second, you're having to deal with a swarm of unnecessary paperwork that's draining your time. You have a business to run, people to manage, and goals to achieve. Do you really want to absorb all of your time with paperwork?
We didn't think so!
With ClockShark's time clock app, your employees can immediately track and record time on their mobile devices. That means no investment in expensive equipment and no onboarding complicated technology. Better yet, all of that time clock information integrates into your scheduling solution to give you better insights and help you build faster schedules.
That's what we call innovative!
Are You Ready to Embrace Automated Field Service Scheduling in 2020?
ClockShark is a powerful, intuitive automated scheduling solution that integrates a best-in-class app with groundbreaking automation to help you schedule smarter than ever. Are you ready to disrupt your scheduling? Try ClockShark for free today!
Save Time and Money with ClockShark
Thank you! Your submission has been received!
Oops! Something went wrong while submitting the form.