Mobile time tracking is becoming increasingly popular for today's construction and field service industries and there are good reasons for it. Of course, the question of invasion of privacy has come up when it comes to time tracking and GPS tracking but, since these features can be turned off when the employee is off the clock, their privacy is preserved.
Learn how Santa Barbara Forge saves up to 3 hours a week on payroll with Clockshark
It's important for employees to know the purpose of using technology to track hours is not to 'spy' or 'catch' them; rather it is a cost-effective way to improve processes like scheduling, payroll, and even improve worker safety and customer service.
Experts suggest one of the best ways to stay competitive in today's global market is to adopt "emerging technologies and [introduce] new processes, products and solutions" and number one on their list is to "provide legendary customer service." These things are accomplished by using ClockShark's dynamic, cloud-based time tracking solution.
There are many time tracking solutions out there to choose from but ClockShark's mobile time tracking stands out for a few reasons.
Real Time Data
While most time tracking solutions provide incremental GPS locations, ClockShark's technology gives you real-time data throughout the workday on top of clock in/out locations. Our Who's Working Now feature is one of our most popular and is particularly useful for those in the field service industry.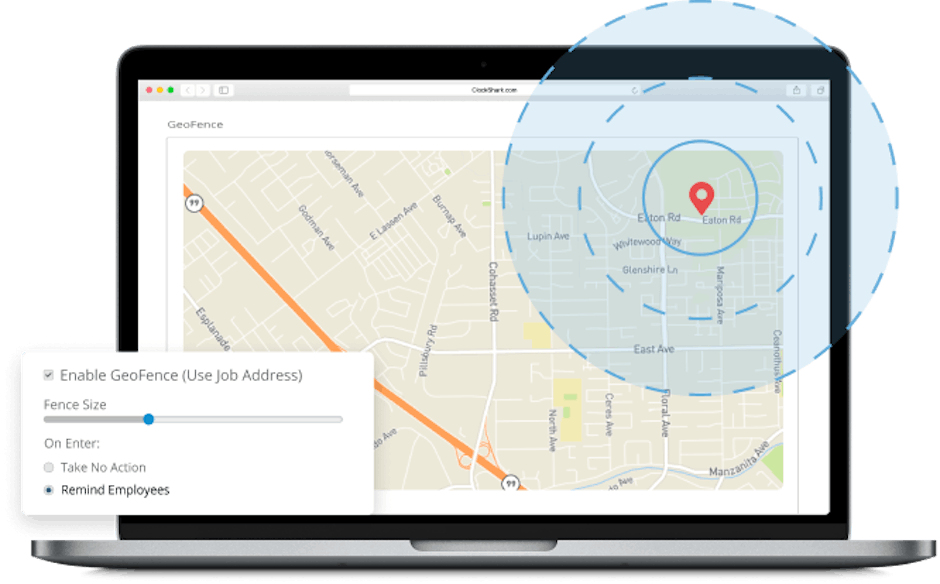 Here's why: When you are trying to build and maintain a professional company reputation, you want to make sure you are picking the right field tech to go to the right job. That means being able to quickly pull up a map to show who is located where, instead of constant phone tag and guesswork.
With GPS tracking, emergency calls and long routes through traffic problems that might make your workers late to a call, are eliminated. This not only saves you time, but money for fuel costs and allows your workers to offer top-notch customer service.
Improved Scheduling
Scheduling for remote and field workers can be a challenge when you don't know clearly how many hours your employees have worked. But ClockShark's scheduling options go further than having a convenient drag-and-drop scheduling system.
Coordinate time and schedules
Combined together, ClockShark's time tracking and scheduling reduces your need to monitor employees' every step and notifies you if an employee doesn't reach a designated job at the time they were supposed to.
Change schedules easily and remotely
You can make schedule changes with ClockShark from your mobile device and notify employees immediately of these changes. They, in turn, can view schedule changes with just a click. No need to call everyone affected by the change!
Navigation
From their schedules, employees can pull up a navigation tool that gives them turn-by-turn navigation to a job. Instead of having to look it up themselves, it's provided conveniently within their schedule.
Avoid unexpected overtime
Overtime numbers add up! A $15-an-hour employee who works an additional 10 hours over 40, will cost you $825 in weekly payroll. When you're able to see how many hours your employees have worked, you can shift the schedule to avoid paying unexpected overtime when you were not aware that your workers were going into overtime hours.
Paid Time Off
For small businesses, paid time off (PTO) has its challenges. ClockShark helps you make quick work of your PTO policies. Within just a few minutes, you can use ClockShark's paid time off policy builder to determine things like:
Time off limits

Carryover hour rules

How and when employees accrue time off if there is a waiting period

Maximum balance limits
You can customize your PTO policy to suit your company and employees can request PTO from their mobile devices which you or your admins can either approve or decline, from the app.
Save Time
ClockShark saves your company time in many different ways. By streamlining your processes like payroll, scheduling, job costing, and more, you can save hours each week. Most of our clients spend only minutes completing payroll and accounting tasks, compared to hours spent organizing and entering information before using ClockShark.
Instead of sifting through illegible timesheets and trying to confirm hours worked, they import the time into their payroll processing and have payroll done in minutes. Their employees receive accurate paychecks, on time, every time.
When it comes to auditing, whether for internal audits or IRS audits, technology like ClockShark helps you run reports and provide accurate information in a quick and organized way. This can save you hours each week.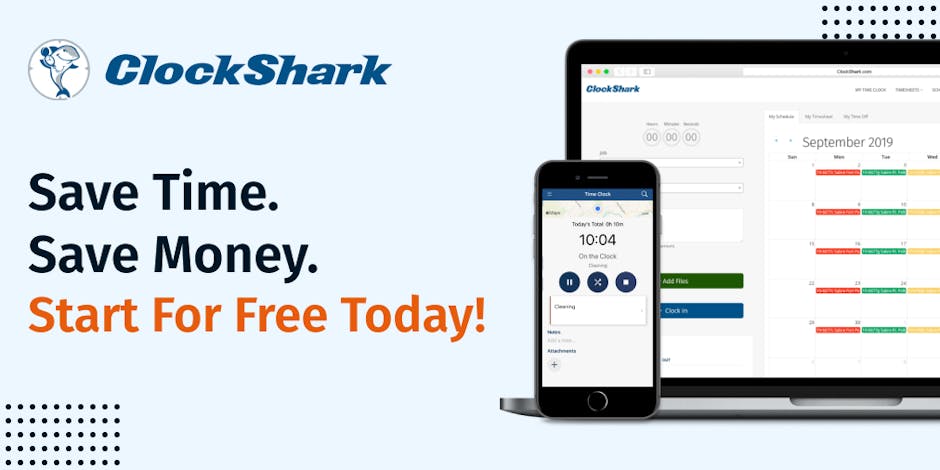 Save Money
The most common problems associated with using paper timesheets for time tracking are:
Buddy punching

Timesheet rounding

Inaccurate information

Illegible timesheets

Missing/damaged timesheets

Time theft

Forgetful employees (who forget to click in/out)
We have seen it frequently with our clients who spend hours of time and countless dollars on inefficient time tracking systems. We are glad to hear reports from our customers who save hundreds - sometimes thousands - of dollars with ClockShark's technology. What was once a costly and time-consuming process, is now easy to manage, cost-effective, and user-friendly.
Saving money is not just about cutting expenses; it's also about increasing revenue. If you're losing bids because your estimates are too high, time tracking helps address this with accurate job costing.
Ease of Use For Construction and Field Service Companies
ClockShark is designed to cater to the construction and field service industries so it addresses many of the challenges and difficulties exclusive to these companies. With an intuitive, user-friendly design, ClockShark helps these companies take control of their organizations in a streamlined, professional way.
Whether you have three crews or 500 field service techs, ClockShark is designed with your company in mind.
Top-Notch Customer Support
ClockShark's sales and customer support specialists are five-star rated from thousands of reviews. When you choose ClockShark, you become a part of a system that supports you when you need it most from the start.
You don't just download the app and blindly maneuver through setting it up. Our people get you up and running, making the most of ClockShark's features in a quick, efficient way.
Cost
ClockShark has different plans available to suit your specific company's needs. Despite having one of the most comprehensive platforms for mobile time tracking available, our award-winning technology is available for as low as $3 per person, per month with a $15 monthly base fee.
That's a lot of power for a small price tag.
Conclusion
ClockShark provides a powerful, comprehensive mobile time tracking solution that is cloud-based and always reliable, at a competitive price. If you are ready to see how ClockShark helps you save time and money, get more organized, and improve your customer service, sign up for a free two-week trial today.
Save Time and Money with ClockShark
Thank you! Your submission has been received!
Oops! Something went wrong while submitting the form.