#1 Timesheet Software for Mobile Workforce
ClockShark's timesheet software gives you all the tools you need to accurately track time and manage the schedules of your mobile workers. By running on both the web and through smartphone apps, these tools are always available and travel with you and your crew. However you need to get your work done, ClockShark is close by.
Timesheet Software That Travels on Your Smartphone
You have employees that need to move around to get their work done, so how do you make sure that the tools they need for time tracking and scheduling are there when they need them? Easy. Timesheet software that runs on your employees' smartphones. ClockShark has mobile time card apps for both Android and Apple phones your employees can download and use for free. Now the phone in their pocket is theirs always up to date schedule and time clock. You can roll out the employee timesheet software to everyone without buying any new or specialized equipment.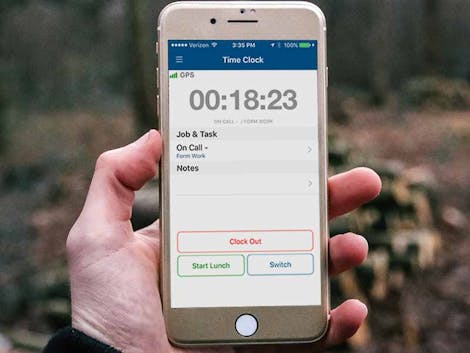 Web-Based Timesheet Software
While some of your employees may need to travel, some spend their time at a computer. For these people, opening a new tab in their web browser is faster than digging their phone out of their pocket. This is where ClockShark's web-based timesheet software shines. The web punch clock has the same easy and intuitive tools you get on the mobile apps with an experience optimized for a bigger screen. Employee can clock in and out, switch tasks, go to lunch, view their schedule and their timesheet all from one screen. Whether your crew is on the go or working in the office, ClockShark is there.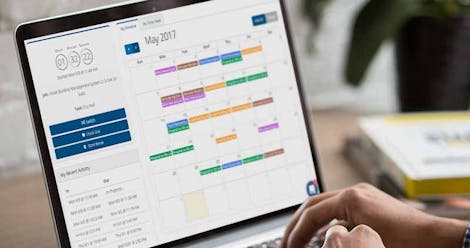 Automated Timesheet Software = Easy to Use
Why do more work than you have to? ClockShark's employee timesheet was built to do as much for you as it can so you spend less time typing and more time doing real work. Whether on the web app or the mobile apps, times are pulled from the device so your employees don't have to type it in. This makes the time more accurate. No more estimates, entry errors or rounding. More accurate and faster? That's a win-win for sure.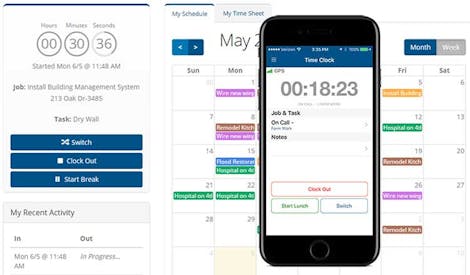 GPS Locations Automatically
Just like device time, a GPS location from the phone is automatically included with every time punch from the mobile apps. It all happens in the background so your employees don't have to do anything. You'll be able to see all the time punches on a map so you'll know who was where when they clocked in or out. You can even see it all in real-time using the "Who's Working Now feature". That's next level timesheet software!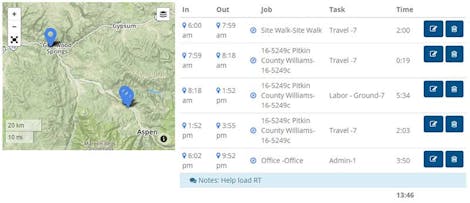 Have Scheduling with Your Timesheet
Timesheet mobile software is all about time, so including scheduling just makes sense. After all, schedules are timesheets in the future. Like everything else, our employee scheduling tool was designed to be easy to use and powerful. Set up schedules by dragging an employee or job onto the calendar. That's it. The schedules and any changes to them are automatically sent to all the mobile apps, so everyone can always see their up to date schedule. You can even notify anyone affected by a change in the schedule with the click of a button. Frantic phone calls and text messages to update employees about schedule changes is so last century. Welcome to the future of timesheet software.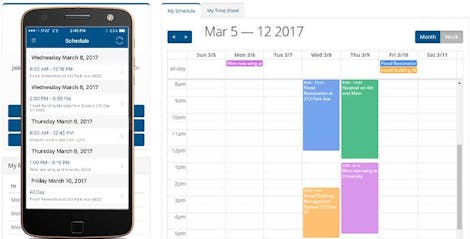 Max‍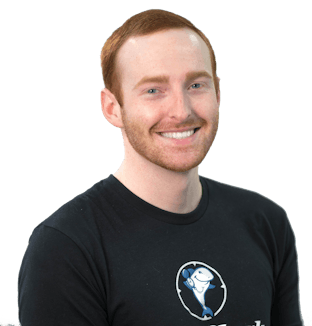 All Plans Include 5 Star Support You'll Love
Not sure which plan is right for you?
Or Call Us at (800) 828-0689
Or Call Us at (800) 828-0689