If your employees don't have smartphones or don't want to use their personal devices to log their hours, that's okay. ClockShark's KioskClock™ works just like a traditional timeclock - but it's mobile.
Clocking in and out multiple employees using KioskClock™
If you or your employees don't have or want to use their personal devices, KioskClock™ is the perfect solution
One device for all employees
Replace old, outdated wall clocks with a single device that can be stored at any job site, in a vehicle, or at the office. Anywhere you have workers. Each employee is given a Personal Identification Number (PIN) unique to them so they can clock in, clock out, take breaks, and log their hours on each job or task, just like the mobile time tracking app.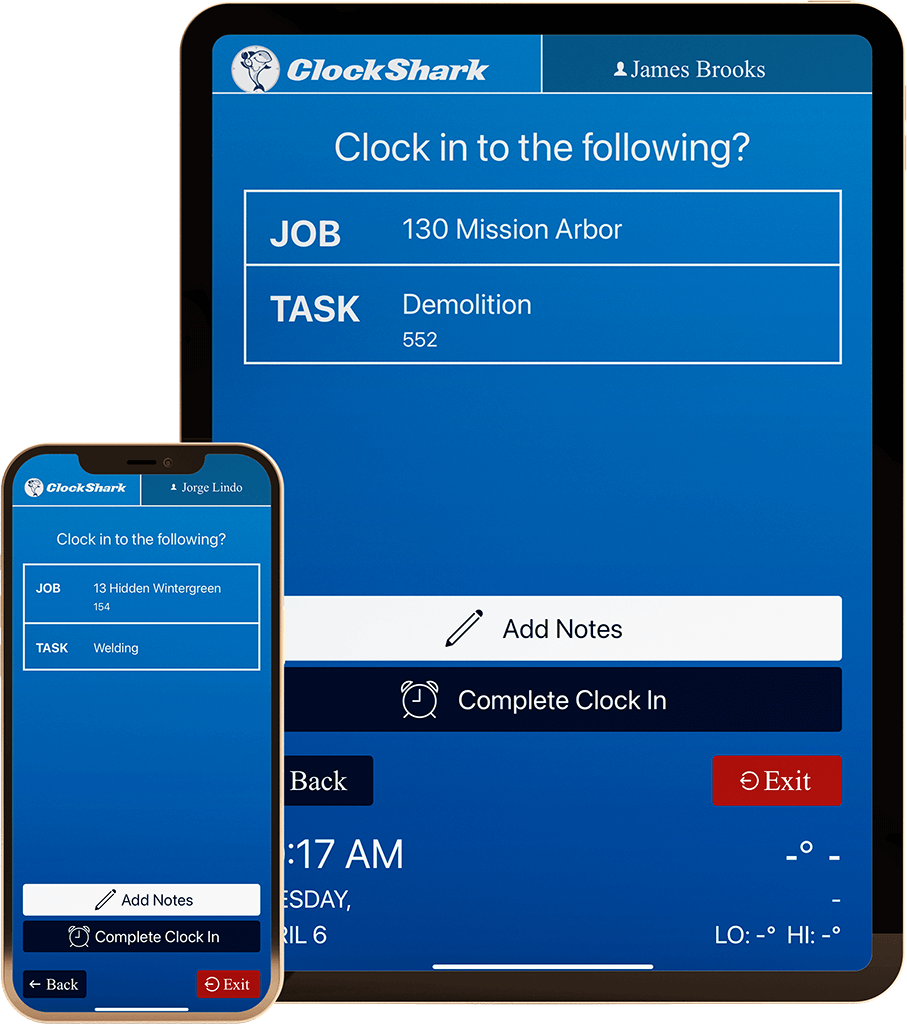 Eliminate buddy punching
KioskClock™ comes with facial recognition technology so you never need to worry about buddy punching again. Simply enable facial recognition within KioskClock™ and the device will take a snapshot of the person clocking in.
Get accurate job costing
With KioskClock™, you'll get accurate records of the jobs your employees worked, who did them, and how long they took on each task. You'll have more accurate information so you can provide better estimates for future projects.
How does the KioskClock™ work?
Any tablet or smartphone can be used as a timeclock. Employees use their assigned PINs and can clock in or out, switch jobs, and switch tasks.
You can set up a KioskClock™ in five easy steps:
Go to the ClockShark administrator dashboard and select "Allow clocking in using KioskClock™ via mobile"

Assign four-digit PINs to each employee

If you want to use facial recognition, select "Require photo capture with facial recognition"

Install ClockShark on whichever Android or iOS smartphone or tablet you plan to use for KioskClock™

Select KioskClock™ from the menu and enter your PIN to launch it
Your selected device can be mounted on a wall, passed around to everyone on the jobsite, or carried it in a truck. Any employee can clock in from any Kiosk.
Who can use the KioskClock™ feature?
KioskClock™ is ideal for any worksite - whether it's out in the field or in the office. Any employee with a PIN can use the KioskClock™ to clock in or out, take breaks, and log their jobs and tasks throughout the day.