Time Card App for Accurate Employee Tracking
Eliminate buddy punching, time theft, and other payroll issues with time card app
Easy to use
No training needed
Get 100% accurate timesheets, every time
Get Started Free

ClockShark is trusted by more than 9,500 companies and over 100,000 field service and construction professionals worldwide.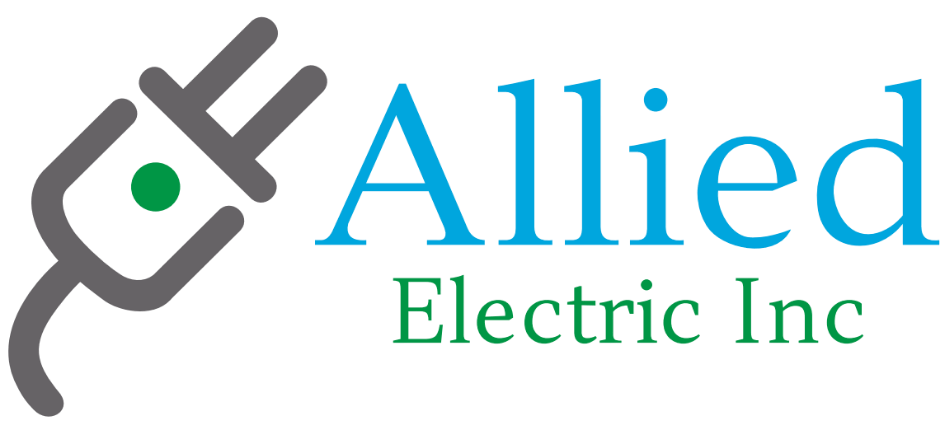 Traditional time clocks are clunky, hog paper, and look like deformed cuckoo clocks on the wall. So we modernized the time card app and created Kiosk Clock. Transforms any mobile tablet or smartphone into a sleek time station where multiple employees can clock in and out using an easy 4-digit PIN. It protects against buddy-punching, while it providing accurate time tracking for your employees in the warehouse, office, or shop.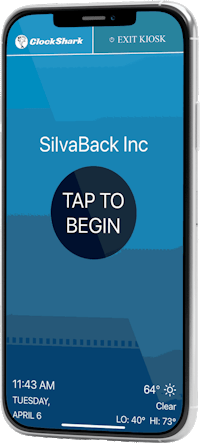 When an employee cannot clock themselves in, Crew Clock allows a trusted supervisor or manager to clock in and out for employees using their own device. With Crew Clock, one person can start and end shifts, and manage breaks for any employee. All in seconds! Employees may forget their phones at home. Or clumsily cover it in wet concrete. But with a crew timesheet app, they'll never be without their time card.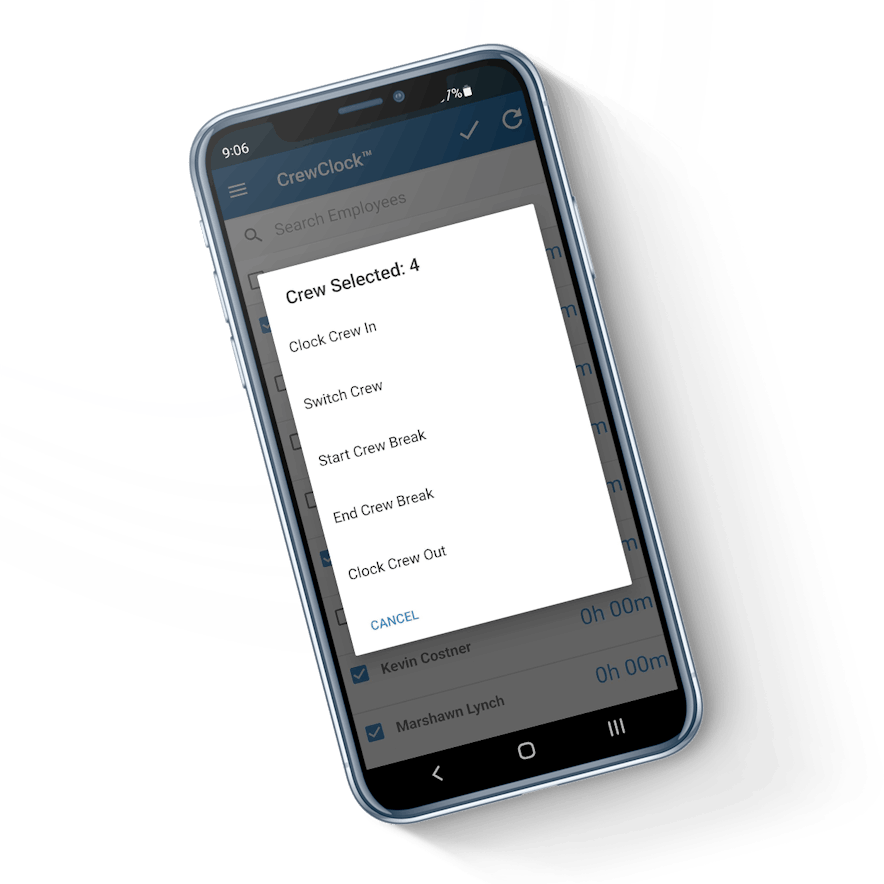 After employees clock in and out from the time card app, you'll be able to quickly and easily review and edit time cards from the ClockShark website. One thing we've heard over and over again from customers is that it's important to keep things easy and simple. So, editing time cards in ClockShark is simple, clean and fast. You're going to love ClockShark.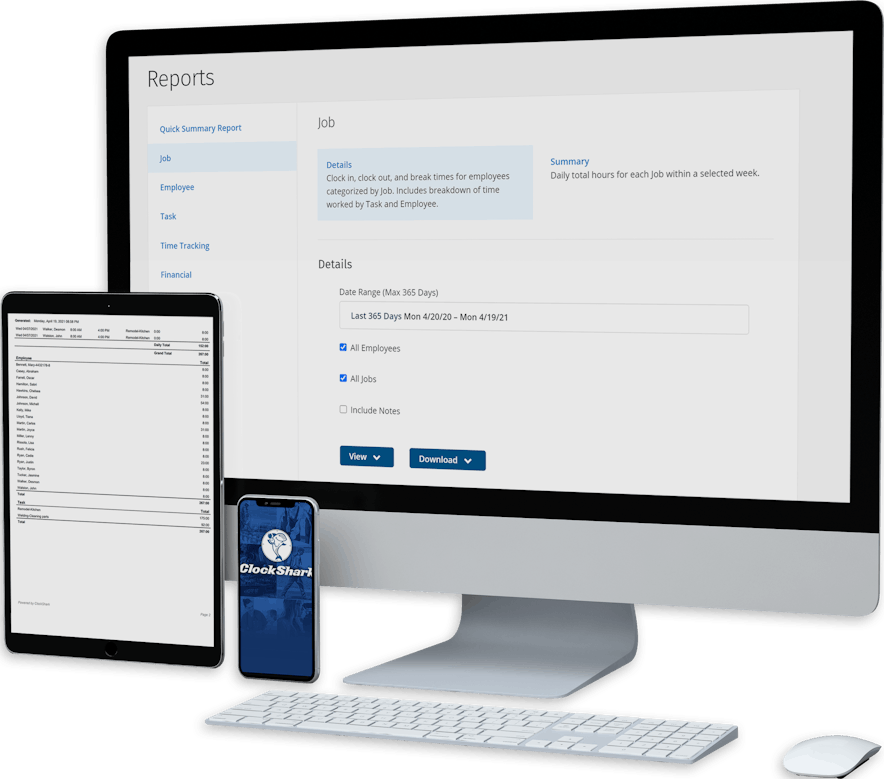 Have you ever wondered where your people are when they're on the clock? It's a bad feeling not knowing what's really going on in the field. With ClockShark you'll get the GPS location of your people when they clock in, clock out, as well as when they change Jobs or change Labor Tasks. With the GPS tracking feature, you'll also get 3-4 locations per hour so you can make sure they're staying where they should be. Keeping things fair is important. ClockShark has you covered.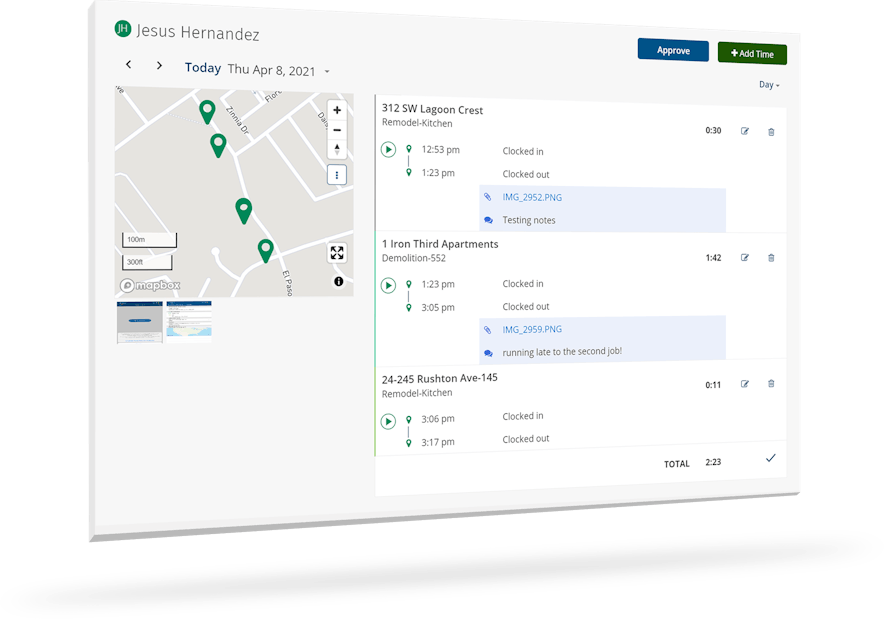 With ClockShark, you can manage and schedule your crew online. Employees will get their schedule right on the same time card app they use to clock in, so they'll know what jobs to report to each day. They can even navigate right to the address of the jobsite. No more texting or calling employees with schedule updates. You've got that automated with ClockShark now. You can get to spend your time on other parts of your business.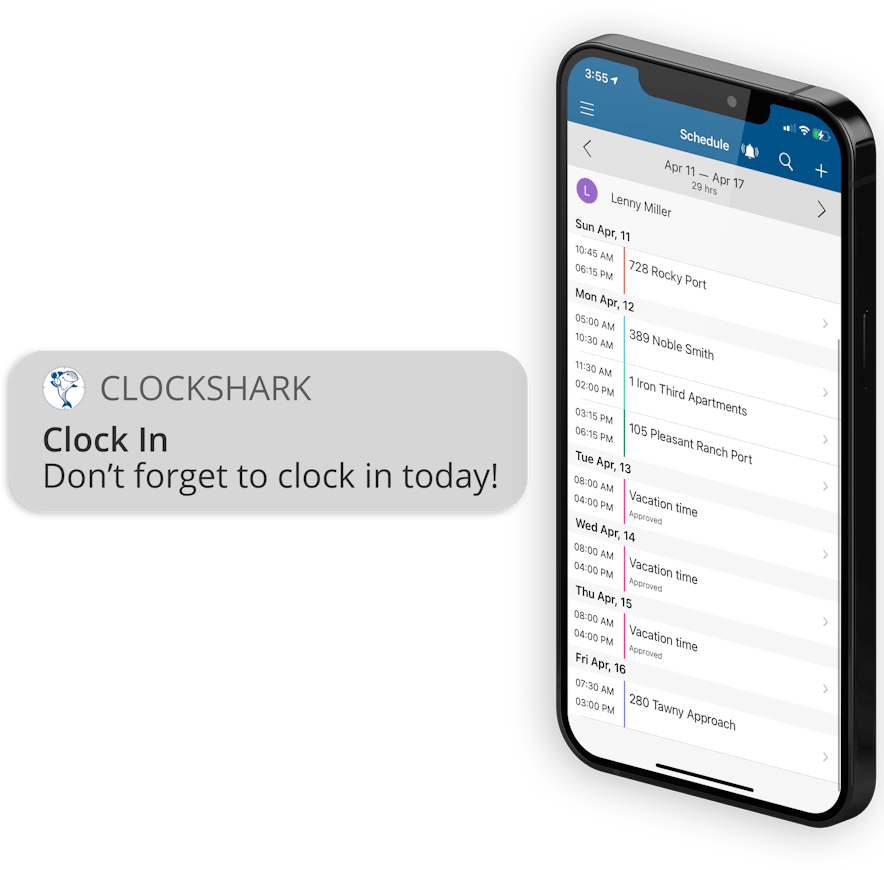 "The GPS tracking feature of ClockShark is exactly what we needed. The ability to know when and WHERE they were clocking in and out was paramount in our decision."
9,500+ companies use ClockShark to track employees and save time every month.