Remote work and telecommuting are nothing new. In fact, since 2005, Global Workplace Analytics reports the practice of employees working full- or part-time from home has increased by 173 percent since 2005 and over five million workers now do it.
Because of this, the need for time tracking remotely arose, and companies have begun using time tracking technology to monitor their workers' hours.
For construction and field service companies, the adoption of this technology is slowly taking hold. The Field Services Benchmark Survey found that 81 percent of field service companies have implemented GPS time tracking technology. Doing so has reduced their response time by 36 percent and travel time by 40 percent.
For construction companies, adopting technology is becoming increasingly necessary to stay competitive and profitable. If you are still entering handwritten hours onto a spreadsheet, you could be missing out on the benefits of a time tracking app. If you're still boasting that old wall-mounted time clock, read on to find out a few of the benefits of abandoning the old practice.
1. Mobile Time Tracking Gives You Extra Time
Construction and field managers - especially owner-operators - have almost no time to focus on improving their bottom line. If they're still using paper timesheets and time clocks, they're probably pulling their hair out when it's time to collect employees' hours.
Missing, inaccurate, damaged, and illegible timesheets are a headache to sort through and interpret. How many times have your employees forgotten to clock in or out? When you're spending all that time tracking down the right information, you're losing time that could be spent nailing down new jobs or finding new customers.
Companies that adopt timesheet apps can save hours per week, depending on the size of their workforce. Imagine what you could do with that extra time.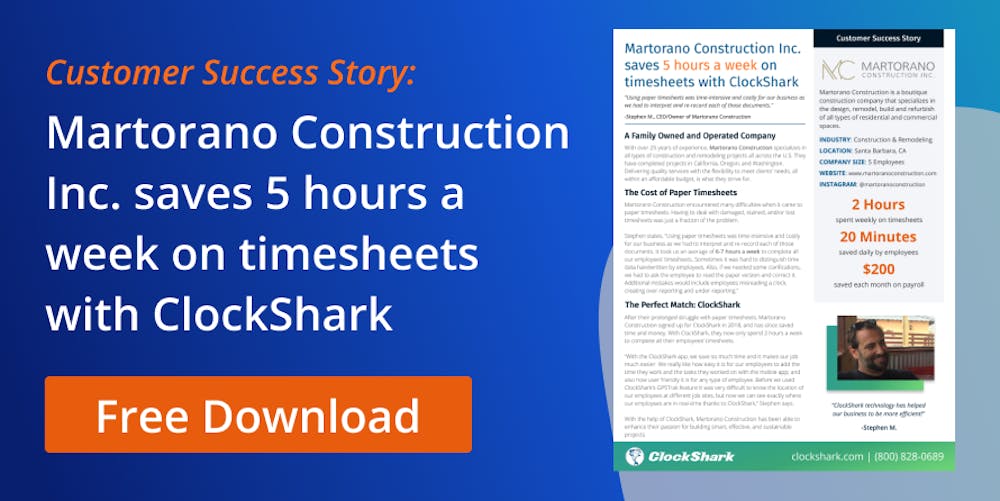 2. Time Tracking Increases Profits
Depending on the size of your company, you can save hundreds to thousands of dollars a month with a good time tracking app. From avoiding time theft and unintended overtime pay, to increased productivity and less administrative hours, time tracking helps increase your profits in several ways.
With those profits, you can reinvest in your company and continue to grow. Imagine spending less on payroll and administrative tasks, and more on your company.
3. Improved Efficiency & Customer Service
Not that all field workers and crew members are unreliable but having time tracking software helps you to hold them accountable. Gallup reports that much of project failures happen because the workers do not have an emotional commitment to them.
Time tracking gives them that sense of urgency and a buy-in that challenges them to do their jobs quickly and effectively. It helps to keep them - and you - organized and on top of where each job stands. It can also help you find weaknesses you weren't aware of, and address them accordingly.
With mobile time tracking and GPS, you can also help shorten drive times and reduce fuel costs, while also providing quicker response times when customers call for service.
When customers see your field workers and crews using technology to get their jobs done, it gives them a sense of security and improves your professional image.
4. Time Tracking Improves Job Costing
It's not common for projects to happen on time, on budget, every time. Part of the reason for this is a lack of accurate job costing. Since you can't be everywhere all the time, time tracking helps.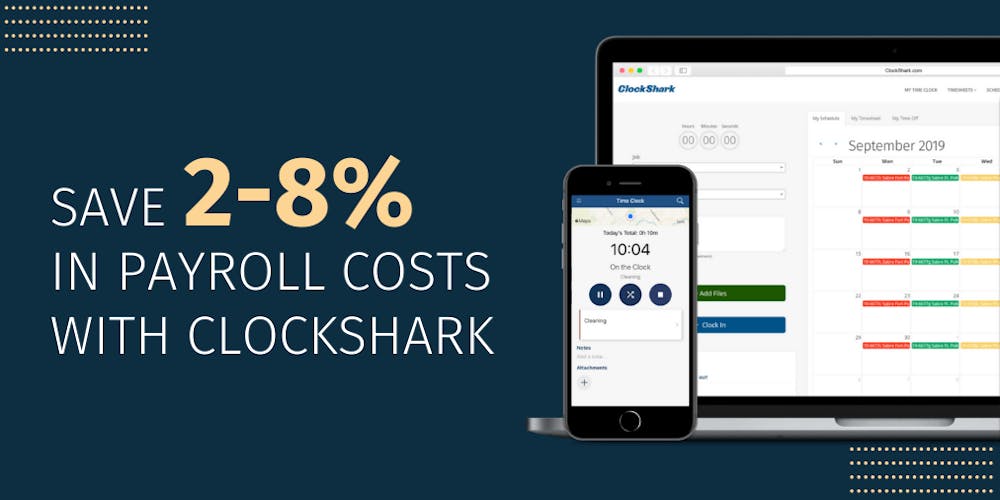 Old fashioned time clocks meant employees coming to the office to clock in and out without having an accurate record of where their time was spent. With a mobile time tracking app, you can more accurately track how long a job takes so when that potential new customer comes asking for your best price, you can feel confident in your bid.
5. Time Tracking Makes Scheduling Easier
For companies with multiple crews, fleets, or job sites, scheduling is a nightmare. Keeping track of who is where; who's closing in on overtime; who can cover the guy who just called in sick… All of these things throw a wrench into scheduling.
For field workers and crews, it's even more challenging. You're often on the phone, trying to chase down who is working, where they should go, and who's got too many hours.
With a time tracking app, you can make all schedule changes in a convenient drag-and-drop way and notify your workers on their phones of any changes. Create or edit the schedule right from your desk and avoid mistakes or unintended overtime.
Conclusion
Today's companies are increasingly adding tech to help them become more successful and grow. Experts report that field service and construction companies are beginning to use solutions like GPS tracking, time tracking, reporting, and more to "provide significant savings with less rework for construction operations with improved quality and productivity."
Whether you want to make payroll easier for yourself and have more free time, improve your customer service and reputation, or increase your profits, time tracking will make your life easier than using those old, outdated handwritten timesheets and time clocks.
If you want to learn more about how ClockShark's mobile time tracking app can help you, reach out to our five-star support any time or sign up for a no-risk, 14-day free trial today.
Save Time and Money with ClockShark
Thank you! Your submission has been received!
Oops! Something went wrong while submitting the form.