Using a bunch of different apps and programs to run your business can become hectic. Even worse, if you're doing manual data entry, your risk of human error is between 18 and 40 percent, according to research done by Raymond R. Panko. For complex spreadsheets, that risk factor jumps to 100 percent.
So if you're doing quotes, invoices, and payments in traditional or outdated ways, you're probably losing money and wasting a lot of time. That's frustrating.
Imagine having the ability to send quotes, create invoices based on those quotes, and collect electronic payments for those invoices. And imagine doing it all from the same place where you communicate, track hours, do job costing, and more.
Imagine no more.
ClockShark has rolled out Quotes, Invoices, and Payments to help you streamline your workflows and get those invoices paid. Here is everything you need to know about Quotes, Invoices, and Payments and how it will make running your business even easier.
What Is Quotes, Invoices, and Payments?
What started as a simple way to track time accurately and easily create schedules, has evolved to become an all-in-one toolkit that allows you to run your construction or field service business much more efficiently. Quotes, Invoices, and Payments is the result of the expansion of ClockShark's time tracking and scheduling system.
Quotes, Invoices, and Payments is an integral part of this all-in-one toolkit. It allows you to connect each step of a job in one place, streamline, your workflows, and simplify processes. Every job starts with a quote, then the job gets done, then the invoice is sent out, and the payment is collected.
Quotes, Invoices, and Payments will help you do all of those things in a simple, easy-to-use, all-in-one toolkit.
Here's a rundown of how they each work.
Quotes
One of the biggest challenges with submitting a quote is ensuring it's the right amount. Whether you're doing commercial, residential, or governmental work, you need to be able to accurately predict at least a ballpark figure of what the job will cost or you risk underbidding the job and losing money.
Conversely, overbidding a job can lead to losing that lead.
You also risk losing the bid if your quote takes too long to reach the customer so being able to quickly send a quote via email to a potential customer as soon as they inquire about your services, further increases your chances of landing that job.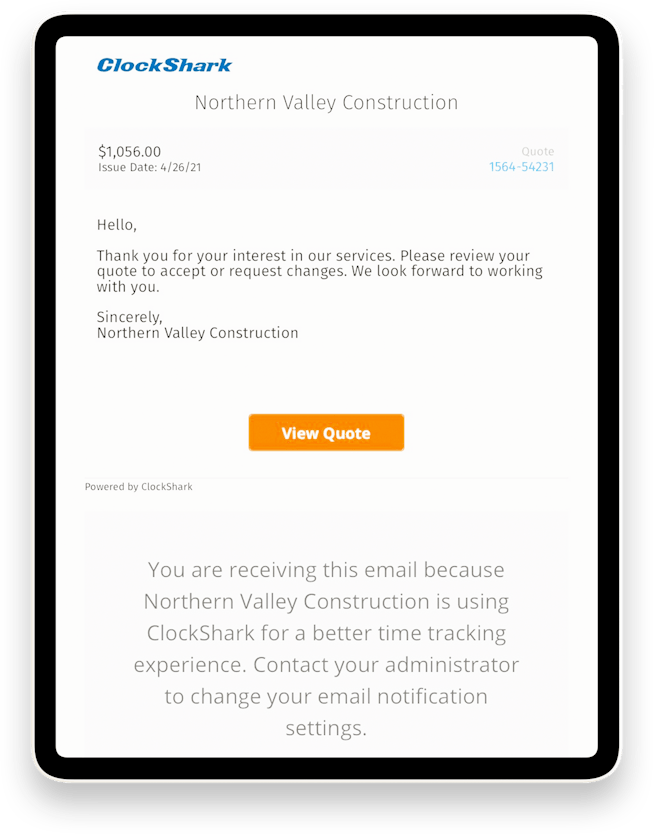 Ultimately, it comes down to having the right information to include on your quote - from labor and materials to parts and rentals - so you and your customers understand exactly what the job entails. This not only helps you create an accurate estimate, but also builds trust between you and your customer because they can see each line item and understand the numbers behind your quote.
Quotes allows you to input line items, their quantity, and their prices and tally the total up automatically. You can also assign tax rates to taxable items and attach any supporting documents. Each quote is assigned to a customer or job so there's no confusion.
Once the quote is completed, you can submit it to the proper customer via email. The quote will stay in the "Pending" stage until it is either approved, not approved, or changes are requested. In any case, you'll receive a notification and, once approved, you can get started on the job with confidence.
Invoices
After the job is completed, the next logical step is to bill for the work done. You can create an invoice directly from the quote you submitted which will automatically transfer all of the line items from the quote to the invoice.
Since you have the time tracked in ClockShark already, you can simply transfer the exact labor hours worked into the invoice, saving time and eliminating the risk of inaccurate data.
If you didn't have a quote for the job - or need to add additional expenses associated with it - simply add line items, their prices, and quantities to the invoice, attach any supporting documents, and email it to the customer. You can also assign tax rates to applicable items so they're automatically taxed. Each invoice is associated with a particular customer or job, which will make sending the invoice even easier.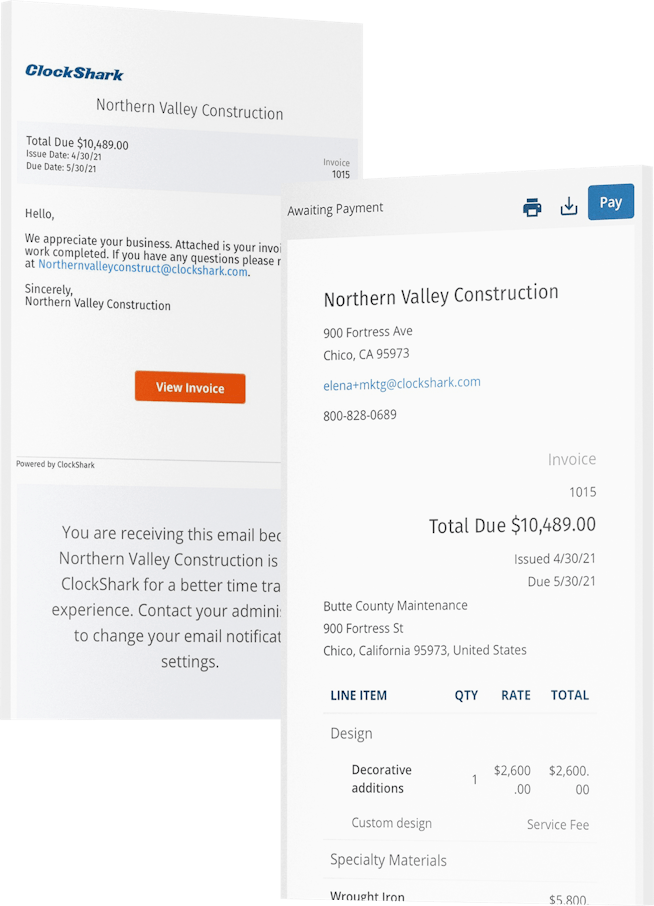 Once it's sent, your customer receives an email with a weblink to click to view the invoice. When they click the link, they'll be sent to a webpage where they can review the invoice and also have the option to make an electronic payment with a credit or debit card.
You can set the invoices to specific stages:
Awaiting Payment

Past Due

Paid

Bad Debt

Canceled
In cases where the invoice is paid electronically, the status will automatically update to "Paid" and you can manually change these statuses anytime you need or want to.
Payments
Getting payments is sometimes tricky in construction and field services. How often have you been frustrated by having to wait for payment for a job well done? The ability to collect payments electronically makes these scenarios much less frequent.
The payments made electronically, are done through a partnership with Chase bank and the funds will be directly deposited into the bank account you set up. Aside from the benefit of everything being simple to do right from the computer, you're also making it more convenient for your customers to make a payment without having to drag out an outdated checkbook and mail it to you, which means faster payments for you!
Get More Data
Quotes, Invoices, and Payments is an important aspect of the ClockShark all-in-one toolkit because it starts with the very beginning - quotes - and moves with you throughout your projects from start to payment. What's even better is the Quotes, Invoices, and Payments works within ClockShark so you don't have to have a bunch of different apps to get your business going and stay profitable and competitive.
With the new data you collect, you'll have access to even more reports that will further help you stay on top of your profits and losses, your workers, your company, and, ultimately, your bottom line.
Since it's been developed within ClockShark's all-in-one toolkit, it works with all of the great functionality we've built, including powerful tools like JobFlow™, time tracking, scheduling, communication, and everything else that is a part of ClockShark.
Save Time and Money with ClockShark
Get started in under a minute with no credit card
Thank you! Your submission has been received!
Oops! Something went wrong while submitting the form.