Mobile Time Tracking
Turn employees' smartphones into paperless timesheets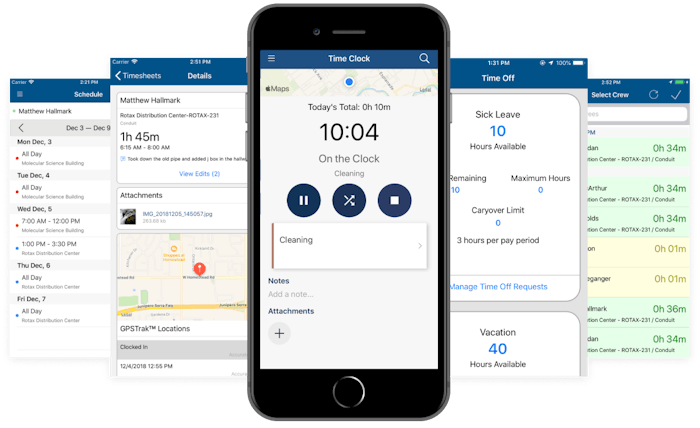 Let's face it, tracking time accurately in the field is tough. Paper timesheets are an inaccurate mess, and you're probably feeling sick of them. With ClockShark's free mobile time tracking apps for Apple and Android, your employees' smartphones become robust, yet easy to use mobile time clocks. Your team can switch tasks, take breaks, go to lunch, send you notes, and clock out. It's easier than paper timesheets… and faster too. Everything is designed to be so easy that no training is needed. Open the app, pick a job, pick a task, and push clock In. It's that easy.
Dead Accurate Data Keeps Your Business Alive
Having an accurate, reliable time tracking data in real-time is the difference between profit and loss. Labor costs are likely one of the biggest drivers of risk for your business. Rounded, delayed time records and estimated work progress doesn't cut it. Payroll, job costing, daily scheduling, and project management all demand accurate data, now. With ClockShark's mobile time tracking, you can process payroll accurately and quickly, with a few clicks. Your job costing will go from guessing to right on! You can schedule workers with confidence that they aren't in overtime. You can make crucial decisions about your project based on labor costs.
Just Download and Log In. No Special Equipment Needed
You don't need specialized equipment to use ClockShark. That means you can get started testing ClockShark for free without buying anything. You'll set it up and run it through a web browser. The ClockShark website is accessible from any computer, laptop, or tablet. Whether you're at the office, at home or sitting on a beach, you can get to your account. You don't need anything special to use ClockShark in the field, either. Download the Apple or Android mobile app to set up any smartphone as a mobile time tracking tool.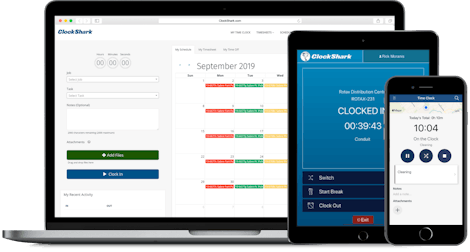 Ready to save hours of your time and 2-8% on labor costs every payroll?
Get started with easy time tracking in under a minute with no credit card
Not Everyone Has a Smartphone. So You Have CrewClock™
Almost everyone has a smartphone. But not everyone. That's no problem with ClockShark. The CrewClock™ feature lets supervisors or foremen in the field clock time for their whole team. Punch the clock for one guy, for a few of them or for the whole crew. You can switch jobs and tasks for them, too. You've got control over all your time punches. Feels good to be in charge, doesn't it?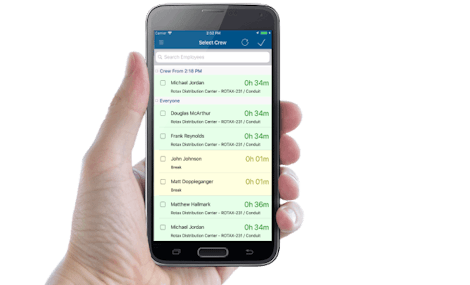 Replace Doubt with GPS-Powered Truth
You may know how it feels to wonder where your crews are and be constantly concerned about losing money on time theft. With ClockShark's GPS, you'll always know where your workers are when they're on the clock. You'll know immediately if your crew is at the right job site, and you won't even need to ask them. You'll also get a clear breadcrumb trail of locations during the day, so you can watch where employees go while they work. No more doughnut shop clock-ins, unless they're picking up breakfast for the crew. Got an emergency service call? Find out who's closest with a click. Dispatch them from the Scheduler and send them the address to navigate to. Air traffic controllers have got nothing on you!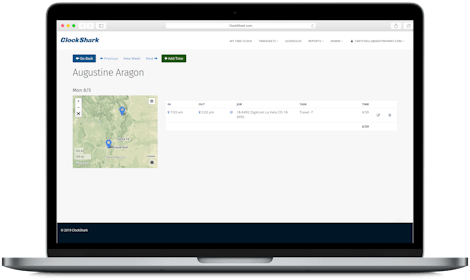 Remind and Alert Workers with Notifications
Need to remind people to clock in or out on time? You can automatically send employees a notification via both email and mobile push notification before their shift starts or ends. Got a last-minute change to the schedule? No problem. Update the schedule on the website, and then with one click, you can notify anyone affected. No more frantic phone calls or text messages to spread the word. Need to remember to pick up milk on the way home? Just kidding, we can't help you there!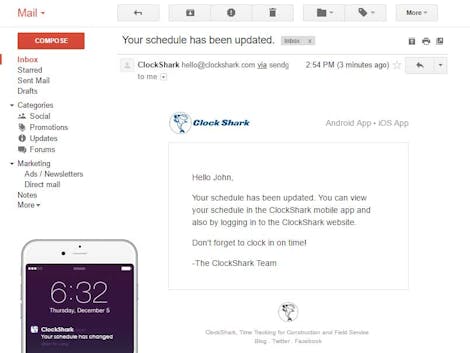 Works Great Even 100 Miles From a Cell Tower
We get it. Sometimes your job site doesn't have a good cell signal. That's why ClockShark mobile apps work great offline. So when your employees are 100 miles from a cell tower, they can still track time. The ClockShark mobile app stores their times and GPS locations until the signal comes back, then syncs automatically. You could build apartments at the bottom of the ocean and still track time with the ClockShark mobile app. You probably wouldn't want to, but you could. Our apps know no bounds.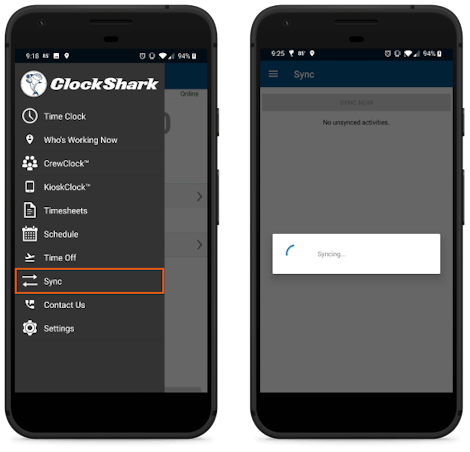 Max‍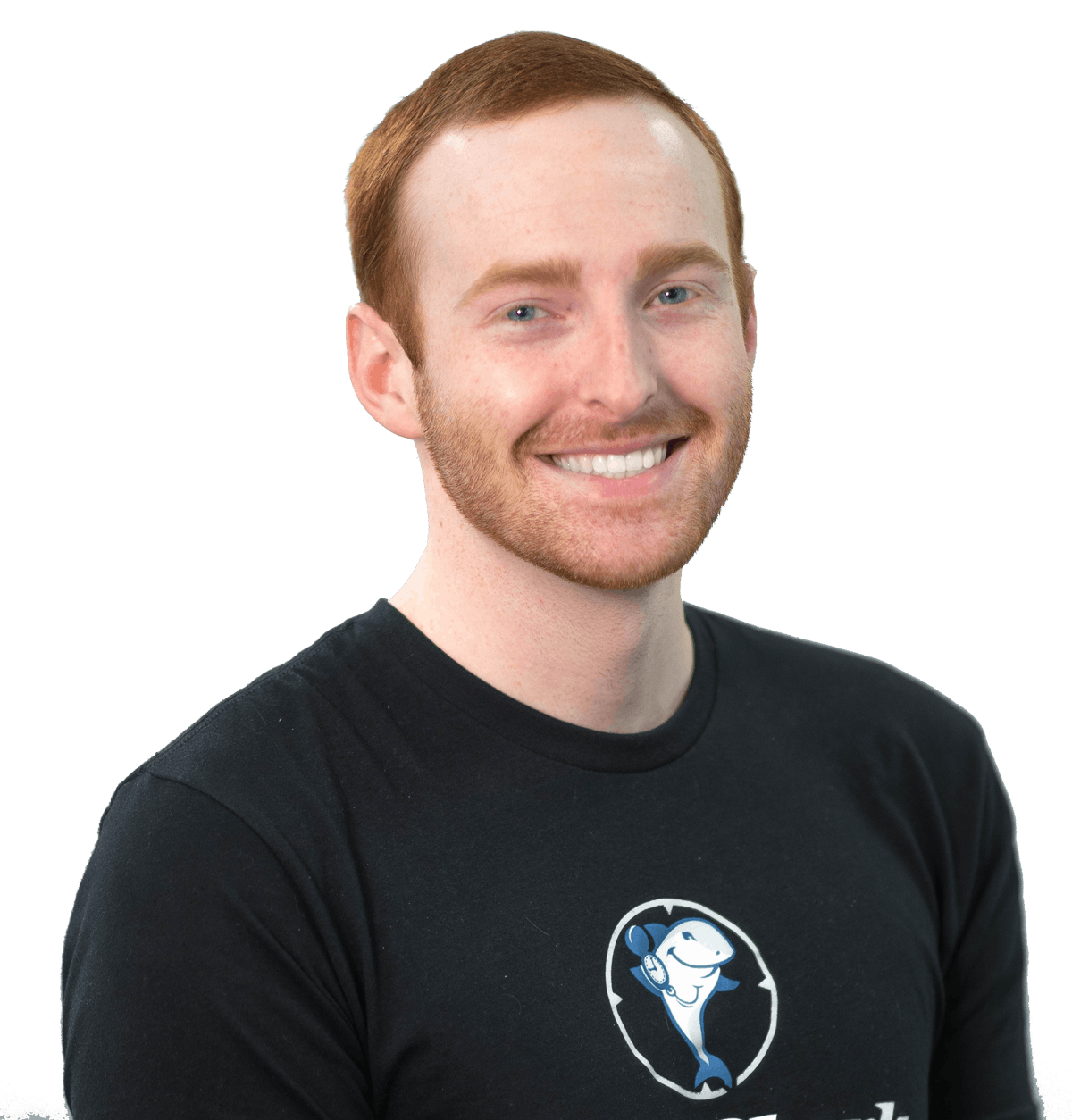 Talk to us
Start your free trial today and get personalized support as you set up ClockShark for your crew. We'll help you every step of the way.
Or Call Us at (800) 828-0689
Or Call Us at (800) 828-0689
Ready to save hours of your time and 2-8%
on labor costs every payroll?
Get started with easy time tracking in under a minute with no credit card
Thank you! Your submission has been received!
Oops! Something went wrong while submitting the form.
More features, more to love