In the midst of the COVID-19 pandemic, government officials are enforcing quarantine measures to help slow the spread of the virus. These new guidelines are affecting the way that businesses operate. Many field service owners and managers are trying to survive the quarantine stage, as well as keep their employees safe.
We understand the challenge that you are facing and the impact it is having on daily operations. While this is a trying situation to manage, we want to see you succeed! This survival guide will outline actions you can take to help handle the quarantine.
Survival Tips for Field Service Companies
1. Stay calm
Even in times of crisis, it's important to maintain composure and avoid making any drastic decisions. Taking a step back and making a calm assessment of your current situation and the resources available to you is a good first step. From there, you can work on creating an action plan and implementing new procedures to help fit the needs of your business. We know this is an uncertain time. Start by understanding your needs and then focus on what you can control.
2. Government Resources
In an effort to help companies weather the storm, the federal government has enacted two pieces of legislation that can be beneficial to companies who are losing income during the quarantine phase.
The Families First Coronavirus Act (FFCRA) was developed as an extension of the 1993 Family and Medical Leave Act. It provides protection for employees who meet certain criteria relating to COVID-19. Its primary purpose is to serve employees who are directly affected by COVID-19 by guaranteeing they will not lose pay if they need to take time off (up to 80 hours or 10 days). However, the FFCRA offers tax credits to help cover the cost of paid leave taken for Coronavirus-related issues. Additionally, companies with less than 50 employees may be exempt from the requirement of providing paid leave. If you need detailed information on the FFCRA it is available through the Department of Labor.
As part of the CARES Act, the Paycheck Protection Program (PPP) allows any business with 500 or fewer employees to apply for a low-interest loan to help cover costs. The amount you can qualify for is dependent on your payroll costs. The loan will be issued for up to two months of your average payroll costs plus an additional 25 percent.
The loan comes with an interest-free deferral period of six months and has a fixed interest rate of 1 percent. This loan can become a grant that businesses will not have to repay if at least 75 percent of the loan amount is used for payroll costs. Forgiveness will be reduced if your full-time headcount declines or if salaries are decreased. As of April 16th, the PPP reached its funding limit. However, the SBA will resume accepting Paycheck Protection Program applications from participating lenders on Monday, April 27, 2020.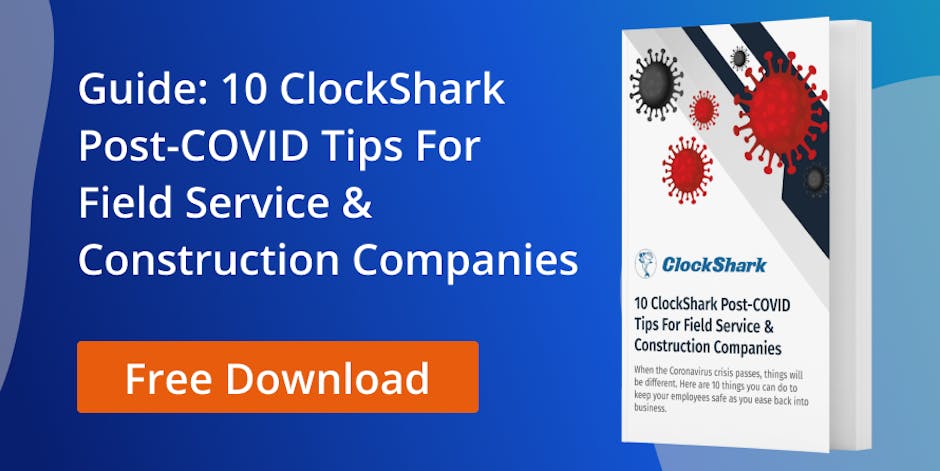 3. Financial Plan
In the event of a disaster or catastrophe, it's important to have a plan in place. A Continuity of Operations Plan (COOP) could help you determine your needs and implement a process in light of the impact of COVID-19. The purpose of a COOP is to help develop a framework for continuing to do business, determine essential personnel and departments, and to help lessen your financial burden during a crisis.
You can start to develop a plan by collecting information such as:
Risk analysis

Financial Analysis

Important contact information

Essential functions

How to control key operations during a shutdown
Develop a team of key personnel that will help in implementing the plan. Utilize these recommendations from OSHA to keep employees safe while operations continue. We have compiled a detailed resource on how your company can utilize a COOP to shift the way you are doing business through the pandemic.
4. Improve On-Site Safety
COVID-19 can be spread by those who are infected through droplets, which includes coughing and sneezing. Additionally, these secretions can come in contact with other surfaces where the virus can remain contagious for hours or even days. There are measures you can take to help protect your workforce and contain any infections amongst your employees.
Keep temperature logs
Early detection can help minimize the risk of an outbreak among your employees. Rather than oral thermometers, infrared digital thermometers can be safely used to measure temperatures without contact. It's best to take employee's temperatures before the start of their shift, on their lunch break, and at the end of the day. Keep a log and have a plan in place if anyone develops a fever.
Require Masks and Gloves
The CDC now recommends that while in public you wear a mask. This not only protects you, but a mask can help reduce the spread of droplets to others if someone is infected. While personal protection equipment is in short supply, if you are not able to order masks you can ask your employees to make their own at home.
Crew members can protect themselves by wearing their work gloves at all times while on-site. Make sure that all employees understand the importance of not touching their face while working. Advise your staff to wash their gloves with a bleach solution for the next workday in order to disinfect them.
Implement Six-Feet Markers at Workstations
COVID-19 spreads in close quarters, and maintaining a safe distance between crew members can help prevent the spread of the virus. Allowing six feet between workstations can reduce the risk of spread through sneezing and coughing. You can implement this system by assigning crew members who will be responsible for measuring out work areas each day. These workstations can be designated by tape, rope, or even with cones.
Utilize GPS Tracking Technology
For the safety of your employees, the ability to track location is paramount. If you experience a positive case among your workforce, having detailed information about where they have been and who they have been in contact with can help contain exposure quickly and accurately. Using a GPS time tracking system eliminates the need to come into an office or for employees to handle and pass along paperwork to others. If the system integrates into a payroll system, this allows your administrative team to continue to issue paychecks, even remotely.
With ClockShark GPS Time Tracking you can set up Clock-Out Questions for employees. This can allow you to ask COVID-19 related questions such as, "Did you come in contact with someone who was showing symptoms?". Access to this information ensures you have a quick response time to issues and creates documentation to track incidents and exposure.
Save Time and Money with ClockShark
Thank you! Your submission has been received!
Oops! Something went wrong while submitting the form.
5. Empower your administrative team to go remote
While not all of your workforce is able to work remotely, there are likely some who can. Utilize platforms such as Zoom, Google Hangouts, and GoToMeeting to keep your administrative team connected and working away from the office. Ensure that lines of communication are kept open while allowing staff to work from home. Set up clear outlines of a chain of command and consider implementing regular meetings with supervisors, administrators, and your management team to help keep everyone on the same page.
ClockShark is here to help
Every business is being impacted in some way, and we want to help. No matter what issues you are navigating through, we have the tools to assist you. Additionally, information is changing day-to-day. We want to keep you updated as things progress.
We are all in this together. That's why ClockShark has compiled a comprehensive collection of resources for field service companies. Visit our COVID-19 Resources Page for up-to-date data and articles that can benefit your organization and keep you informed.